Visit Central Park in New York City
This post may contain affiliate links which means I make a commission if you shop through my links.
 Disclosure Policy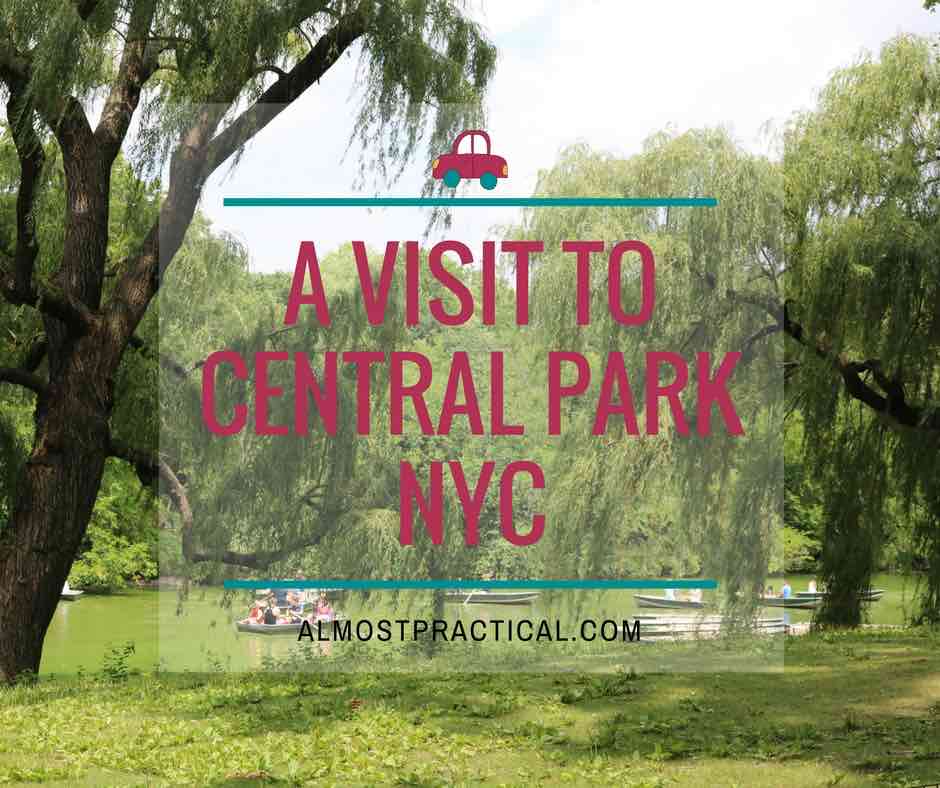 Yesterday I took a break from refinishing my kitchen table to go and visit Central Park.
We had relatives in from out of town and they had never been – so we agreed to meet there and make a day of it.
I haven't spent much time in Central Park or been there in over a year so I was not much of a tour guide.
But we did have a great day. I made sure to take notes, so next time I will really get more out of the trip.
From one newbie to another – here are a few things to keep in mind to make the most of a quick visit to Central Park in New York.
Wear Good Walking Shoes
This tip applies to a New York City visit in general.
Every time I go there, I leave exhausted. Yesterday I registered close to 20,000 steps on my Apple Watch.
So, what you wear on your feet is important.
I know my Skechers with memory foam look ridiculous with some outfits (mine happen to be really bright).
But you can get a more subdued color like this one.
It baffled me to see so many women in the park wearing heels of different sizes. They were wearing huge wedge sandals to smaller spiked heels. My feet would have been killing me.
But I digress.
Get a Map of Central Park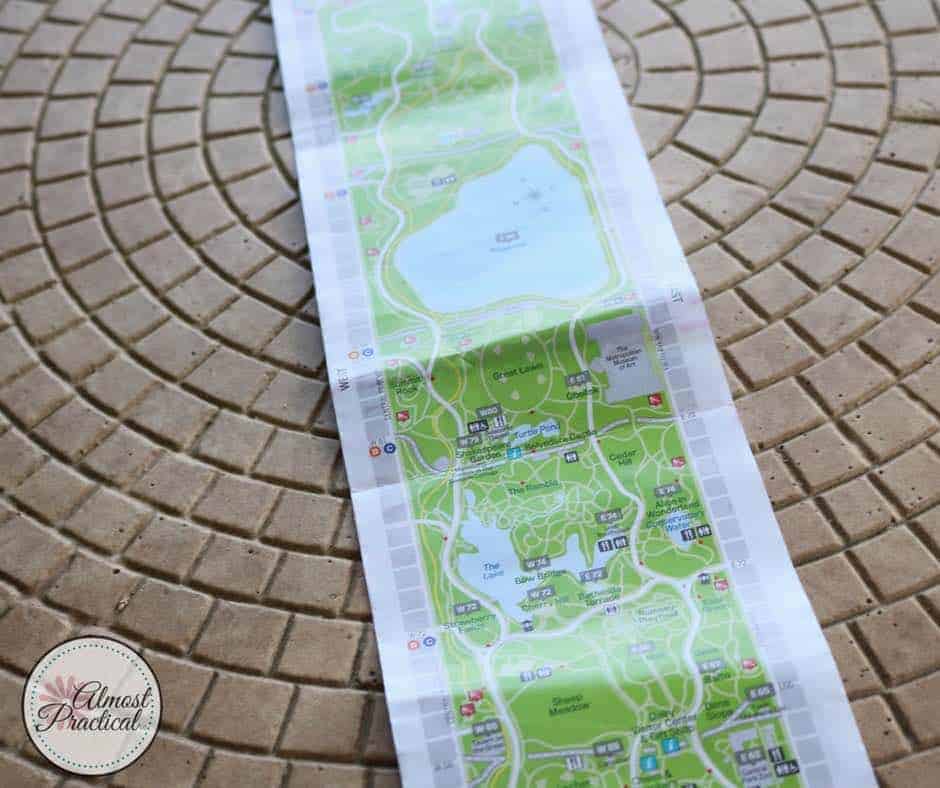 Before you visit Central Park, familiarize yourself with the lay of the land.
Figure out how you will get to the park, where you will enter, what you want to see, and where you will exit.
I did not do any advance planning because I thought my visitors might have had an agenda. And I was so busy working on that table. Needless to say, when we got there we were all kind of lost.
We entered Central Park from the southeast corner and wandered about. Luckily I remembered that there was a visitor center (the Dairy Visitor Center) fairly close to the entrance.
Keep in mind that you can grab free maps at the Visitors Centers if you don't want to buy one at the various little booths throughout the park.
If you plan ahead, you can actually print one off from online here. Or save paper and pull it up on your phone when you are in the park.
Plan What You Want to See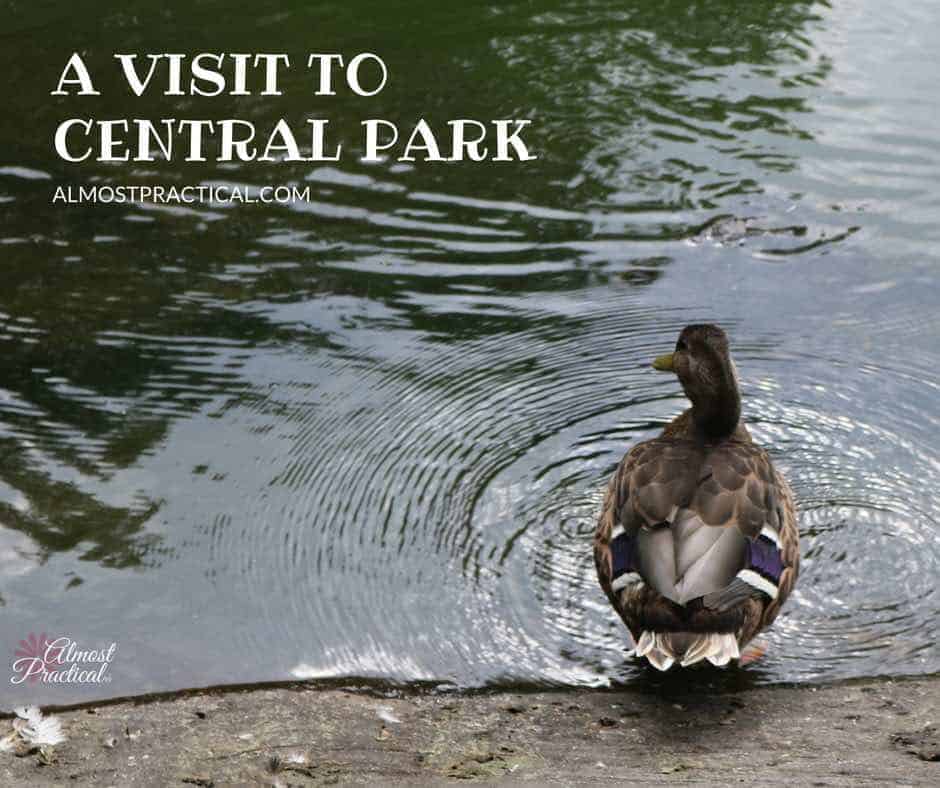 Central Park is huge and spans about 49 streets and 3 avenues and, so seeing the whole thing in one trip is near impossible.If you have little kids, you likely won't get past the first playground that you see, guaranteed!
New Yorkers go there for a little R&R but out of towners are on a mission to fit everything in during one afternoon.
We quickly crafted a plan.
Our best option was to restrict our visit to the southeast quarter of the park. Belvedere Castle would be the perfect place to end our tour. And we could then walk down along 5th Avenue to get back.
Even though we wanted to see the Central Park Zoo – we decided to save it for when we next visit Central Park.
On our way to Belvedere Castle we saw a movie being filmed at the Rumsey Playfield. This was pretty cool.
Next we took a quick break at Bethesda Terrace and then took a longer break at the Loeb Boathouse.
We then stopped by the Alice in Wonderland statue for photos.
Then we headed up towards the Metropolitan Museum of Art before hitting our final destination of the Belvedere Castle.
Related: How to Get Tickets to Hamilton on Broadway
Plan Your Food
One thing I knew but unfortunately forgot, was when you visit Central Park your food choices become quite limited.
There are food carts at every park entrance. And there are smaller carts within the park that sell drinks and snacks. But there are not many casual dining choices. By this I mean a step up from fast food and a few steps down from fine dining.
By the time we hit the Boathouse and the Alice Statue, our stomachs were rumbling and I didn't have the foresight to pack a lunch.
We really didn't want to plunk down the dollars or spend the time to have a relaxing meal at the Boathouse.
But because we were a large-ish group, we really didn't want to eat at a cart either.
I remembered that the Metropolitan Museum of Art had a great cafeteria and that seemed to be a good option.
Visiting the Met
There is a "suggested" entrance fee at the museum of $25 per adult – you can pay what you want, but you feel kind of like Scrooge if you don't.
Don't get me wrong, I love visiting the Met but you really need a full day to see everything and to get your money's worth if you pay the full admission.
Because we just wanted to eat there, we paid a nominal price per person (the cashier was not pleased).
Then we went directly to the cafeteria.
Let me just say that the prices for food in the cafeteria are not cheap. So I feel like we definitely made up on our contribution with our patronage there.
I do plan to go back when I am not in such a rush to drink in the exhibits.
Belvedere Castle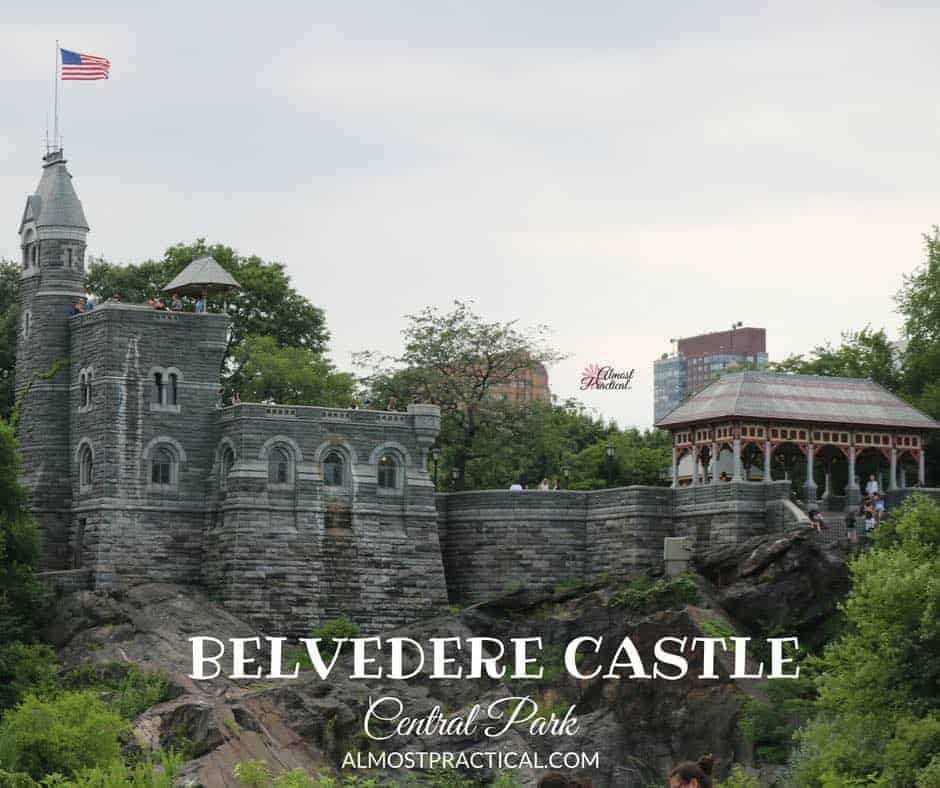 Belvedere Castle is actually a stone castle almost smack in the middle of Central Park. It reminds me a lot of the castle that Harold drew in the children's book series Harold and the Purple Crayon – Harold's Fairy Tale.
In true castle style, there are a lot of stone steps leading to the entrance and even more narrow circular stone staircases leading up to the turrets.
From the top of Belvedere Castle you can see some of the New York skyline on either side.
In the winter, when the trees don't have leaves, you might be able to see more of the park and the city.
Heading Back
Heading back was easier, as we just walked straight down 5th avenue on the park side.
We were an exhausted and tired bunch, to say the least.
Our out of town guests postponed their plans to see Times Square at night until later in the week so they could rejuvenate those legs.
Your Tips to Visit Central Park
I am sure we made a ton of mistakes on our tour. So I would love to hear some tips to use when I next visit Central Park from more seasoned travelers and native New Yorkers.
Please leave your advice in the comments below.
Pin It