How to Name Your Digital Files So You Can Find What You Need
This post may contain affiliate links which means I make a commission if you shop through my links.
 Disclosure Policy
Digital organizing is becoming really important. The more files we have on our computers and in the cloud – the harder it is to find things.
Going "paperless" was supposed to save us tons of time, but in reality it has created a filing nightmare.
Today I'm going to let you in on my little secret when it comes to organizing your digital files.
It is only a first step, but the more you put it into practice, the easier it will be to find what you are looking for.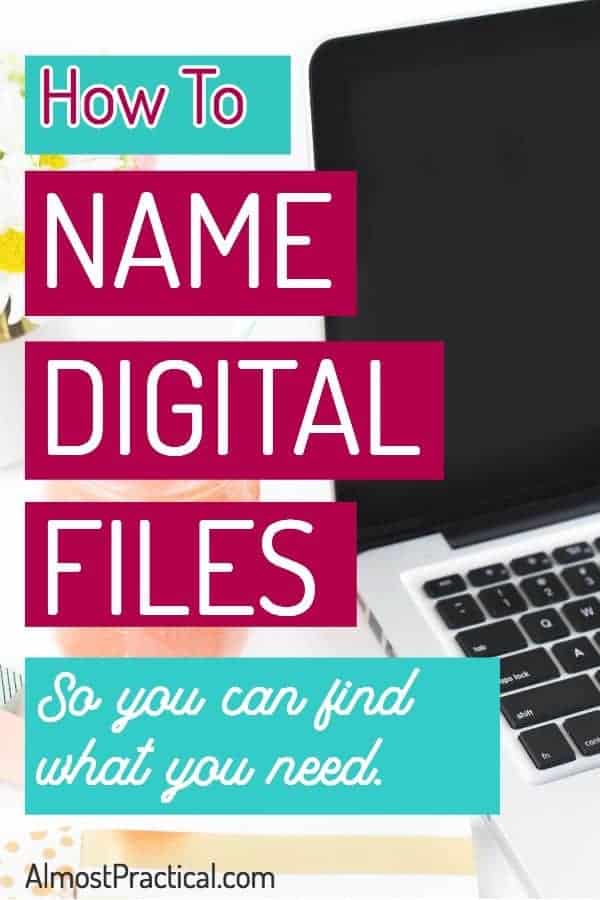 Digital Organizing Starts With the Date
Literally.
How you name your digital files is very important.
And the easiest thing to do is to start each file name with the date in this format:
yyyy-mm-dd Whatever You Name Your File
Let Me Show You An Example
I use a lot of images in my blog posts.
It is important for me to keep these organized so I can access them easily.
Being organized means that you can find what you need when you need it.
I have a master folder on my computer for my blog post images.
Inside this folder I have separate folders for each year of blog posts.

Within each folder I have a separate folder for each blog post.
I name these folders using my digital organizing naming method or protocol.
Do you see what is happening?
When you name your folders using the date at the beginning, they visually fall into place in chronological order.
Your files stay organized and are much easier to find.
This Naming Convention Applies to All Types of Digital Files
My example shows you how I keep my blog organized – but you can use this method on any types of files and folders.
Bills and Expenses
If your goal is to go paperless, maybe you scan your electric bills each month.
You can have a folder on your computer for all your electric bills. Then when you scan each one, name it starting with the date:
2018-01-15 Electric Bill
2018-02-15 Electric Bill
and so on and so forth.
When you need to access an old bill, all you need to do is open your electric bill folder and find the right one.
Work Assignments and Research
Maybe you are working on an assignment at work or school.
As you do your research, you can save different documents with the revision date at the front of the name.
Sure you can dig into the document history or info to find that same information, but if you get into the habit of naming your digital files accordingly – you will know at a glance when you created or revised a certain piece of research.
Related Articles
More To Come
The naming convention that use forms the basis of your digital organizing process but it is just the beginning.
There are so many apps and options out there, that no matter how well you name your files – it still can be hard to find where you stored them.
We will talk about different storage methods in a future post.