3 Ways the Apple Watch Will Change My Life
This post may contain affiliate links which means I make a commission if you shop through my links.
 Disclosure Policy
After making an investment in the Apple Watch – I am hoping that it will change my life for the better in these 3 ways.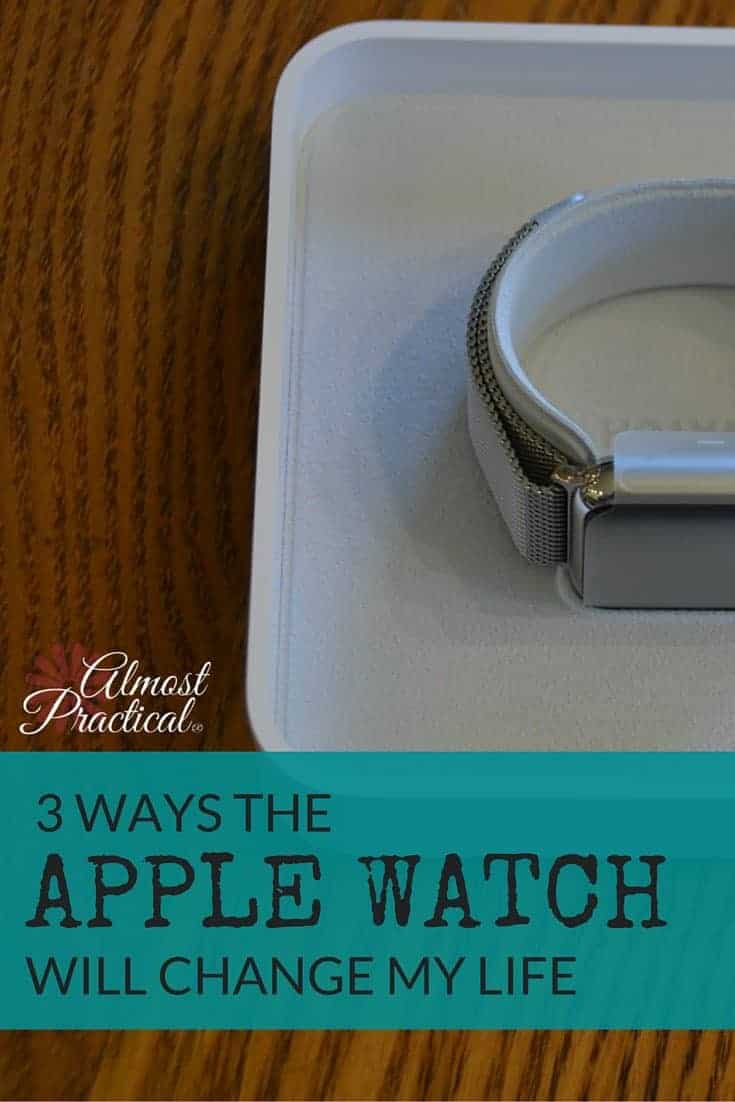 The watch came onto my radar when Apple dropped the price in March.
That is when I began to see the possibilities.
A device that could help me get organized, get fit, and replace a few other gadgets was very appealing.
When the stainless steel version went on sale at Best Buy for $200 off – I knew the time was now.
Getting Organized With Apple Watch
Communication
With a communication device attached to my wrist (very Dick Tracy, I might add) – I am able to really take care of work on the fly, especially when I didn't have my phone right there at my fingertips.
Yes, I know the iPhone has to be in Bluetooth range. Not be sexist – but the ladies will understand this: I usually can't fit my smartphone in my pocket – so it is hardly ever with me when I get a call or text, especially when I am at home. I was getting really tired of the across the house sprint at the sound of a ring.
Reminders
As organized as I try to be, I sometimes miss things and run late here there.
Often it is because I get so involved in what I am doing that I lose track of time.
A reminder on my phone is great – but if my phone isn't with me …
Just now I said "Hey Siri – remind me to pick up my daughter at 2:45" Siri said ok and the deed was done. Now I know that I will get a little buzz at 2:45 and I will drop what I am doing to go get her.
Calendar
I am pretty good at putting events on my calendar. But I am really bad at checking it.
Before I actually used Apple Watch – I knew that my calendar would be there at my fingertips. What I did not realize is that I could actually add my calendar to my watch face (depending on the style).
Now I can see at a glance what my next event is and at what time. No more panic that I might be missing something important.
To Do's
I was a little surprised to see that Apple's native Reminders App is not on Apple Watch.
When you ask Siri on your watch to set a Reminder – she uses the Reminders app on your iPhone to record it, but you can't see all of your reminders on your watch (or at least I don't think you can).
But, Wunderlist has a fantastic app for Apple Watch that syncs across all of your devices. I haven't bee to the grocery store yet since getting my Apple Watch – but I am looking forward to having my grocery list in Wunderlist and not having to jostle with my iPhone, my cart, my handbag, and the supermarket scanner.
Getting Fit With Apple Watch
Summer is around the corner – and I have a few pounds (ok, maybe more than a few) to lose before swimsuit season.
Yesterday I had a chance meeting about an anti aging skin care product line with Ian Zering of Beverly Hills 90210 fame, and I was mortified at how I looked in a picture that we took. It was time to do something.
I had been using my Fitbit Flex, which I really like, but I wanted more information on my wrist, and I wanted it to do a little more too.
Activity App
The Apple Watch Activity App is really the answer.
The Activity App tells me at a glance how many calories I have burned, how many steps I have taken, and how far I have gone.
But my favorite feature by far is the little wrist buzz that I get when I have been sitting too long. You see, Apple Watch wants me to get up and move every hour.
Surprisingly, this little reminder has helped to get a little more housework done during the day, and it has helped me to drink more water – because that is what I do when I get up and walk around.
Drink More Water
Which leads we to the WaterMinder App (which does not come with Apple Watch but is $1.99 in the App Store)
I am notorious for not drinking enough water. Like a camel, I could literally go for days on coffee and tea alone.
The WaterMinder App combined with the Apple Watch has been a life changing combination.
Now Apple Watch reminds me to stand up every hour. I use this time to get a glass of water and record it in the WaterMinder App that is on my wrist. And if I don't WaterMinder speaks up and reminds me too.
Amazing.
Workout App
There is also a Workout App on Apple Watch where you can keep track of your workouts. It's pretty simple but it keeps you accountable.
My hope is not only to drop a little weight but also to live a healthier lifestyle.
Replace Other Gadgets
Having just gotten the Apple Watch – I am still learning about everything that it can do.
But in just one day, I have been able to put my Fitbit aside and retire my alarm clock.
The watch also has a nightstand feature. When place it on it's side and charge it – it shows the time sideways and fades off after a few seconds.
You can set the alarm, and the light will fade on before the alarm sounds. You can snooze the alarm or turn it off altogether when you wake up.
My Experience So Far
My first 24 hours with Apple Watch has been promising. I am looking forward to using it to become more organized, to get more fit, and to consolidate some of the gadgets in my life.
To be honest, when it first came out – I never even considered buying it. I thought it was ridiculous that you still needed to have your iPhone around (why use the watch if you still need the phone?).
But I have come to really appreciate not having to have the phone on my person at all times and that is the biggest advantage for me.
Do You Have An Apple Watch?
Tell me – do you have an Apple Watch? Do you think it is useful or just another gimmick?
Leave a comment below to join the discussion.