Should Stores Be Open on Thanksgiving Day?
This post may contain affiliate links which means I make a commission if you shop through my links. Disclosure Policy
So here's something to debate around the dinner table tomorrow: Should stores be open on Thanksgiving Day?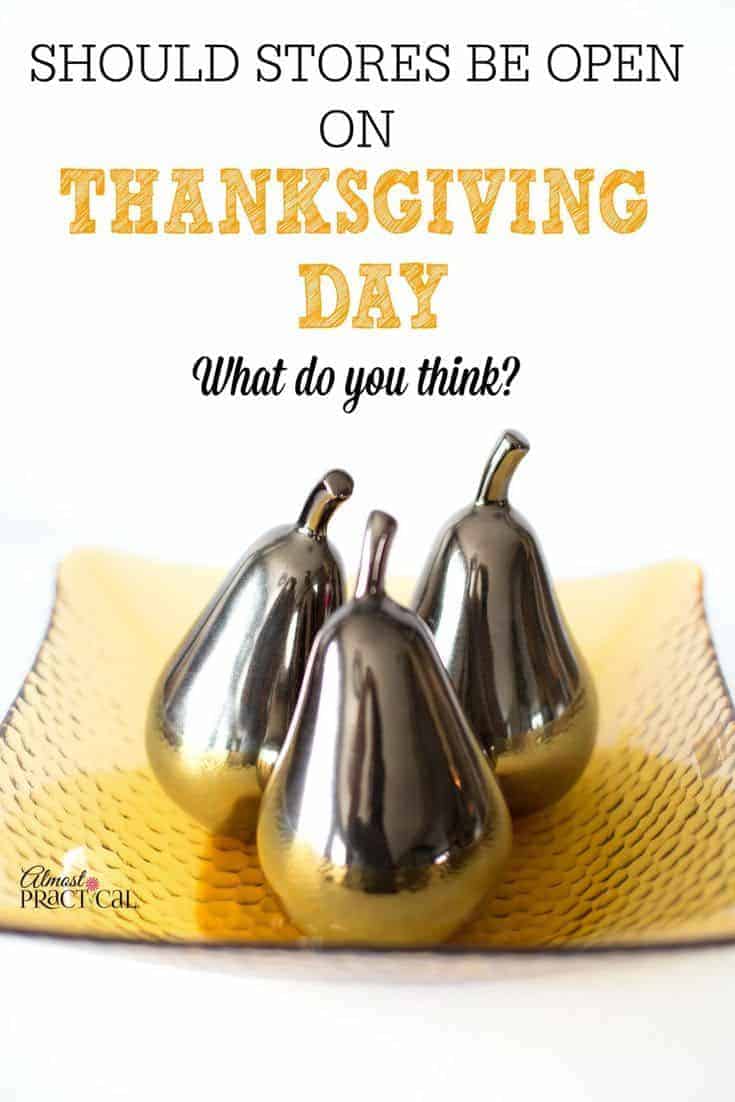 Personally, in theory, I think that they should not be open. But as a consumer, it's kind of nice to have the option.
What do you think?
The Way It Used To Be
When I was a kid, my recollection was that all the stores were pretty much closed.
I seem to remember that the movie theaters would open up for evening shows – but that was it.
For someone who didn't have much family in the area, at the time – Thanksgiving seemed to drag on with nothing to do. (now I wish I could say "Mom – I'm bored, there is nothing to do." If only.)
Black Friday Arrives
And then along came Black Friday with the loooooong lines.
I never camped out overnight, but I recall getting up pretty darn early to grab a deal or two. Remember Circuit City?
We were always thankful for a warmer holiday because we were more willing to head out.
Black Friday Goes Online
It was a game changer when online retailers got into the Black Friday frenzy.
No more standing outside in the cold. All you had to do was visit Amazon.com or BestBuy.com after midnight – from the comfort of your own home.
Yay!
Black Friday Deals All Week
And now, while the best deals probably still show up on Black Friday itself – you can grab some pretty sweet prices at many retailers all week long.
I know I've already bought a few things this week.
So, Should Stores Be Open on Thanksgiving Day?
Given the availability of everything online – should stores be open on Thanksgiving Day?
Do You Plan to Go Out?
Seriously, I doubt that I will leave my house to go to the mall.
The only store that I truly appreciate being open on Thanksgiving Day is my grocery store.
There is always that one ingredient that you absolutely need that you don't have.
The Theory
In theory, I think it would be great if everyone could stay home on Thanksgiving Day and not have to work.
The Reality
I don't work in retail – so, I don't think that I have the whole story.
And everybody's story is different too.
Some people don't want to work on Thanksgiving Day. But there are probably some people that do.
Online Retailers Probably Have People Working Too
Just because you shop online, doesn't mean that there aren't people there behind the scenes making sure that your shopping experience runs smoothly.
Should internet shopping shut down on Thanksgiving Day? I don't think so.
Who Is Open and Who Is Closed
In case you do plan to shop after turkey – TheBlackFriday.com has a list of stores closed on Thanksgiving Day (it's probably best to check directly with each retailers website for the most up to date info). They include:
And according to this article, the Mall of America will be closed too.
What are Your Thoughts?
Remember it is best to check directly with each retailer's website for the most recent info as to what stores are open on Thanksgiving Day.
I would love to hear from you – especially if you work or have worked in retail. It would be great to get your insights.
Do you think that stores should be open on Thanksgiving Day?