Get Organized HQ Virtual Conference 2023 – Day 1 Highlights
This post may contain affiliate links which means I make a commission if you shop through my links.
 Disclosure Policy
Yesterday was the kickoff of the Get Organized HQ Virtual Conference – and what a great conference this week is going to be!
I wanted to do a quick recap of some of the highlights from Day 1 – including some of my favorite sessions.
The Get Organized HQ Virtual Conference for 2023 runs live from Monday September 11, 2023 to Friday September 15, 2023. If you can't make it live or want to attend all the sessions you have lifetime access if you buy the All Access Pass here.
Our Pick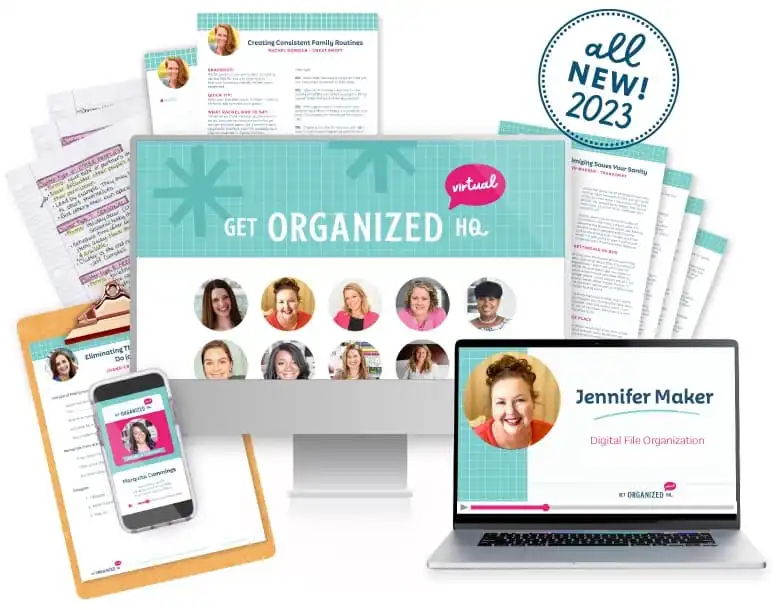 How an In Person Conference is Typically Run
If you have ever been to a conference in person at a big conference center then you know how they are typically organized.
There are usually Keynote speakers and then breakout sessions that run concurrently. As an attendee, you have to review the program before the conference starts and make note of the sessions that you don't want to miss.
And while all of this is going on, there is usually a busy exhibit hall where vendors set up booths to showcase their products and offer up some prizes.
An added benefit is that you get to network with other attendees and make some good connections.
Once you get there you feel the energy and excitement and really get motivated with new ideas.
The Get Organized HQ Virtual Conference
Replicating that energy in a virtual conference is a challenge – but I have to say that the organizers – Laura and Tasha nailed it!
The Get Organized HQ Virtual Conference features amazing sessions with such knowledgable speakers.
You can attend these live for free – and while you can't see them all, you can cherry pick your sessions by planning out which ones you want to attend in advance.
But if you don't want to miss anything – you can upgrade to the All Access Pass and get lifetime access to ALL of the sessions.
Because there is so much actionable content to help you get organized – purchasing the All Access Pass allows you to take it slow and act on all the strategies that you will learn.
Interspersed with all the sessions are the Keynote speakers that include live Q&A sessions. There is also an active Facebook group where you can interact with other attendees.
And, there is a virtual exhibit hall where you can enter to win actual prizes.
Despite being a virtual conference, Laura and Tasha have recreated the spirit of an in person conference that you can attend right from your living room.
Four Day 1 Sessions I Love
Having watched all of the Day 1 sessions – I have to say that it is really hard to pick just a few to highlight here – they were all awesome!
Dawn Madsen – How Minimizing Saves Your Sanity
The Day 1 Keynote was presented by Dawn Madsen of TheMinimalMom.com – who is well known for her YouTube videos about how she incorporates minimalism in her daily life.
I have been watching her videos for years and was so excited to see her on the virtual stage.
She provided some great information about letting go of the stuff in your life that no longer serves your purpose. And the following quote from her presentation really resonated with me:
What season of life am I in right now and are the items in my life serving me and is it making my space an enjoyable place to be?
The needs of someone in my "season" of life – an almost empty nest mom whose children are young adults is obviously very different from a mom with young children.
And there are those things that once served me so well, when I was in a different season, that I don't need to keep around.
Katy Joy Wells – Chaos to Calm: Uncovering the Roots of Clutter and Creating a Peaceful Home
I am a big follower of mindset principles and using them in setting goals for all areas of my life including organizing. In fact, I talk a lot about them on this blog.
One of my favorite books is the classic Think and Grow Rich by Napoleon Hill.
I love how Katy Wells (of KatyJoyWells.com) identifies the different mindsets we may harbor that lead to us accumulating clutter. This includes the scarcity mindset – where we acquire unnecessary things because of our fear of not having enough.
Maira Vial – Modern Calligraphy for Planners and Bullet Journals
I have to say that I was pleasantly surprised with this session by Maira Vial of VialDesigns.com.
As much as I love the look of fancy lettering, I have very little artistic ability when it comes to drawing things by hand. (Think stick figures.)
But in her session, Maira showed us how to do "faux" calligraphy with a regular felt tip pen and even provided practice worksheets.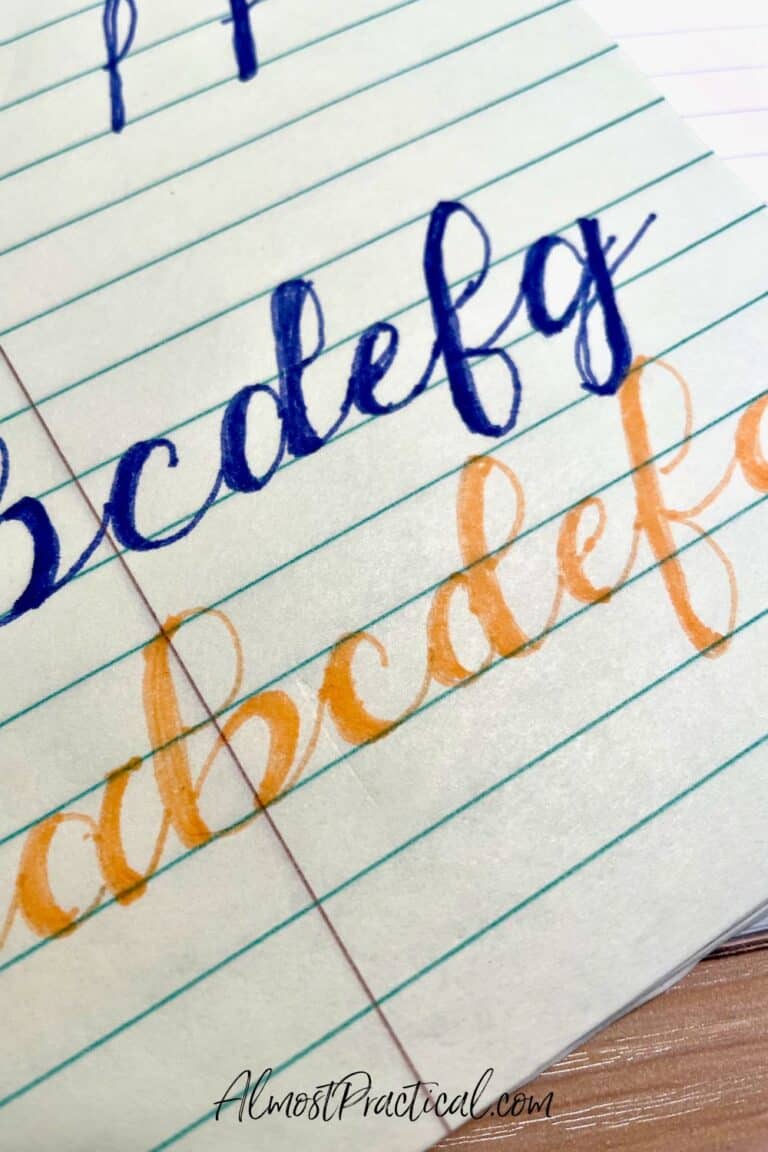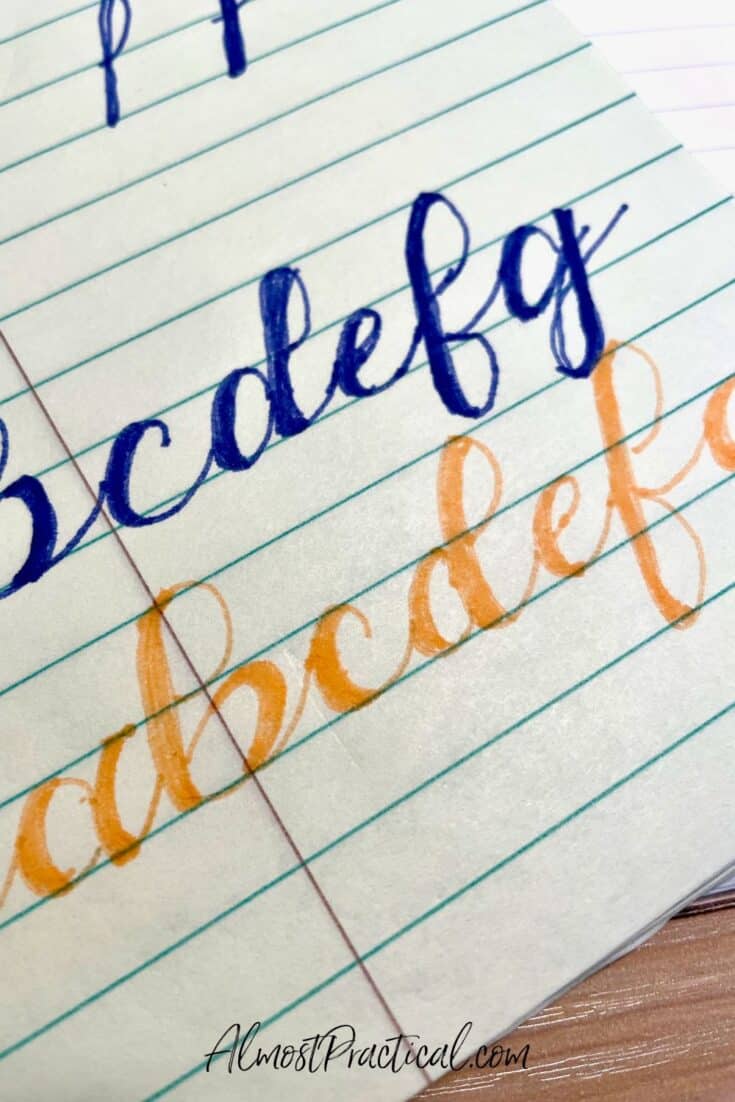 I created the letters that you see here while watching the session and was impressed. Imagine what I could do with a little practice!
And even though you can use any felt tip pen … I have the perfect ones. You know I am a big Erin Condren fan, and their dual tip markers make the faux calligraphy technique that Maira teaches really fun!
Our Pick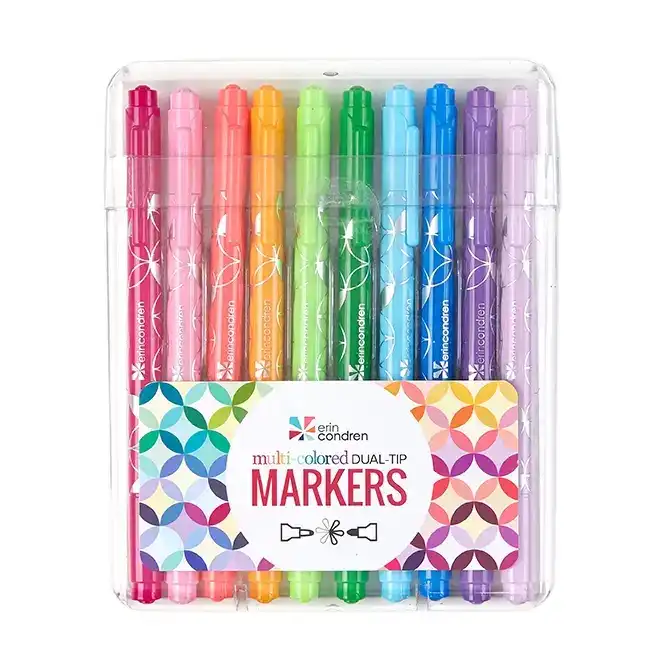 Dana K. White – Decluttering for Beginners (Even Total Beginners!)
You may know Dana K. White from her blog ASlobComesClean.com. Just from the name of her site – you know there is hope for all of us! 😉
But in all seriousness, the hardest part of decluttering can be that first step – getting started.
In her session, Dana provides insights and motivation to make the task more managable.
One point she makes is to start with the visible areas in your home – so you get a feeling of accomplishment when you walk into the room.
I love it!
Which Sessions Are Your Favorites?
Are you attending the 2023 Get Organized HQ Virtual Conference? Which Day 1 speakers were your favorites?
You can find some highlights from day 2 here.
Here are my Day 3 takeaways.
Let me know in the comments below.