How Organizing Later in Life is Different From When You Were Younger
This post may contain affiliate links which means I make a commission if you shop through my links.
 Disclosure Policy
Organizing later in life is very different from organizing when you were younger.
I wasn't sure how to title this post because everyone is different – everyone's situation is different. Some young people organize like old souls and some of the more seasoned among us don't fit the mold either.
But this post is about my thoughts and my philosophy about why people over, say 50 – the empty nesters or the sandwich generation – have different organizing challenges than people of other ages.
Understanding Who People Over 50 Really Are
Think about it.
People over 50 were born in the late 60's or early 70's and prior. We are Gen X and Baby Boomers.
Many of us started our families before the age of the internet and over the years adapted our lives to the new technology.
We are now empty nesters or have adult (or young adult) children living at home, we may also be caregivers for our elderly parents, and we may be grandparents.
And we are either well established in our careers, facing retirement, or thinking about using this next chapter in life to start over.
How This Translates to Stuff (or Clutter)
Because we started adulthood before the internet and online boom, we were most likely raised in a home where people cherished their possessions.
We also accumulated a lot of things early in adulthood because those things were our hobbies and our entertainment.
We got lots of toys for our kids, things for our homes, souvenirs, clothing, accessories, shoes, CD's, records, you name it.
Our lives were chronicled on film (doubles, in fact), loads of photo albums, video tapes, and eventually digital formats.
The things around us represent a lifetime of memories.
But not only do we have our own stuff, but we also might be the keepers of our adult kids stuff, our parents stuff, and perhaps even some of our relatives things.
As far as living arrangements go – we might be thinking of downsizing or even upsizing (but we don't want to take unwanted possessions with us when we move).
Compare all this to a young family just starting out. This young family has the advantage of having somewhat of a clean slate.
They can decide where to store their digital life right from the beginning.
Instead of having a music and DVD collection – they can opt for a streaming service.
Their books are on a Kindle, recipes are found online.
And they put a lot more emphasis on experiences than they do on collecting things.
As for the things that they don't know what to do with – well, they might just leave those boxes at their parent's house (translation: people over 50).
Why Organizing An Empty Nest is So Hard
The problem with organizing an empty nest comes down to one thing – TIME – or lack of it.
I actually hate the term "empty nest" – because it sort of implies that our home is empty and we have nothing to do.
That couldn't be farther from the truth!
Most of us have very busy lives.
And the last thing that we want to do is spend the second half of our time on earth cleaning up the stuff we accumulated in the first half.
Our Priorities Have Shifted
In the first half of life we collected things, we raised our families, and we put our needs behind the needs of others.
But at 50 our priorities tend to shift to ourselves.
At this stage, self care is very important.
Our priorities might include things like:
exercise,
meditation,
cooking healthy foods,
self care rountines,
travel,
doing things on the "bucket list",
and even growing your career.
Our Pick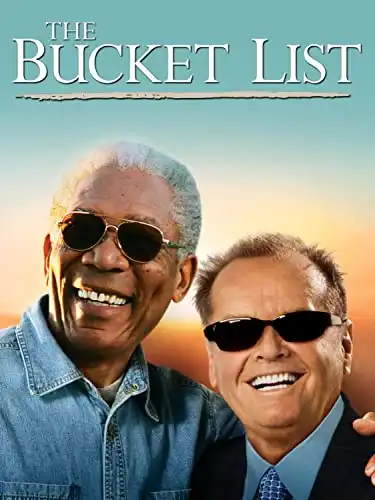 The Bucket List
Think about rewatching this classic movie and find inspiration to make your own Bucket List of things that you want to do in this lifetime.
Buy Now
On the surface it may seem selfish – especially to others – that you are spending so much time and energy on yourself.
But the reality is that by focusing on self care and maintaining your health, you are not only making it possible for you to live a healthy and fulfilling life but you are also doing your best to keep yourself from becoming a burden to others.
Is Your Stuff Keeping You From Getting What You Want Out of Life?
So the question to ask is this – Is your stuff preventing you from living your best life?
I am willing to bet that no one has "spending months or years organizing all my stuff" on their bucket list.
But a houseful of belongings is the reality for many of us.
How to Deal With the Clutter
Empty nesters have many organizing challenges including:
managing a lifetime of memories,
being caretakers of other people's stuff,
having adult children,
caring for our parents,
downsizing or even upsizing,
and shifting priorities.
I can't solve the problem with this one post, but hopefully I've got your creative juices flowing.
It is time to make a list of your priorities so you can start making decisions about what to do with all the things you no longer have time for.
On this blog, I try to offer up ideas, thoughts, and suggestions on things that will be useful to you in this next phase of life.
If you haven't already – please click here to subscribe to my newsletter where I share my latest posts, as well as organizing tips, fun finds, and resources to help you on your own unique organizing journey.
Tell me about your organizing challenges and your new priorities in the comments below.