Get Organized HQ Virtual Conference 2023 Day 3 Highlights
This post may contain affiliate links which means I make a commission if you shop through my links.
 Disclosure Policy
The Get Organized HQ Virtual Conference 2023 is more than half way through – yesterday (Day 3) being hump day.
I have been learning so much from all of the amazing sessions, and yesterday was no exception.
Topics included:
Digital Organization,
Self-Care,
Organizing Spaces, and
Crafting.
If you aren't familiar – you can check out my overview of the 2023 Get Organized HQ Virtual Conference here.
The takeaway is that even though the conference is virtual, it is set up like a live in person conference where the sessions run concurrently. So, if you can't make it to the sessions live, or if you want to watch everything – your best be is getting the All Access Pass. This way you can watch and act on everything at your own pace.
Our Pick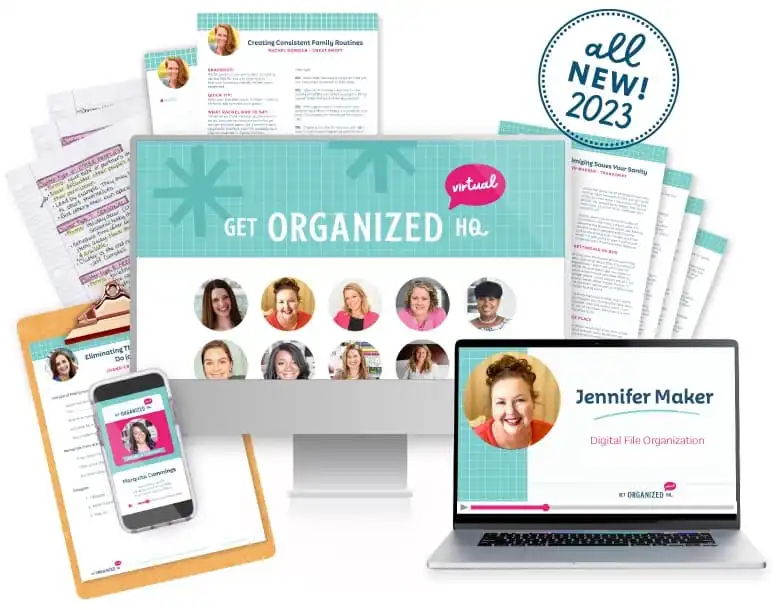 Every day I have been doing a recap of some of my favorite sessions – and even with the All Access Pass, I have been falling behind (because there is so much great content!) – so I will also do a round up post next week with some of my favorites of the sessions that I did not get to this week.
Here are my picks thus far: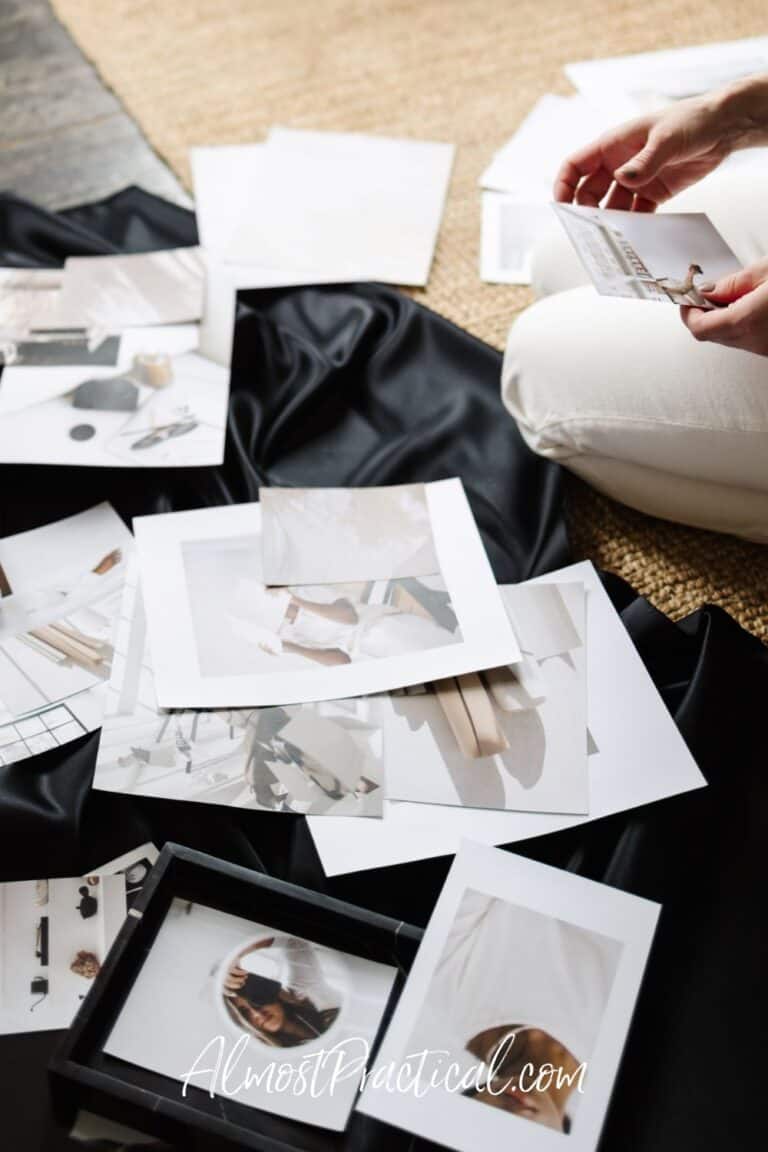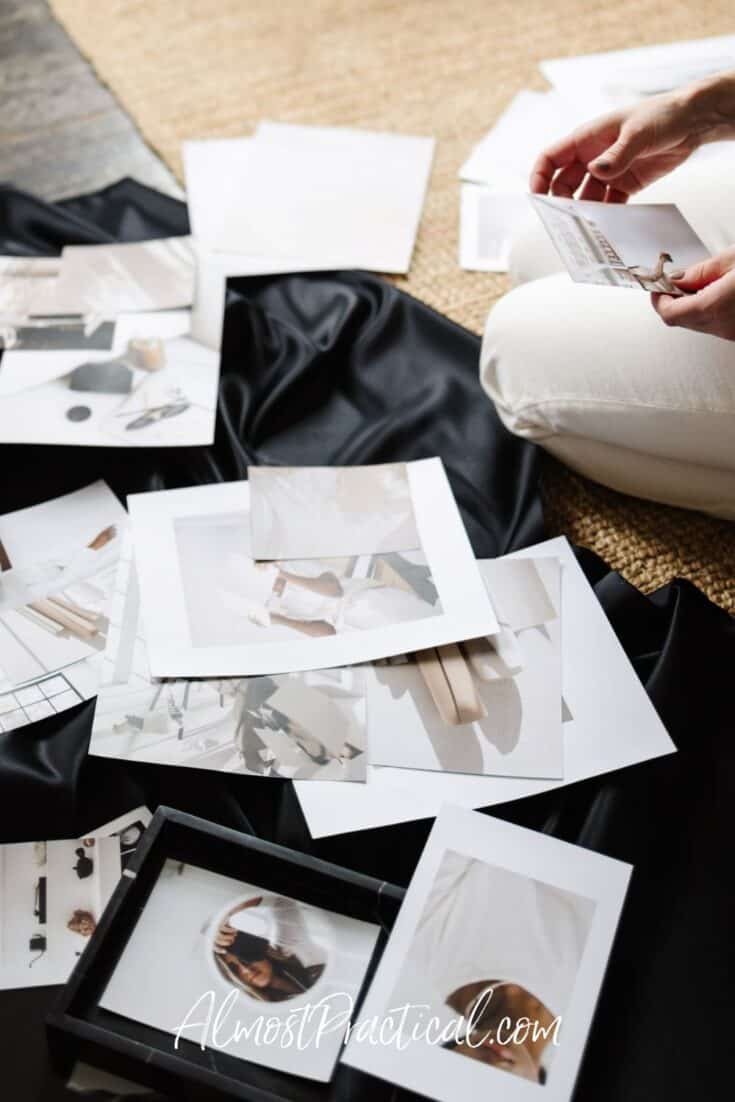 Day 3 Highlights
I have to admit that digital organizing is one of my favorite topics – so I was really looking forward to today's sessions.
In fact, my own session on Going Paperless was part of today's line up!
In no particular order – here are 3 of the sessions that I particularly enjoyed today:
Miss Freddy – Organize Your Photos
Organizing photos – both digital and physical is one of the hardest things for me to do.
Half of my kids were born before the digital age so we have lots of boxes of photos and video tapes.
And once we went digital, I started blogging so I have photos that I took for my business mixed in with family photos – and they are all over the place!
Casey (aka Miss Freddy) of MissFreddy.com, is a professional photo organizer and she has some tips that are really motivating me to tackle my photo mess. Everything that she had to say helped me see that there is a light at the end of the tunnel.
One thing in particular that stood out was her point that iCloud is not a reliable back up plan for your photos.
Casey explained that iCloud is a sync service and not a backup service. This means that if you accidentally delete photos off a device then they will be deleted everywhere and lost for good.
I do rely on iCloud heavily for my photos and this made me realize that I do need another backup option.
Vera – How Minimalism Relates to Self Care
Vera of SimpleHappyZen.com how minimalism can improve your well being.
I am a firm believer in this.
Your possessions cost more than just money. They demand your time, your energy, and also your mental space.
In her session, Vera mentioned something called the "Silent To Do List" that originated in a book called Goodbye Things by Fumio Sasaki (I have added it to my reading list!).
This Silent To Do List is created in your mind when you look at something and don't just see that thing but instead you see all the things you need to do in relation to that thing.
Years ago, I visited one of my friends who had just purchased some blueberry bushes that were still in pots.
When I walked into the room the first thing I said was "Oh! You bought things to do!".
For her the promise of delicious fruit was worth the effort of nurturing the plants in her garden. But there is no denying that growing those plants would take time away from doing something else.
It is all about choices!
Megan Duesterhaus – How to KonMari Craft Supplies: Decluttering Your Craft Stash When Everything "Sparks Joy"
I have spoken about the KonMari Method and also about organizing craft supplies – Megan's session that brings it all together was very interesting to me.
As a person that loves to craft but who also tries to embrace minimalism, I often find myself at a crossroads when it comes to craft supplies.
Megan of TheHomesIHaveMade.com gives us a way to evaluate whether it is time to let something go using the KonMari Method.
Even if something is still useful, it may not inspire us the same way it did when we first got it.
I experienced that a few months ago when I gave one of my Cricut machines and Cricut supplies to a young teacher.
I had upgraded my Explore Air 2 to a Cricut Maker (you can see the unboxing here) and didn't really use both of them.
Even though I love my Explore Air 2, there was no point having it sit around and collect dust. So, I let it go and found joy in the use that it was bringing to a classroom.
What Were Your Favorite Sessions?
There was a lot of good stuff happening at the Get Organized HQ Virtual Conference yesterday! Did you tune in? What were your favorite sessions? Let me know in the comments below.