How to Use the Freeform App as a Mood Board for Your Home Decor Projects
This post may contain affiliate links which means I make a commission if you shop through my links.
 Disclosure Policy
If you use Apple devices running iOS or Mac OS – you may have noticed a little app called Freeform hanging out on your iPhone, iPad, or computer. You may be surprised to learn that Freeform is an app that can help keep your home decor projects organized.
When I first saw Freeform, I did not really know what to do with it. I thought it was for designers or teams of people that collaborate on things – so I didn't think it was really relevant to me.
But lately I've been working on some home decor related projects and needed a way to organize and visualize the products I was looking at and how they would fit into my space and room color scheme.
I started pulling things into the Freeform App and oh boy was I surprised! All of a sudden, I had a place where I could collect and visualize all my ideas and research.
But before I get ahead of myself – let me start at the beginning, and do a video to show you exactly what I mean.
What is the Freeform App?
The Freeform App is an app developed by Apple and included with every operating system from and included with newer versions of iOS (16.2 and up), iPadOS (16.2 and up), and macOS (Ventura 13.1 and up).
Note: If you don't see it on your iOS device and are running the correct version of the operating system, you may have accidentally deleted it and can re-download it on the App Store for iOS.
In a nutshell, Freeform offers you a big canvas (called a board) on which you can drag and drop all sorts of things like:
photos
videos
PDF documents
links to websites,
map locations,
and other items from your files and folders.
In addition you can add elements like shapes, sticky notes, and handwritten notes (from an iPad).
You can easily group elements together and even lock them into place.
Another powerful feature in Freeform is Collaboration. You can easily share a board with another person and grant them permissions to make changes. I do believe that the person you are collaborating with also must have the Freeform App on their device in order to collaborate.
Because this app was developed by Apple, it works very well within the Apple ecosystem – making it really easy to use across multiple devices.
Using the Freeform App As a Mood Board
So, basically we have established that the Freeform App is a big giant workspace (like a whiteboard) that you can use to collect all kinds of media.
Now it's time to turn it into a powerful home organization and design tool.
What is a Mood Board?
Many interior designers use some form of a mood board to help their clients visualize what a finished room might look like.
Back in the day, this might have been a piece of poster board with fabric swatches, paint chips, and images of furniture cut from magazines or catalogs.
In more recent times you may have seen designers use a specific app for creating mood boards – or even using an Word Doc, PowerPoint, or an app like Canva.
If you use the Apple ecosystem – I think the Freeform App is an even better option for creating mood boards – and you don't have to be an interior designer to do it.
How to Use a Mood Board in Your Design Process
At this point you might be wondering how a mood board applies to organization.
You might just be organizing a closet and not redecorating a whole room.
Well, whenever you upgrade a space – you want it to look nice and Freeform can help you to visualize that.
Let's say you are organizing your linen closet.
With the Freeform App, you can simply add a photo of your closet to your board.
Then you can go to different websites like Amazon and find linen closet organizers that you like.
When you paste these links into your Freeform board they will often show up as images.
You can drag these onto the photo of your linen closet and see which ones look best.
These images are actually linked to the product page.
So when you decide on which items you want to buy – you can simply click the image and easily make your purchase.
You can also add in images of paint colors, wallpaper fabrics, or anything else that you want to use in your project.
Best Feature: Freeform Creates an Interactive Mood Board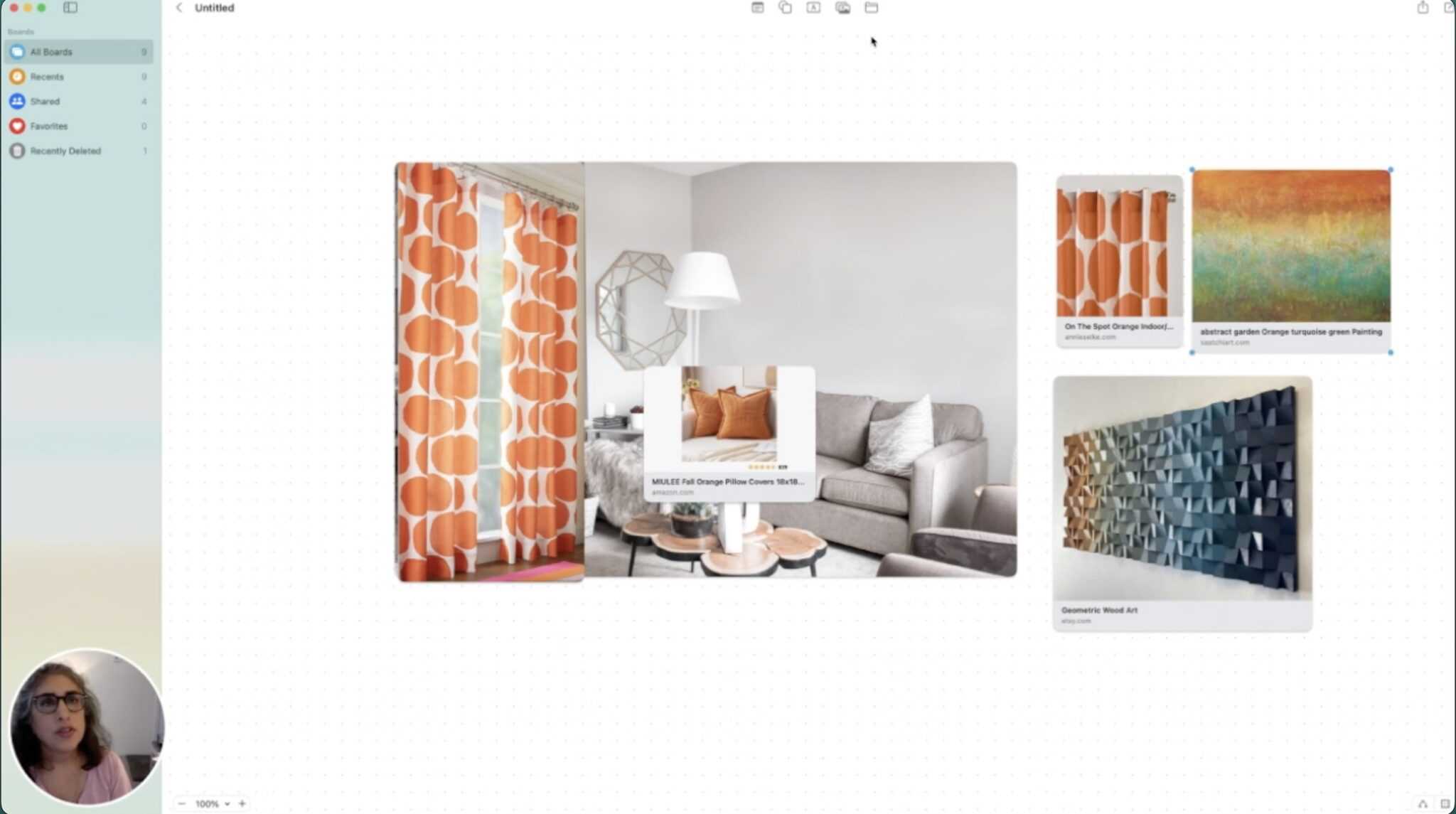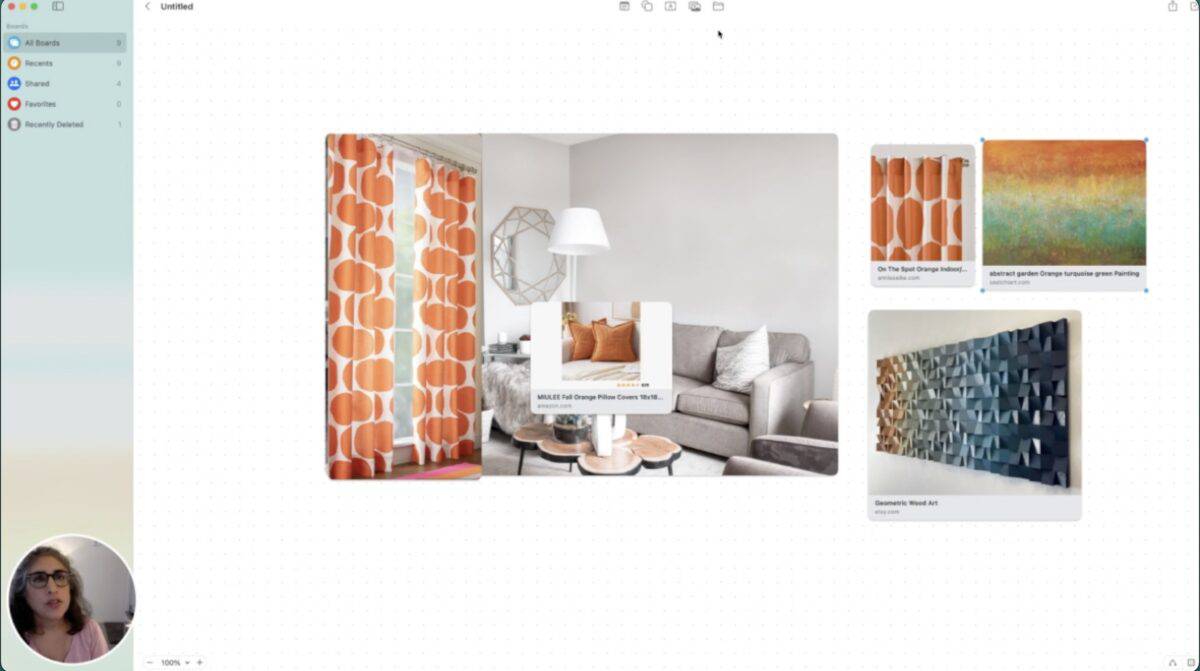 Here is where you can find some of the products in the image above:
The reason that I really like using Freeform as a mood board tool the interactive nature of it.
Pulling in links to product pages really saves me time.
And I love the collaboration feature – because sometimes I want the opinions of a friend or family member.
Wit Freeform, not only will they see a picture but they can check out the products and add their own ideas.
It is brainstorming at it's best.
Limitations of the Freeform App
At this time I kind of feel like the Freeform App is in its infancy.
For example, you can create as many boards as you like but there is not a great way to organize your boards.
Right now, they just show up chronologically.
I am hoping that in the future Apple will add a sort function and the ability for us to create folders to hold multiple boards for a project.
Using the Freeform App as a Mood Board is Just the Beginning
Now that I have discovered the Freeform App, I am sure that I will continue to find new and interesting uses for it.
It is a great home decor, mood board, and organization tool but I know that there are many more applications for it.
I hope that Apple will continue to add features and make this app even more powerful.