Preparing to Stain a Kitchen Table Top
This post may contain affiliate links which means I make a commission if you shop through my links. Disclosure Policy
Today I am preparing to stain a kitchen table top.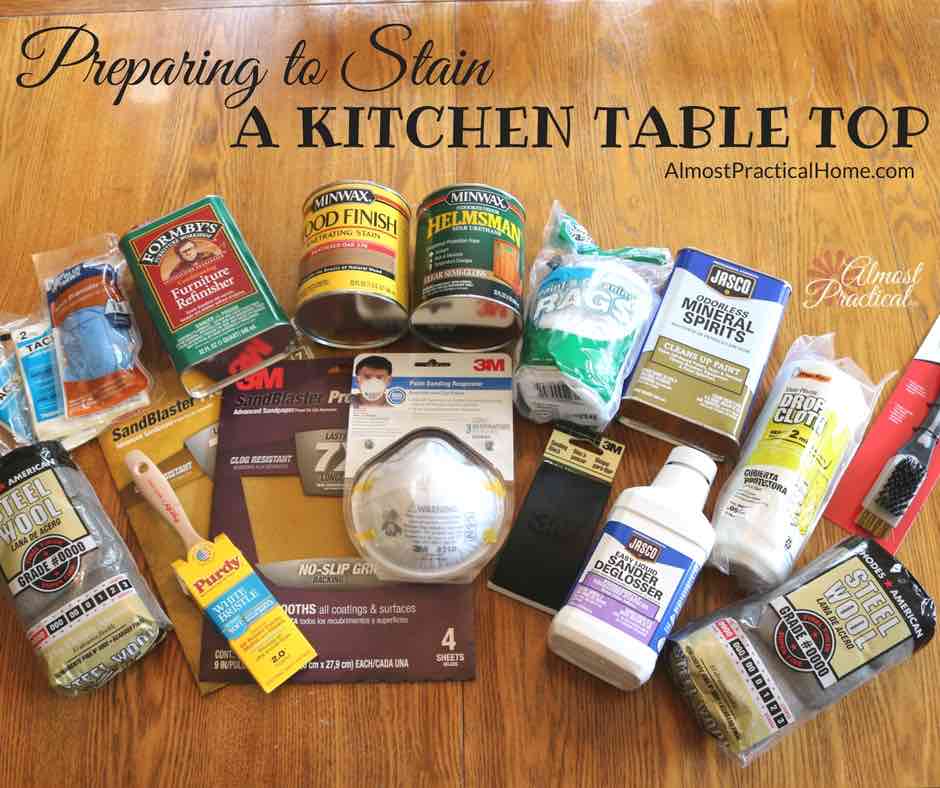 You saw the pictures of my sad and shabby looking kitchen table yesterday. I also walked you through my thought process of what my plan was – refinish the table top and paint the legs and the chairs.
I am trying to approach this project systematically because this is an undertaking that can easily get out of hand.
Being that I haven't refinished any furniture in many years, I am starting out from scratch – and had to do a good bit of research into what products to use. This is my shopping list and what I came home with.
My First Setback
Even before we start, I am faced with a setback.
After a more careful inspection (thanks to the tips in this thread), I have come to realize that my kitchen table is not solid wood but actually a veneer.
Ouch.
I really want to stain the kitchen table top but now I am a little nervous. I don't know how thick the veneer is but I still think that I can give it a try.
I keep telling myself that it can't look worse than it is. But if I ruin it – we won't have a table. Not sure if my husband will appreciate that situation.
The Shopping List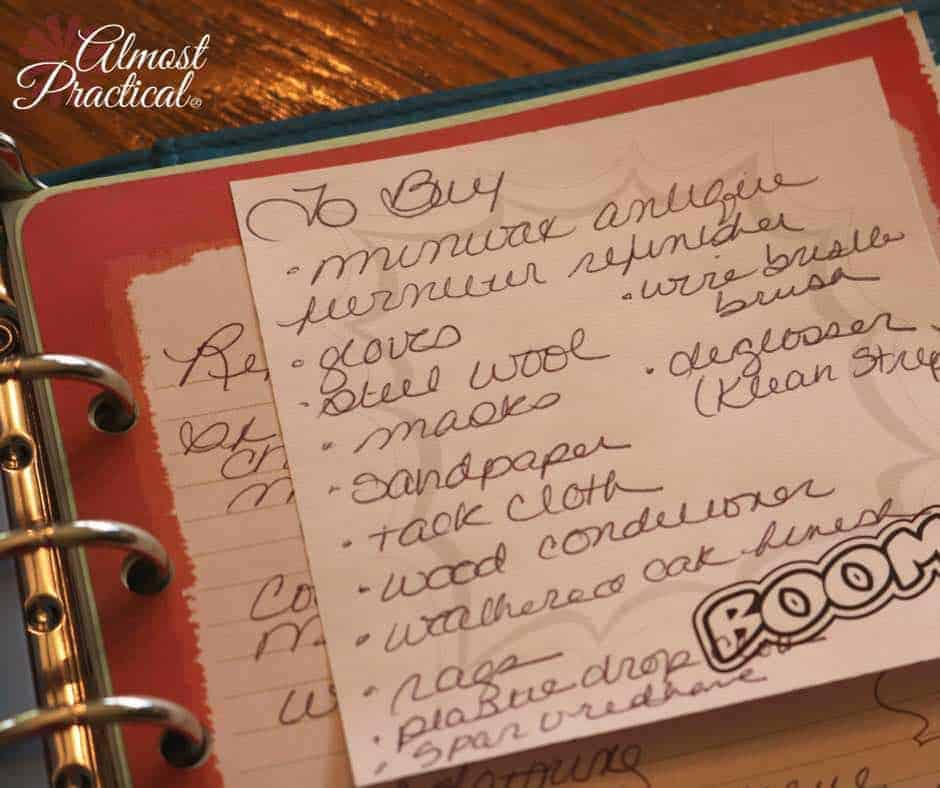 So, what do I need to stain a kitchen table top?
This is the list that I came up with:
Furniture Refinisher
Following Christy's guidance in this article on how to remove stain without sanding on ConfessionsofaSerialDIYer.com – I added Minwax Antique Furniture Refinisher to my list.
Unfortunately, my local Lowe's did not stock this – so I had to go with Formby's instead. Was kind of bummed – but hopefully it will work just as well.
Super Fine Steel Wool
Necessary to use the furniture refinisher – you can find it at Amazon, too.
Work Gloves
You have to protect your skin when working with harsh chemicals so some disposable nitrile gloves will do the trick.
Brush with metal bristles
To get in any crevices – namely the black ridge detail on the table top You can get a simple brush like this one but I found a Warner 3-in-1 stripping brush that seemed to cover a lot of bases.
Tack Cloths
I have not used tack cloths before – but I have read several articles that stress the importance of using them to get all the sanding dust off of your project before you stain.
Face Masks
Technically called Paint Sanding Respirators – you can never be too careful.
Drop Cloth
Since I plan to stain a kitchen table in, well, the kitchen – I needed a good drop cloth to place under the project.
I have a large canvas one for painting, but I didn't want to take chances with any of the furniture refinisher seeping through onto the hardwood floor – so I bought a clear plastic drop cloth to use as well.
Paint and Cleaning Rags
Sometimes I forget to think ahead. Last week we cleaned out the kids closets and sent loads of old T-Shirts to charity or to the trash (depending on the condition).These would have made for great rags.
Instead, I bought a small bag of rags and will scavenge the house for a few more old and unusable t-shirts.
Sandpaper and Sanding Block
Even though I don't plan to sand too much – since the table top is a veneer, I thought that it would be a good idea to have some sandpaper on hand.
I bought a sanding block and sandpaper in a medium grit and a fine grit. Sanding sponges are a good alternative too – and I do have a few of these lying around.
Minwax Wood Finish
I opted to go with Minwax Wood Finish Penetrating Stain in Weathered Oak to lighten the look of the table top.
Helmsman Spar Urethane
When you stain a kitchen table you need to apply a strong finish that can withstand a ton of abuse.My research led me to Helmsman Spar Urethane by Minwax in a clear semi-gloss finish.
I hope that it will be durable enough to stand up to heavy use. Even though it comes in a water based version I opted for the regular oil based product because many online articles said that water based finishes are not as durable as oil based.I don't have personal experience or knowledge with this so, I just went with what I read.
Natural Bristle Brush
You need to apply the spar urethane with a natural bristle brush so I chose a Purdy White Bristle soft natural bristle brush for oil based paints and stains.
Mineral Spirits
I also purchased a can of mineral spirits for brush clean up.
Sander/Deglosser
Looking ahead to the table legs and chairs – I purchased a sander/deglosser by Jasco to prep those surfaces to take paint.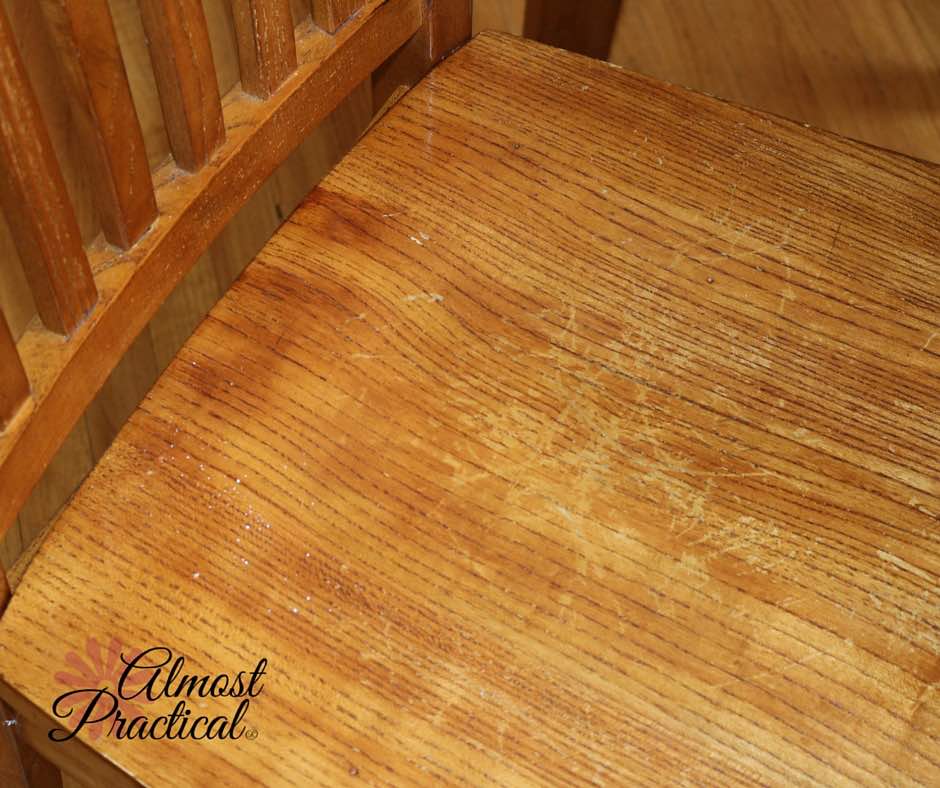 If I go with chalk paint – then I may not need this step to prep but since the seats of the chairs are so scratched up, I am thinking that a little prep work will go a long way.
Total Cost So Far
I picked up these items yesterday at our local Lowe's and the total was about $124.00 so far.
I still have to buy paint and possibly wax for the table legs and chairs, so there is still more to come.
Your Tips to Stain a Kitchen Table Top
If you have attempted the craziness of staining your own kitchen table and have lived to tell about it – I would love to hear your tips.
Please advise in the comments below.
Part 3: Applying furniture refinisher – a few things I learned.
Part 4: Staining the kitchen table top.
Other Projects You Might Like
Pin It