How to Choose the Best Paper Shredder for Your Home Office
This post may contain affiliate links which means I make a commission if you shop through my links.
 Disclosure Policy
There is no doubt about it, a paper shredder is an essential piece of home office equipment that you cannot do without.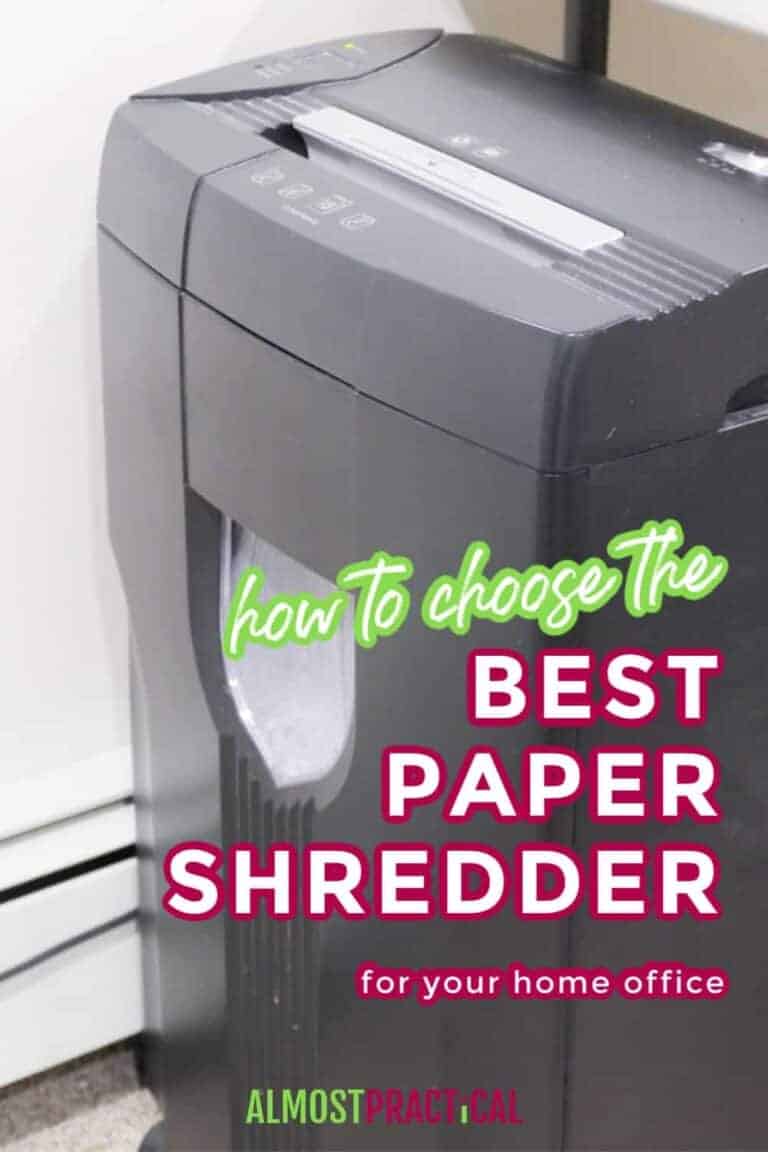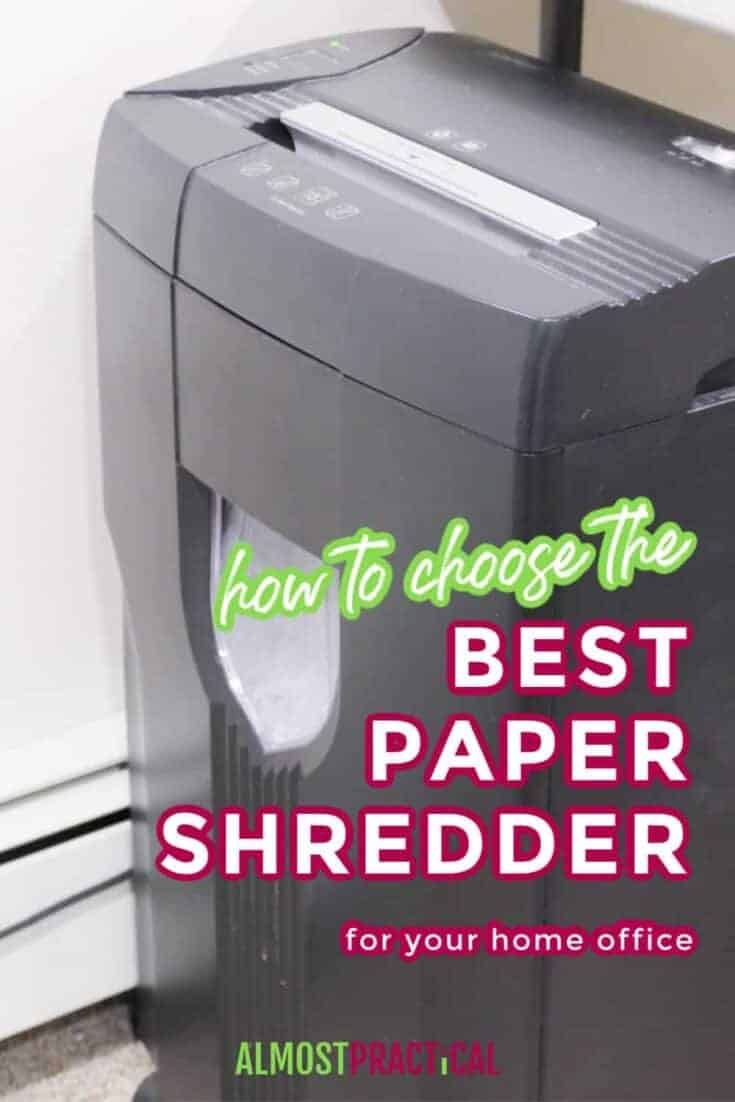 I use mine every single day.
So, it really surprises me when people tell me that they don't even own one.
Why You Need a Paper Shredder
With all of the identity theft issues going on the world – I think that a paper shredder is not an optional kind of thing – it is required, even at home.
According to usa.gov – one way to prevent identity theft is to:
Shred receipts, credit offers, account statements, and expired credit cards. This can prevent "dumpster divers" from getting your personal information.
Maybe I'm a little paranoid – but I do shred just about everything – from junk mail to documents that I no longer need.
More Home Office Organization Articles You Might Enjoy
What to Look For In a Paper Shredder for Home Use
Because a paper shredder is such a work horse – you should not just go with the cheapest one you can find.
Here are some important features that you should pay attention to.
Cross Cut Shredder
The whole point of having a paper shredder is the security that it offers.
So, you want the actual shreds to be small and chopped up enough that no one would be able to piece your documents back together.
A cross cut shredder cuts the paper into tiny, diagonal shreds that are all jumbled up.
This is good.
On the other hand, a strip cut paper shredder is more affordable but offers less security – because someone in theory could tape the strips back together and be able to read your document.
My choice will always be a cross cut.
There are also microcut paper shredders on the market. These shred paper into fine particles – even smaller than the cross cut. However, this type of shredder tends to be more costly and for business use.
Sheet Capacity
You may think that you are not going to use your paper shredder all that much – but the frequency of use is not what matters.
The sheet capacity is much more important.
You see, paper shredders have a tendency to overheat because the motors are working hard to rip those pages apart.
Let's say a light use paper shredder has a sheet capacity of 6 pages.
This means that you can typically feed through a stack of 6 average weight sheets of paper at a time.
However, the motor will likely be smaller on this type of a shredder.
So, if you do your paperwork once a week and shred stacks of documents in one sitting then your 6 sheet capacity shredder will likely overheat before your work is done.
This can be frustrating and cost you time as you wait for the shredder to cool down between batches.
The paper shredder that I use in my own home office is a 15 sheet capacity unit and I have used it day in and day out for years without issue.
Personally, I would not go with anything smaller.
Mine is an old unit, but this 18 sheet shredder and this 24 sheet shredder are similar.
So, make sure that the paper shredder that you choose has enough capacity to handle your typical workload.
Large Bin
Along these lines, you also want to make sure that the receptacle for all the shredded paper is fairly large.
If you have to empty the bucket every 5 minutes, trust me, you will get annoyed.
Can Handle Credit Cards, CD's, and Staples
Chances are that paper is not the only thing that you will be shredding.
It is a good idea to shred expired credit cards (the plastic cards, not the metal cards).
You also may have some old CD's lying around with sensitive data that you will want to shred.
Finally, it is nice if you don't have to remove any staples from your documents before shredding them.
If these features are important to you – make sure that the shredder that you choose is designed for these types of jobs.
5 Paper Shredders for Under 200 Dollars
I know that 200 dollars seems like a lot of money for a paper shredder. But it will save you money in the long run, because you won't have to use a shredding service.
If your budget is tight, I have included a few options for under 100 dollars – but you will have to sacrifice on capacity.
1. AmazonBasics 24-Sheet Cross-Cut Paper, CD and Credit Card Home Office Shredder
This beast of a shredder handles 24 sheets at a time, will shred your CD's and plastic credit cards, has a large bin, and is on wheels for portablility.
2. Bonsaii EverShred C149-C 18-Sheet Heavy Duty Cross-Cut Paper/CD/Credit Card Shredder
The EverShred C149-C is similar to the Amazon Basics unit above – but it handles 18 sheets and has a cooling fan for the motor.
3. Fellowes Powershred 79Ci
The Fellowes Powershred 79Ci can handle 16 sheets at a time. The Fellowes brand is a trusted name in home office equipment.
4. Aurora AU1640XA Cross Cut Shredder
This paper shredder has a smaller 5 gallon wastebasket but it has nice clean lines that would be aesthetically pleasing in a home office.
5. Sentinel FM160P 16 Sheet Microcut Paper Shredder
This Sentinel model is a MICROCUT paper shredder – which means that the shreds are even smaller and more secure than the cross cut models.
Typically, microcut shredders are rather costly and more for commercial and business use.
However, this model is under 200 dollars, so if you are looking for something a little extra yet still affordable – check this one out.
In Summary
A paper shredder is an important piece of equipment for every home office.
Go for a cross cut or microcut model for maximum security and select the highest sheet capacity that you can afford.
You can find models for under 200 dollars that do the job effectively.