10 Fancy File Cabinets for Your Home Office
This post may contain affiliate links which means I make a commission if you shop through my links.
 Disclosure Policy
Looking for something fun and functional for your home office? Here are 10 fancy file cabinets that will dress up your space.
Filing cabinets are essential for home office organization – you need a place for all your paperwork. But they don't have to look boring.
You can easily find a file cabinet to do double duty. Use it to store your files but also use it as an end table or sofa table so that it blends right in with your home decor.
Before you run out and buy something – be sure you think about these VERY IMPORTANT points to help you choose the best file cabinet for your needs.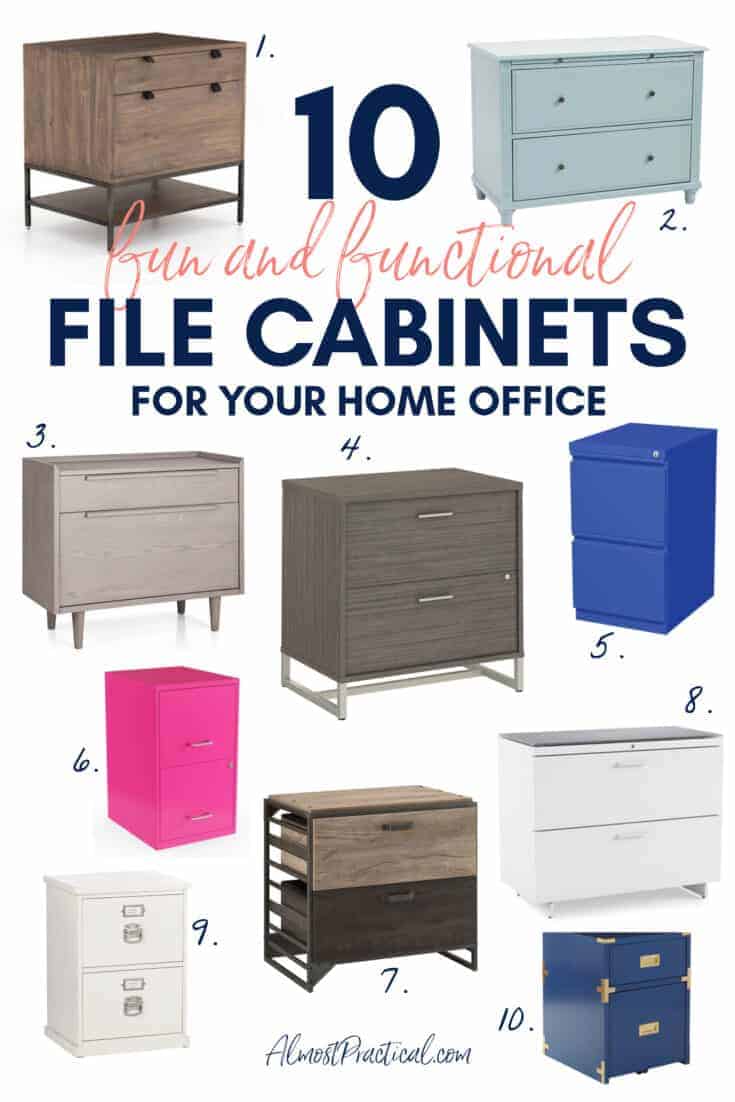 1 / 2 / 3 / 4 / 5 / 6 / 7 / 8 / 9 / 10
You will probably note that I am a big fan of function over form – so I use pretty standard HON office style steel filing cabinets in my own home office.
So, I combed the internet to find some options at different price points that you may find more appealing.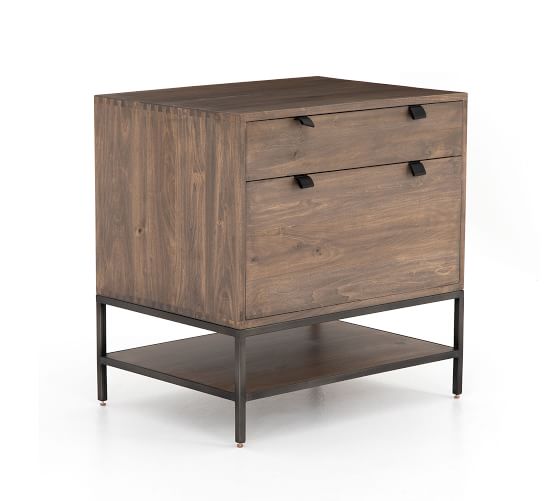 You will find this Graham 2 Drawer Lateral file cabinet at Pottery Barn. (Just search for the Graham File Cabinet if it doesn't come up directly.)
It is made of wood, metal, and has unique leather drawer pulls and comes in two colors – the one you see here and a black option too.
The top drawer is slim and would be useful for storing office supplies.
The second drawer is a lateral file drawer (meaning that you will store your files inside from left to right and not front to back).
Underneath both drawers is a flat shelf that you can use for decorative items or shallow bins that you would purchase separately for additional storage.
This piece of home office furniture is modern and beautiful.
One thing to keep in mind is that it only has one file drawer – so if you have a lot of files, you may want to get 2 units to place side by side or look for another option.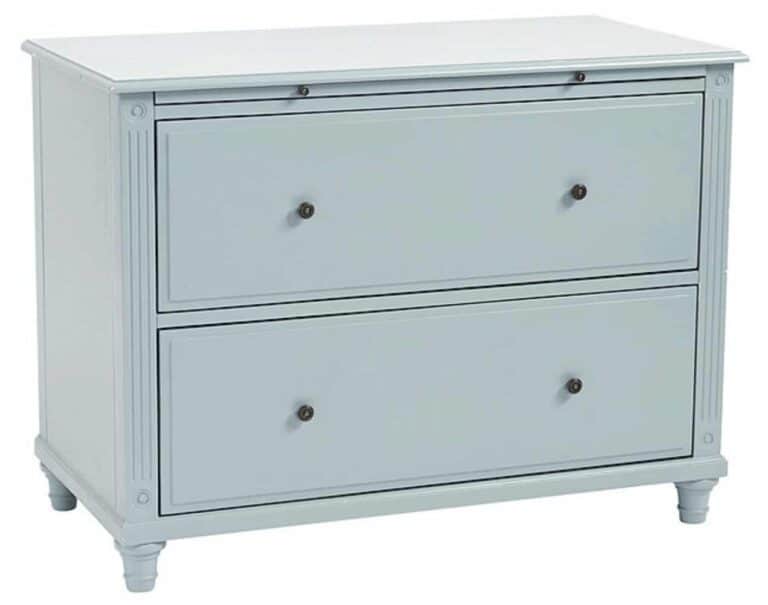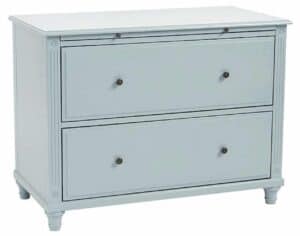 You will find the Verona 2 Drawer Lateral File Cabinet at Ballard Designs.
This feminine file cabinet is just so pretty!
It comes in 3 color options – the soft blue green that you see here, black, and a white version as well.
This filing cabinet has 2 lateral filing drawers so it will hold a good number of files.
It also has a pull out top shelf (9 3/4 inches deep) that you can use for extra workspace.
This is really useful because you can actually store something like a printer on top of the file cabinet and use the pull out shelf if you need some space to write a quick note etc.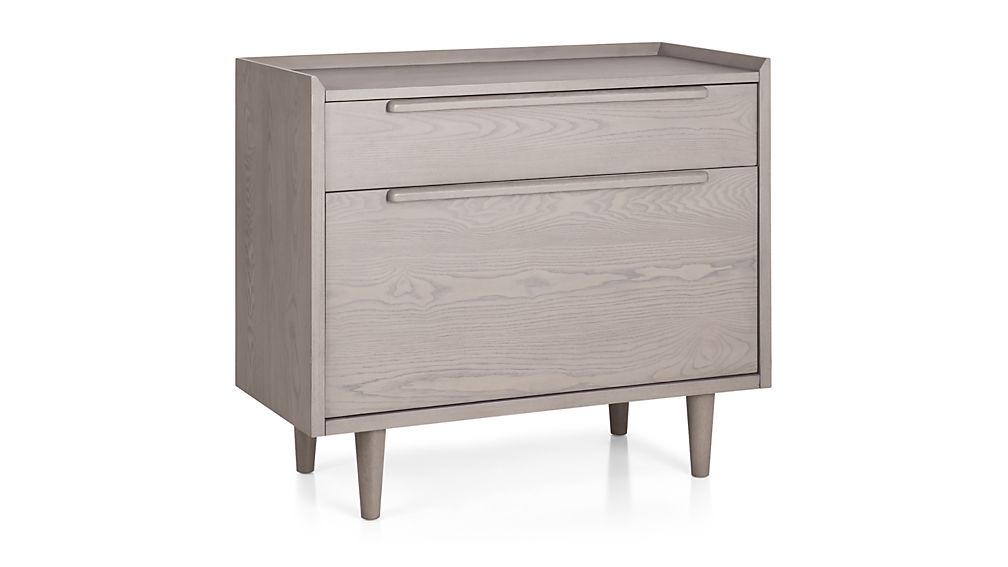 This Tate Stone Lateral File Cabinet from Crate & Barrel is understated yet elegant.
It has a slim top drawer for supplies and one lateral file drawer underneath.
The top surface has a raised "lip" around 3 sides. This will keep things you store on top from falling off the back if pushed too far.
It comes in both the stone color option you see above and a handsome walnut finish as well.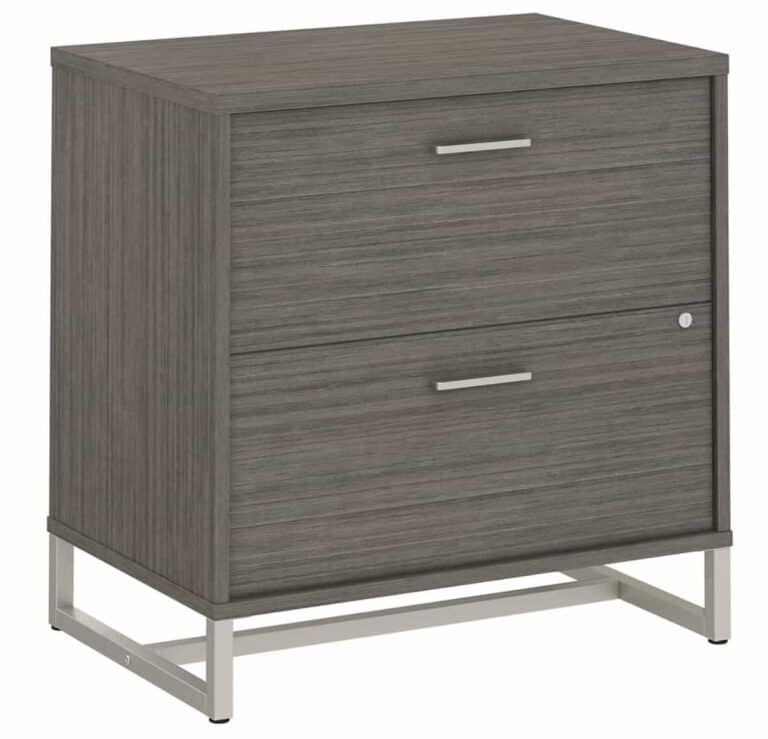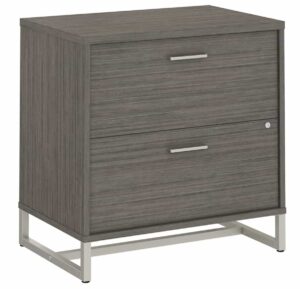 The Method Lateral File Cabinet is from the Kathy Ireland Collection at Overstock.
It is made of a grayish wood laminate with metal appointments.
It has 2 file drawers – the bottom of which can be locked.
You can buy it as a stand alone piece or get the filing cabinet topped with the coordinating bookcase hutch.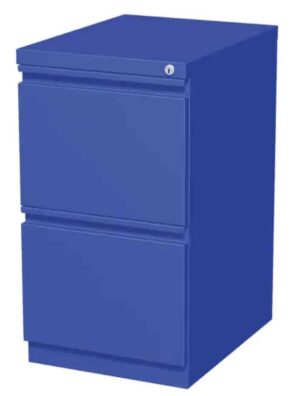 The bright blue color of this Hirsh 2 drawer file cabinet brings a bit of fun to the traditional metal filing cabinets that I so love.
It is perfect for a creative studio or for a teens room – because every parent I know wants their child to be more organized.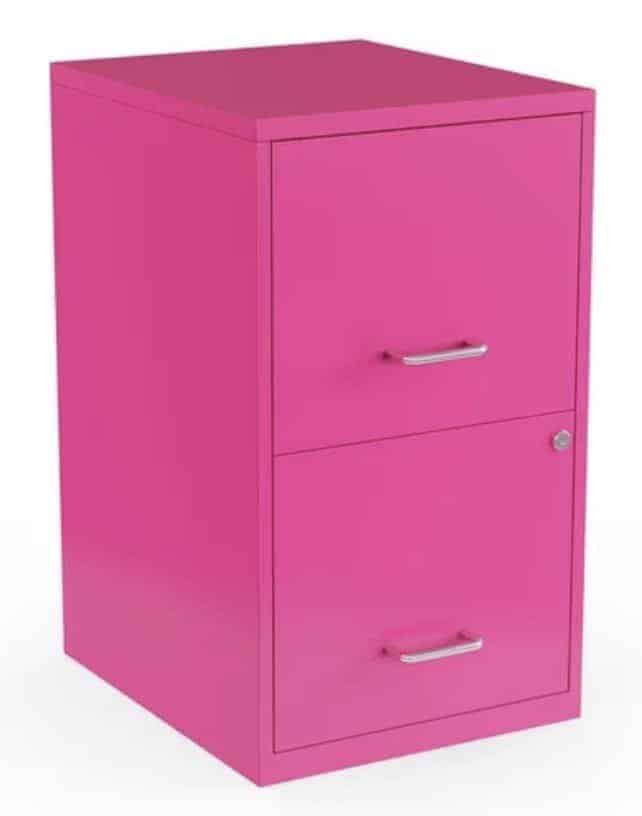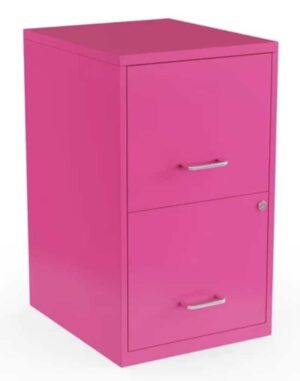 This Porch & Den Harwich file cabinet in bright pink is along the lines of the blue Hirsh file cabinet above.
The hot pink color will make it a fun addition to a kids room or studio space.
The bottom drawer has a lock and it also comes in a bright blue.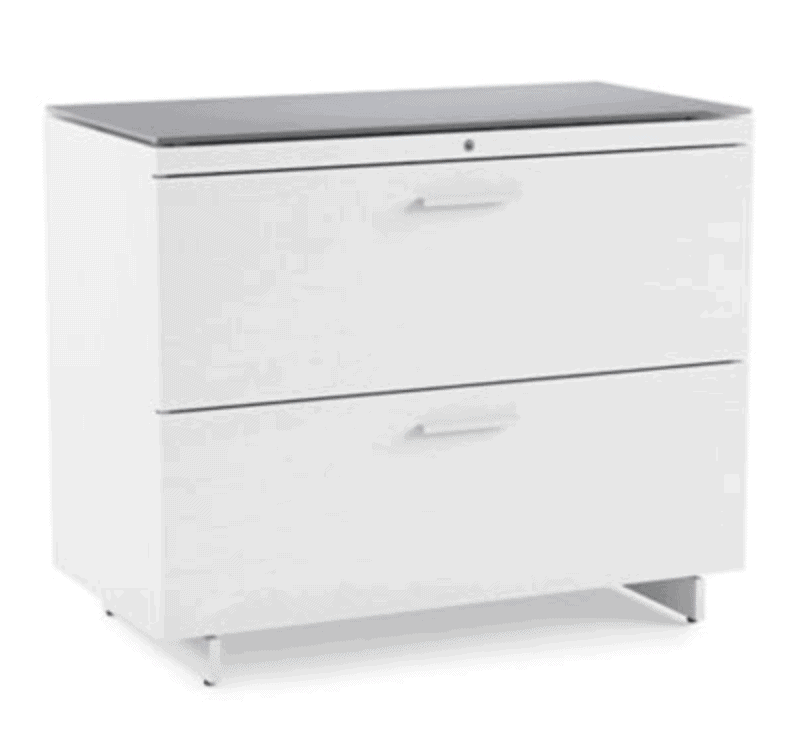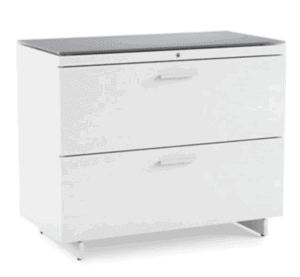 The Centro Lateral File Cabinet at YLiving is a high end option that features a micro etched glass top for a touch of function and elegance.
There are 2 file drawers and a lock to keep things safe.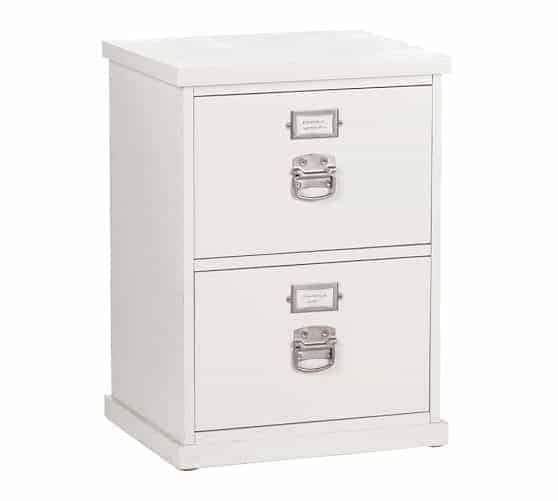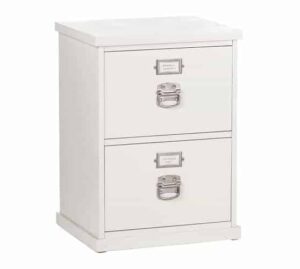 The Bedford 2 Drawer File Cabinet from Pottery Barn brings a more traditional look to your home office. (Search for Bedford file cabinet if link doesn't take you there directly).
It come in both antique white and espresso – and is part of a large collection of office furniture, so you can create a uniform look throughout your space.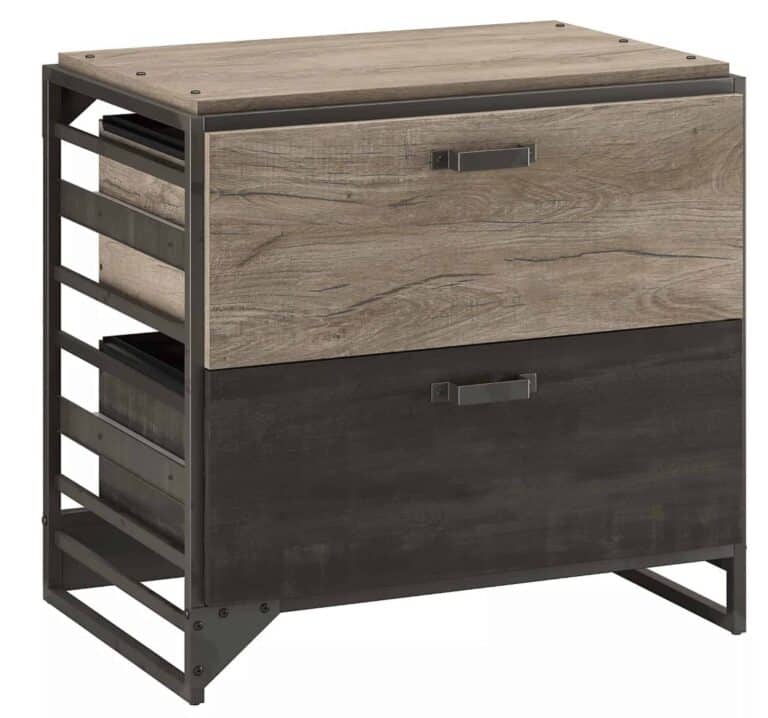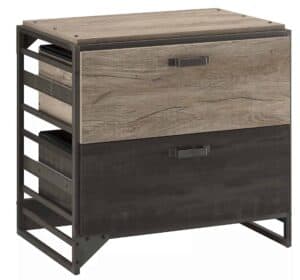 The Refinery 2 Drawer File Cabinet combines both dark and light finishes in one unit for a unique and rustic look.
The sides of this filing cabinet are open so it's good if you tend to be more neat and tidy in your filing practices.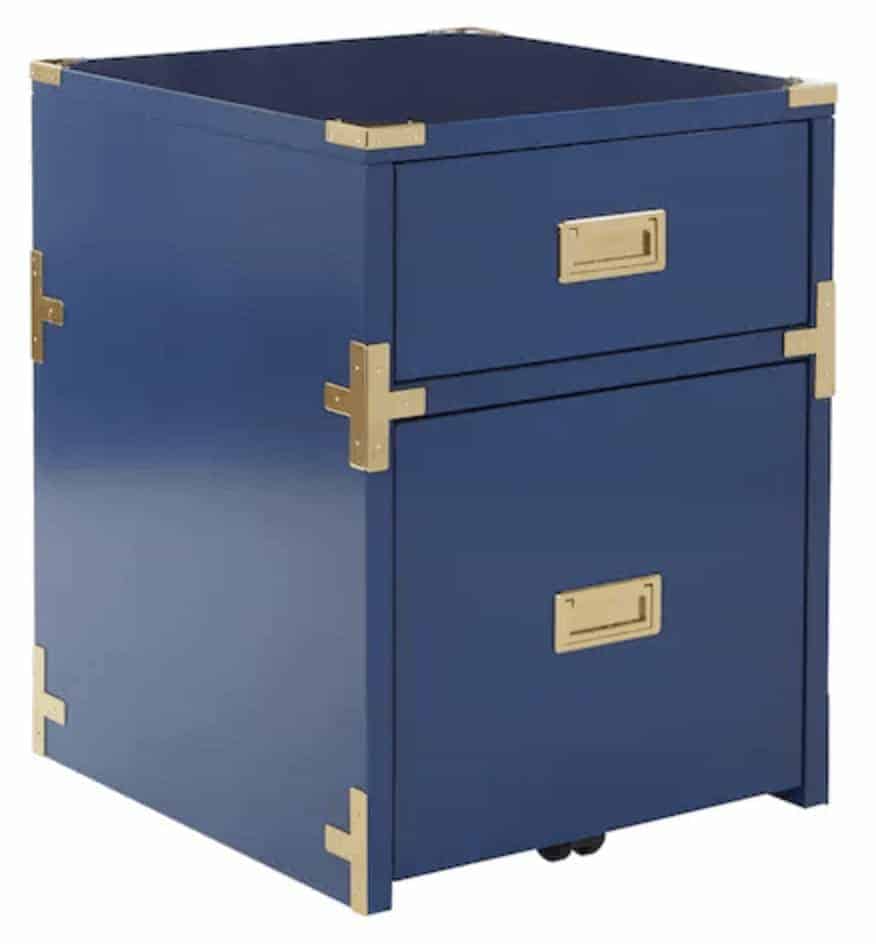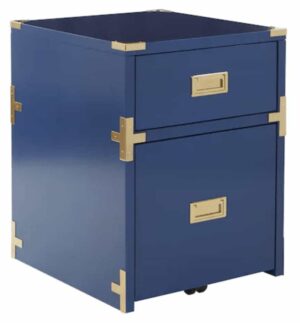 I love the accents on this Wellington 2 Drawer File Cabinet.
It has a ship to shore trunk-like look and the deep blue color makes it a definite conversation piece.
The top drawer is more of a storage drawer, while the bottom drawer is designed to hold files.
This unit is rather small so it probably would not be sufficient for all of your home office files – but it would work for one project or to hold often used files in a more central location in your home.
I can see this filing cabinet doubling as an end table or a printer stand as well.
Which File Cabinet Do You Like Best?
There you have it – 10 pretty file cabinets for your home office – everything from high end to affordable – that are great alternatives to standard industrial style office fare.
Personally, my favorite is number 2 – the Verona file cabinet.
Which one do you like best? Let me know in the comments below.