How to Choose the Best File Cabinet for Your Home Office
This post may contain affiliate links which means I make a commission if you shop through my links.
 Disclosure Policy
If you struggle with paperwork organization, then there is a good chance that you haven't chosen the best file cabinet for your home office.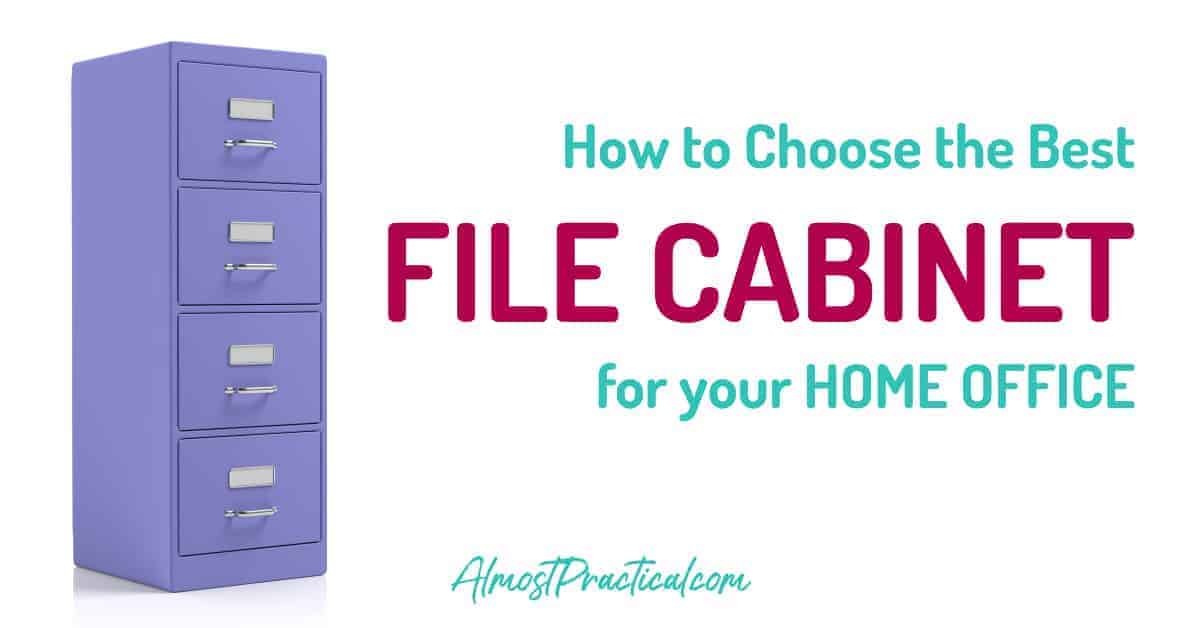 Too often people will pick a file cabinet based on the way it looks. In fact, some people don't even have a file cabinet because it doesn't fit with their decor.
This is a mistake!
A file cabinet is an essential tool that you need to keep yourself organized.
This is still true even if you have a "paperless" office.
Think outside the box for a minute – you can store more than just paperwork in a file cabinet.
Are you starting to see the possibilities?
To choose the best file cabinet for your space, you need to think of it as a workhorse and not just another piece of furniture.
More Home Office Organization Articles You Might Like
Features to Consider When Choosing a File Cabinet
While your home office and your specific needs will be different from someone else's, there are some things that everyone should consider before buying.
Quality Comes First
As I said before, a file cabinet is a work horse. It is an essential part of your organization system.
To that end, you will possibly be using it do any or all of the following:
opening and closing the drawers many times throughout the day,
storing lots of essential items like paperwork, photos, documents, and even office supplies inside,
possibly be using the top (of a two drawer unit) as a credenza or work surface,
rolling the unit into the space where you work
Given the work out that this piece of office furniture gets, you can see that the quality of your file cabinet is REALLY important.
Personally, I prefer filing cabinets that are:
made of metal and
have full extension file drawers that open and close smoothly.
The three units that my family owns happen to all be made by HON Industries – even though they were all purchased at different times.
I have a:
For sure you will want to avoid flimsy pressboard file cabinets that you have to assemble.
Sure they are more affordable, but they just are not likely to be as durable.
All of the opening and closing of drawers will really put pressure on the structure and it could become wobbly over time.
I have owned my first HON file cabinet for over 23 years now and it is still as good as new.
How Much Stuff Do You Have?
The second thing you want to consider when choosing the best filing cabinet for your home office is the sheer amount of stuff that you plan to store inside.
Do you tend to scan and shred papers? Do you get most of your statements delivered electronically?
If you have cut back on the amount of paper that crosses your desk then you might not need a tall four drawer file cabinet.
On the other hand, are there things that "float" around your home office that don't have an official spot?
You might consider putting some of these items in your new cabinet – in which case a bigger unit might be better.
Here are some unconventional things that I store in my file cabinets:
I have one file drawer dedicated to family and school photos.
I use a lot of 3 ring binders to organize my paperwork. I will place these binders in a file cabinet drawer (with the spines up and open side down) to keep them organized and out of sight.
One drawer is for awkward sized office supplies and equipment – extra power strips, extension cords, and my label maker for example.
What File Size Do You Need?
When I say file size, I am not talking about digital files – rather I am going old school.
Do you want a letter size file cabinet or a legal size one?
Letter size will hold 8.5″x11″ papers comfortably. Legal is for 8.5″x14″.
Before you jump to make your decision, consider this:
Smaller items can fit in legal size folders but it is hard to stuff larger items into letter sized folders.
If you have large photos, big binders, boxes, or lots of legal documents then maybe a legal size file cabinet is the way to go.
At this point you should also start to consider the physical location of your file cabinet.
A legal size file cabinet will be wider than it's letter size counterpart.
How Many Drawers Do You Need?
Throughout this process you are probably starting to visualize what types of things you will store inside your new file cabinet and how you will set it up organizationally.
The question at this point is whether two drawers will be sufficient or will you need four or more to fit all your stuff.
Do You Want to Use Vertical Space or Spread Out Horizontally?
If you decided that you need at least four drawers, then the next question is whether you should get a four drawer tower style file cabinet or 2 two drawer units.
The advantage of a tower unit is that it takes up less floor space and makes use of vertical space that otherwise may be wasted.
On the other hand, the advantage of a smaller 2 drawer unit is that you can use the top of the file cabinet as additional workspace or as a printer stand, etc.
Should You Get a Front to Back Unit or a Lateral File Cabinet?
What I mean by a sideways or lateral file cabinet is the one pictured below:
If you plan to use your file cabinet like a credenza – sort of behind or at an "L" to your actual desk, then a lateral file cabinet may be a better choice.
You put your files into a lateral file cabinet sideways, so the drawer does not open out as far as a traditional file cabinet would.
Do You Need A Lock?
For a home office, you may not need a filing cabinet that locks.
But if you do, make sure the one pick has that feature.
The Best Filing Cabinet is a Practical One
You have probably figured out that the best filing cabinet is the most practical one, at least in my book.
It should be
high quality – able to withstand heavy use,
spacious enough to fit all your stuff,
yet also be able to fit into the space you have available in your home office, and
perform double duty if needed for additional workspace.
If Decor Is Important To You …
However, if you must go with something more pleasing to look at – there are options that may fit better with your decor.
Be sure to read the reviews to see what people are saying about the quality.
Here are a few decorative filing cabinets that might appeal to your sense of style over the metal ones I discussed above.
I also posted 10 fancy file cabinets that I found here.