Why Amazon Prime is a Great Deal
This post may contain affiliate links which means I make a commission if you shop through my links. Disclosure Policy
I have been a member of Amazon Prime since it first came out so many years ago. And I have never once questioned my decision to join.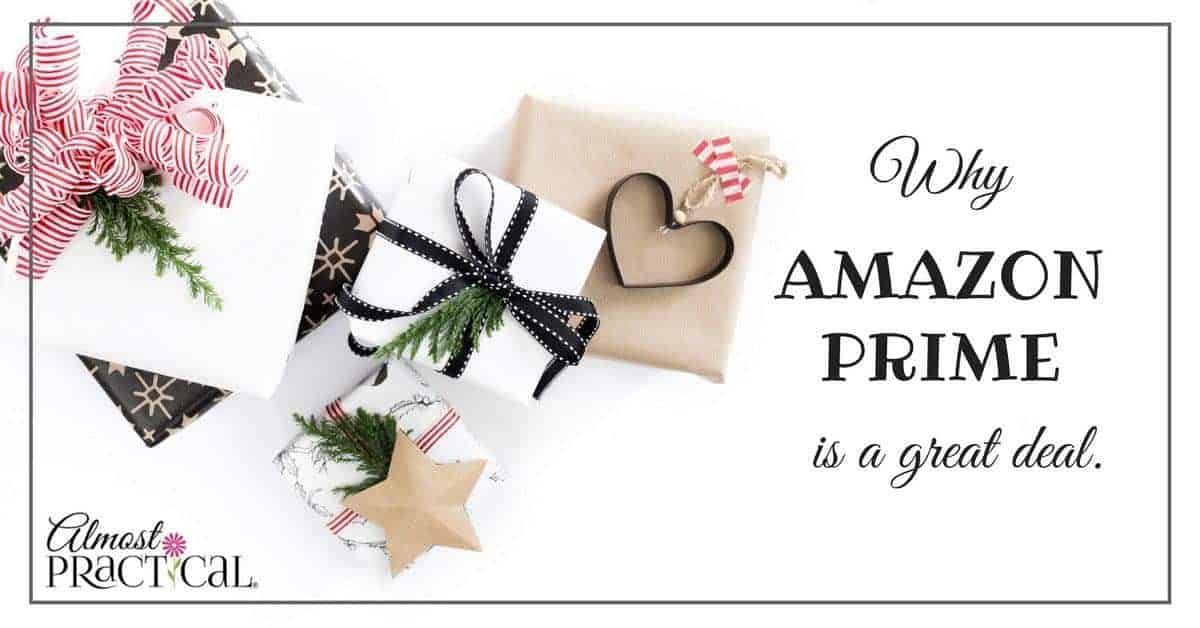 I feel that the benefits have far outweighed the cost. This is why.
Benefits of Amazon Prime
When you think of Amazon Prime, you probably think of free 2 day shipping.
While that is huge – it is also the tip of the iceberg.
Free Shipping Is Great
I'll start with free shipping because it saves me time and money, and I love it.
When you have a family, you need stuff. And sometimes you need stuff, like, yesterday.
Quick Links
Think school projects that your darlings didn't tell you about until the week they were due. Or upcoming birthday parties that you forgot about.
Not to mention Black Friday (how many orders do I place on that day?)
This is what you get – free two day shipping on eligible products, no minimum order, no limit on how many orders.
In some metro areas (not mine) you may also get free same day delivery and free 2 hour delivery on essentials with Prime Now. How cool is that?
Prime Videos
Prime videos is also included in your Amazon Prime membership.
Just like Netflix or HBO Go, Prime Videos adds another layer to your entertainment options. If you have an Amazon Fire Stick then Prime Videos is built right in.
Prime Music
Prime Music is also included in your Amazon Prime Membership and seems to be Amazon's version of Apple Music.
If you have an Amazon Echo (on my wish list) or any device that uses Alexa then Prime Music becomes infinitely more useful.
Get access to over two million songs. Not to shabby.
Unlimited Reading
This is a new benefit to Amazon Prime and I just love that Amazon keeps adding new features to something that I already pay for.
With Prime Reading you get access to select books and magazines for free. Believe me, you will never run out of things to read.
Free Original Audio Series on Audible
Here is an Amazon Prime benefit that I have not taken advantage of – Audible Channels.
If you like books on tape, ahem, audio books then you can't pass this one up.
Benefits for Gamers
Twitch Prime – it's a thing.
You get free game loot and ad free viewing plus 20% off new release box games for Playstation 4
, XBox One
, WiiU
, and PC.
Prime Photos
Prime Photos is also included in your Amazon Prime membership and gives you unlimited space to store and share all of your photographs.
Early Access to Lightning Deals
If you shop at Amazon regularly, you have probably seen their Lightning Deals. These are sales that are available for a short time and they often sell out. Amazon Prime members get early access to these deals, so on days like Black Friday you have a better chance of getting what you want.
Amazon Prime Day
For the past few years Amazon has held a big one day sale in July just for Prime members. Some people love it, some people hate it. But the bottom line is that with your Amazon Prime membership you get access to the sale.
How Much Does Amazon Prime Cost?
So, the big question is how much does Amazon Prime cost.
Well, currently you get all of the above features for only $99 per year.
Seriously.
I would probably more than that for shipping alone, without Prime.
You can also pay month to month instead, which runs for $10.99 per month.
And as always, Amazon offers a 30 day free trial which you can get here.
Do You Use Amazon Prime?
I think that Amazon Prime is a great deal because you get a ton of stuff with your membership.
Free shipping
Prime Videos
Prime Music
Prime Reading
Audible Channels
Twitch Prime
Early Access to Lightning Deals
Amazon Prime Day
What are your thoughts? Leave a comment below.
Pin This