10 Home Office Organization Essentials That You Need to Stay On Track
This post may contain affiliate links which means I make a commission if you shop through my links.
 Disclosure Policy
Home office organization is key to your productivity.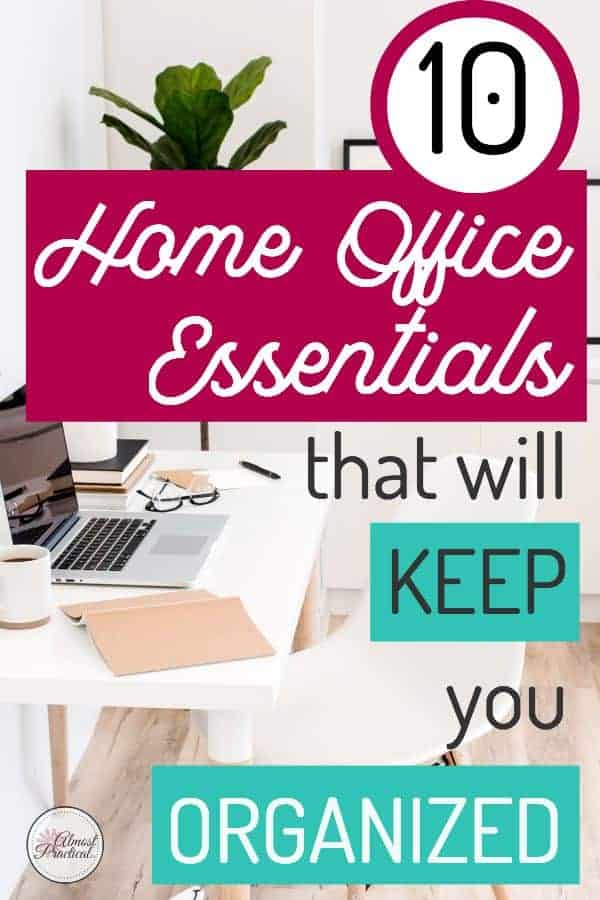 Think about it – it's really hard to focus when you are surrounded by a big mess.
It doesn't matter if you have a small home office or a big space, you just need to keep it organized.
But no matter where you work, you should have these 10 things to keep yourself on track.
The 10 Essentials You Need for Home Office Organization
1. A Home Office Desk
It doesn't have to be an "official" desk.
In fact, my own home office desk is basically a large table in a small corner of the basement.
The important thing is that you have a surface that is all your own, where you can collect all your materials and do your work.
Sure you can work on your laptop anywhere – but a home base is very important.
It doesn't have to be complicated or expensive either.
This simple little desk won't break the bank and will fit in a small space.
If you have a free corner in your home office – a corner desk like this one is a good option.
You can do your computer work on one "arm" and your paperwork on the other.
The healthiest option is the standing desk or a convertible type where you can go from sitting to standing like this one.
Whatever you choose, it is important for you to have your own space to work.
Don't make the couch your new home office!
2. An Ergonomic Chair
Many years ago, my husband and I invested in a set of Leap ergonomic desk chairs.
It was one of the best investments we made for our home office.
After all, we spend more time sitting in those chairs than we do sitting on our living room furniture, so it is important that they are supportive and comfortable.
3. A Filing Cabinet
Even if you have a paperless office – you still will have paper.
And that paper clutter can cause you to become a disorganized mess.
We have a letter size 4 drawer metal filing cabinet like this one. It's nothing fancy but it gets the job done.
I wanted something with smooth pullout drawers and a lock. We also put ours on rollers so it's really easy to move the filing cabinet around if we decide to rearrange the room (which I do often!).
If you want something a little more furniture like, something like this credenza could do the trick.
Here are some thing you should consider to find the best file cabinet for your home office.
Related Post: 10 Fancy File Cabinets to Dress Up Your Home Office
4. A Scanner
No matter how big of a filing cabinet you end up with, some documents are better stored online.
If I need something on the go or across devices I will store them in Evernote for easy access.
To get the paper document onto my computer – I use a Fujitsu high speed sheet fed scanner.
Even if you are not going completely paperless, this will still come in handy.
5. A Quality Paper Shredder
Once you scan those papers in, you need to be able to dispose of the hard copies securely.
Don't store stacks of paper around the house while you wait for a community shredding day or event.
Invest in a quality paper shredder for your home office.
Ideally, the paper shredder that you choose should be able a cross cut model (meaning the shreds come out looking like confetti and not linguine).
It should also be able to handle a good stack of paper all at once and not overheat if you use it continuously.
6. A Real 3 Hole Punch
I use a lot of binders in my home office. I actually prefer pretty patterned ones so I can tell them apart at a glance.
But actually filing papers in binders can be a chore if you don't have the right tools.
I used to have a flimsy 3 hole punch that could only handle a few sheets at a time.
What a chore!
I've since upgraded to a high capacity three hole punch that has lots of power.
Because my tools work well, I keep up with my filing which makes home office organization a breeze.
7. Open Shelving
I have books and binders in my home office.
If I didn't have open shelving, these would end up in stacks all over the floor.
I prefer to use units with 5 shelves so I can fit more on them.
8. ONE Physical Inbox
An inbox can be the best organizing tool on the planet or the worst thing possible.
To use an inbox for your home office organization system – make sure you have one and only one.
Place everything that needs your attention in there.
And CLEAN IT OUT on a regular basis – preferably daily.
In this case simple is better. I use this style of wire mesh inbox on my home office desk.
9. A Smooth Stapler
A smooth stapler is sort of along the same lines of the 3 hole punch.
Let's face it, staplers really do last forever. So, if you are using an ancient model that requires a lot of effort and doesn't really handle many pages, then it's time to upgrade.
If you enjoy using your home office tools – then you will actually use them, which will in turn keep you organized.
10. A Tall Cabinet for Office Supplies
We use a tall storage cabinet to hold all of our home office supplies.
In this cabinet you will find everything from
printer paper,
loose leaf paper,
markers,
extra pens/pencils/erasers,
notebooks,
notecards,
folders,
art supplies,
you name it – it's in there.
We used to have these supplies all over the house.
Each one of our children would have a bunch of supplies in their desks. We also had a kitchen junk drawer that held random office supplies.
It was cluttered and not at all efficient.
I would end up buying more supplies even if we already had them because – well, I couldn't find them.
Ever since we started using a tall storage cabinet for home office supplies our whole house has become more organized.
Again, I prefer having 5 shelves because you can store smaller items without wasting space.
You also want to make sure that the shelves are sturdy enough to hold a good amount of weight. Paper and notebooks do weigh a lot, so you don't want the shelves to buckle.
Choosing the Right Home Office Furniture is Important
As you can see, many items on this list of home office organization essentials are actually furniture.
What you choose makes a big difference in what you use.
If you have the right desks, chairs, and storage (filing cabinets and supply cabinets) you will tend to stay more organized.
Whether you buy new or repurpose items you already own, make sure you create a functional space that serves the way you work.
And remember if you are organizing your home office, save some time by shopping with Amazon Prime. You get free 2 day shipping on a whole range of stuff. And they offer a 30 day free trial, which is pretty awesome.
What is the one thing in your home office that you can't do without?
Let me know in the comments below.
More Articles You Might Like