Easy Kale Chips Recipe
This post may contain affiliate links which means I make a commission if you shop through my links.
 Disclosure Policy
I had no idea that kale chips would be so easy to make.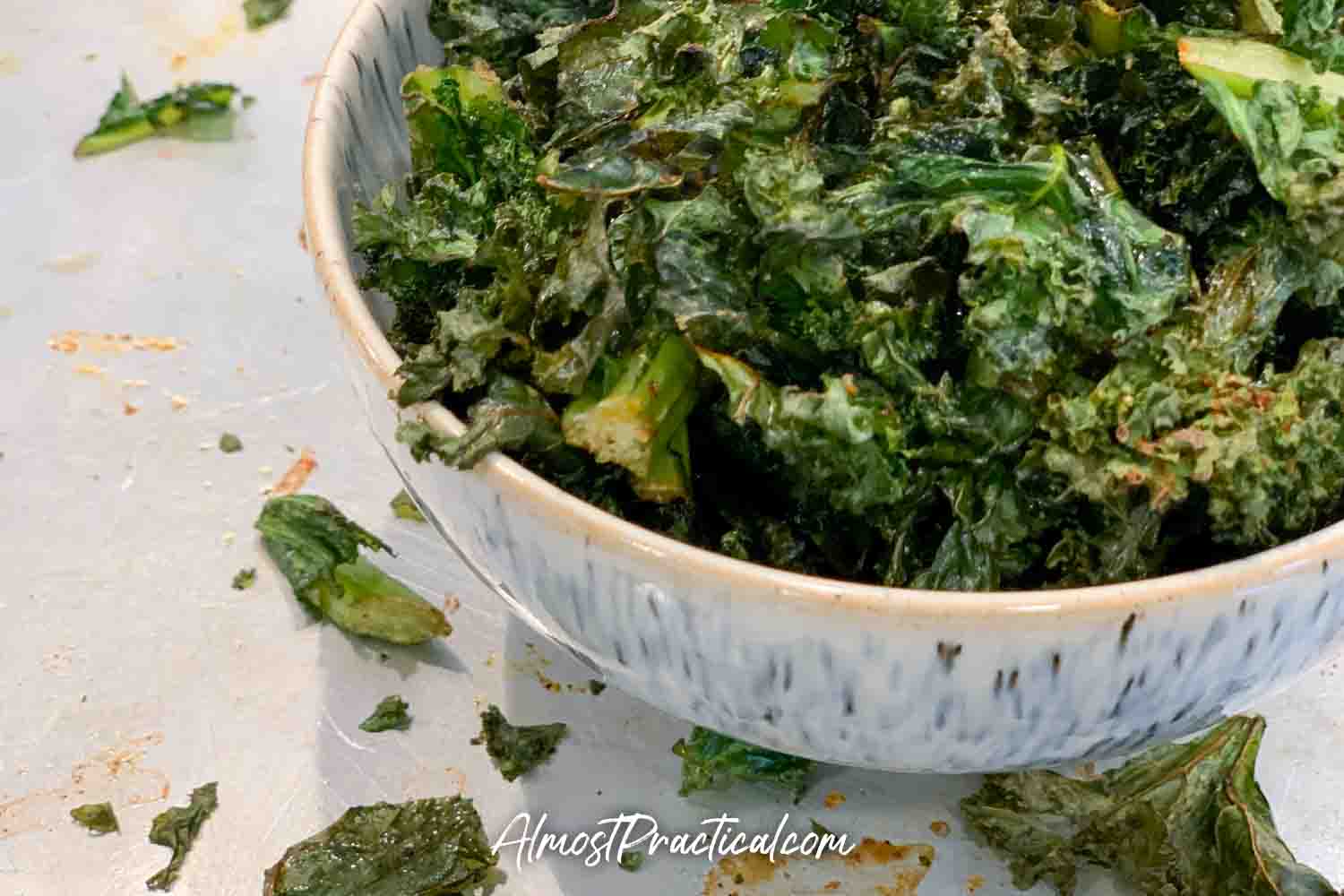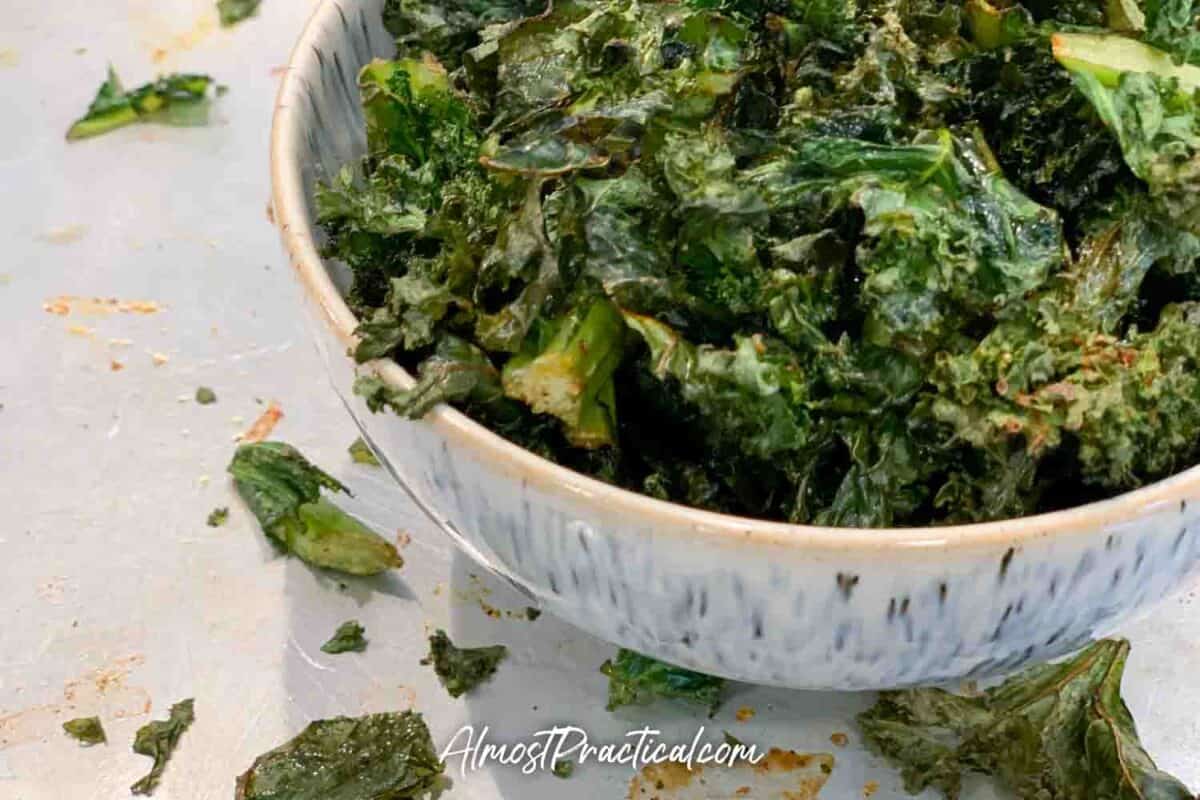 You simply toss kale with olive oil and seasonings – and then bake.
Why did it take me so long to figure this out?!
The best part is that you can change up the seasonings each time you make this recipe for a different taste each time.
I will share with you the seasoning combination that I used – which we like a lot.
Bagged Kale or Whole Leaf?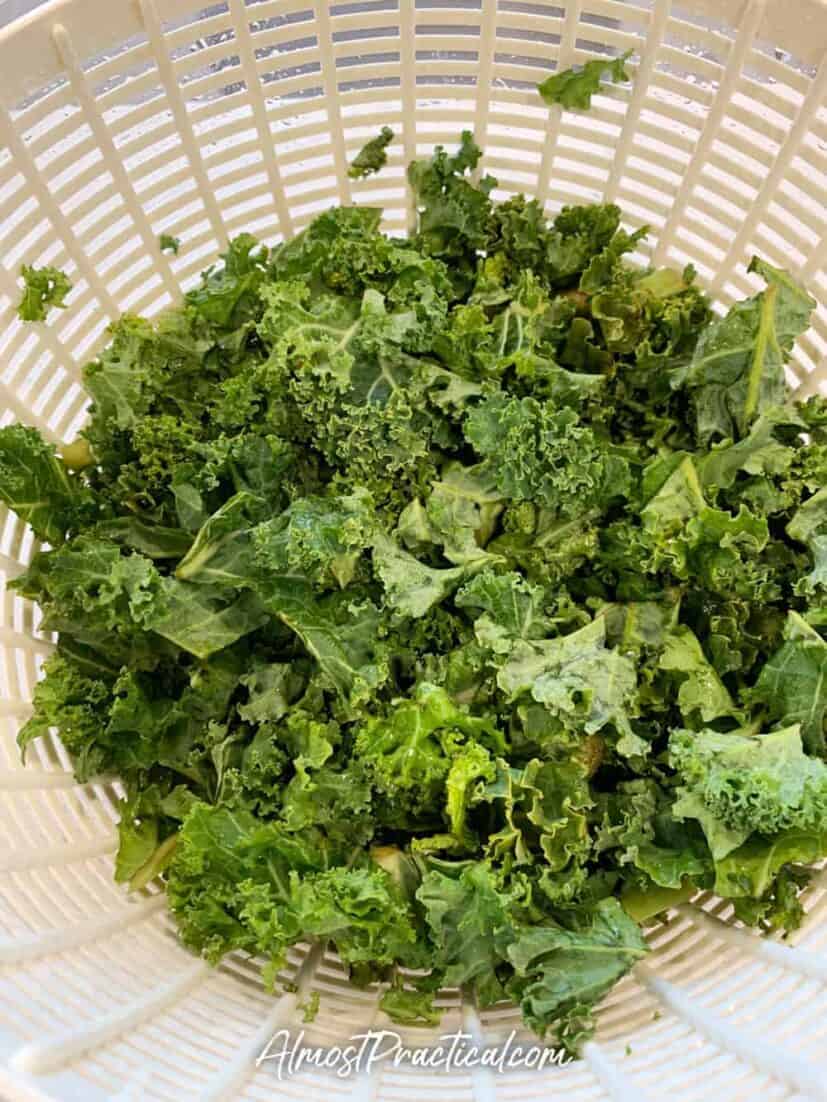 For this recipe you can either use pre-cut bagged kale or a bunch of fresh kale that you trim yourself.
You will get the biggest chips if you wash, cut, and trim a bunch of kale yourself.
If you use bagged kale, your chips will be small and you will get a lot of pieces that are basically crumbs.
It may seem weird but you can actually serve chips made from bagged kale with a spoon.
This way you don't miss out on all the crumbly goodness and get to keep your fingers clean.
Personally, I tend to buy bagged kale because I like to take shortcuts – and it's just easier for me to have it there at the ready to toss into smoothies and other recipes.
The thing is that a bag of kale holds a whole lot of promise – but spoils faster than I can eat it all.
So, using half a bag to make kale chips is an easy way to finish it up before it goes bad.
Whichever you choose, make sure to wash and use a salad spinner to spin dry as a first step.
The Seasonings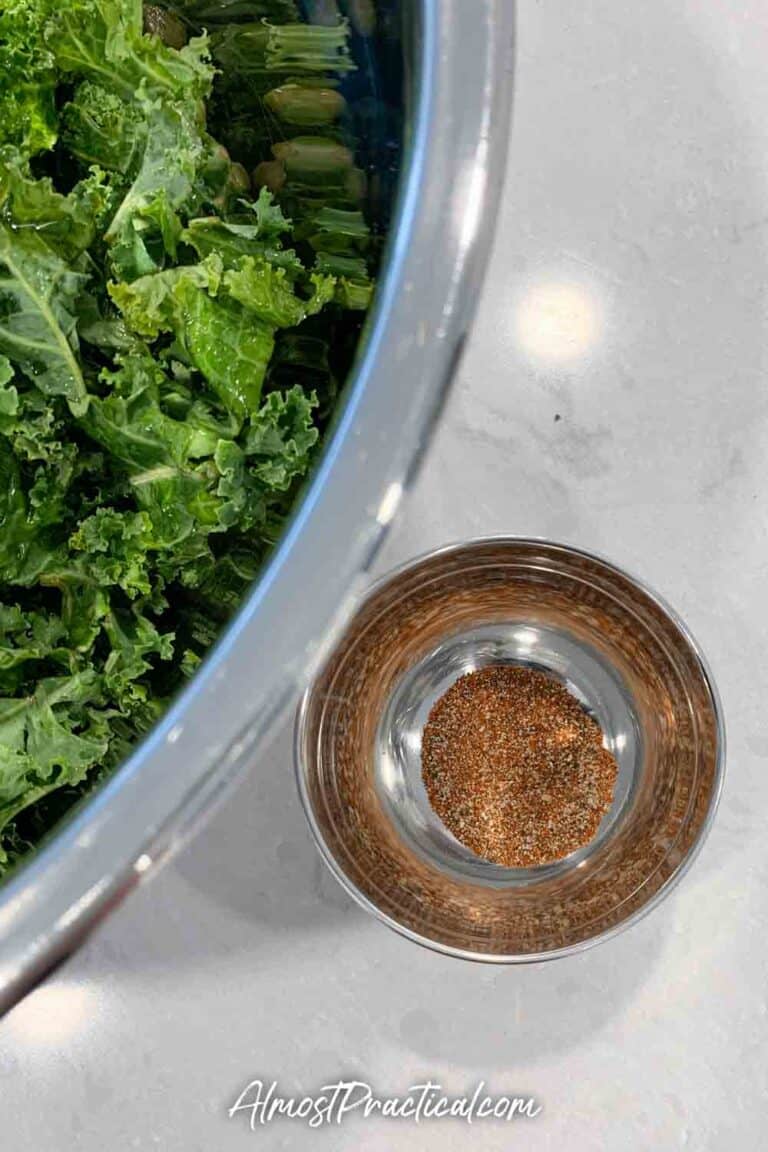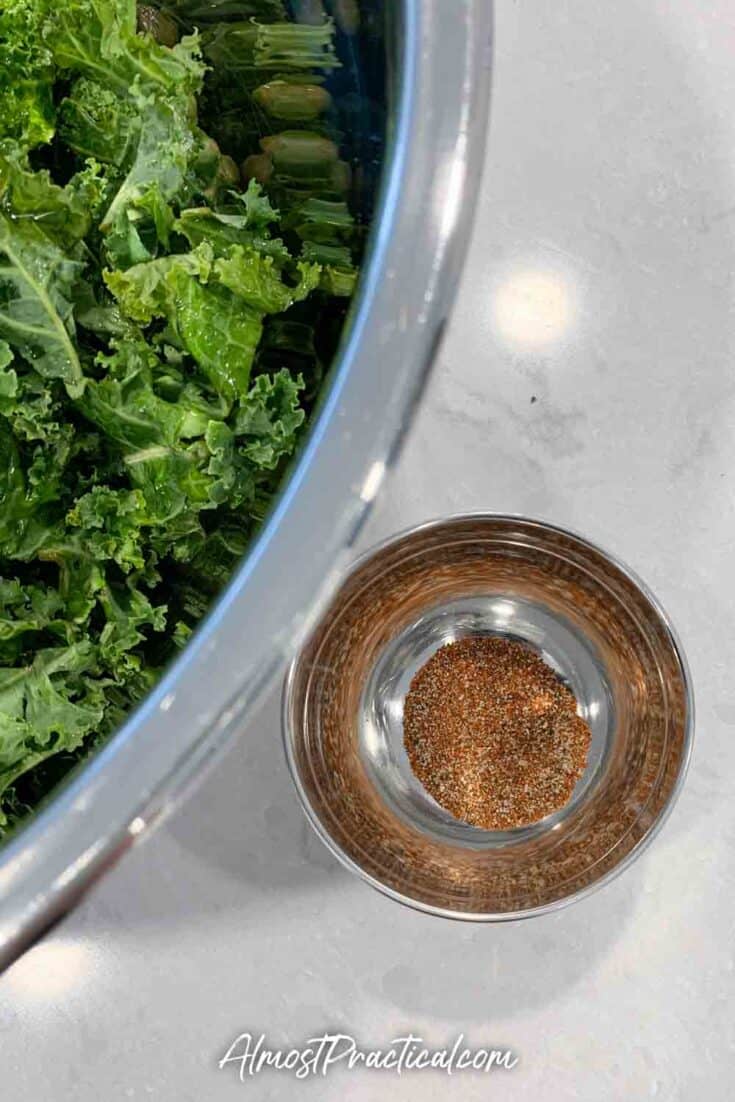 You can use just about any powdered seasonings that you have on hand to season your chips.
For something super simple – just add salt and pepper.
I use the following spices in this recipe:
My family really loves the above combination.
What Spices Go Well With Kale?
But if you don't have those ingredients on hand, you can spice things up with any mix of the following instead:
any other spices that you like.
The Process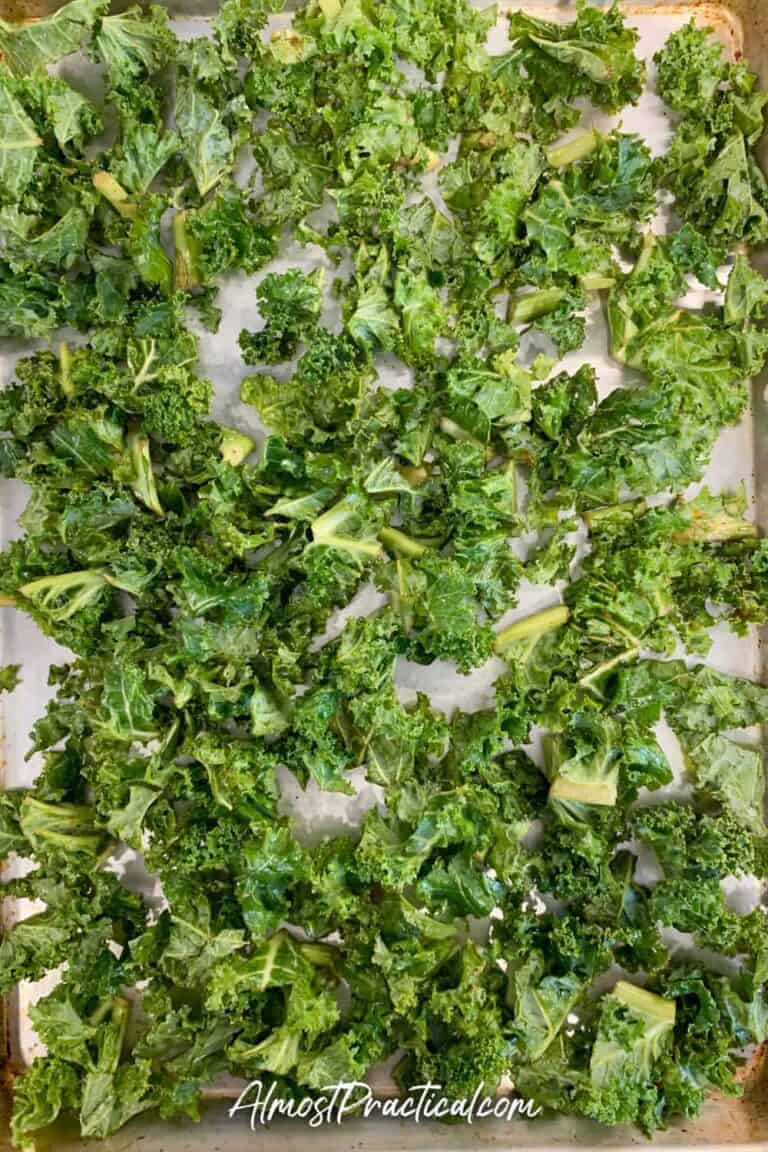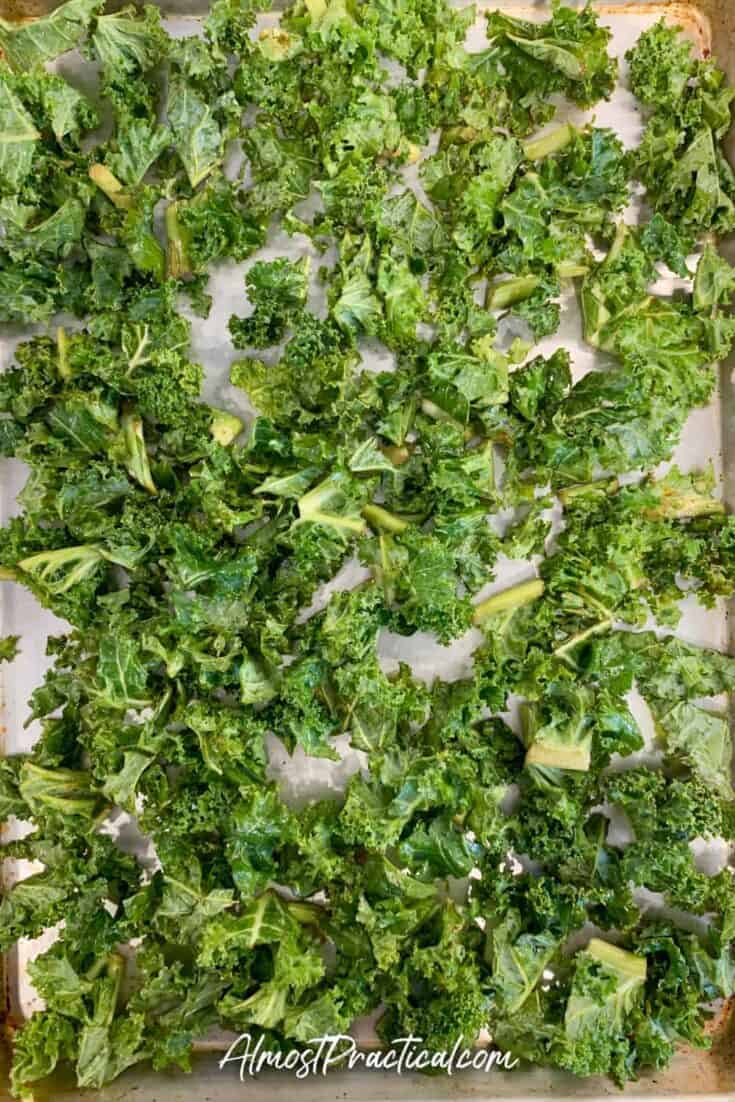 Making the kale chips could not be any easier.
In a large mixing bowl, toss the kale pieces, olive oil, and seasonings.
Spread it all out in a single layer on a large baking sheet and bake until crispy.
Don't be surprised to see that kale shrinks down as it bakes. This is because there is natural water in the leaves which evaporates as you bake them.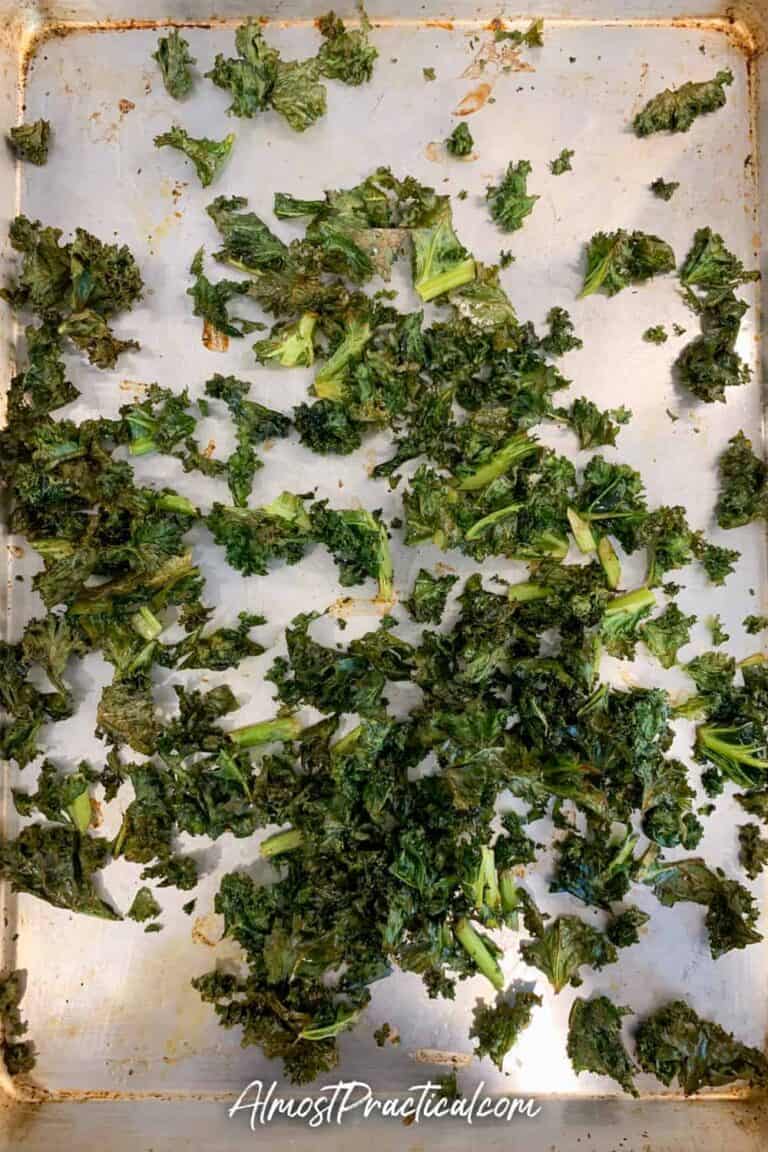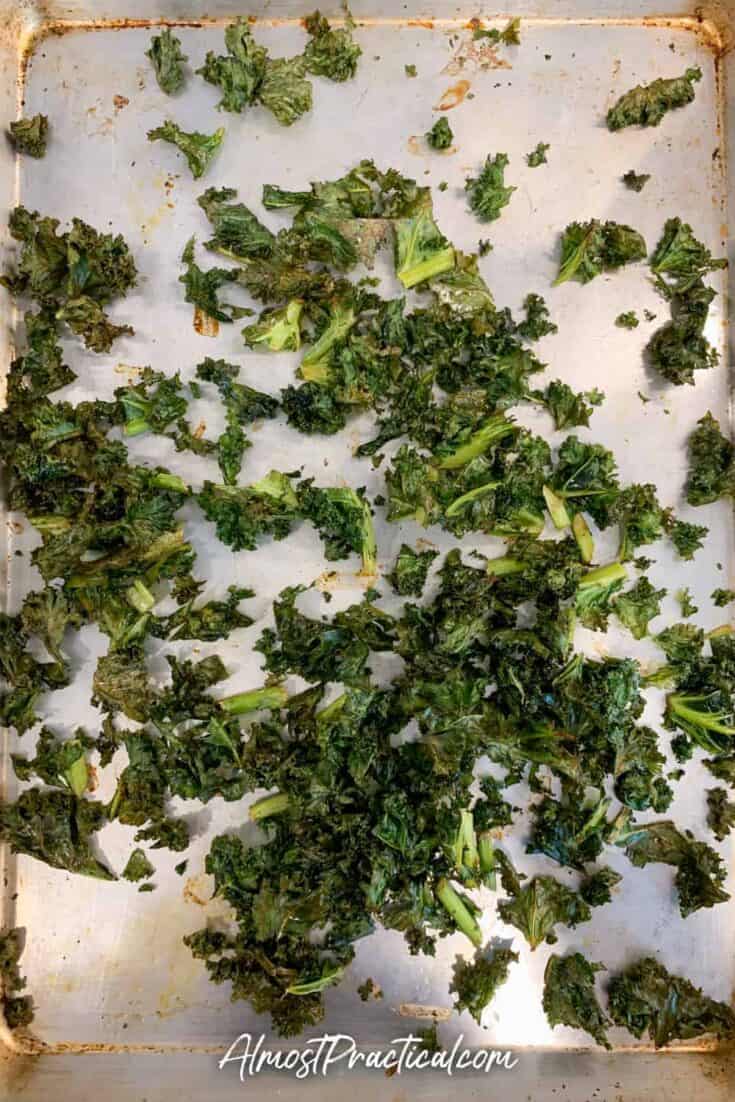 Serve right away – these chips make for a healthy snack or a light appetizer.
I find that these do not stay crispy when stored, so it's best to make only what you plan to eat.
Here's the Printable Recipe with the Exact Quantities that I Use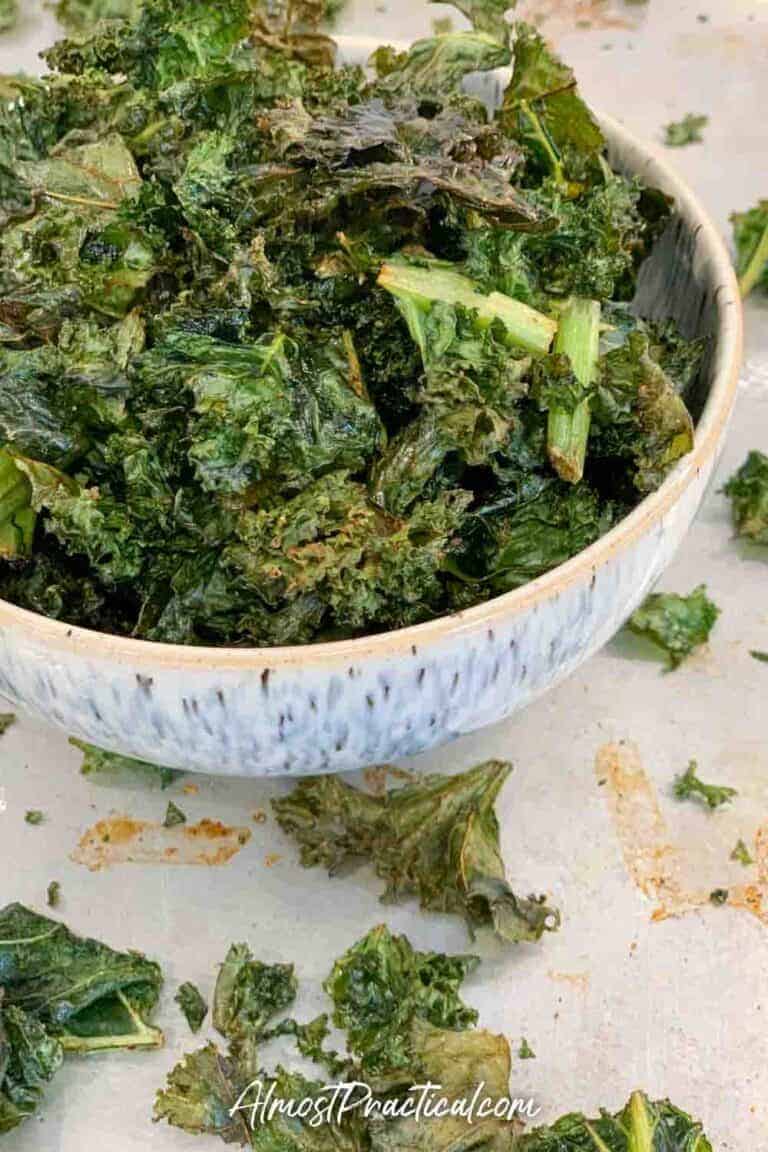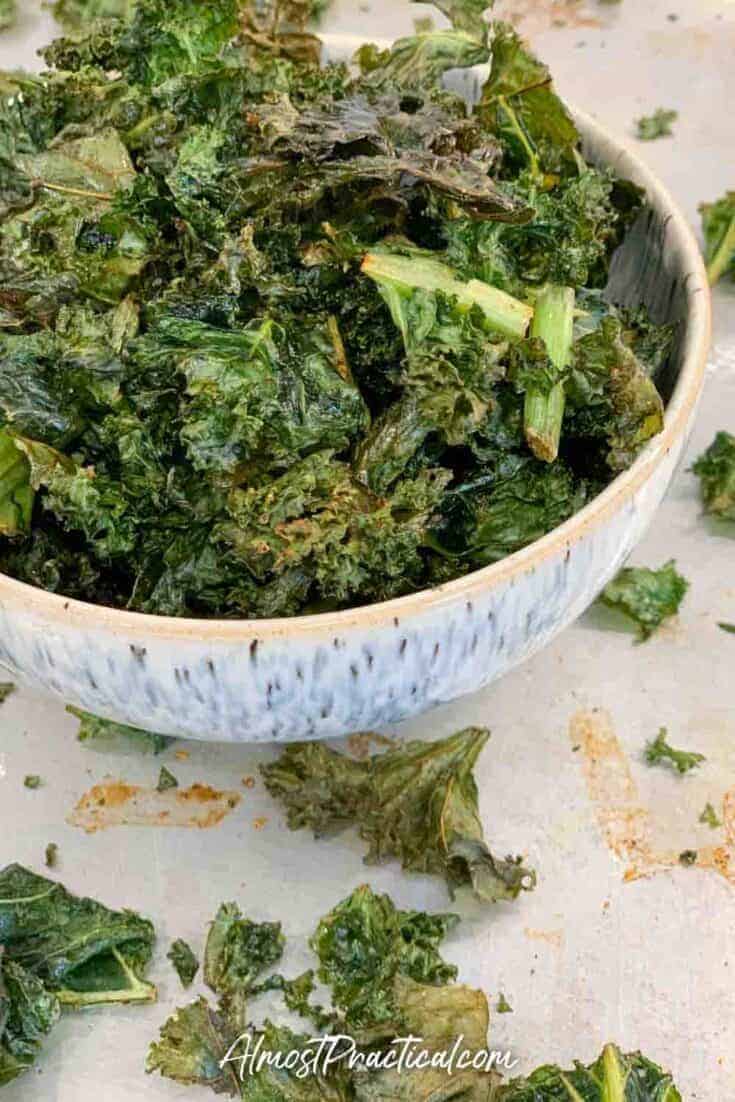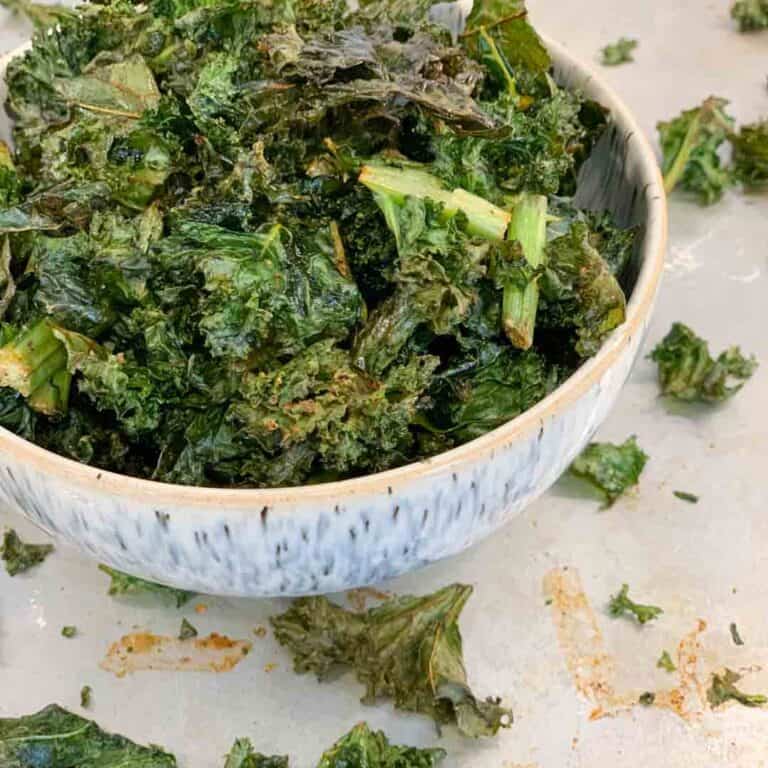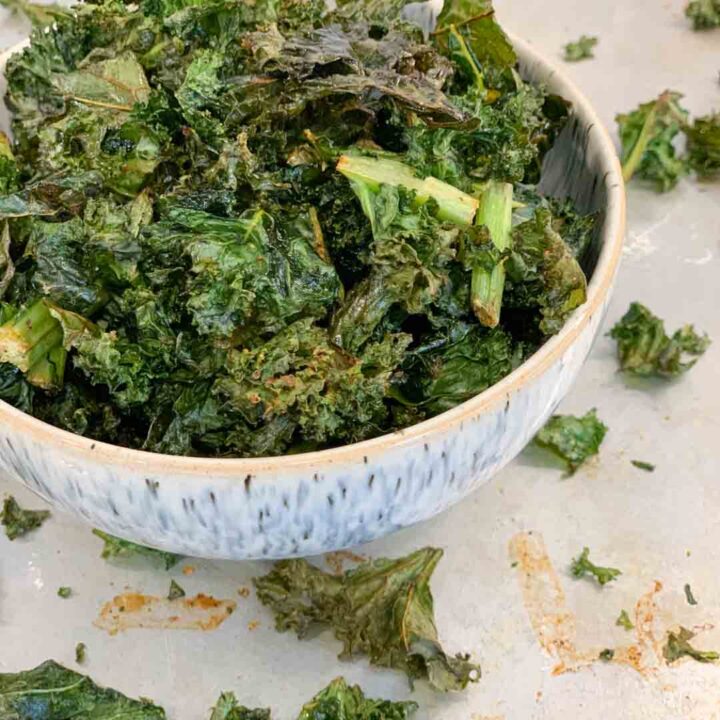 Easy Kale Chips Recipe
These homemade kale chips are great for a healthy snack.
Ingredients
5 cups kale - washed, chopped, and trimmed
1 tablespoon olive oil
1/8 teaspoon pink Himalayan salt
1/8 teaspoon ground black pepper
1/8 teaspoon paprika
1/8 teaspoon garlic powder
Instructions
Preheat oven to 350ºF.
In a large mixing bowl, toss together the kale, olive oil, and spices.
Spread kale mixture on a large baking sheet in a single layer.
Bake in 350º oven for 20 minutes or length of time needed to obtain desired crispiness - taking out at 15 minute mark to stir up a bit and then return to oven for remaining 5 minutes.
Serve immediately.
Recommended Products
As an Amazon Associate and member of other affiliate programs, I earn from qualifying purchases.
Nutrition Information:
Yield:

2
Serving Size:

1
Amount Per Serving:
Calories:

152
Total Fat:

8g
Saturated Fat:

1g
Trans Fat:

0g
Unsaturated Fat:

6g
Cholesterol:

0mg
Sodium:

168mg
Carbohydrates:

19g
Fiber:

7g
Sugar:

4g
Protein:

6g
Occasionally, you will find nutrition information provided with recipes on AlmostPractical.com - this information is created from online calculators and is an ESTIMATE only. I am not a nutritionist or registered dietician. Nutritional information can vary depending on the brands and the actual ingredients that you use. By using this site and it's contents, you agree to hold harmless AlmostPractical.com and its owners for any loss or damage you incur that results from your use of the nutritional information provided by this site.
Enjoy!!!