The ONLY Way to Use Waffle Bowls for Ice Cream
This post may contain affiliate links which means I make a commission if you shop through my links. Disclosure Policy
I have to admit that I was never a fan of waffle bowls for ice cream – until now.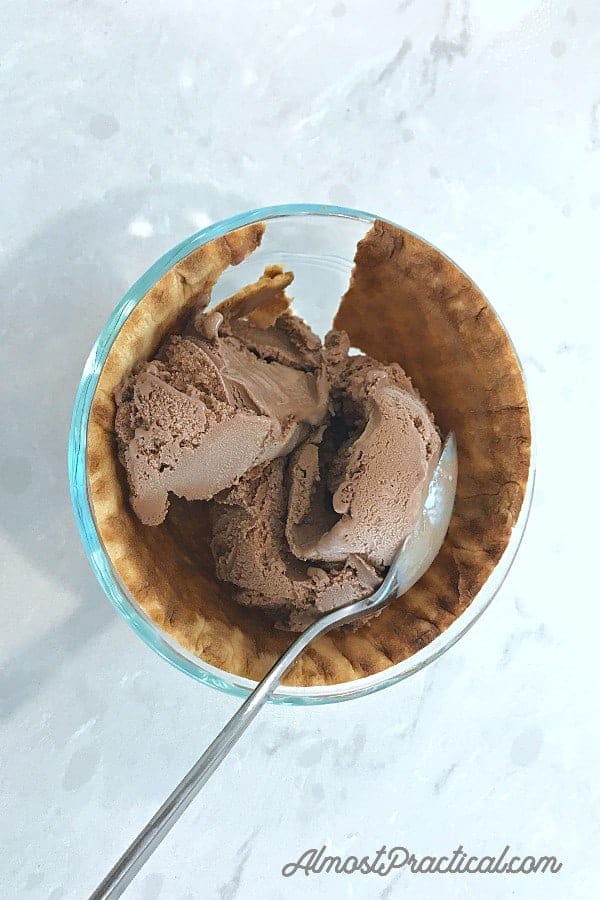 Nothing against the waffle part – I love waffle cones.
But the bowl thing just wasn't working for me.
You see, I like that combination of crunchy cookie with smooth, cold, ice cream in every bite.
With cones, you get there pretty quick since you push the ice cream further into the cone as you eat it.
But waffle bowls on the other hand are difficult.
You sort of have to finish all of the ice cream to actually eat the bowl.
Or you could nibble around the edges or break off little pieces and sort of scoop the ice cream with these broken pieces and hope for the best.
And be careful with that spoon – because if the whole bowl cracks then you have a big mess on your hands.
What can you do?
Well, you could just avoid using waffle bowls for ice cream altogether and stick with cones.
Or, you could use this amazingly easy solution …
Don't give up on waffle bowls for ice cream!
Before I tell all, let me preface that I personally bought these 7 oz waffle bowls by Joy.
So, if you are using a different brand or if you make your own with something like this Presto waffle bowl maker – then you may need to adjust the size of the solution. (do you like the foreshadowing that I am doing here? 😉 )
Ok – so what I found is that the 7 oz waffle bowls fit perfectly into a 10 oz Pyrex custard cup!
It's like they are made for each other.
You simply place the waffle bowl in the Pyrex custard cup and scoop your ice cream into the waffle bowl.
Easy enough.
Now as you eat the ice cream, you can break up the bowl to your heart's content and mix the waffle pieces with the ice cream and eat them together.
Yummy!
In fact, this method is actually better than using waffle cones if you have small children.
Because we KNOW that cones leak, right?
The waffle bowls combined with the Pyrex custard cups are far less messy.
Yes – you can have your waffle bowl and eat it too! (I just couldn't resist.)
And you don't have to reserve your waffle bowls for ice cream only – you can fill them with fresh fruit and a little whipped cream for an elegant dessert as well.
Save this pin to your favorite board on Pinterest: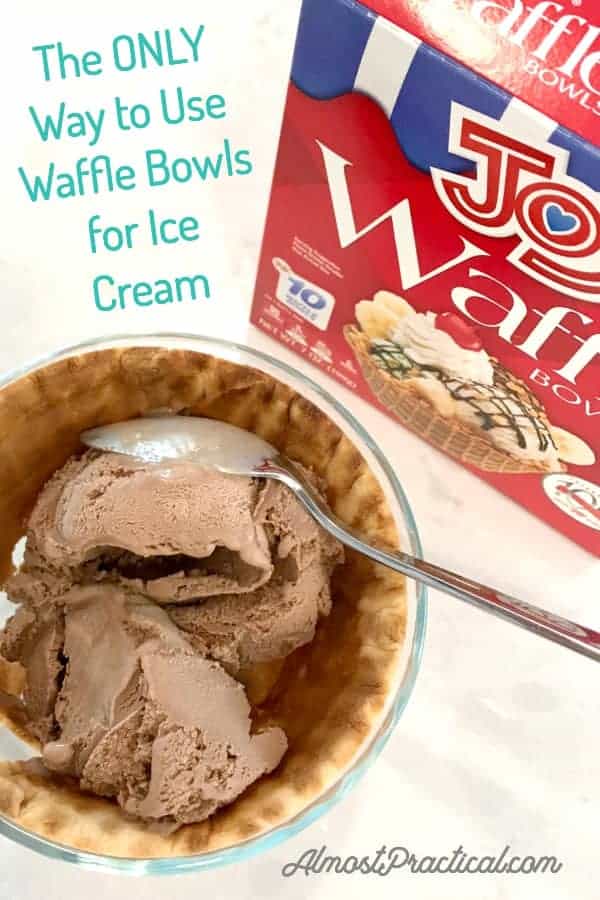 You Might Also Like: