Replacement Pyrex Lids – There is such a thing!
This post may contain affiliate links which means I make a commission if you shop through my links.
 Disclosure Policy
Why do I need replacement Pyrex lids? Well, last night I made a beautiful homemade lentil soup. (Here is the recipe.)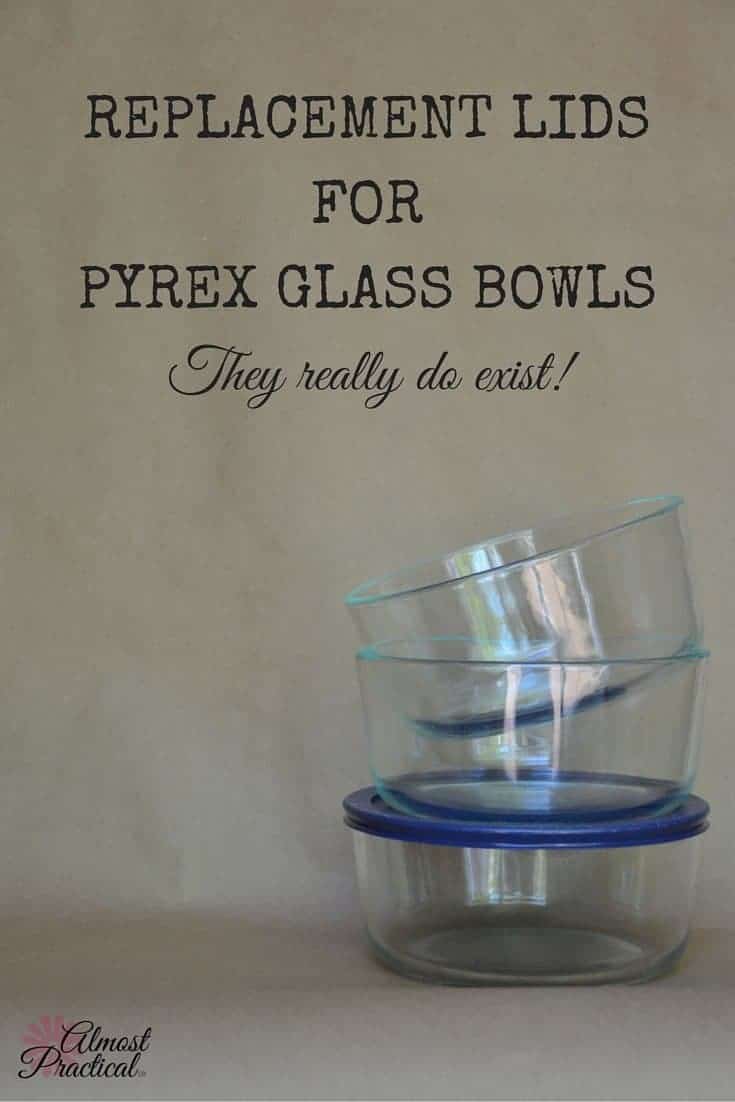 It was one of those times where the world's aligned and everything came out just perfect – the right amount of salt, seasonings, consistency – it all was perfect.
I was so looking forward to leftovers.
After dinner, we cleaned off the table and I put the leftover soup in one of those glass Pyrex bowls with lids.
You would think that would have been the end of it. Dinner done. Kitchen cleaned. Lights off.
But I had three things working against me last night.

Why the soup stayed out.
First, one of our sons was out late – so I left the soup on the counter thinking that he might have some when he got home.
Second, I had just done a huge amount of food shopping, so the fridge was filled to the brim.
Third, those darned glass Pyrex bowls – well, most of my lids (they are made of plastic) have become brittle and broken over the years. So, I don't have a lid for every container.
I have been covering them with plastic wrap or foil. With a full fridge, this is a problem, because you cannot place something on top of a foil or plastic wrapped bowl (Ok, I know that some wraps claim to be strong – but mine always cave in.)
So, guess what?
My son wasn't hungry when he got home so he didn't eat any soup.
This morning I discovered a little free space in the fridge.
And, of course, the soup sat forgotten on the counter all night.
I had to throw it out. When in doubt ….
Who's to blame?
I know that ultimately, I should have been the one to put dinner away.
But I'm going to blame this completely on the Pyrex glass bowls – it makes me feel better about the whole thing (and keeps me from blaming my other son who was helping me clear the table 😉 )
If I actually had a lid to put on that Pyrex bowl, I would have put the soup away. Plain and simple.
I have been meaning to get a new set – but the old glass bowls are just fine. It's the lids that are the problem.
So, this morning, I was on a mission to find a solution.
I thought about going to the thrift shop to look for replacement Pyrex lids but figured I should start with Google first.
Lo and behold – the Pyrex site does sell replacement lids. But they are expensive for what they are and you have to pay shipping.
I was just going to bite the bullet and order a whole new set from Amazon – because the cost would have been about the same.
Lightbulb Moment
And then the lightbulb went on.
If Amazon sells Pyrex sets – they probably sell replacement Pyrex lids too. And with my Amazon Prime membership (they offer a 30 day free trial), two day shipping would be free.
Aha!
I found that Amazon does in fact sell replacement lids for Pyrex glass containers in many sizes.
Problem solved.
I do have one small issue with the process, however.
The lids are based on cup size of the container.
But on the bottom of my larger container, the volume is stated in quarts and liters (in hard to see raised glass wording – perfect for the young but not the older-ish).
And also, my conversion skills are a little rusty.
Luckily, again Google to the rescue. You can just type in how many cups are in so many quarts and you get your answer.
I suppose if you have an Apple Watch or an iPhone, you could also ask Siri and if you have an Amazon Echo then your assistant would be Alexa – I'm sure one of them would have the answer.
Do you need replacement Pyrex lids, or is it just me?
Have you been confounded by your Pyrex glass bowls? Tell us your story in the comments below.
Wondering how to organize your Pyrex lids? All of my glass food storage containers were a big mess until I started using this little tip.
Wondering if Pyrex is microwave safe? Find the answer here.