TextExpander Review – Your Secret Weapon For Boosting Productivity
This post may contain affiliate links which means I make a commission if you shop through my links.
 Disclosure Policy
You will see in this TextExpander review how it can quickly become your secret weapon for increasing your productivity.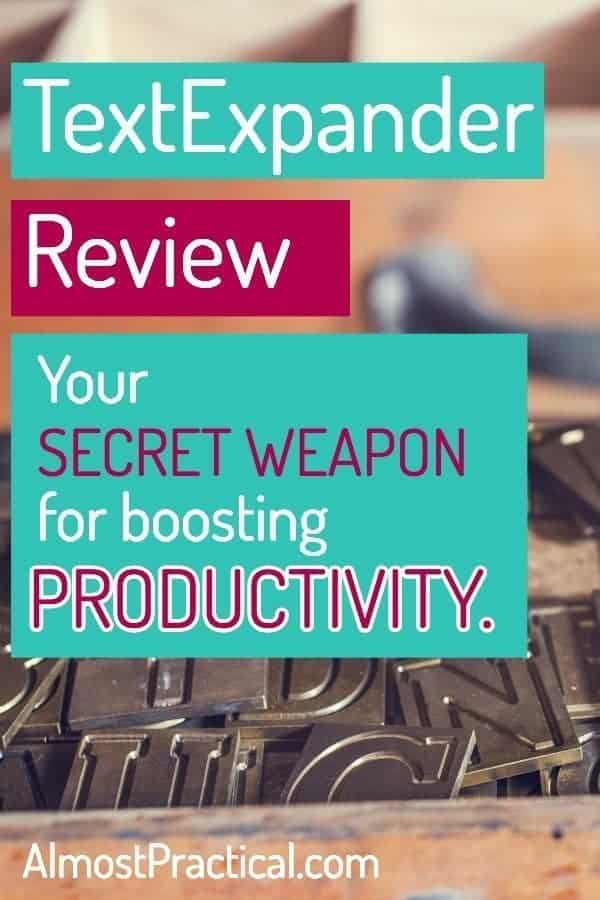 I have been a Smile Software TextExpander customer for years and use it every single day.
Before I tell you what TextExpander is – let me ask you this.
Do you find yourself typing the same things over and over again on your computer? Things like:
your name,
address,
standard email responses to your customers,
clauses or paragraphs in your documents,
or things you can't easily remember, like the hex codes for your website colors.
If you answered yes, then you will likely find TextExpander to be huge time saver for you too.
TextExpander Discount
If you are short on time, then jump over to the Smile Software site directly – and be sure to take advantage of this TextExpander discount – you get 20% off the LifeHacker plan.
What is TextExpander?
TextExpander is a service where you can save snippets of information that you type repeatedly.
You assign a keyboard shortcut to each snippet.
When you need to type that snippet into a document or a form, you simply type in your keyboard shortcut and the entire snippet will appear in your document.
It may sound simple, and certainly not glamorous but when you think about the possibilities, you will quickly see how useful TextExpander can be.
The power lies in this definition …
What is a TextExpander Snippet?
At it's most basic, a TextExpander snippet can be just one word.
Something like your name.
I have TextExpander snippets set up for both my first name and last name (if your last name is long, like mine, you will surely appreciate this!).
Instead of typing my first and last names into forms, letters, emails, etc., I type in my shortcuts.
Your shortcuts can be anything that you want them to be.
Typically they start with a character and are followed by a few letters. You want to create a short string that is easy for you to remember, but not something you would type on a regular basis.
For example – the shortcut for my first name is ;FN – when I type this string on my computer it automatically converts to my first name: Neena.
So, what's the big deal, you ask? Most browsers can fill in this stuff for you.
Well …
Grab your 20% discount on the 1 year TextExpander Life Hacker plan
TextExpander Snippets on Steroids
Now think about longer snippets that you type regularly and repeatedly.
I'm talking PARAGRAPHS here or how about code?
As a blogger, my TextExpander snippets include:
Pinterest group board request emails (full text here, guys)
Affiliate link disclosure paragraphs
Different email signatures
Hex codes for my website colors
my own URL and all my social media handles
my email addresses
… you get the idea.
How TextExpander Helps Bloggers
I'm writing this TextExpander review from a blogger's standpoint but you can see how it can help you both at home, at work, and across professions.
Leaving Blog Comments
As a blogger, I often comment on other blogger's websites. These comment forms (you can see mine below – and leave a comment, too!) ask for your name, email address, and website URL.
With TextExpander, I don't have to fill out the form manually every single time. I just type in my shortcuts:
;FN for my first name
;EAP for my email address
;WEB for my URL
It's fast, it's easy, and it eliminates the possibility of typos. Honestly it's a huge timesaver.
Creating Website and Social Media Graphics
I use both PicMonkey and Stencil to create my website and social media graphics.
Usually, I add text to my images and want to make them coordinate with the overall look of my blog.
So, I either need to memorize my website colors, use this website color cheat sheet, or create TextExander snippets for my website colors (this is the easiest method).
Inserting Code Into Blog Posts
There are certain lines of code that I need to add to many of my blog posts – code to align an ad to the left or right, code to add nofollow or nopin to certain links and images, etc.
Normally, this coding would be time consuming with lots of room for typos. But with TextExpander snippets this is really easy to do.
In this case TextExpander not only saves me time, but lessens my stress and frustration.
Pinterest Group Board Requests
Group boards on Pinterest are a big part of blogging strategy – but joining them is hard work. You need to reach out to individual board owners and ask for an invite.
Although, I customize each request that I send, there are parts of the email that are quite repetitive.
I save this paragraph as a TextExpander snippet, and boom, with a few keystrokes – the whole paragraph appears.
I hope that you are starting to see outside the box with what the Smile Software TextExpander app can do for you.
There are even some advanced features.
Grab your 20% discount on the 1 year TextExpander Life Hacker plan
TextExpander Advanced Features
Here are some other features that you will find in TextExpander:
Style your snippet text and add images and links.
System-wide spelling correction in multiple languages
Group snippets and print by group
Search and expand snippets, abbreviations, and suggestions inline as you type
Reminders to use your snippets and suggestions as you type
Is TextExpander for Mac or for Windows?
Both!
You can use TextExpander for Mac and/or Windows – and it will sync across your devices as well.
Basically, you sign up for an account at TextExpander, then you download the app for your platform onto your computer.
Once you sign into the app it syncs your data to the cloud so it is always accessible.
Don't Forget Your Discount
Remember to click here to get a 20 percent discount on a 1 year TextExpander Life Hacker plan.
They also offer a free trial, so you can try before you buy. 🙂
Other Smile Software Products
In addition to TextExpander, Smile also makes the very useful PDF Pen app.
Be sure to click here to get a 20% discount on PDF Pen.