Organize Your Evernote With Notebook Stacks
This post may contain affiliate links which means I make a commission if you shop through my links. Disclosure Policy
As you know by now, Evernote is one of my go to note taking apps. Notebook stacks are a great feature to help you organize your notes.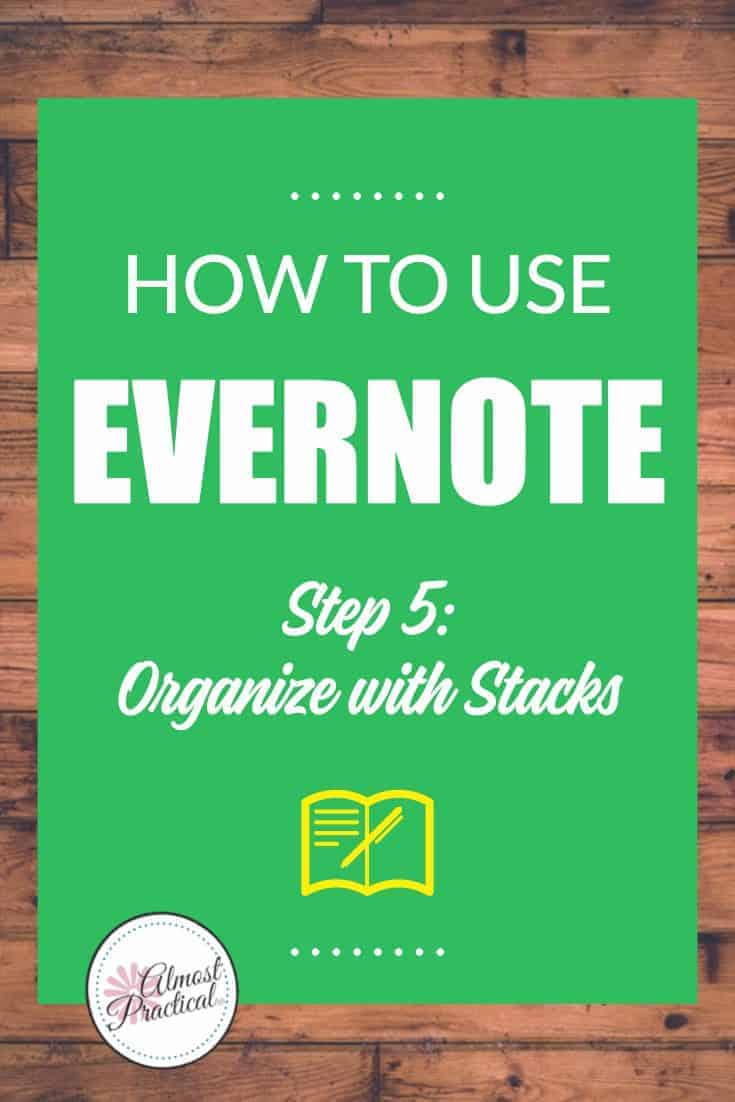 Evernote is full of useful features. But most people, myself included, only use a fraction of the capabilities.
We fall into a kind of rut.
We learn enough to get by and then we stop taking the time to learn more.
So, for my benefit as much as yours, I am picking this app apart and writing about everything that it can do.
Today's highlighted feature are Evernote Notebook Stacks.
This is a way to organize the many notebooks that you end up creating in Evernote.
What Are Evernote Notebook Stacks?
Basically, think of a "stack" as a folder. Inside this folder you can keep a collection of similar notebooks.
For example, I have a notebook stack called "Kids".
This stack is made up of 5 notebooks – one for each of my four kids, and another one called School for notes that are common to all.
When you go into the notebook view in the Evernote app, either on your computer or mobile device, the title of the stack appears highlighted in some fashion (on my Mac the background is white, on my iPhone the stack has a little green icon showing stacked notebooks and a green drop down arrow next to it).
Underneath the stack title is the list of notebooks in the stack.
You can expand and collapse the stack.
Group All Your Evernote Notebooks Into Stacks
As I continue to integrate Evernote into my daily life – I have come to realize that every notebook really should be in a stack.
You may have a few straggler notebooks that don't really fit into a stack but for the most part categorizing your life will make the Evernote Interface much cleaner.
Each stack should represent a separate area of your life.
You can divide your notebooks up any way you choose, but the system needs to make sense to you.
Create a stack for
Home,
Business,
your website,
Research, etc.
It is so much easier to scan a list of 8 to 10 stacks than to be bombarded with 20 or more notebooks.
Granted, with Evernote the search function is so powerful that you may never need to look at your list of notebooks.
But sometimes you just want to flip through all your notes like you would in an old fashioned paper notebook.
Creating A Stack
Creating a notebook stack in Evernote is easy.
The Mac App
Using the Mac app you just drag one notebook on top of another one.
The two notebooks together make a stack named after the notebook that you dragged on to.
You can easily change the name of the stack by clicking on it.
If you only have one notebook that you want to put into a stack all by itself – you can.
Just right click on the notebook and hit "add to stack".
You will then get a list of your current stacks as well as the option to "Create New Stack".
Go ahead and do this to create a stack of one.
The iPhone App
In the iPhone app in Notebook View, tap the Edit option in top right hand corner.
An icon will appear to the right of each notebook.
When you tap this you will have the option to add to stack or create new stack.
If you want to remove a notebook from a stack make sure that the stack is in expanded view before hitting Edit.
Do You Use The Evernote Stacks Feature?
How do you use stacks to make yourself more organized?
Related Evernote Articles