Black Bean and Wheat Berry Pilaf Recipe
This post may contain affiliate links which means I make a commission if you shop through my links. Disclosure Policy
This black bean and wheat berry pilaf recipe is so versatile that you can create many dishes out of one. So while I call it a pilaf it can become whatever you want it to be.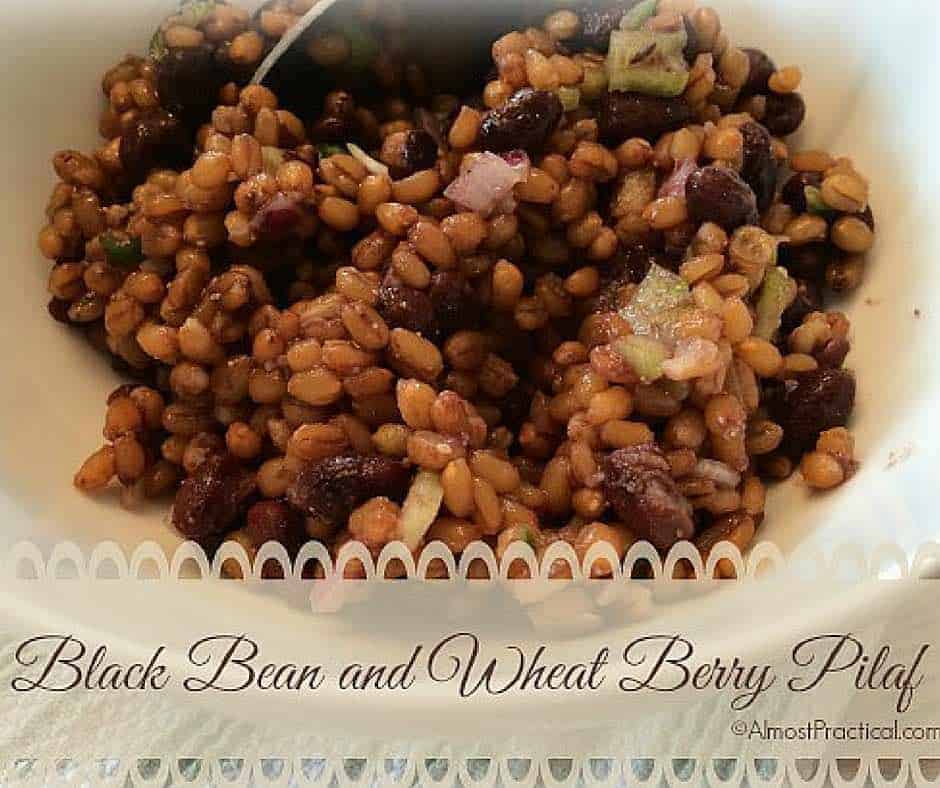 Serve it as is or a top a bed of leafy greens and it's a salad.
Roll it up in a whole grain soft tortilla and it's a wrap.
Imagine the possibilities!
What Are Wheat Berries?
In my ongoing effort to eat healthier, I have found that what is old is new again.
The wheat berry has been around through the ages. It is delicious and nutritious, yet it is not a common kitchen staple.
It should be.
According to Wikipedia a wheat berry is:
the entire wheat kernel (except for the hull), composed of the bran, germ, and endosperm.
Whole grain in it's truest sense.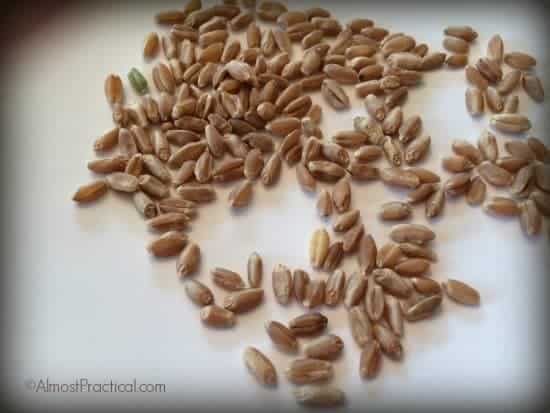 Where Do You Find Them?
You would think that something so natural would be easy to find.
Not so.
The local grocery store did not carry this but I thought for sure I would strike gold at Whole Foods. I did but only in the bulk section. They didn't carry a prepackaged variety.
Not surprisingly I did find a variety of them on Amazon.com. I believe the variety that I used are the hard red wheat berries.
Let's Start Cooking!
Ok – now that you've tracked down the main ingredient, let's cook!
Cook the Wheat Berries
Rinse 1 cup of uncooked wheat berries and them to two cups water in a medium pot.
Bring the water to a boil and reduce the heat to low.
Simmer for about 25 minutes or until the wheat berries are tender enough to eat. However, they will be chewy and nutty when the are fully cooked.
Drain off the excess water.
Prepare The Add In's
While the wheat berries are cooking, finely chop 1/3 cup red onion, 1/3 cup fresh cucumber, 1/4 cup fresh basil leaves, and 1 long green chili pepper.
Also, juice 1 small lemon.
Drain and rinse 1 15 ounce can of black beans.
Mix It all Together
When the wheat berries are done cooking, drain the excess water and allow them to cool slightly.
In a large mixing bowl combine the cooked wheat berries and the above add ins.
Add 1 teaspoon of ground cumin.
Add salt and pepper to taste. (I add about a half teaspoon of salt.)
Serve as is or on a bed of greens (fresh spinach, romaine lettuce etc.), or rolled in a soft tortilla.
Leftovers can be refrigerated and eaten cold the next day or warmed slightly in the microwave.
Add Your Own
You can easily make this black bean and wheat berry recipe your own by experimenting with the add in's.
use other fresh vegetables that you have on hand (try colored peppers, braised asparagus, cauliflower, garlic)
try a different citrus or vinegar (lime, orange, red wine vinegar etc.)
use different herbs (oregano, herbs de provence, etc.)
If you strike a great combination be sure to tell us about it!
Other Recipes You Might Like: