5 Reasons to Consider WD My Cloud EX2 for Private Cloud Storage
This post may contain affiliate links which means I make a commission if you shop through my links.
 Disclosure Policy
Disclosure: This is a sponsored post. I received a MyCloud EX2 and compensation from WD and Linqia to review this product.
The WD MyCloud is a personal cloud storage device that you can use to store your digital files and access them from anywhere.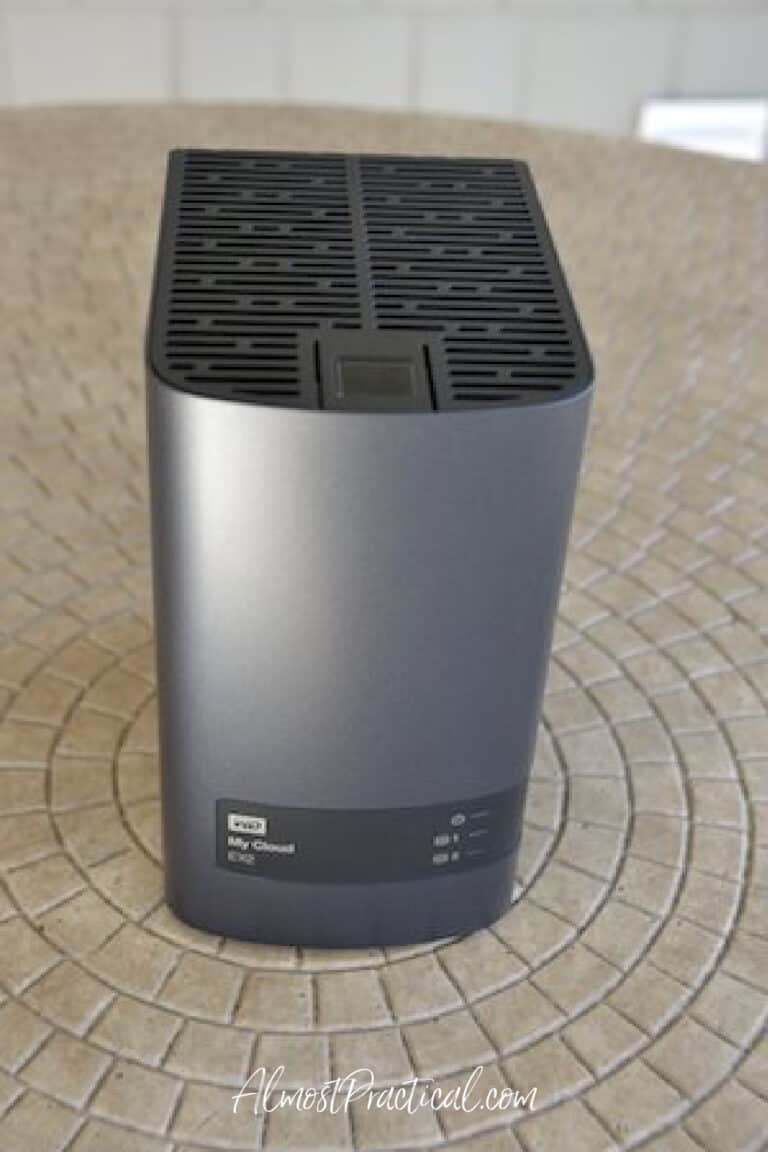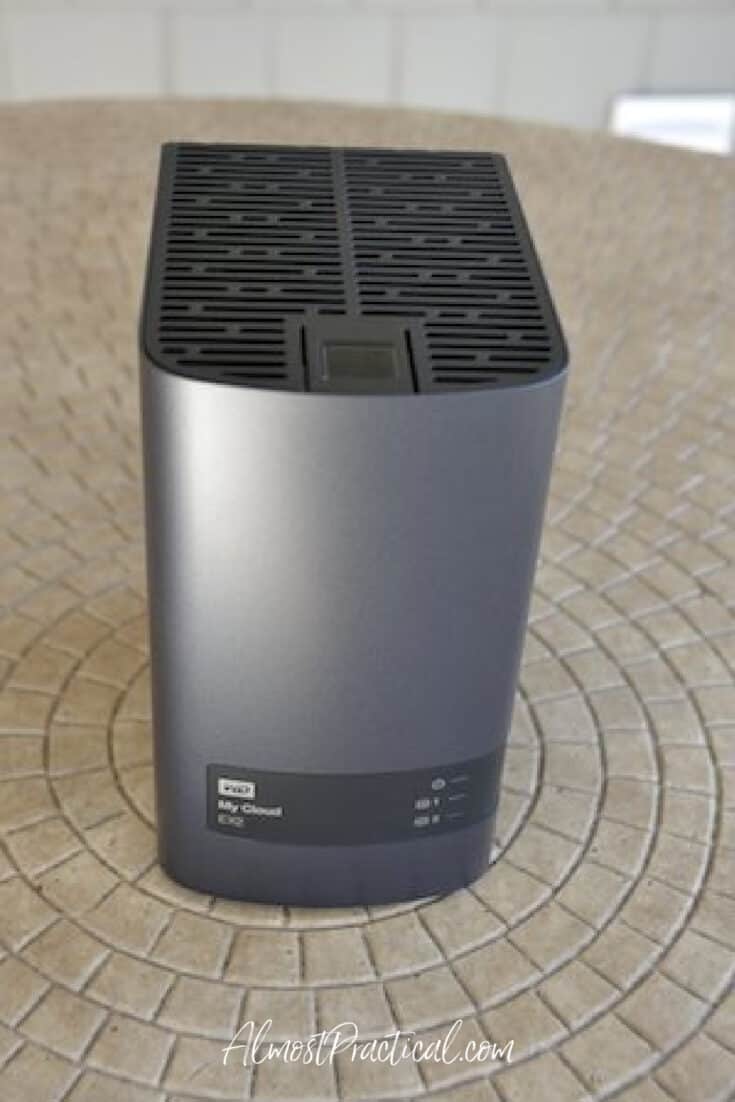 UPDATE: This version of the WD MyCloud is no longer available. You can see the newest version here on Amazon.
Private cloud storage – what is it?
Storing files "in the cloud" is the buzz word of the day.
Apple got the ball rolling with iCloud.
And many other services have popped up allowing you to store your files remotely. You sign up for their service, you store your info on their servers, you get to access your files from just about any computer or mobile device.

But what if you don't want your stuff out there on someone else's servers?
Well, I just discovered that there is another option.
It's called the My Cloud EX2.
(A big thank you to WD – a Western Digital Company who provided me with a free unit to use and review.)
Your Own Personal and Private Cloud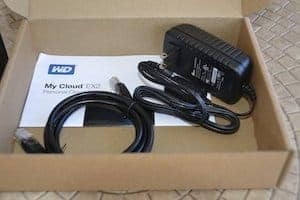 With this device you can create your own private cloud.
The extremely simplified definition:
The WD My Cloud EX2 is a large capacity hard drive that is located in your business or home.
You have the ability to access the files on this drive from any computer or mobile device from anywhere (not just on your home network).
5 Reasons Why the My Cloud EX2 Is A Good Option for Small Businesses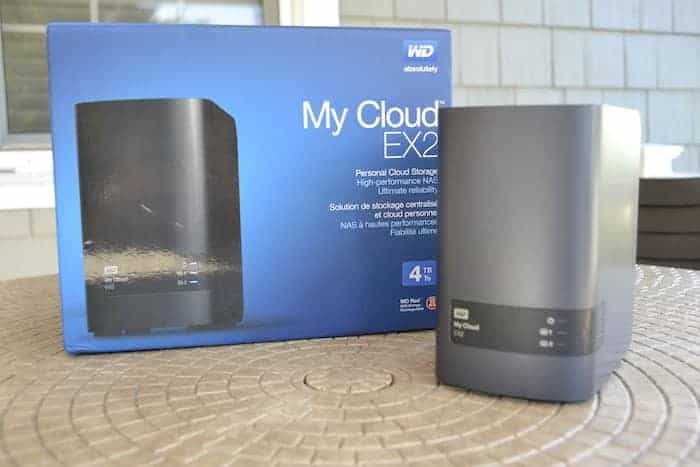 A few years ago I worked in a small office with six employees.
We each used a desktop to do our work but we often needed to share computer files with each other.
And once in awhile we would work remotely and would need access to the computer files in the office.
It was difficult to find a solution to our needs.
The My Cloud EX2 addresses the following concerns and needs that our office had.
I wish we had known about Western Digital private cloud storage at the time because it could have been exactly what we were looking for.
1. Privacy
If you are not comfortable having your files out there on a third party platform, this device from WD will keep your files stored locally and when set up properly can provide secure cloud storage. As with any important data – you should keep your data backed up.
There are several options for backing up the My Cloud EX2.
You can backup to a USB drive.
It also integrates with ElephantDrive and Amazon S3 for offsite backups – but this would be on outside servers. Or you can set up the My Cloud using a RAID configuration and mirror the storage drive.
2. Cost
Many third party services charge annual or monthly fees. These fees can vary depending on the amount of storage that you need.
The My Cloud EX2 does not have any hidden or recurring fees. Currently, it comes in three sizes 4TB, 6TB, or 8TB.
There is also a diskless version that you can configure with your own drives.
You can also expand the storage capacity by connecting an additional USB drive of your own as there are USB ports on the back.
3. Your Own Server
Small offices that have several computers face a common problem.
An employee will create files on their "own" computer hard drive. Often someone else in the company will need access to that file. So the first person has to email it to the second one – and so on and so forth. Before long it becomes a big mess.
What a small office like this needs is a server. A central place to store files. (Remember a solid back up procedure is key!)
The My Cloud EX2 allows you to create a small server environment in your small business.
4. Control Access To Files
Sharing files in your business is nice in theory – but you will want to restrict access to certain files.
With the My Cloud EX2 you can set up users and choose which files each one has access to. You can allow "read" access, "read-write" access or no access.
5. Mobile Apps
Business doesn't just happen at the office anymore.
You need your files with you wherever you go.
The My Cloud app is free and gives you an easy way to access your files from your iOS or Android mobile devices.
Advanced Business Features
The specs include the following advanced business features:
My Cloud EX2 includes advanced data serving options including an integrated file server, FTP server, backup server and a P2P download server. Additionally, users can download and run a host of third party apps, including aMule, Icecast, Joomla!®, phpBB®, phpMyAdmin, Transmission, SqueezeCenter, and more.
Private Cloud Storage for Home Use
The My Cloud EX2 is also useful for home use.
You can add family members as users and they can use it to store the files that they want to access remotely.
By storing photos and videos on the My Cloud EX2, you can free up a lot of space on your mobile devices and still have access to the media when you need it.
What Cloud Services Do You Use In Your Business?
Tell us about the services you use in your business for cloud storage? Does the idea of private cloud storage appeal to you?