Simple Sautéed Mushrooms Recipe with Thyme
This post may contain affiliate links which means I make a commission if you shop through my links.
 Disclosure Policy
This simple sautéed mushrooms recipe is a side dish staple in our house.
I often serve mushrooms with chicken or pasta. They also are great in an omelet.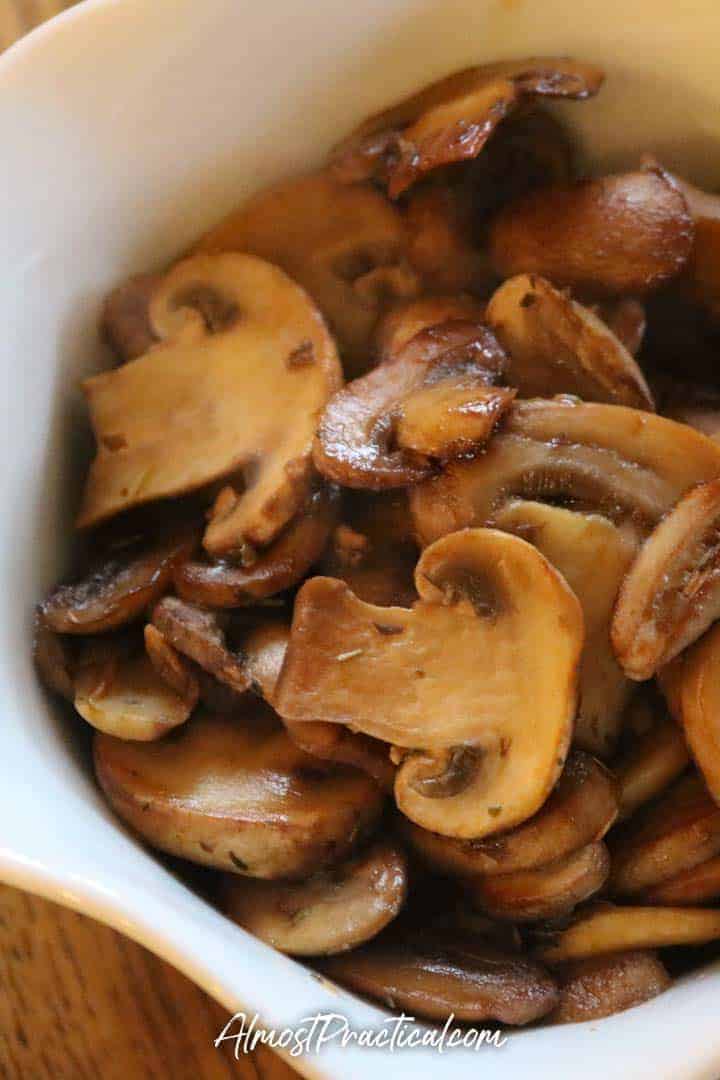 However, it is not always convenient to cook up some mushrooms when you are short on time or when you've got a few other steps to your recipe happening at once.
Luckily, cooking up a batch of mushrooms and storing them in the fridge for a few days is pretty easy.
Whenever I buy a package of mushrooms, I will cook the whole thing using my simple sautéed mushrooms recipe and throw some into whatever I am cooking for dinner that week.
I added thyme to this particular recipe but you can add any herb or skip it altogether for a more plain taste.
How to Make This Recipe
Start with one 8 ounce package of white button mushrooms.
Make sure you wash them thoroughly and get all that dirt off.
Slice the mushrooms vertically – you should end up with about 2 cups of raw sliced mushrooms. (I love my Wusthof knives and Epicurean cutting board– just sayin')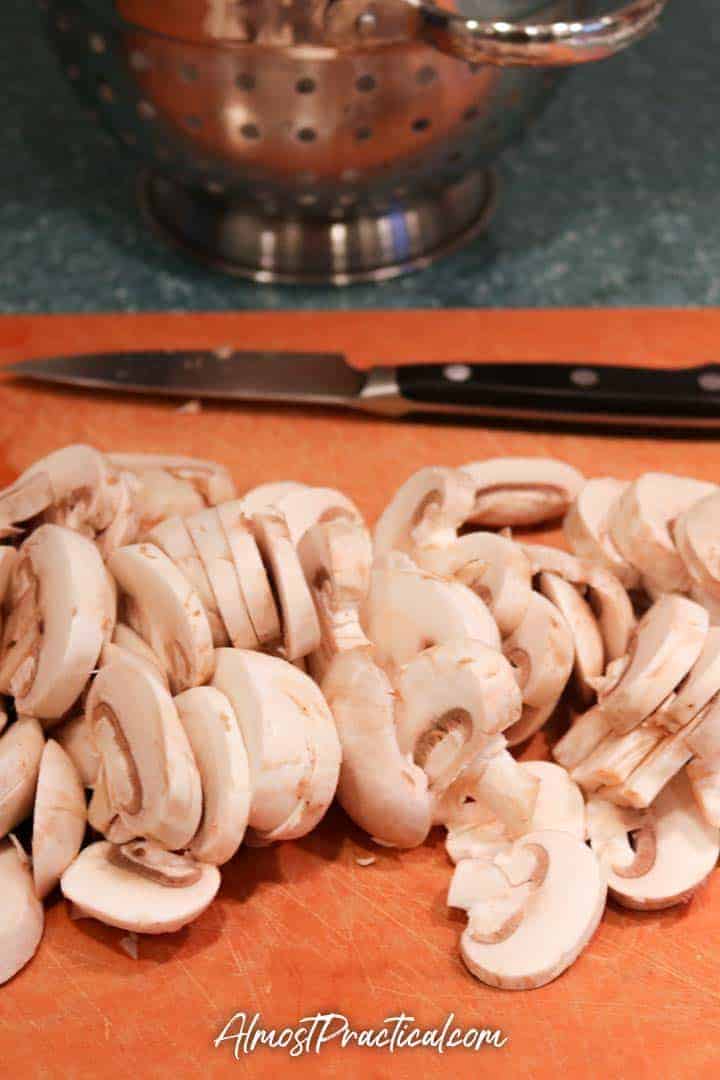 Heat some olive oil in a pan. When the oil is hot – toss in the sliced mushrooms.
Add in a half teaspoon salt, one teaspoon balsamic vinegar, and a quarter teaspoon thyme.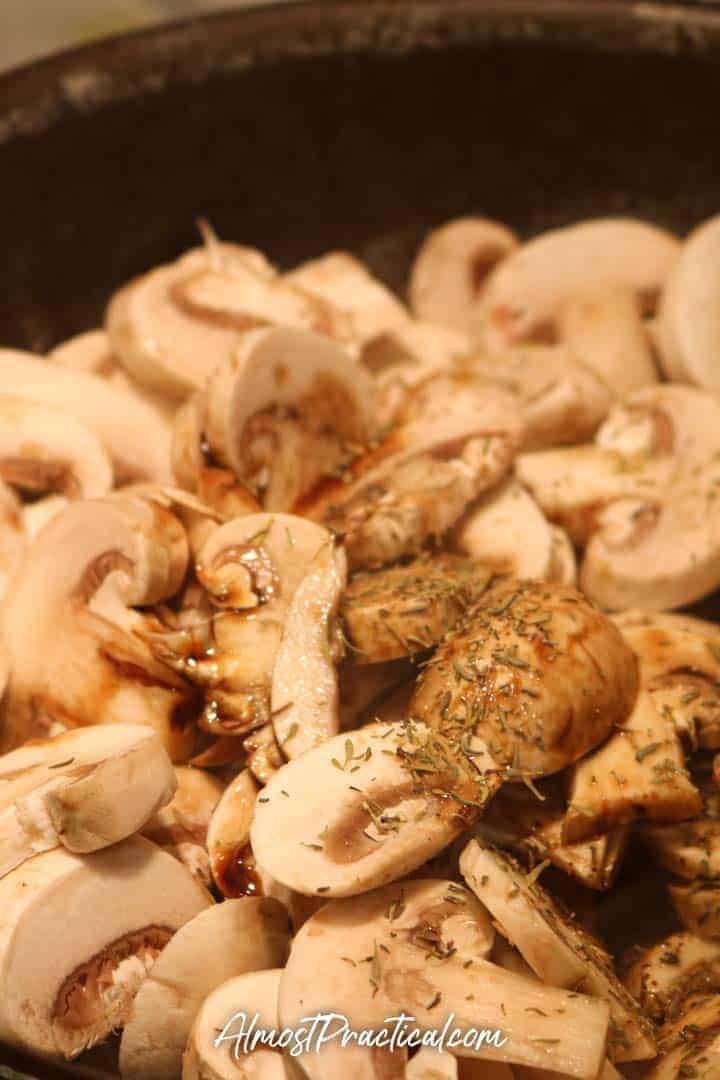 Stir the mushrooms constantly.
As the mushrooms cook, they will release their water.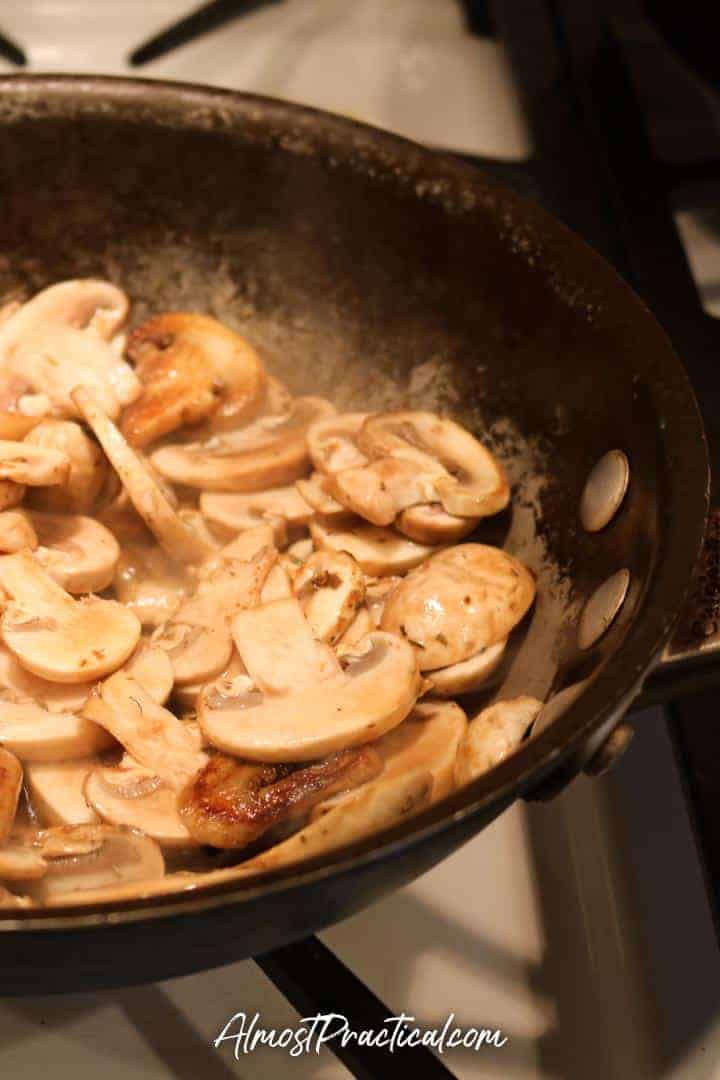 I like to cook the mushrooms until the water is evaporated and you are left with dry-ish mushrooms without liquid.
This usually takes about 10 minutes but it can vary.
And that's it.
So super simple. (And so much better than the canned variety.)
Use what you need and store the rest in the fridge for a couple of days.
Recipes That Complement Sautéed Mushrooms
You can use this sautéed mushrooms recipe to add mushrooms to a homemade or a jarred pasta sauce.
When you are making an omelet, warm these up with the vegetables.
Add some mushrooms to wilted spinach or sautéed asparagus.
Or just serve them plain alongside some pan cooked boneless chicken breasts.
Toss them into this beef stew recipe just before serving.
Print This Recipe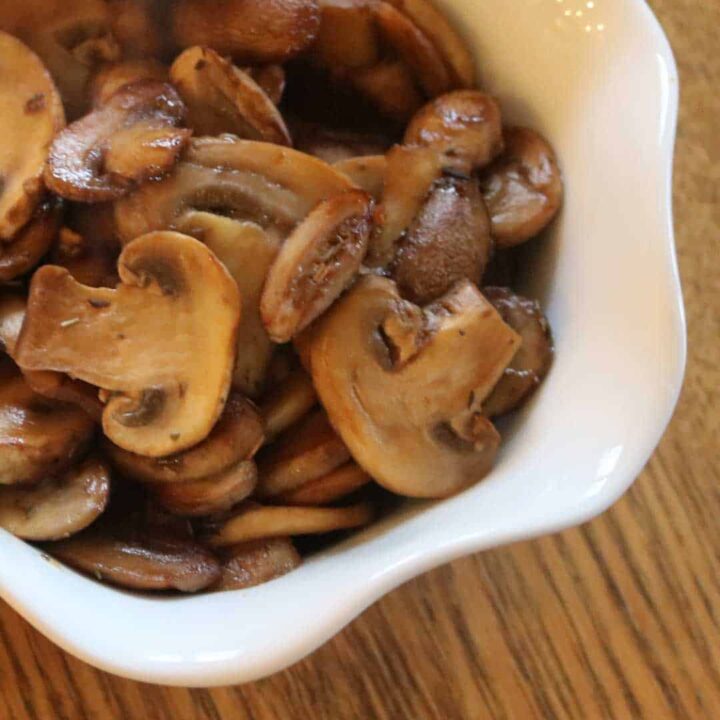 Simple Sautéed Mushrooms Recipe with Thyme
Ingredients
8-ounce package white button mushrooms
1/2 teaspoon olive oil
1/2 teaspoon salt
1 teaspoon balsamic vinegar
1/4 teaspoon dried thyme
Instructions
Wash mushrooms thoroughly.
Slice mushrooms vertically.
Heat olive oil in small sautée pan for about a minute.
Add sliced mushrooms, salt, vinegar, and thyme.
Cook over medium-high heat for about 10 minutes, stirring occasionally (especially in the beginning and towards the end, so mushrooms don't stick to pan).
Mushrooms are ready when all water is released from mushrooms and more or less evaporated.
Serve immediately.
Recommended Products
As an Amazon Associate and member of other affiliate programs, I earn from qualifying purchases.
Nutrition Information:
Yield:

4
Serving Size:

1
Amount Per Serving:
Calories:

22
Total Fat:

1g
Saturated Fat:

0g
Trans Fat:

0g
Unsaturated Fat:

1g
Cholesterol:

0mg
Sodium:

266mg
Carbohydrates:

3g
Fiber:

1g
Sugar:

2g
Protein:

1g
Occasionally, you will find nutrition information provided with recipes on AlmostPractical.com - this information is created from online calculators and is an ESTIMATE only. I am not a nutritionist or registered dietician. Nutritional information can vary depending on the brands and the actual ingredients that you use. By using this site and it's contents, you agree to hold harmless AlmostPractical.com and its owners for any loss or damage you incur that results from your use of the nutritional information provided by this site.
More Recipes You Might Enjoy