Makeup and Vanity Organization – the Best Ways to Organize Your Makeup
This post may contain affiliate links which means I make a commission if you shop through my links. Disclosure Policy
Need ideas for makeup and vanity organization? It doesn't matter if the space you have is big or small – use these ideas to keep your makeup, cosmetics, and toiletries organized and explore a variety of storage options to fit the space you have.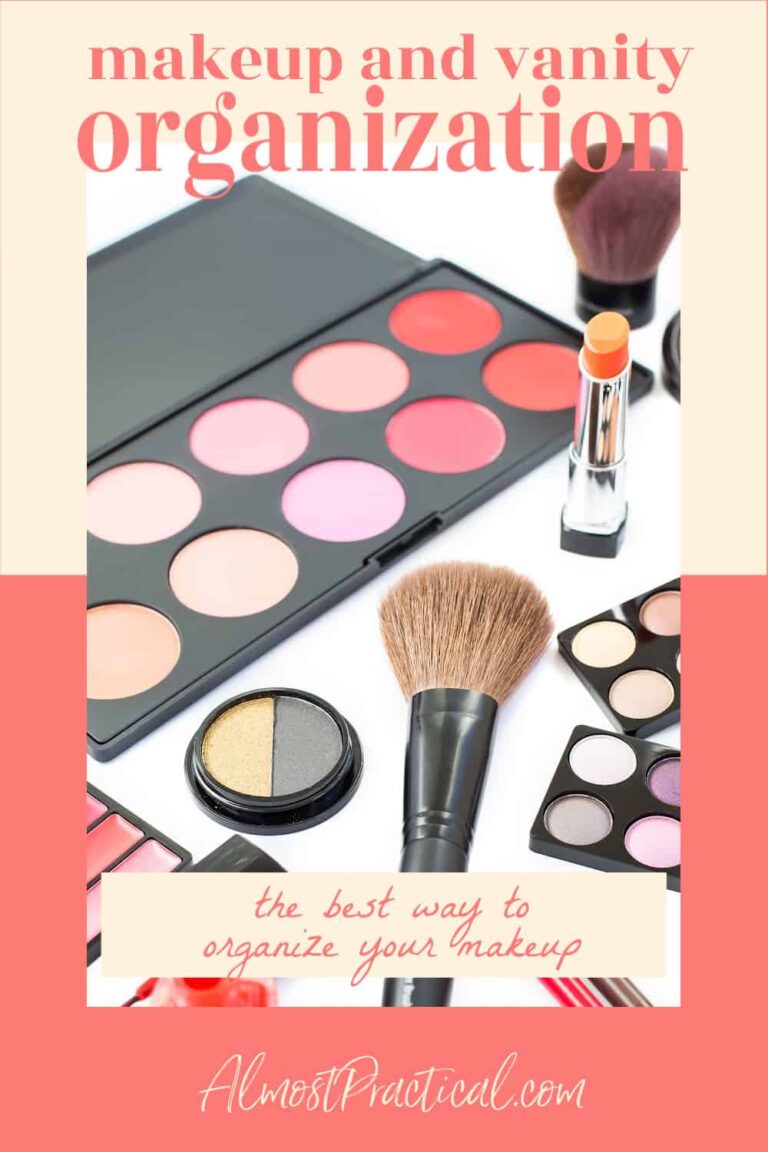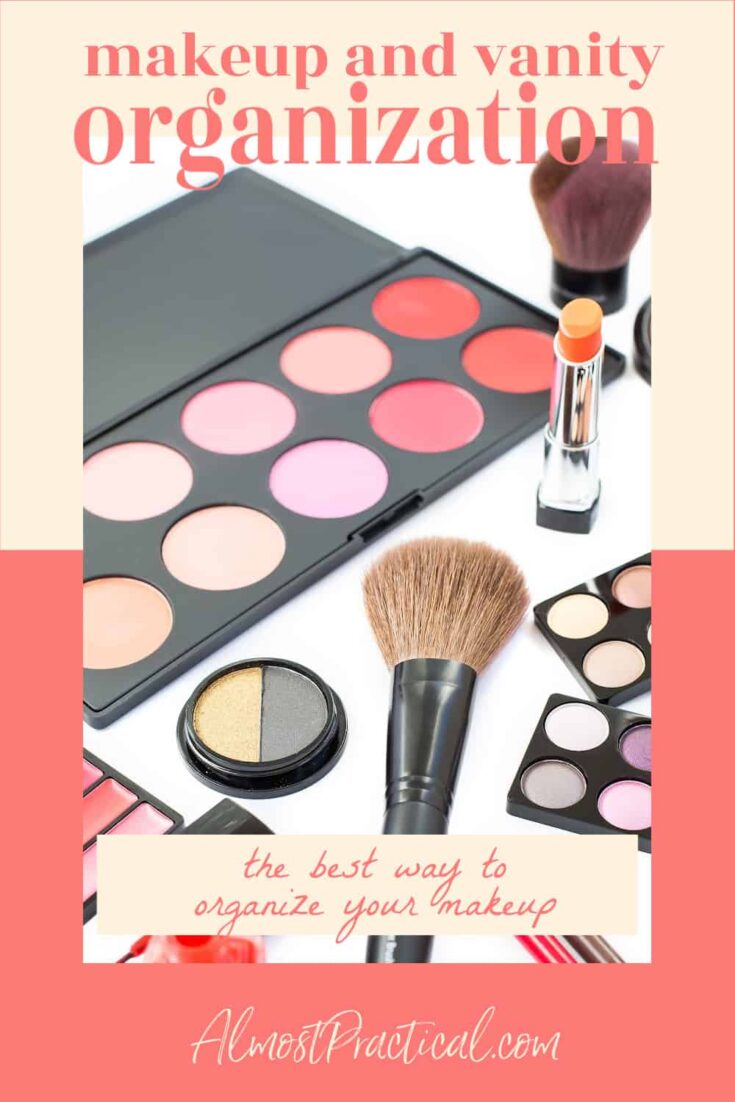 The Number One Tip for Organizing Makeup
You might not like it, but the best way to keep your makeup organized is to throw out the old stuff.
According to the Cleveland Clinic most make should be tossed within 6 months to 2 years after opening – depending on the type of makeup and the usage and storage conditions.
Over the years, it's likely that you have a drawer full of foundations, powders, compacts, eyeshadows, lipstick and much more.
You pick up a new shade here and there because you think it might work better than something that you already have.
But then, when you get home, you end up keeping both instead of throwing the one that you don't like away.
As you accumulate makeup it starts to age and before you know it, a lot of your stuff is kind of old.
Before you invest in a bunch of makeup organizers – go through the makeup that you have and pare it down.
Once you're sure of what you want to keep then start looking at the space you have in your vanity and select organizers accordingly.
What Is a Vanity Used For?
Traditionally, a vanity is a small desk like area with mirrors where you can sit to apply your makeup, fix your hair, and put on your jewelry.
If your vanity is in your bathroom then you might also use that space for your morning and evening skincare routine.
You can find a piece of furniture that is specifically marketed as a "vanity" but really any desk will do.
Examples of Vanities
Here are a few examples of different types of vanities that might fit with your decor. Click each one to learn more about it.

How Do I Organize My Makeup Vanity?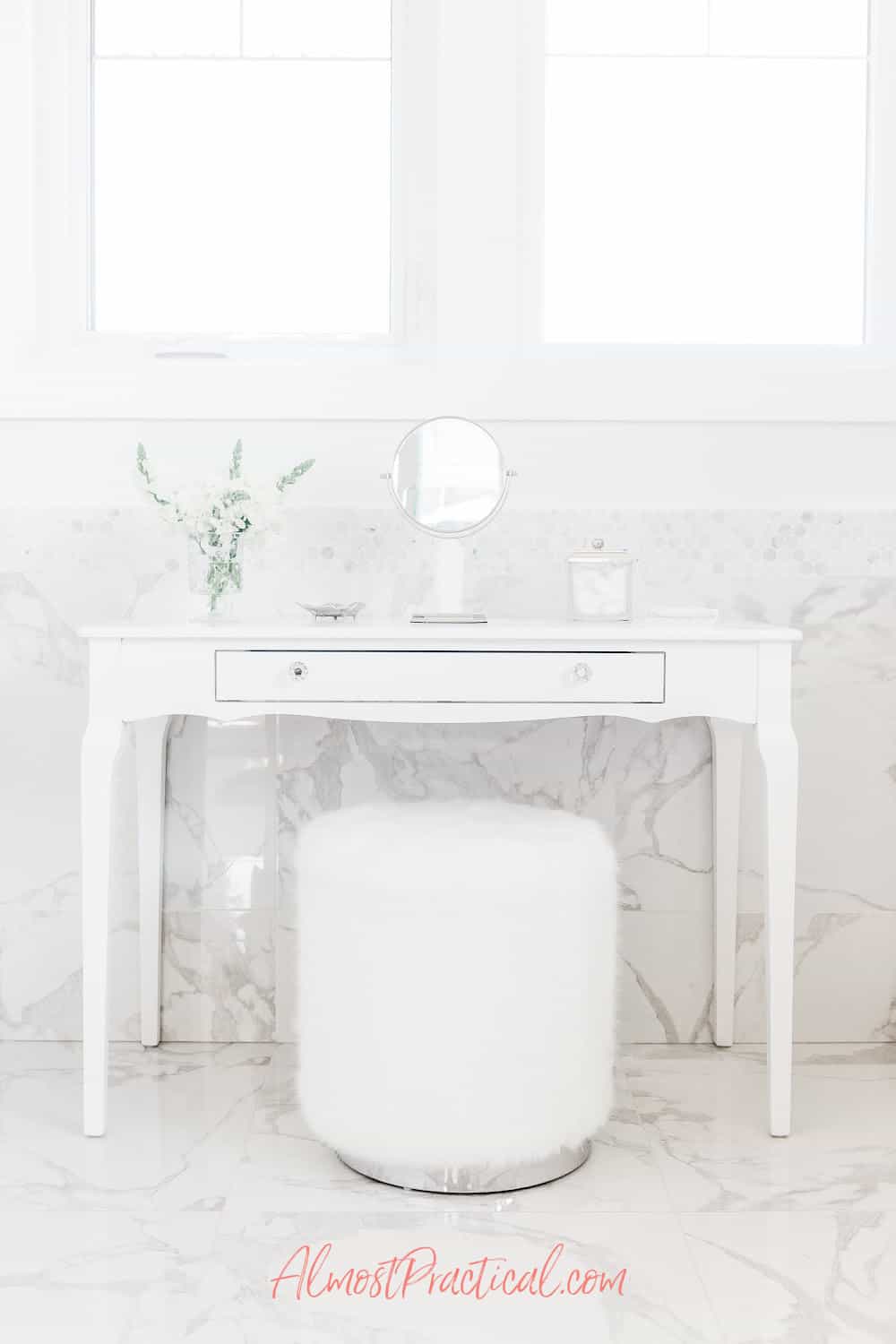 Ironically, most vanities have very little storage space.
There might be a small drawer or two – and then there is the actual surface.
If you have a built in vanity in your bathroom, you may be lucky enough to have some drawers and shelving as part of the design.
No matter whether your vanity is large or small, there are some principles to follow when it comes to vanity organization.
Keep your most used items within easy reach.
Try and keep clutter to minimum.
With these in mind, you should divide your makeup into categories.
Your Most Used Items
First, you will have the makeup that you use most often – pick one item out of each "category" – your favorite blush, eyeliner, shadow, concealer, foundation, powder, lipstick, etc.
Place these favorites in the top drawer of your vanity or in a small tabletop organizer.
This way, you always have what you need at your fingertips – which is very useful especially if you are in a hurry.
Everything Else
Divide everything else into categories by type of item.
Blush, eyeshadow, eyeliner, etc.
Store each category of item separately.
You may have enough of one item to fill an entire drawer – or you can divide a drawer into sections using makeup organizers or boxes and store one category of product within each divider.
What you want to avoid is jumbling up all your different products in one space (like a junk drawer).
Small Vanity Organization Ideas
As we already established – many vanities don't have lots of storage space – so you might need to look into getting a set of makeup organizer drawers to place next to your vanity.
You don't really need anything super special for this – and in fact, I really like using craft storage drawers for this purpose.
For example, this white chest of drawers is reasonably priced and looks like furniture.
Primarily, you will use these drawers to store your makeup, perfume, hair accessories, and jewelry – things that you will use when sitting at your vanity.
If space allows, you can expand what you store here to include other personal care products like nail polish, facial care products (my favorites are True Botanicals), make up bags, pouches, and travel size containers.
Options for Makeup Organizer Drawers
Here is a selection of drawers that you could use to store your makeup and toiletries:

Makeup Organizer Ideas
Remember, when it comes to drawers you should use many dividers so that the contents doesn't become all jumbled together.
To organize your vanity drawers you can use simple cardboard boxes and lids.
Often electronics like the Apple iPhone come in sturdy boxes that are the perfect size for organizing makeup.
So if you have some of these lying around you can put them to good use.
But if you prefer something more specific – there are lots of acrylic makeup organizers designed for all kinds of things like compacts, lipstick, etc.
Here are just a few – click on each one to learn more about it.

What Do I Put On a Makeup Vanity?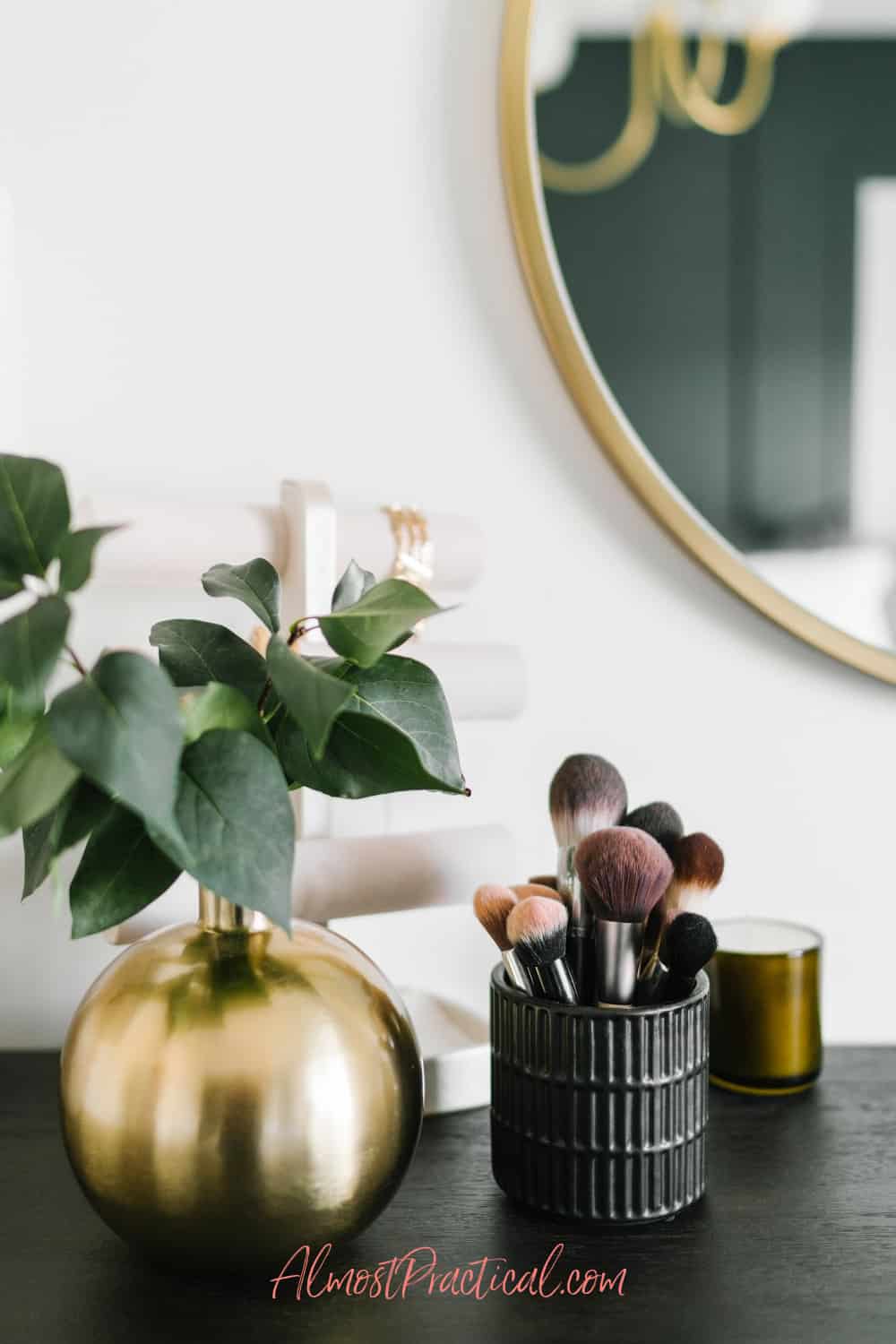 Unless you have a large surface area you will want to keep the top of your small vanity fairly empty – so you have space to actually apply your makeup.
You will want tuck the majority of your cosmetics and toiletries into drawers and not store them on top of your vanity.
As for the top of your vanity – try to keep it to a few of the essentials.
An LED Light Up Mirror
If your vanity does not already have a mirror, then a free standing light up mirror is a good option. Conair makes a circular one with magnification on one side and regular on the other. And they also make a rectangular LED makeup mirror with no magnification.
Containers for Makeup Brushes
A decorative container to hold your makeup brushes can add beauty and function at the same time. Any cup like container will do – you can use a pretty vase or even a mug that you love. An example are these silver ceramic round vases.
A Catch All Tray
You can use a mirrored vanity tray on top of your vanity to store taller bottles of things like hairspray and lotions.
This can also serve as a "catch all" for things like hair pins and bands as well as your hair brush.
Just be careful not let it become too cluttered.
Organize Your Makeup Without a Vanity
No vanity? No problem.
Maybe you don't have space for a dedicated vanity.
There are lots of things you can do to keep your makeup organized even if space is tight.
My favorite option is to use a caddy.
The Mimmo Caddy is perfect to use as a mobile vanity (you can read my review of this caddy here).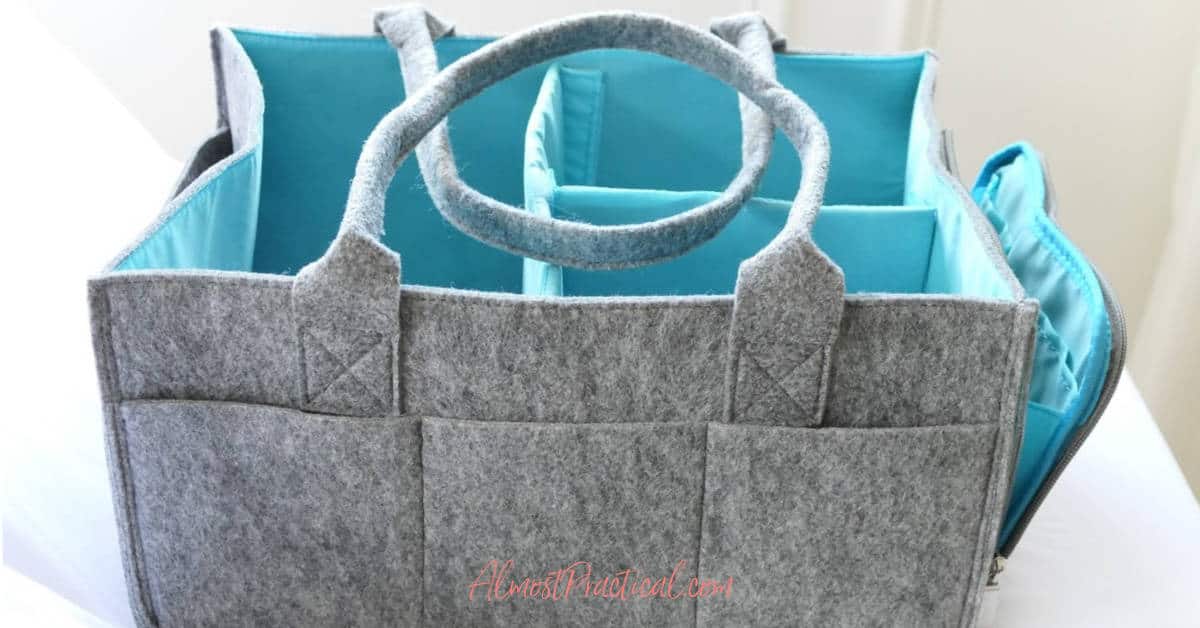 It has lots of compartments and pockets all around – so you can tuck in your tall items like makeup brushes, eye liners, compacts, and eye shadow.
You can use the compartments to hold bigger items like perfume bottles, hair spray, and even a small makeup mirror.
The sturdy felt handles make the caddy easy to tote around. And when you are not using it you can store it in the cabinet under your bathroom sink or on the bottom shelf of a nightstand (here are some ideas for picking the best nightstand for your bedroom).
If you need something bigger – a professional cosmetic trolley might be just the thing.
These train cases have handles and rollers with lots of trays inside to store all of your cosmetics.
There is No Best Way to Organize Your Makeup
As you can see the possibilities are endless when it comes to options for organizing makeup.
First, pare down what you have.
Get rid of makeup that is really old or that you don't use.
Next, divide it all into categories keeping the items you use most close at hand.
Finally, depending on how much you have, decide whether you will use a dedicated vanity to store everything or create a combination of drawers and desk space to make it work.
If you don't have even that, use a caddy or trolley to keep everything neat.
Happy organizing!