A Felt Caddy is the Perfect Storage Solution
This post may contain affiliate links which means I make a commission if you shop through my links.
 Disclosure Policy
Disclosure: I received a Mimmo Caddy from Mollie Ollie for purposes of this review. All opinions are my own.
My heart goes aflutter when it comes to things that can help keep you organized.
So, when Ivy at Mollie Ollie asked me to review the Mimmo Caddy – I was all over it.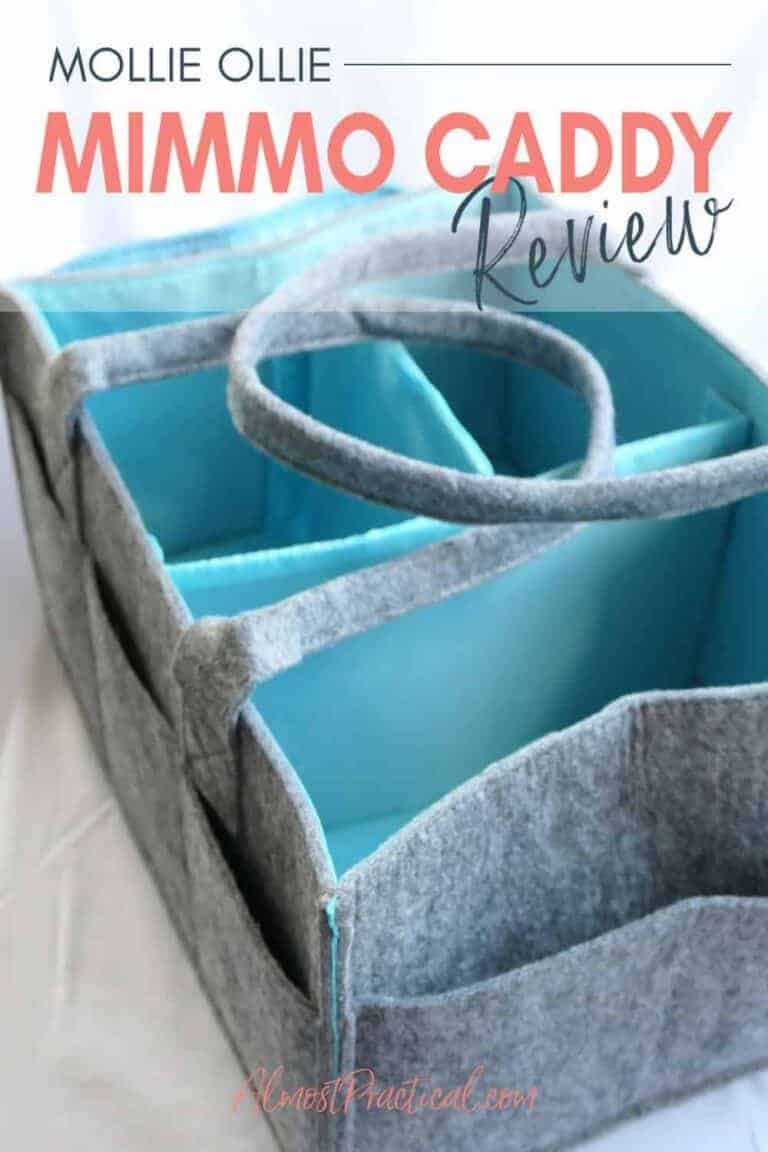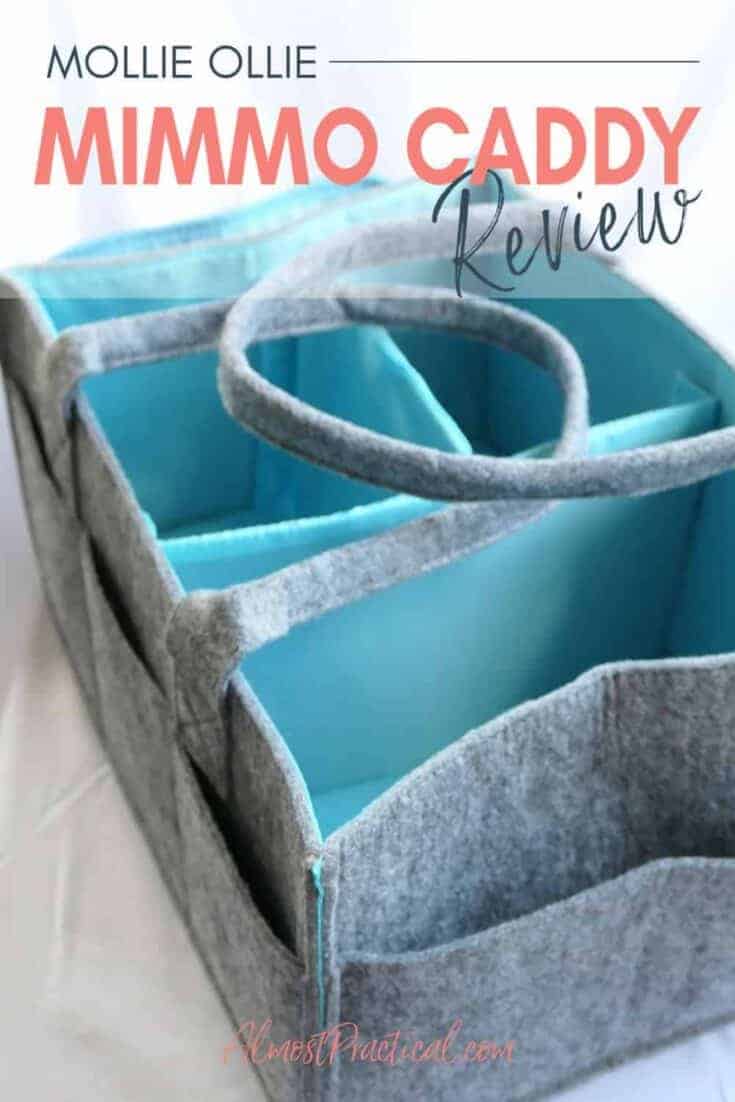 Who can resist a premium quality, sturdy felt tote with all kinds of compartments to hold large amounts of stuff?
The possibilities are many. You can use it for a:
planner caddy (this is my plan)
diaper caddy
bill payment organizer
homeschool caddy
portable home office
car organizer
teacher caddy
sewing caddy
project tote
Our Pick
Felt Caddy Organizer
This sturdy felt caddy from Mollie Ollie is so versatile - you can use it for so many things. I use it as a planner caddy, but you can also use it as a diaper caddy, a car organizer, and so much more!
Buy Now
First Impressions of the Mimmo Caddy
When this felt caddy arrived on my doorstep, I can tell you – it met all of my expectations.
The Mimmo Caddy that I received is made of chemical free, soft gray felt that keeps it shape even when empty.
It is lined with a sky blue nylon material.
Can I just tell you that the lining color is genius.
The light color of the lining makes it super easy to see all the way down to the bottom and into the corners of the caddy. You certainly won't have to rummage around too much to find what you need.
There are also 2 reinforced felt handles that feel strong enough to carry a good sized load.
As far as dimensions go, it measures
The Inner Compartments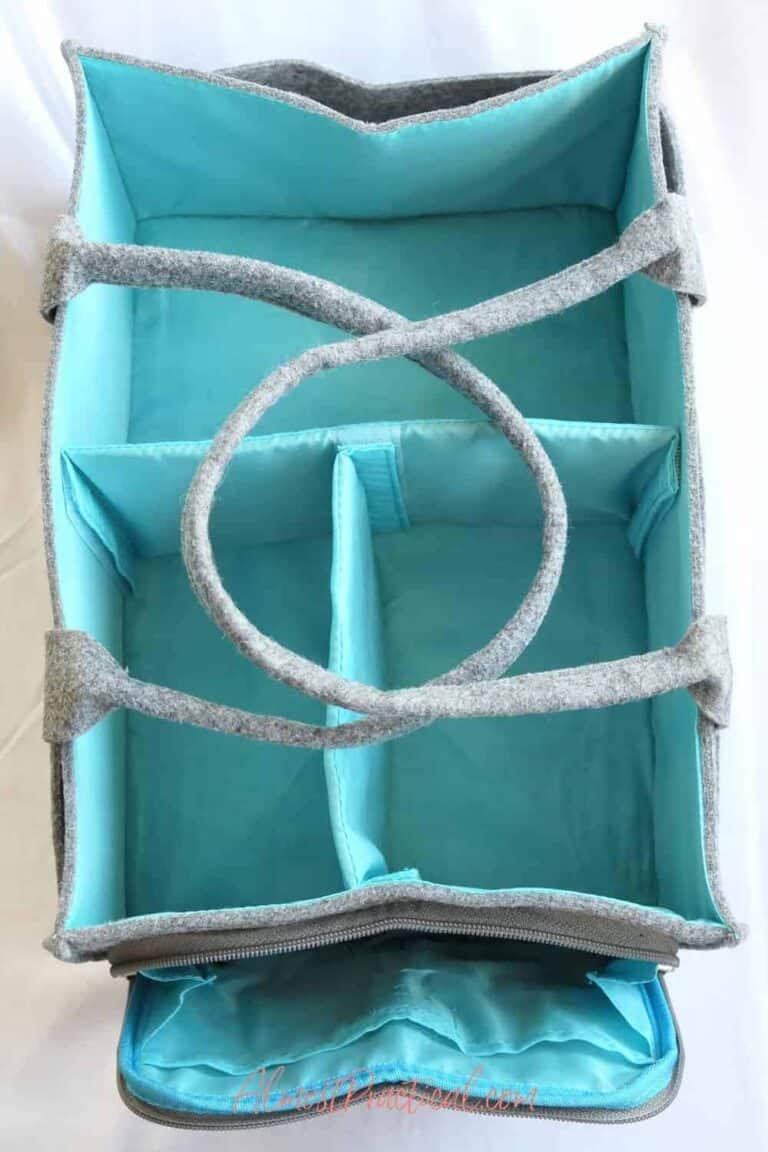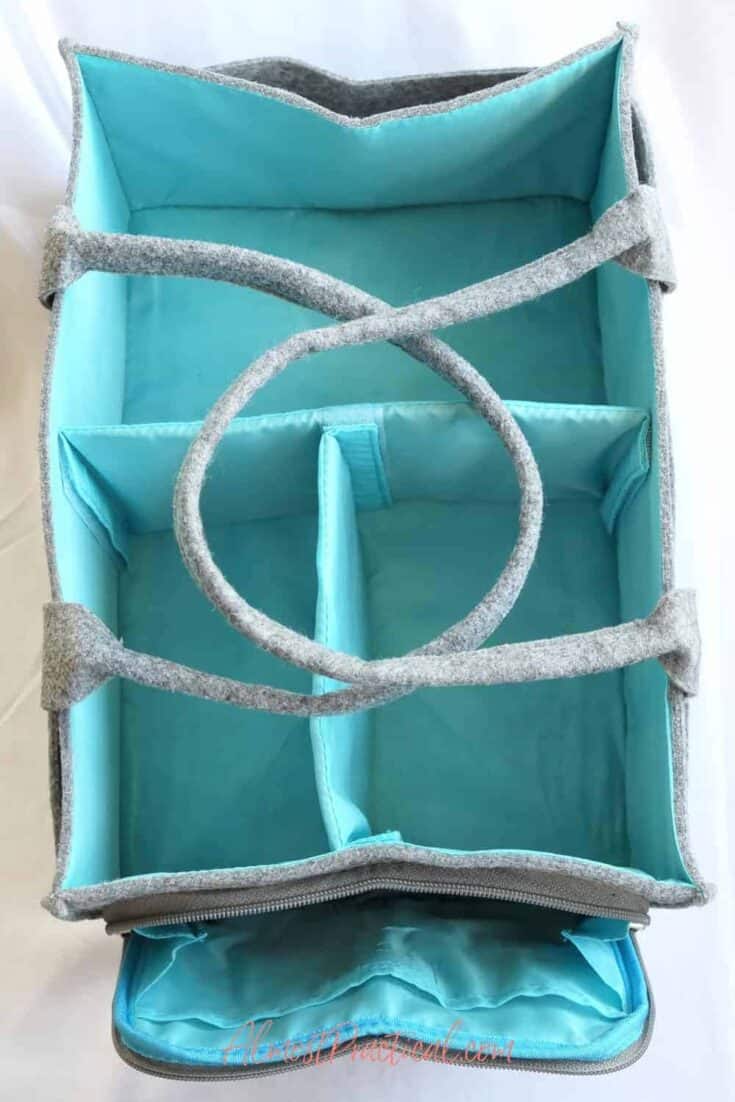 To keep your things organized, the Mimmo Caddy has three inner sections.
Each section is separated by a thick foam divider that is covered with the sky blue nylon fabric.
The dividers attach to the inner sides of the caddy with grippy velcro.
There is one divider that goes across the middle widthwise and splits the caddy into two sections.
Then there is a smaller divider that splits one of those sections further down into two smaller sections.
Because the dividers are attached with velcro, you certainly can remove them to reconfigure the space inside (keep the longer one for 2 separate section, or remove both to make one big basket).
However, I feel that the dividers give the caddy some structure. Without them, it may not keep it's shape as well – unless the things you put inside the caddy are rigid enough.
The Outer Compartments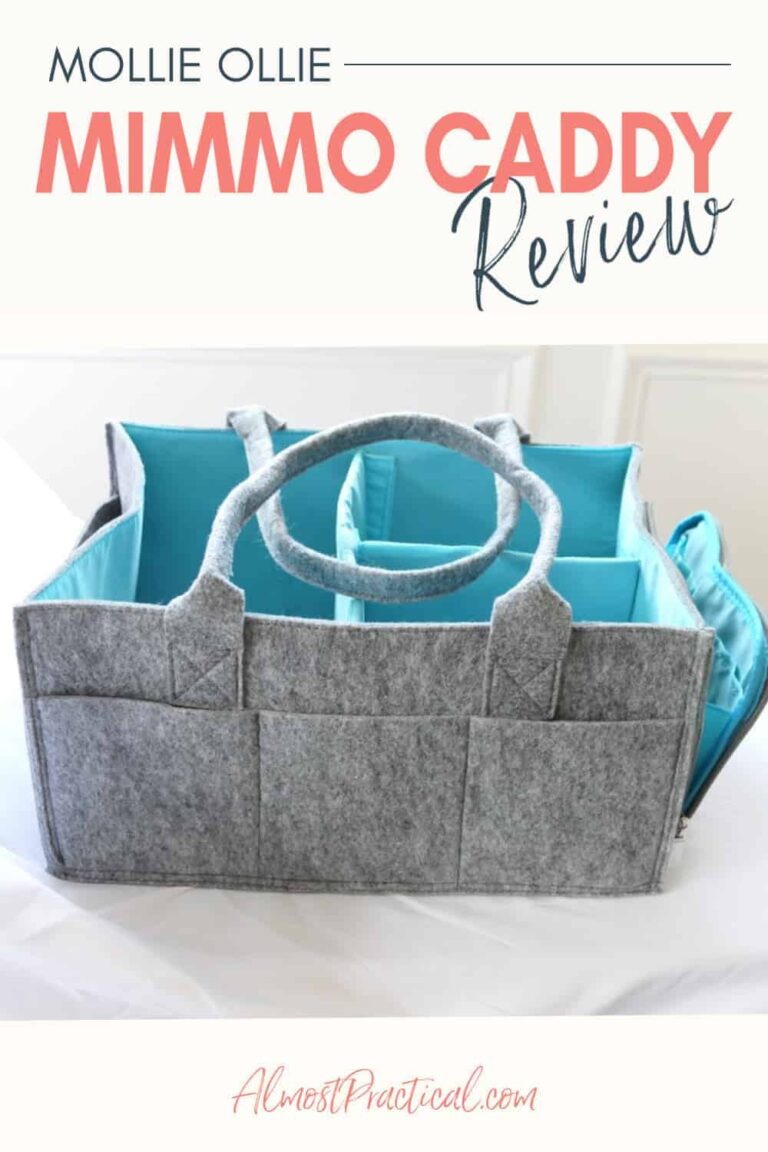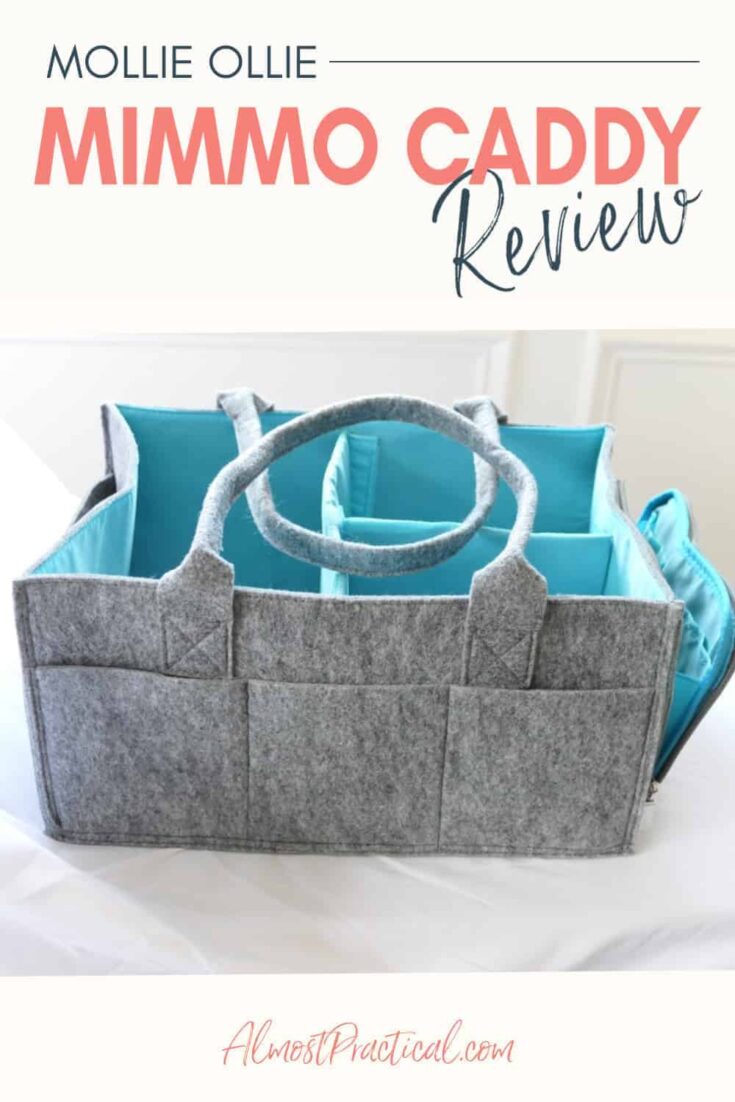 Adding even more space to the Mimmo caddy are the compartments that are on the outside.
This thoughtful design places a zippered compartment on one of the short ends with elastic bands inside to hold smaller items in place.
The opposite small end of the caddy has a generously sized open pocket.
On each longer side, there are 3 open pockets to hold even more of the tools you need.
How to Use This Felt Caddy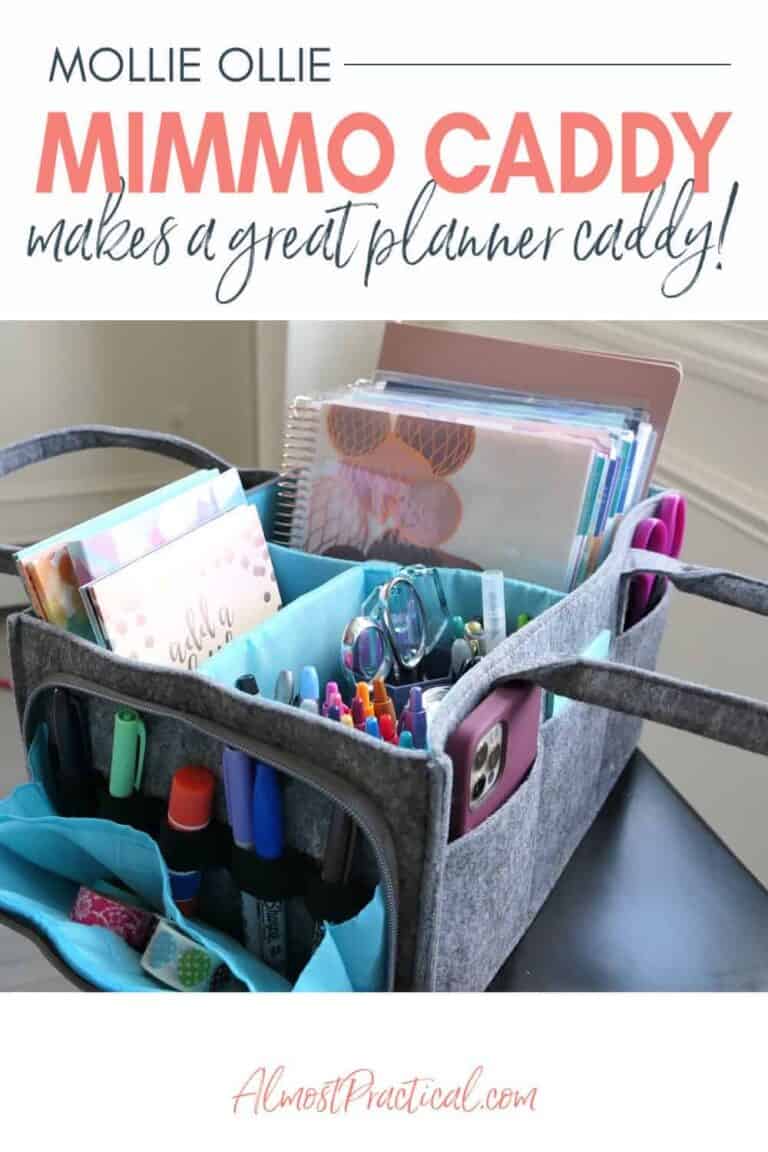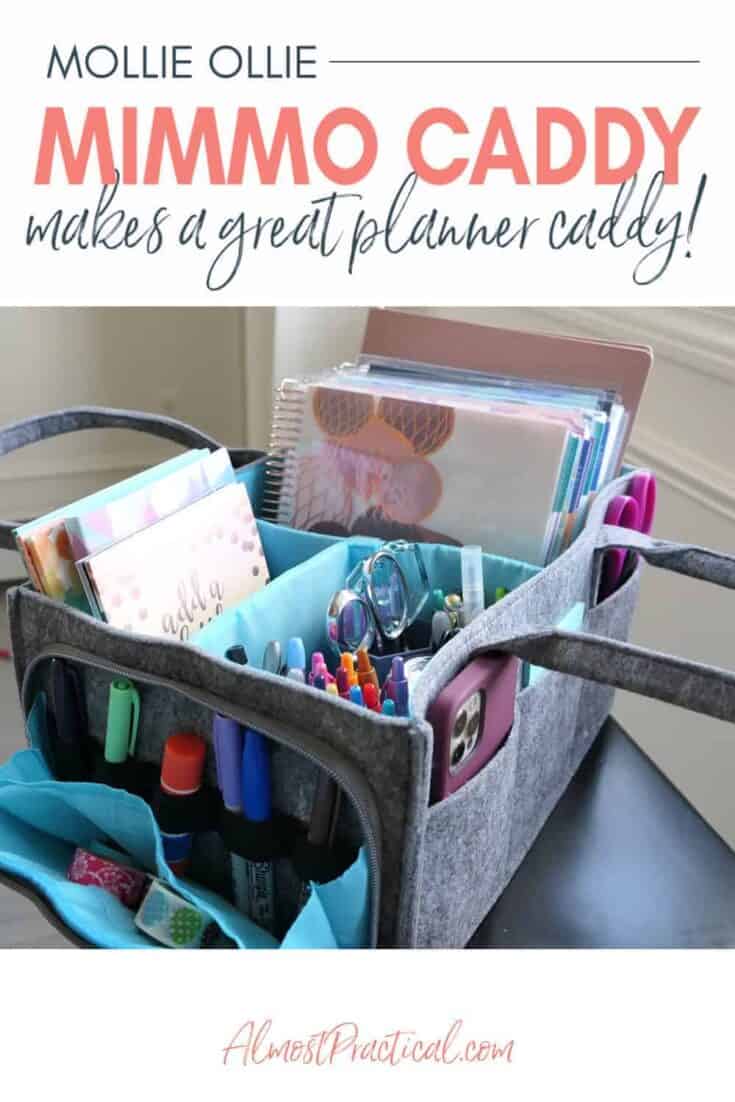 The Mimmo Caddy is so versatile and you can use it in so many different ways.
Planner Caddy
I have seen many people in the Planner Community use a felt planner caddy to organize their planners, planner stickers, pens, washi, and other planner accessories.
I am really excited to load mine up with all my favorite planner stuff.
But before I do, I want to show you some of the possibilities.
Diaper Caddy or Baby Caddy
All parents out there know how tricky it is to change a wiggly baby.
If you have all your supplies ready at your fingertips, it can be a little easier.
Stock your Mimmo Caddy with diapers, baby wipes, a changing pad, a few rattles or toys, and a couple of onesies for good measure.
Happy parent. Happy baby.
Where was this when my kids were little?
Portable Home Office
Along the same lines as a planner caddy – you can use this as a portable home office.
Now that so many people are working from home, it's sometimes hard to get things done when the house is full.
With the Mimmo Caddy, you can find a quiet corner and bring your office along with you.
Stash your office supplies, phone and laptop chargers, notepads, sticky notes in the caddy and sneak off in search of a room that is free of distractions.
Craft Caddy
If you love to DIY then this caddy is perfect for you, too.
Collect all your craft supplies and tools and pull the caddy out when you are ready to work on your latest project.
You can alternatively, use it to store the materials and supplies for your current project.
It might even motivate you to finish one thing before moving onto the next.
Car Organizer
Isn't it annoying when loose items roll around in your car when you drive?
Use the Mimmo Caddy to catch all of those little things that you need when you are on the road.
Carry an umbrella, a lightweight sweater or windbreaker, extra water bottles, winter hat and gloves, a tire gauge, emergency flashlight, pen and paper, water dish and extra leash for your pup, your road trip snacks, and so much more.
Homeschool Caddy or Homework Caddy
Do your kids do their homework at the kitchen table?
Mine used to.
It is always nice to have all the school supplies that they needed in a quick to clean up caddy – so your table can go from homework center to dinner table in a matter of seconds.
Interview with Ivy Teo – Mollie Ollie Founder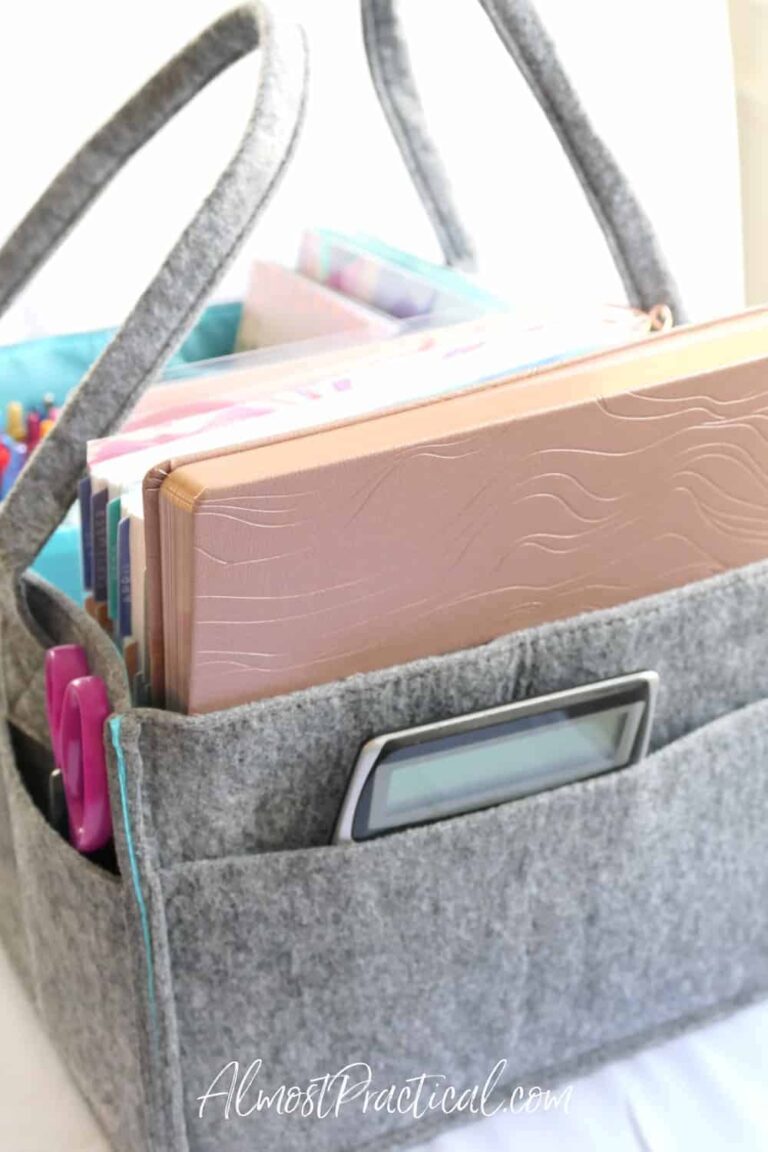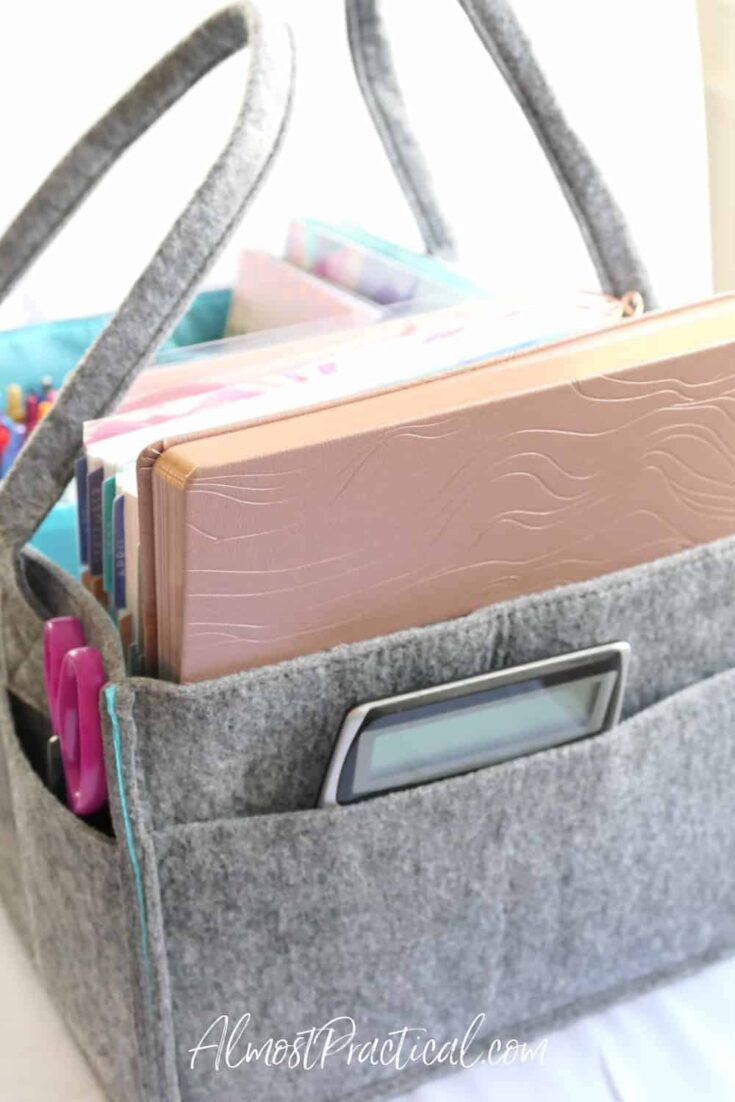 The company behind this caddy – Mollie Ollie – was founded by busy mom Ivy Teo.
I am always fascinated and inspired by moms who can juggle family, work, and starting their own businesses – so I had to ask Ivy a few questions about how she does it all, and thought I would share her answers with your here.
You can also learn more about Mollie Ollie on their website here.
What was your motivation for creating this as your business?
Mollie Ollie was born out of my desire for an easier and efficient way to organize my routine as a working mom.
After trying out a few methods to keep my home organized, I decided I needed a portable caddy that is spacious, sturdy and beautiful!
After a few iterations, I refined the conventional diaper caddy with the use of quality heavy-duty felt material and added detail such as as a zipper pocket with elastic hoops and easy to attach velcro dividers, and a sturdy construction that can hold up to 50 pounds of weight. I loved it so much and I really hope other working moms can benefit and enjoy the Mimmo Caddy too!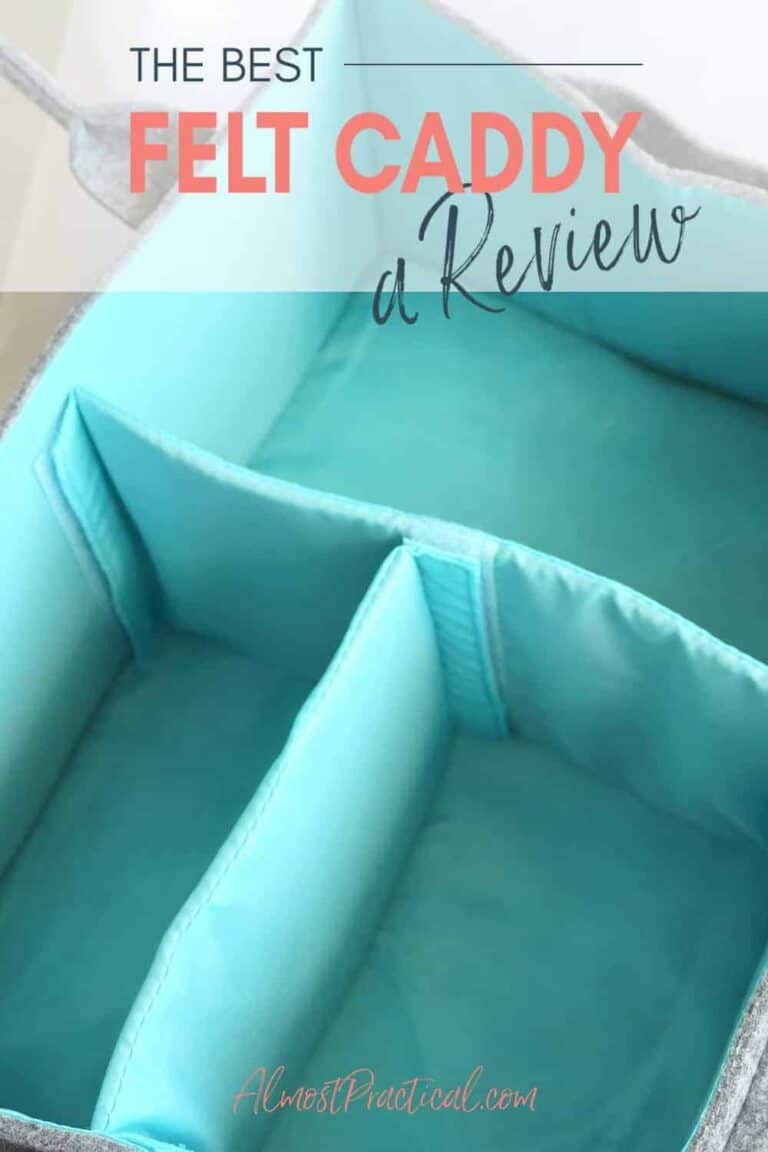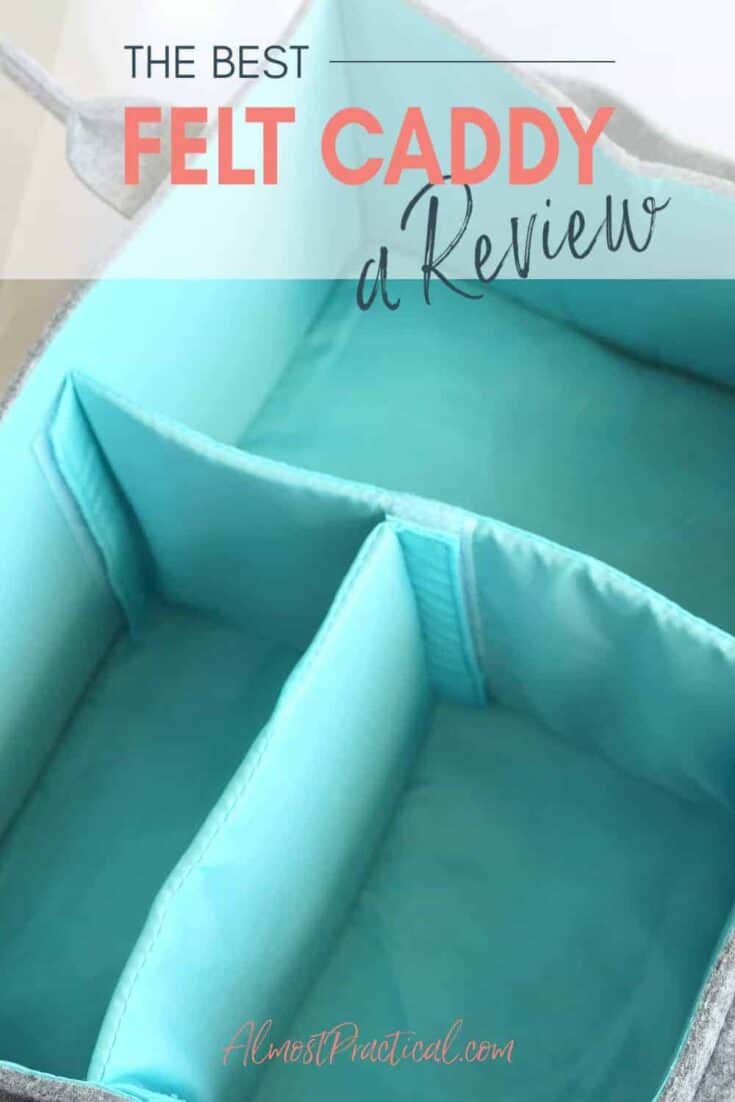 How did you find time to develop the caddy, grow your business, work full time, and raise your family?
In the initial period, I had to sacrifice sleep to get the business started.
I think after a year of learning and a fair bit of trials and error, I gained momentum and learnt how to strike a balance between caring for my daughters and family, my job and growing Mollie Ollie.
My family is my source of inspiration and energy.
Spending time with my vivacious girls always refuel my sometimes depleted "tank" after a long day at work.
What are some of the challenges you faced in going from concept to live product?
Sourcing for the right material, and making the product exactly as I've envisioned with a high quality craftsmanship took time and a lot of reiteration but it was all worth it!
What are some of the more unusual ways that people have used the Mimmo Caddy?
I love it when customers get creative with Mimmo Caddy!
I developed the Mimmo Caddy around the time my second daughter was born and I really needed a portable diaper station that can also become a car organizer caddy when we go on road trips.
A lot of my customers bought the Mimmo Caddy for the same purpose and as their babies grew up and outgrew the diaper stage, they cleverly repurpose the caddy as knitting stations, organizer for toys, bags to house their cosmetics and accessories when they go on trips, and even as a hand carry bag when traveling!
What does Mollie Ollie stand for?
They are actually my two daughters' nicknames!
My Overall Thoughts
The Mimmo Caddy sports quality workmanship throughout it's design.
It is sturdy, practical, and blends with any decor. Find it in the gray color pictured here .
My favorite feature – and what sets this felt caddy apart from the rest – is the light colored lining. It makes it so much easier to find the things you are looking for.
Whatever your stage in life – you will find this caddy to be extremely useful.