How to Clean Up After the Holidays
This post may contain affiliate links which means I make a commission if you shop through my links.
 Disclosure Policy
Now that all the holiday fun is over – you might find yourself staring at a very messy house. Here are some tips to help you clean up after the holidays.
January is Get Organized Month – and with good reason. Obviously, it is a great time to make a fresh start, which is why we all make New Year's resolutions. But before you can move ahead with the new, you really need to take care of the old.
We usually enter January staring at the remnants of December.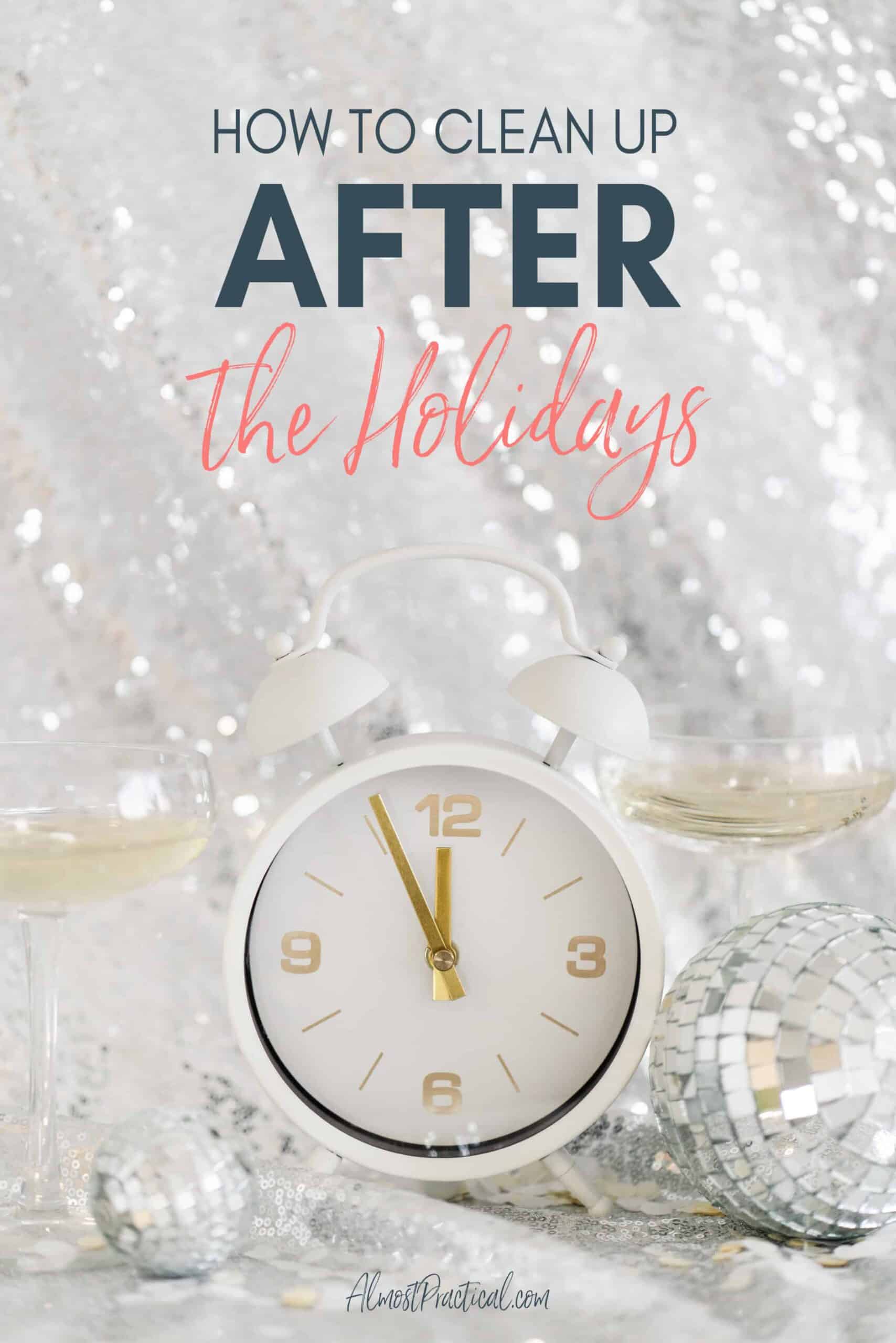 If your home is cluttered with
holiday decor,
leftover food,
gifts that you have no place for, and
the aftermath of house guests
it is time to take action!
Use the first week in January to clean up after the holidays. Don't procrastinate!
Put Away the Holiday Decor
The hardest thing to do is take down the Christmas tree and related decorations.
Putting everything up is always so much fun but putting things away is a different story.
Let me ask you this – do you have enough storage for all your holiday decor items?
It's really hard to get motivated if you have to stuff everything into boxes that are bursting at the seams and falling apart.
To make the job easier work in a little planning before you get started.
1. Survey the Decorations That You Have
Take a hard look at your tree, ornaments, lights, and other festive decor.
Are they in good shape?
Do all the lights work?
Do you like them?
Do you plan to use them again next season?
Are there things in boxes that you did not use this year or have not used for many years?
These are important questions and will also involve a bit of introspection.
Keep what you plan to use and can't bear to part with.
Get rid of things that are broken and make hard decisions about everything else (donate, toss, gift, or keep).
2. Assess the Storage Space that You Have
Now that You Have decided what to keep, take a look at the space where you plan to store it all.
Is it going in your attic, a corner of your basement, in a closet, under the bed, the garage, or possibly even to offsite storage?
Do you have enough physical space to keep all of your decor items – preferably all together in one area?
Another reason that we put off putting away the holiday decor is because we don't know where to put it all. It's overwhelming.
3. Do Your Storage Boxes Work?
This is the step where you put it all together.
Will all of the Christmas ornaments and decorations that you plan to keep fit into the storage boxes that you already have AND will the storage boxes fit into the space that you have available in your home to store your holiday decorations?
To fit it all in you may need to be creative with your storage choices.
For example, when looking for Christmas tree storage ideas, you may want to go with a vertical storage bag instead of a horizontal storage box. Storing your artificial tree upright allows you to take advantage of vertical space that otherwise might be wasted.
If you are looking for the best Christmas ornament storage boxes for your situation – you may want something flat that you can slide under a bed. Or, if you store your holiday decor in an attic with a pull down ladder – then you will probably need smaller boxes that are easier to take up and down.
Don't Miss Anything
Once you have everything packed away be sure to take a final walk around to make sure there aren't any stray pieces.
You don't want your Elf on the Shelf hiding away in plain sight until next December.
Manage Your Leftover Holiday Food
Managing your leftovers may even be harder than putting away Christmas decorations.
You don't want to waste food but you've kind of had enough.
1. Decide What to Keep
The first thing to do is to take stock of what you have.
Realistically, what food items are you likely to eat in the future?
Don't keep things that you won't eat.
2. Freeze What You Can
Of the things that you will eat – determine which items you can freeze.
These leftovers can make for a good meal on a night when you don't have enough time to cook.
The important thing is to freeze your leftovers before they go bad. If you procrastinate, the food will spoil.
In our house, we end up with more leftover desserts and sweets than main dish type food.
The good news is that lots of desserts freeze well. I just divide them into smaller serving sizes so I don't have to thaw a whole cake or pie at once.
If you have too many candy canes, you may want to think outside the box and make this candy cane sugar scrub with your extras. It's a fun way to use your leftovers without actually eating them.
3. Plan Your Next Few Meals
Naturally there will be things that you cannot freeze.
Plan out your meals for the upcoming week and incorporate these items into your meal plans.
If you have fresh ingredients that may not last a whole week, try and cook a few meals using these ingredients right away. Then either refrigerate or freeze the meals that you make.
4. Share With Others
It's a bit challenging to find people to share your leftover holiday goodies with.
You can donate unopened non-perishable food to your local food bank.
The tried and true "take it to the office break room" may not be an option these days when everyone is working from home.
But consider your circumstance and see if you can come up with ways to not let good food go to wate.
5. Clean Out Your Refrigerator and Pantry
Finally, spend some time cleaning out your refrigerator and organize your pantry.
Get rid of foods that are past their prime and make space for healthier foods to start the new year right.
Put Away the Holiday Gifts
If your closets were full before the holidays, it is a real challenge to find space for all the new Christmas or Hanukkah toys and gifts.
1. Get Rid of the Guilt
Gifts are hard to manage because you often have an emotional tie to the gift giver. You may feel guilty if you don't like the gift and thus feel obligated to keep it.
Marie Kondo (author of The Life Changing Magic of Tidying Up) says:
The true purpose of a present is to be received, because gifts are a means of conveying someone's feelings for you.

Marie Kondo ~ What To Do With Gifts That Don't Spark Joy
So, if you've given the gift a try and still don't love it, try and find other options of what you can do with the gift that will make you feel good and not offend the giver.
2. Decide What You Will Use
Divide your gifts into three categories:
gifts you love
items you are not sure about – that you want to try
and those you definitely don't want.
Dealing with the gifts you truly love is easy. You need to find space in your home for these.
Make plans to try out the ones that you are not so sure about.
And for the ones that you don't want – the best option is to return or exchange them (and make sure that you don't miss the timeframe for returns!). If you can't return them then donate or sell.
Many charities or religious organizations will take donations. And there are lots of local Facebook groups where you can give items for free or put them up for sale.
3. Don't Keep Two
Often a gift is a replacement for something that you already have.
A new computer replaces an old model.
A new jacket replaces an old, beat up one.
But here's the catch, if you got something new to replace something old – get rid of the something old.
With electronics, you can easily trade-in or recycle your old items. Work time into your schedule to transfer any data and clean off the old items to prepare them for trade in.
For clothing and other items consider handing them down, donating, or consignment.
Clean the Guest Rooms
The last thing to do to clean up after the holidays, if you had overnight guests, is to put the guest rooms back in order.
Wash the sheets and towels, vacuum, and dust.
Put away air beds, sleeping bags, extra pillows, and the like.
The bonus is the next time overnight guests arrive, their room will be ready and waiting for them with little work to do on your part.
Post Holiday Clean Up Takes Time
Cleaning up the holiday decor, managing the leftovers, putting away gifts, and tidying the guest room, can all take time.
This is why I like to allow the first full week in January to get my house back in order.
If you make a plan and do a little every day, you will be ready to create some New Year's Goals in week two.
Once you have closed out the old year you can start to look ahead and set goals for the new.