Kitchen Organization 101: How to Organize Your Kitchen
This post may contain affiliate links which means I make a commission if you shop through my links.
 Disclosure Policy
Kitchen organization does not have to be a losing battle. Trust me.
The kitchen is truly the most used room in the house.
It will get cluttered, disorganized, and even disheveled, if you will.
But if you follow these tips, you will be able to whip it back into shape in a matter of minutes.
Sometimes, when you feel like your whole house is messy simply cleaning up the kitchen will give you back a sense of control.
Establish Your Zones of Usefulness
Zones are the key to kitchen organization.
They are also the one thing many people don't do well.
Most people will store something in a cabinet or drawer where it "fits" as opposed to the place where it makes the most sense.
Let me give you an example.
Before our kitchen renovation, I used to have a long, narrow drawer next to our cooktop.
I also happened to have a cookie press that was long and narrow.
It fit perfectly in that drawer – so I stored it there – in the prime real estate right next to my stove.
Did I use the cookie press every day?
No! Of course not. Probably more like once a year.
But there it sat taking up valuable space.
How Often Do You Use That Gadget?
Once I realized my kitchen organizing mistake, I tucked it away in a more remote spot and put more useful kitchen utensils in that drawer.
This saved me so much time – that I didn't know I was losing.
When my everyday cooking spoons are in the drawer right next to the stove, food prep becomes more convenient.
And the bonus is that you can potentially free up some space on your countertop by storing your utensils in a drawer instead of in a container on the counter.
Your Assignment: Identify Your Kitchen Zones
So, your job now is to pinpoint your kitchen zones.
Organize your kitchen so that your
mugs are near the coffee maker
dishes and silverware are near the dishwasher
drinking glasses are near the sink or water dispenser
cooking utensils are near the stove, etc.
Put the things the things that you use most as close as possible to the place where you use them.
Anything that you don't use very often should go in a more remote location like the top shelf in your kitchen cabinets.
You get the idea.
Related: Your New Kitchen Countertop – Which Material is Best?
Store Things In Cabinets and Drawers – Not On the Countertop
This one is a tough one, especially if you are short on cabinet space – but do the best you can.
Try to put thinks like knives, kitchen utensils, and small kitchen appliances – yes appliances, in your cabinets and not on the countertop.
If your counters are uncluttered, it is much easier to wipe them down. You also notice when something is out of place and needs to be put away.
Personally, I replaced my countertop knife block with this in-drawer knife organizer and I love it.
You might need to clean out a junk drawer to make it happen – but you really didn't need that junk anyway, am I right?
Speaking of junk drawers …
Use Drawer Organizers
One of the easiest ways to declutter, is to use drawer organizers.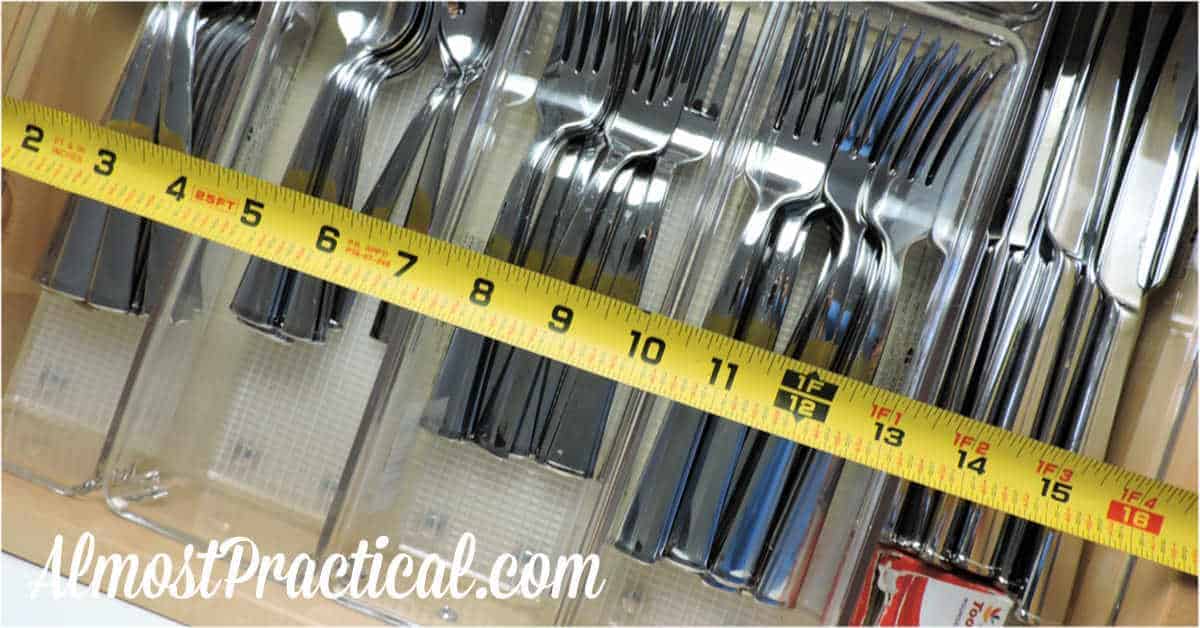 Stuff gets disorganized in big, wide kitchen drawers. Things roll around and get all jumbled up.
I like to use clear storage trays like these from InterDesign.
The clear material makes it easy for you to see what is in the drawer.
I also prefer single compartment organizers so I can mix and match depending on what I need to store.
Before you buy your drawer organizers, be sure to measure the inside dimensions of your drawers to make sure the organizers will fit.
Related: How to Organize Your Silverware Drawer
Close Your Kitchen
Every night be sure to close your kitchen.
Set a few minutes aside to put away clutter that creeped it's way in, wipe down the countertops, and sweep the floors.
Related: What Does Being Organized Mean?
Kitchen Organization is Easier Than It Seems
Maintaining an organized kitchen is easy when you:
establish zones in your kitchen
clear the clutter off your countertops
organize your kitchen drawers
and keep up with cleaning daily.
What are some of your best tips for kitchen organization? Let us know in the comments below.
More Kitchen Organization Articles You Might Like: