2020 Planner Stack – The Planners I Am Using in the New Year
This post may contain affiliate links which means I make a commission if you shop through my links.
 Disclosure Policy
How many planners is too many? Today I am showing you my 2020 planner stack. This is how I plan to use them in the new year.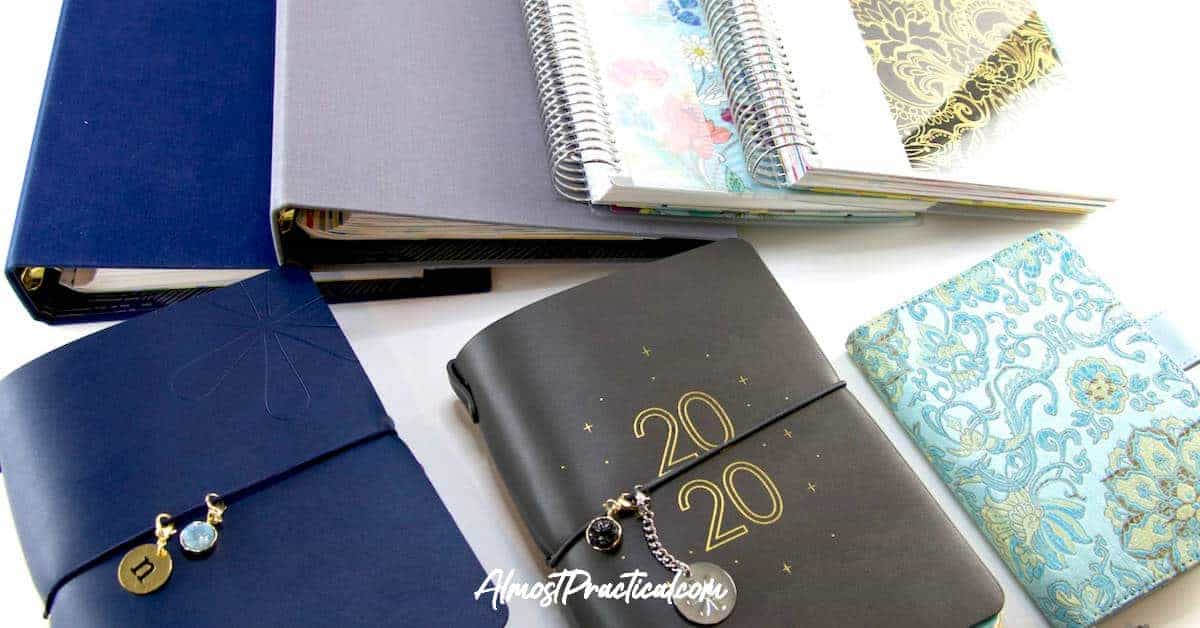 Over the years I have struggled with finding just the right planner to manage my busy life.
Nothing seemed to be exactly what I was looking for.
Late last year it occurred to me that maybe my approach to planners was all wrong.
Instead of searching for one single planner that could do ALL THE THINGS – maybe what I needed was multiple planners – one for each bucket of items in my life.
And so my 2020 planner stack was born!
I may have gone a little overboard – but I really wanted to go all in on this and make 2020 my most productive year ever.
So, these are the planners that I will be using in the new year.
Most of them are Erin Condren products because I love them so much, but you can use just about any brand of planner to replicate this stack.
Let's dive in!
Here's The Video
For those of you who prefer to see my 2020 Planner Stack up close and personal – here is the video. If you would rather read about it – scroll on down.
Erin Condren LifePlanner Coiled Hourly Layout
My main 2020 planner is an Erin Condren LifePlanner in the hourly layout and the colorful theme.
This is where I will map out the week ahead and record future appointments and notations for my home and family events.
Erin Condren Petite Planner Daily Planners
While the Erin Condren LifePlanner Coiled Hourly Planner is great for recording appointments and events, there is not much space to track your daily to do items.
The Petite Daily Planner fills this void.
I use this as a notebook that just happens to have dates on the pages – which is really convenient.
This slim notebook easily fits in just about any handbag that I use (right now I am loving the smaller Erin Condren Planner Bag as my every day purse) – so I have it with me all the time.
At the end of each day I transfer anything important into my coiled LifePlanner.
Additional Erin Condren Petite Planners
In addition to the Daily Petite Planners, I also use a selection of other Petite Planners to manage different parts of life. These include:
You can read my review of the Erin Condren On the Go Folio Petite Planner System here.
Erin Condren LifePlanner Coiled Vertical Layout
What?! Another LifePlanner?
Yes. It's true.
This year I decided to try and use an actual LifePlanner as a memory book.
I purchased the coiled Erin Condren LifePlanner in the vertical layout and neutral theme for this purpose.
Every Sunday, my plan is to go back through the events of the week and write a quick blurb for each day.
I also got a Canon Ivy portable mini printer for this project.
The Canon Ivy is sort of like a Polaroid camera – minus the camera.
Basically, you connect it to your phone via bluetooth and print photos directly from your phone.
The printer spits out little 2×3 inch photographs on sticky backed photo paper – so all I have to do is peel and stick these puppies directly into my planner/memory book.
You do need to buy special paper for the Canon Ivy, but it is so worth it. It's such an easy way to get the photos off your phone and into a place where yourself and others can enjoy them.
My plan is to create a custom photo collage LifePlanner cover at the end of the year, and make this into my 2020 scrapbook.
Hobonichi Techo
I do have one non-Erin Condren book in my 2020 planner stack.
This one is a Hobonichi Techo.
I came across the Hobonichi in my planner research at the end of the year, and new I had to try it.
Now I think I am obsessed.
The Hobonichi Techo is printed on super thin Tomoe River paper that is just a joy to use.
My Techo is my diary of sorts.
I don't actually journal in it – although I might.
For now, I am using it as a creative outlet.
Every night I use my Erin Condren dual tip markers (they are the best pens for the Hobonichi, I think), stickers, and washi tape to create word clouds and designs to highlight a particular event or my feelings and thoughts for the day.
I really look forward to filling out my Hobonichi every night, so it's been a great addition to my stack.
Erin Condren LifePlanner Binder Daily Layout
This is a one page per day planner and I will use it to my editorial and YouTube calendar.
For my blog and my business I will be using the Erin Condren LifePlanner Binder in the daily layout and colorful theme.
Because it is a binder format – I can add pages wherever I need them, so I will use this for all my notes, research, and planning for my blog.
Erin Condren LifePlanner Binder Horizontal Layout
I also have an Erin Condren LifePlanner Binder in the horizontal layout and colorful theme.
For my blog I take a lot of self guided eCourses.
I kind of have a bad habit of starting a course and not finishing – often I lose track of my progress and have to start all over again.
So, I plan to use this binder to keep my learning on track.
I have planned out the courses that I want to take each month.
The binder is a great place to store my notes and the horizontal layout gives me a place to record my daily progress.
Erin Condren Desk Calendar
Finally, I use an Erin Condren Desk Calendar more or less like a desk pad.
You can read my EC Desk Pad Review here.
I love the colors and the metallic accents. In addition to providing me an "always available" calendar that I can glance at it also serves as a fun desk pad.
Here are some tips for using a desk calendar.
The Full 2020 Planner Stack Line Up
I know there are a lot of planners in this stack – so I'll summarize it below.
Erin Condren LifePlanner Hourly Layout
Selection of Erin Condren Petite Planners
Erin Condren LifePlanner Binder Daily Layout
Erin Condren LifePlanner Binder Horizontal Layout
Happy Planning!