GoodReads Review – The BEST Way to Keep Track of Books You Have Read
This post may contain affiliate links which means I make a commission if you shop through my links.
 Disclosure Policy
Do you have trouble keeping track of books you have read or want to read? This GoodReads Review will walk you through the best App that I have found to help you manage your reading list.
I struggled with organizing my own reading list for far too long. Often I would make a list on a piece of paper, or use an app like Evernote, Apple Reminders, or Notion.
What I ended up with was a bunch of lists in random places that I would forget about. This haphazard strategy of keeping track of books was not working for me!
Now, I know that GoodReads has been around forever, but I never used it consistently up until now because I had created several accounts over the years and that was in a mess too.
If this sounds like you – read on to see what I did to regain control and start tapping into the full potential of this app.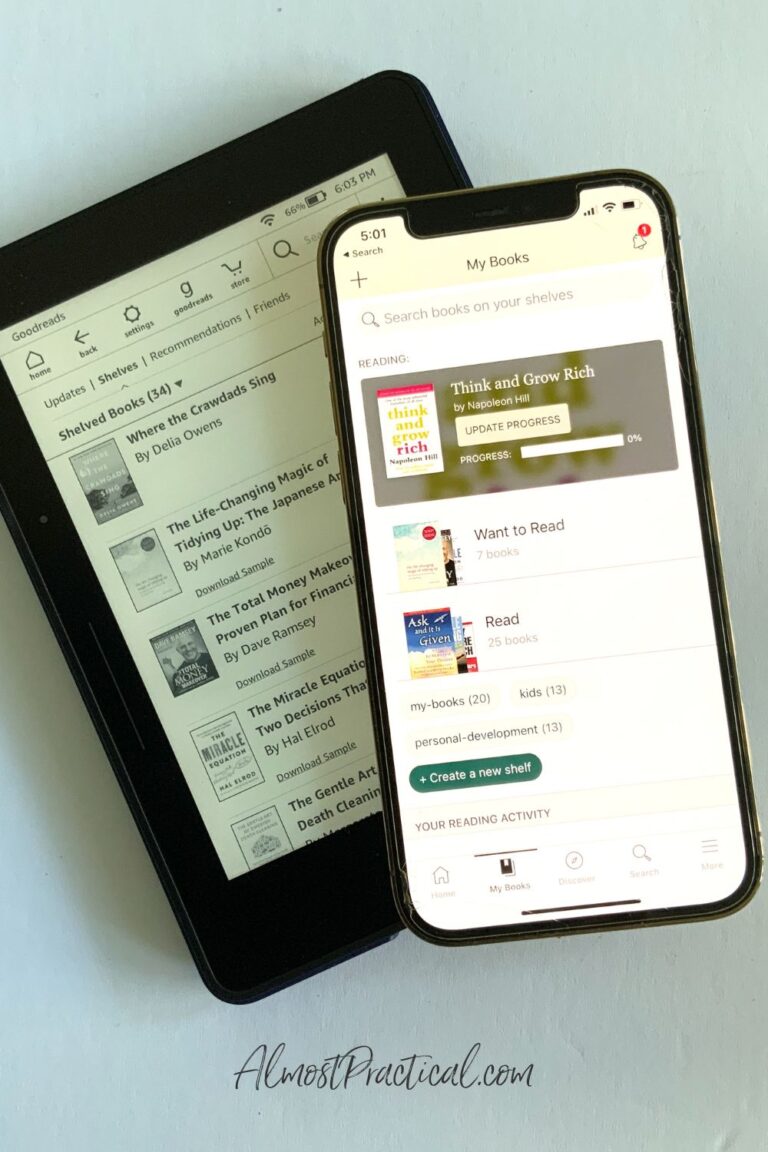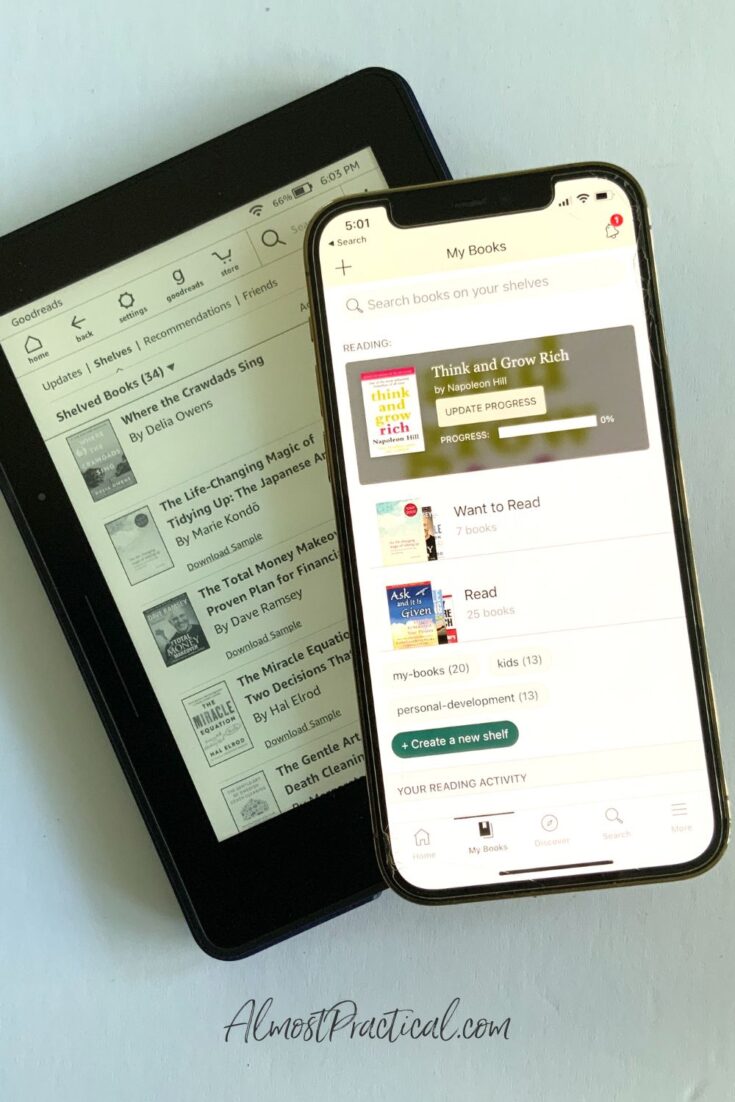 What Is GoodReads?
At first glance, GoodReads is sort of like a social media platform for people that love to read.
And it is certainly a way for you to connect with friends and family over a shared love for books.
But GoodReads goes much deeper than that – in fact, you don't even need to use it to be social. You can just tap into it's powerful capabilities for helping you keep your reading list organized.
How to Sign Up for GoodReads
To sign up for GoodReads, you simply go to the website or download the app on your iPhone or other mobile device. From there you can follow the prompts to create your account.
If you use a Kindle device then you can link up your device to your GoodReads account and access it straight from the Kindle itself.
Sorting Out Your Old Accounts
If you already have an account (perhaps one that you haven't used in awhile) now is a good time to do a password recovery or figure out how to access that old account.
I would recommend doing the legwork here instead of just randomly creating a new account.
Personally, I discovered that I had three GoodReads accounts, which were created over the years.
One, apparently, was somehow tied to my Kindle, another I created for my business – not realizing that I already had an account, and the third was created with an email address that I have not used regularly in years (maybe even a decade?).
Needless to say – this disorganization surrounding my GoodReads accounts – caused me to stop using the app because I couldn't figure out which account was current and I became confused.
After taking the time to sort things out, I was able to delete two accounts and set my sights on the only one that I will use going forward.
Create Your Reading "Shelves" in GoodReads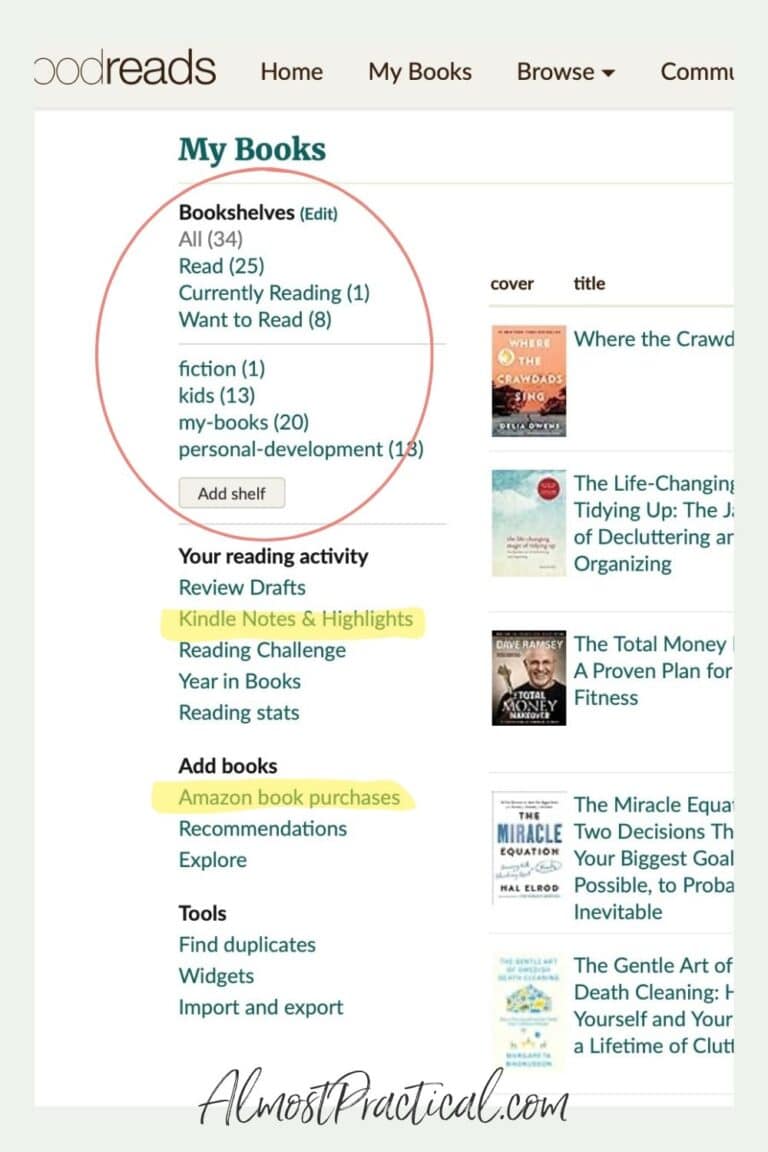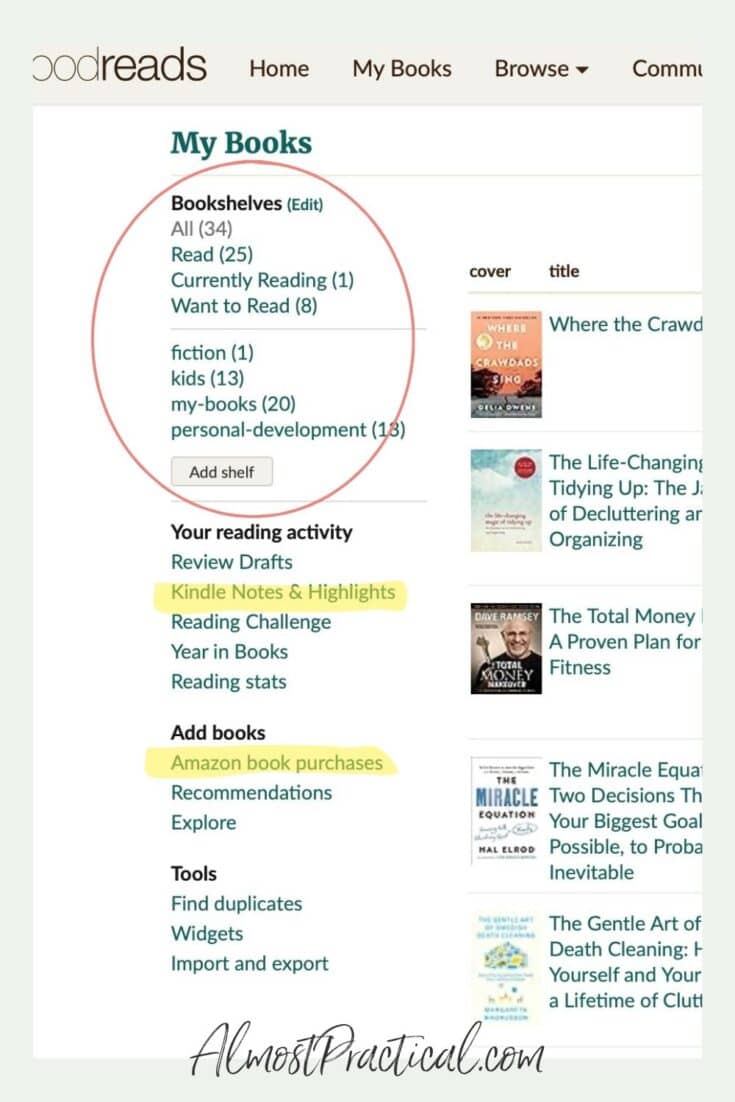 To organize your books in GoodReads, you create virtual "Shelves" on which to list your books.
By default, your account comes with 3 shelves that you cannot delete. These are:
Currently Reading
Want to Read
Read (past tense as in completed reading)
These 3 shelves are "exclusive". This means that a book on your list can only be on one of these three shelves. It makes sense because you would not mark a book that you would not place a book that you are Currently Reading on a Want to Read or a Read shelf.
Beyond those 3 shelves you can create as many shelves as you want – and the ones that you create can be either exclusive or non-exclusive (and you can change this designation in the Settings at any time).
The Shelves that you add basically function like tags. These will help you sort and organize your books.
Some examples of Shelves that you might create include:
Books for your kids
Shelves based on book genre
Owned/Borrowed/Kindle (this would be 3 different shelves)
Adding Books to Your Shelves
To add a book to one of your Shelves you can type the title or author in the search bar which will bring up a dropdown of possible results.
When you click into the result, you can add it to your shelves, order it on Amazon, or find more books by the same author.
If you have connected your GoodReads account to your Amazon account – then you can also add books that you have purchased from Amazon into GoodReads as well.
I found this to be very convenient as I could go through my entire history of past purchases and add them to my GoodReads lists.
Keeping Track of Books You Have Read
I hate to admit it but my mind is like a sieve when it comes to fiction books.
A few of my favorite authors are quite prolific and they have written tons of books over the years. So, I really have a hard time remembering which ones I have read and which ones I still want to read.
The worst is taking a book on vacation and anticipating some relaxing reading time, only to find out after the first few pages, that – yup – this is a title that I already read. (Find some travel tips for book lovers here)
The "Read" list in GoodReads solves that problem. Not only do I see a cover image of the book but I can keep track of the dates that I read the book, any notes that I may have made, and my own star rating of the book as well.
Keeping Track of Books That I Want To Read
Another useful tool in GoodReads is the ability to keep track of books that I want to read.
I am big into personal development books. And usually as I read through them, the author mentions other books that he or she has read which sound really fascinating to me.
Up until now, I would highlight the passage in my current book where the book I want to read was mentioned, or I would jot a note on a piece of scrap paper – only to forget all about it.
Now, I can add these books to my Want to Read list in GoodReads as I read my current book.
This Want to Read list is a great resource for me when I am looking for a new book to read. All I have to do is open that list in GoodReads and either order the book, borrow it from the library, or check in Kindle Unlimited to see if it is part of that program.
Currently Reading List
The Currently Reading List is very interesting.
I try to read every day – a habit that I picked up from two of my favorite books: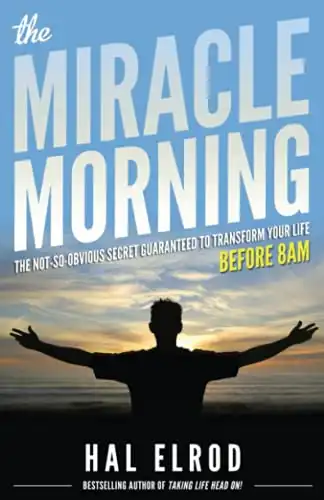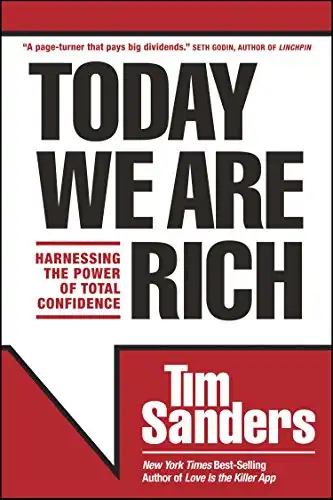 But sometimes I fall out of the routine. With the Currently Reading List in GoodReads – you can add the date that you started reading the book as well as update your progress as you read.
If you wanted to, you could update the page number or percent read on a daily basis.
Talk about accountability!
Notes and Highlights
Another great feature in GoodReads is the ability to see any notes and highlights that you made in your Kindle books.
These will sync if you connect your GoodReads account to your Amazon account.
Social Features
Like other social media platforms, you can use GoodReads to interact with other readers and authors too.
With a public profile, you can gain followers and follow friends and authors.
You can publish reviews for books that you have read.
If you like book groups – you can join one based on your interests. However, these are organized like forums and some seem dormant or not actively managed – so not sure if it is worth the time to sort through.
There is also a section of popular quotes.
Even though I have made my profile public, I personally only use GoodReads to organize my reading lists and don't use any of the social features at this time.
The Dark Side of GoodReads
According to this article in the Washington Post, there are some downsides to GoodReads.
Apparently, GoodReads was acquired by Amazon in 2013 and, on the surface, it does not seem like they have done much to upgrade the user interface.
To be honest, I do feel that the App does seem somewhat dated and clunky to use.
Also, the article mentions that users can leave negative reviews on a book, even if the user never read it. This capability can lead to a "bullying" of authors that a user might not like.
But if you purely use GoodReads to manage your reading list, like me, then these issues may not affect you at all.
I, personally, don't pay much attention to the ratings on GoodReads.
Usually a book makes it on my list via a personal recommendation, a best seller list, or because it was mentioned in another book or publication that I read.
Do You Use GoodReads to Organize Your Reading Lists?
Are you using GoodReads to keep your books organized? Let me know what you like most about it in the comments below.
And if you want – feel free to follow my GoodReads profile here.