Erin Condren 2023/2024 Life Planner Launch – See the New Designs!
This post may contain affiliate links which means I make a commission if you shop through my links.
 Disclosure Policy
Disclosure: Product for this post was provided by Erin Condren. All opinions are my own.
Today I am so excited to show you the brand new 2023/2024 Life Planner designs from Erin Condren.
You all know that I am a huge fan – and have used a variety of the Life Planners over the years.
Every year, Erin Condren releases new designs and planner accessories for the upcoming season.
And I don't know how they do it – but it seems that each year is better than the one previous.
The 2023/2024 is no exception!
For this Life Planner launch you will have the following FOUR amazing designs to choose from:
In this post, I will be showing you items from the Inspire and the Wildflowers collections – both of which are absolutely stunning!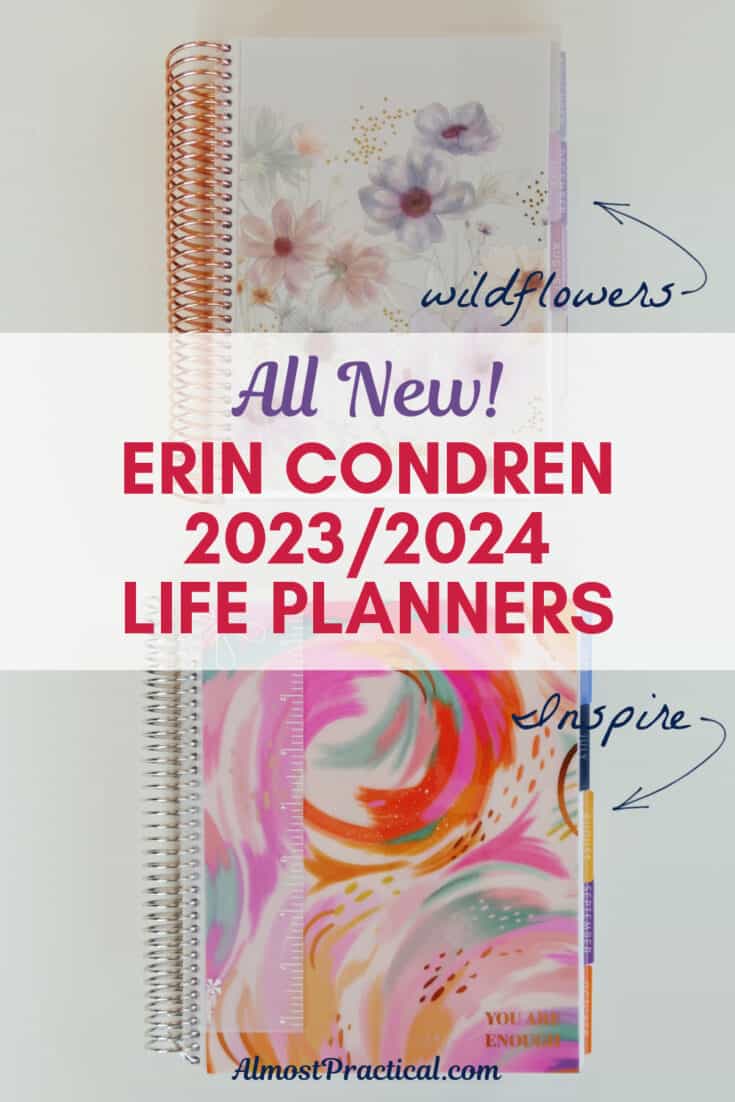 The All New Erin Condren Inspire Collection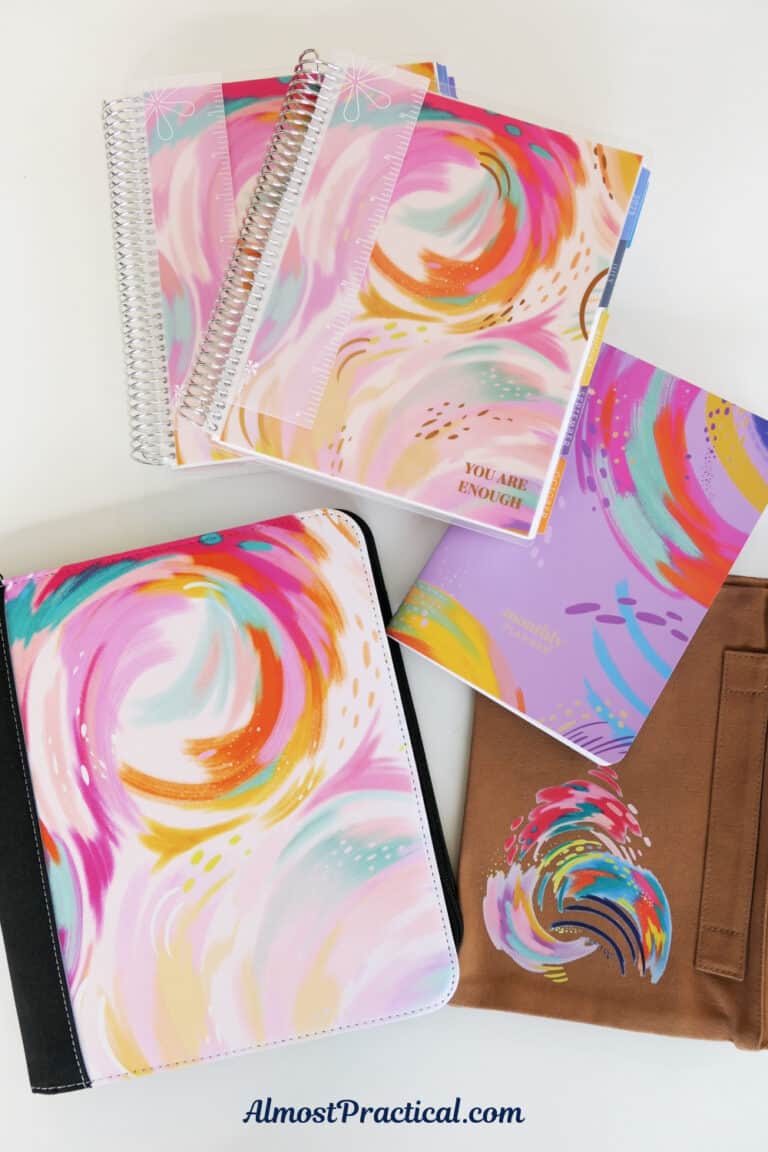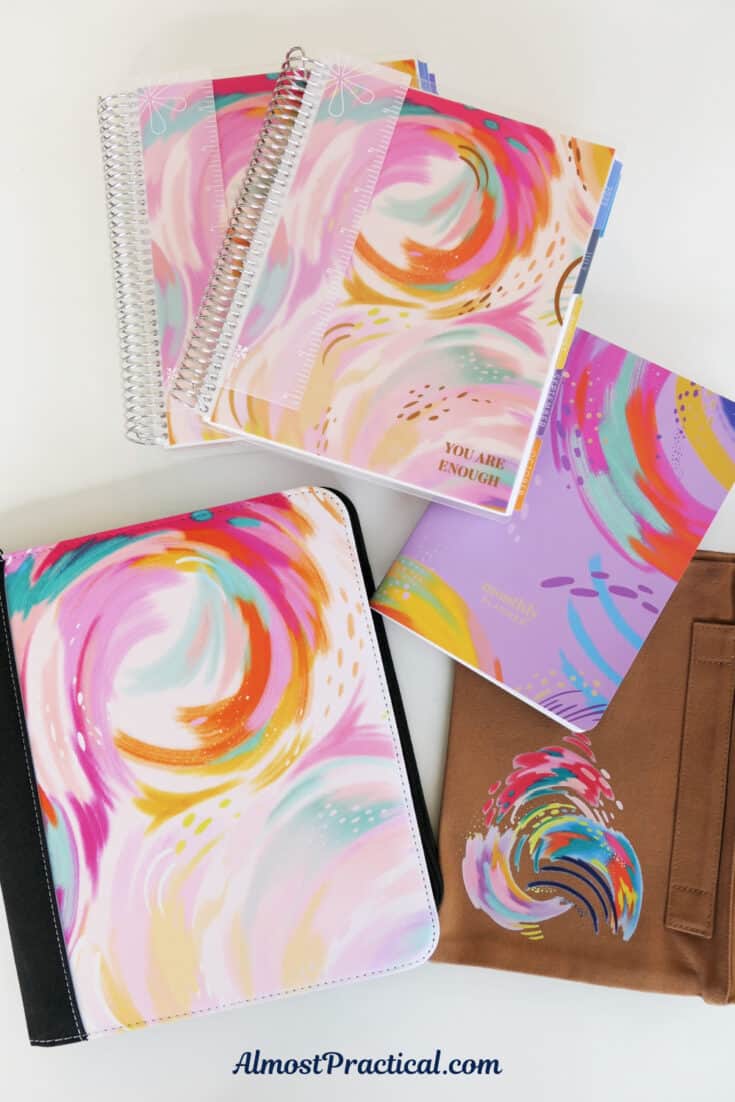 Before I received my samples, I had seen a few sneak peeks from the all new Erin Condren Inspire Collection.
This is an Etta Vee design – and in true Etta Vee fashion it features beautiful bright swirls of color.
These colors are happy to look at and truly do inspire fun and creativity.
You will find this design to be widely available across all product lines including the 7×9 Life Planners, A5 Life Planners, Daily Duo, and Ring Agenda.
In my mind I am thinking of this as the Erin Condren colorful option for the upcoming year.
I was 100% certain that this was going to be my design of choice for my 2023/2024 Life Planner – because I do love the colorful designs.
Inside my box of planner goodness was an Erin Condren Life Planner Daily Duo in a 7×9 size featuring this amazing design – and I love it.
What is a Daily Duo?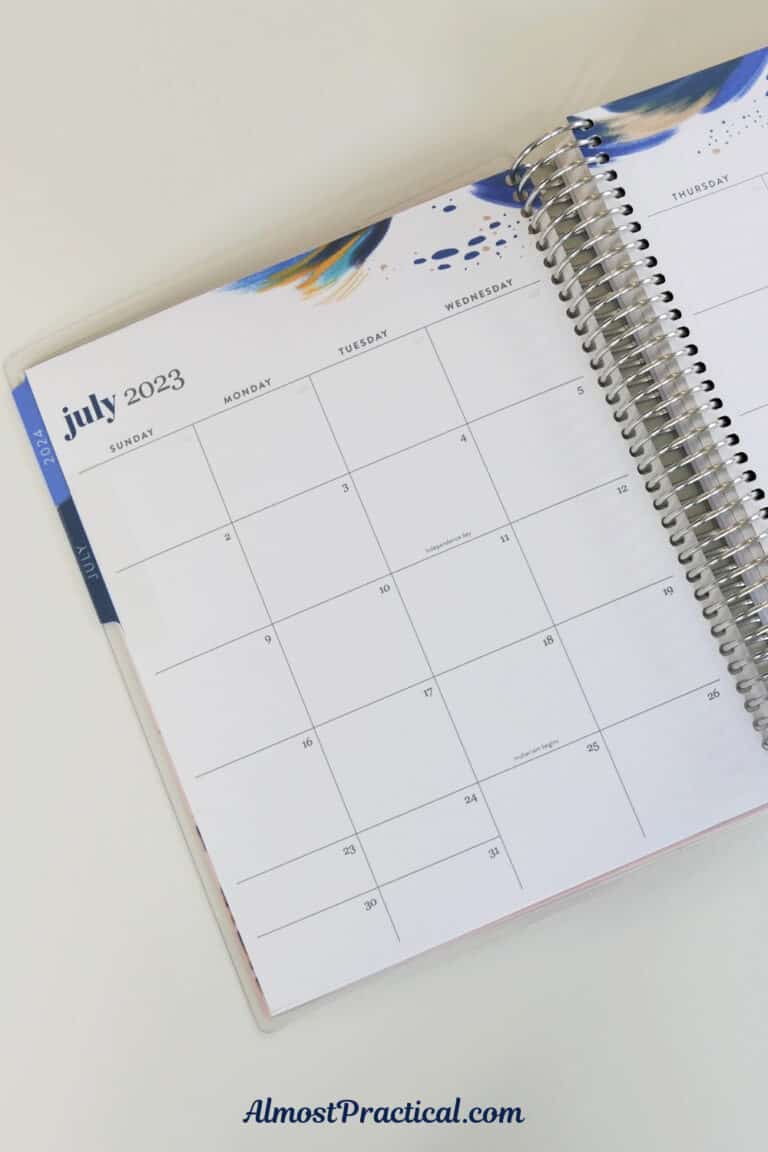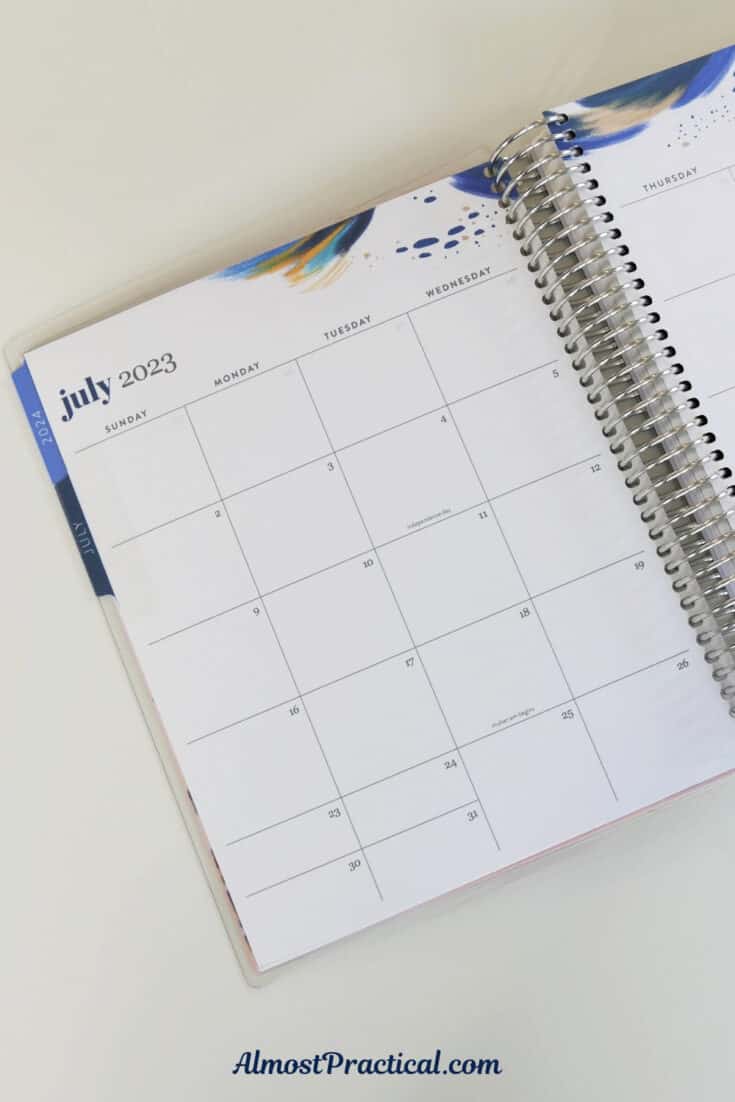 You can read my in depth Erin Condren Daily Duo review from the Layers collection here – but I will give you the short version below.
The Daily Duo is a one page per day daily planner. Each page features two columns – one column is an hourly layout and the other column features a to do list type layout as well as an area for notes.
The Daily Duo comes in your choice of a 7×9 size or an A5 size – either one gives you plenty of space for planning out your day.
Over the years I have used both sizes of the Daily Duo and like them both – although my personal preference is the A5 because it fits nicely on my desk and has ample space for my planning needs.
Inspire Accessories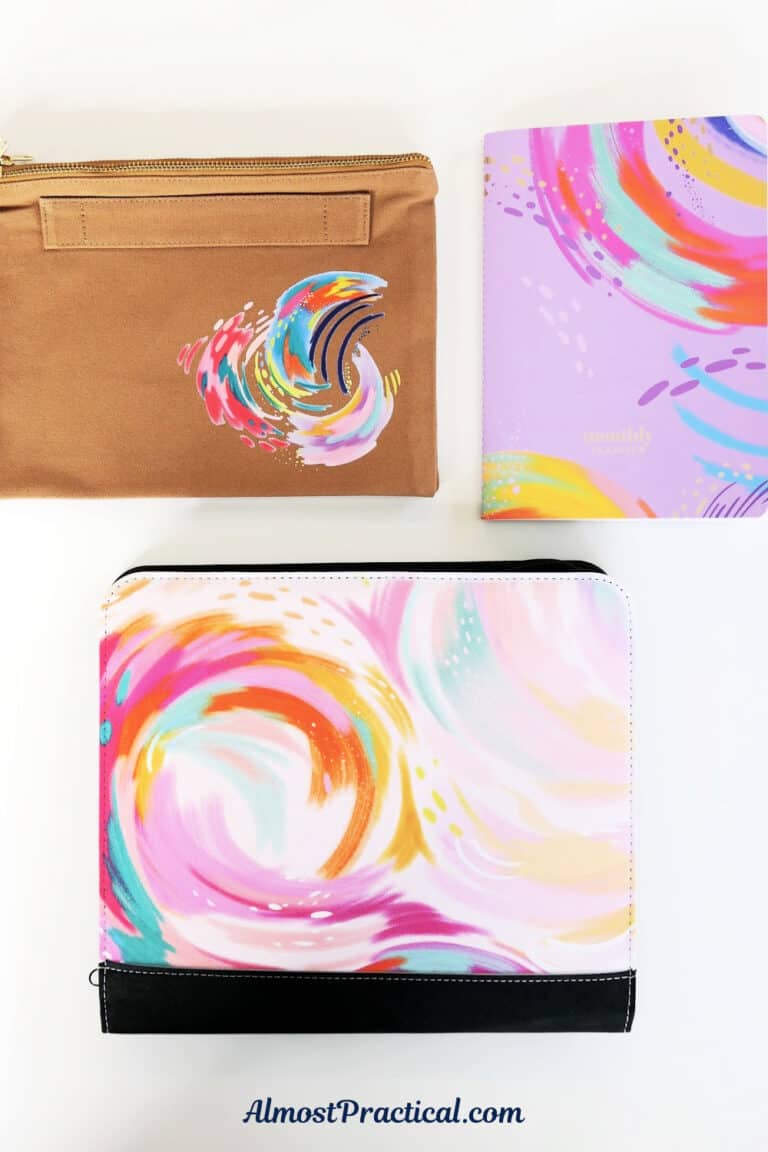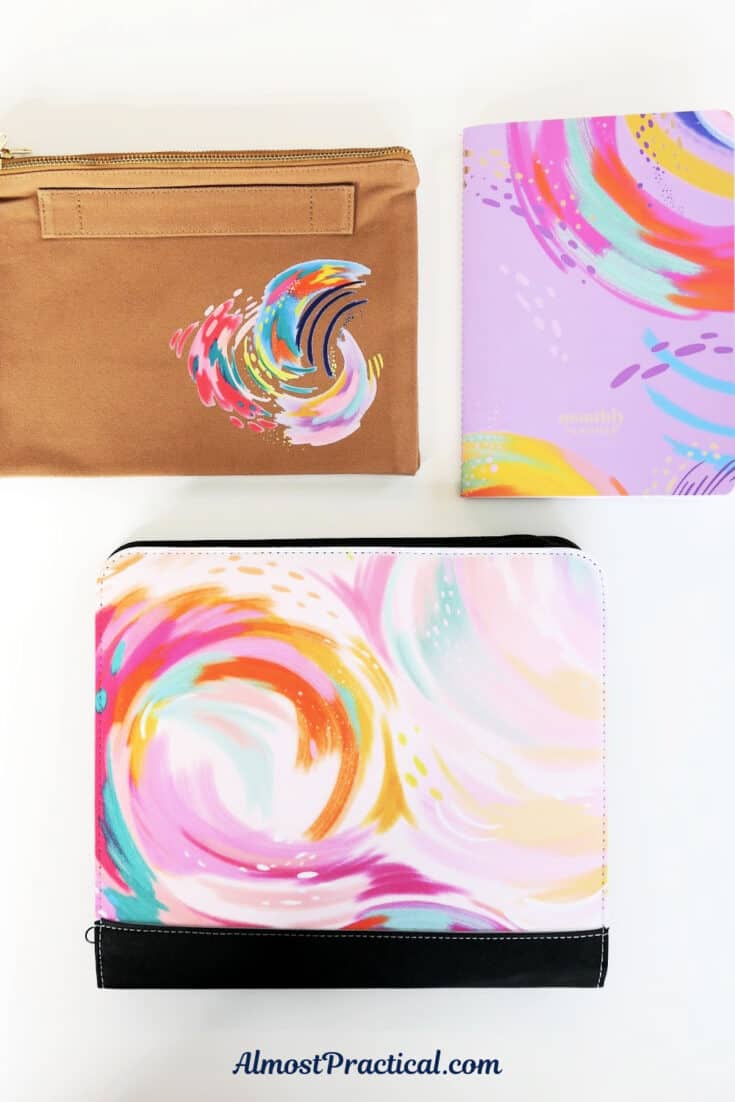 Also included in my box were a variety of accessories featuring the Inspire design.
Planner Folio
One of my favorite items is the Planner Folio with black accent fabric and that gorgeous Inspire swirl on the cover.
The planner folio is a new to me accessory and is really great for planning on the go.
It comes in both the 7×9 and A5 sizes and you can easily slip your Life Planner inside.
There are pockets, flaps, and pen loops so you can also tote some loose papers and writing instruments.
And the whole thing zips shut so you don't loose anything while you are out and about.
The Planner Folio is available in the Inspire, Wildflowers, and the Canvas designs.
Accordion Pouch
I also received an Accordion Pouch in the Inspire design.
Now, I have quite a collection of Erin Condren Accordion Pouches. I use them for everything – from organizing electronic cable clutter to packing make up when I travel.
They are so useful!
If you have some of the older accordion pouches, you will recall that they were made of a nylon type material.
Well, this new accordion pouch is made of a canvas type material, which I do like.
And I believe that you will be able to choose the color of canvas when you order.
The one I received is a camel color canvas, which to be honest, is not my favorite color – but I love the pouch and have already started using it to store all my planner accessories from this launch.
Inspire Monthly Petite Planner
Another item that I received from the Inspire Collection is the Inspire Monthly Petite Planner.
This is an 18 month planner – the first half consists of a 2 page per month spread from July 2023 to December 2024.
The second half of the Petite Planner are blank note pages.
I have used this type of Petite Planner in the past to keep track of household projects.
The monthly spreads are great for managing the timeline of things to do and the notes pages are perfect for tracking progress.
The All New Erin Condren Wildflowers Collection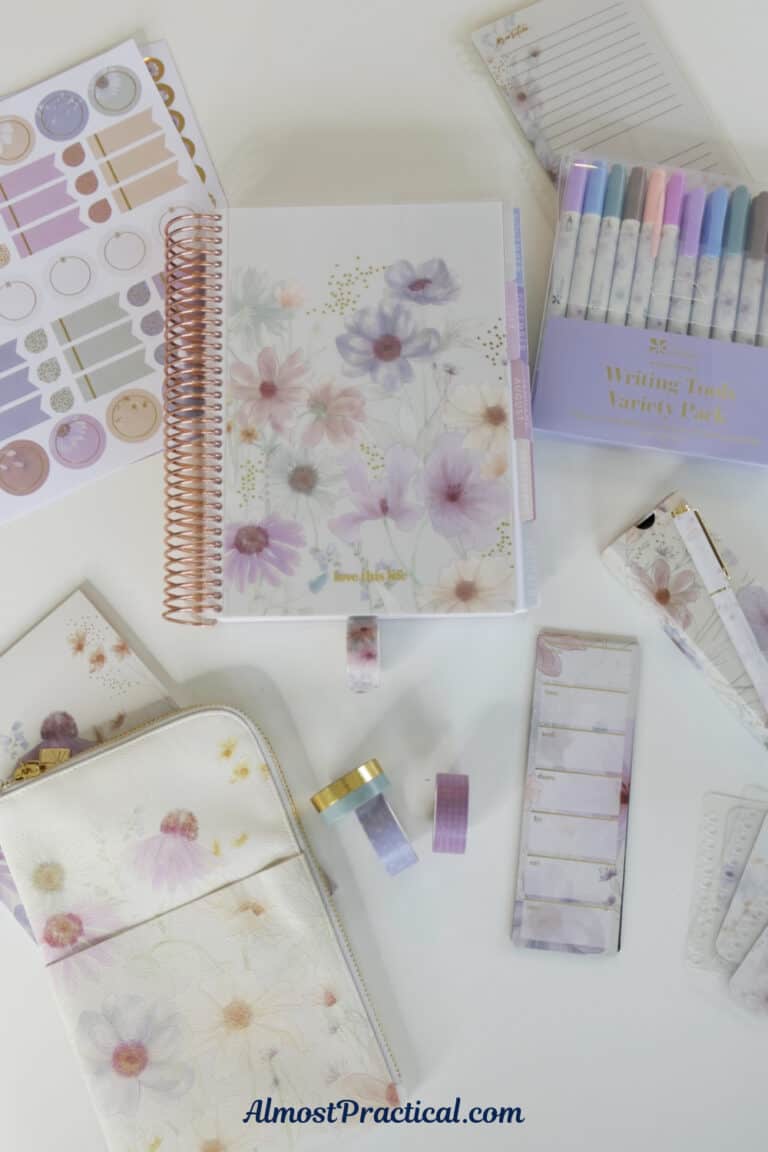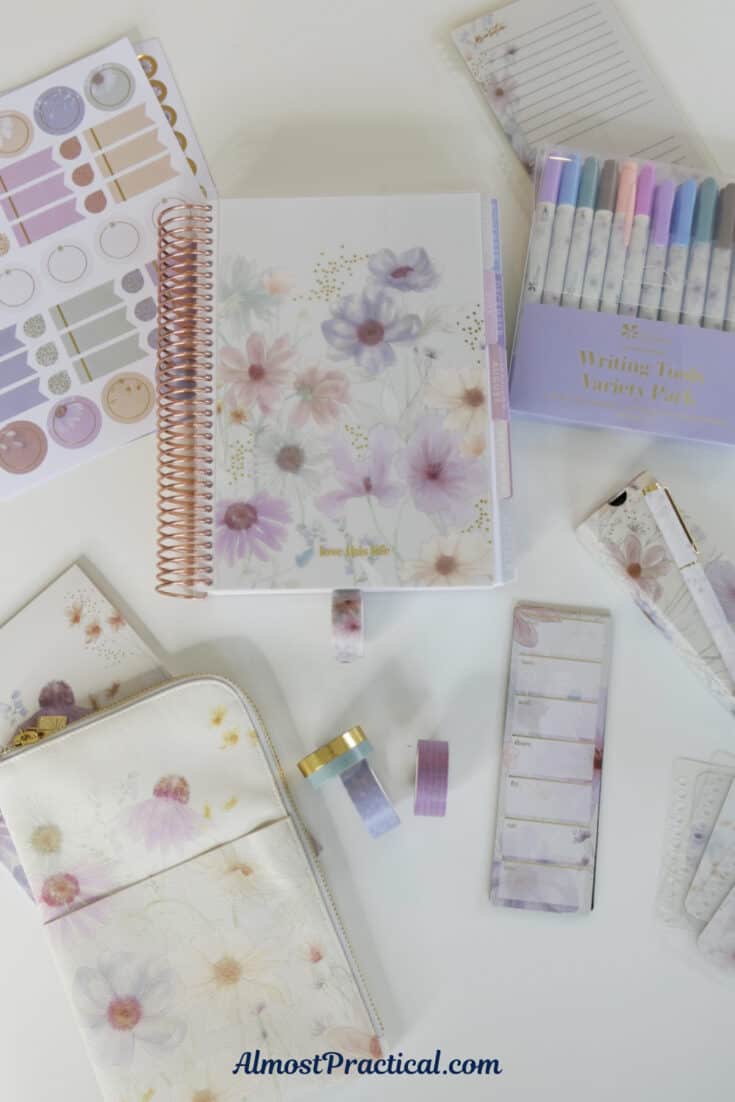 Based on the sneak peeks, I knew that the Inspire Collection would steal my heart.
And I thought that the Wildflowers Collection would also be very nice.
But when I received my box, the Wildflowers Collection actually took my breath away!
I was totally surprised by how much I loved it.
These beautiful wildflowers were hand drawn and then mass produced onto all the Life Planners and accessories in this collection.
They have a translucent, ethereal look to them – and the interchangeable cover features gold accents that really make it shine.
I have always loved florals on my planners – I loved both the Flower Power and the Flora designs from years past so much that I didn't think anything could top those.
But the muted pastels of the new Wildflowers Collection goes not only goes above and beyond but also coordinates nicely with some of the old Flora accessories that you might still have lying around.
You will find both 7×9 and A5 Life Planners and the Ring Agenda in this collection.
Erin Condren sent me an 18 month A5 Compact Vertical Life Planner in the Wildflowers design – and come July, I think it will become my main planner.
What is an A5 Compact Vertical Life Planner?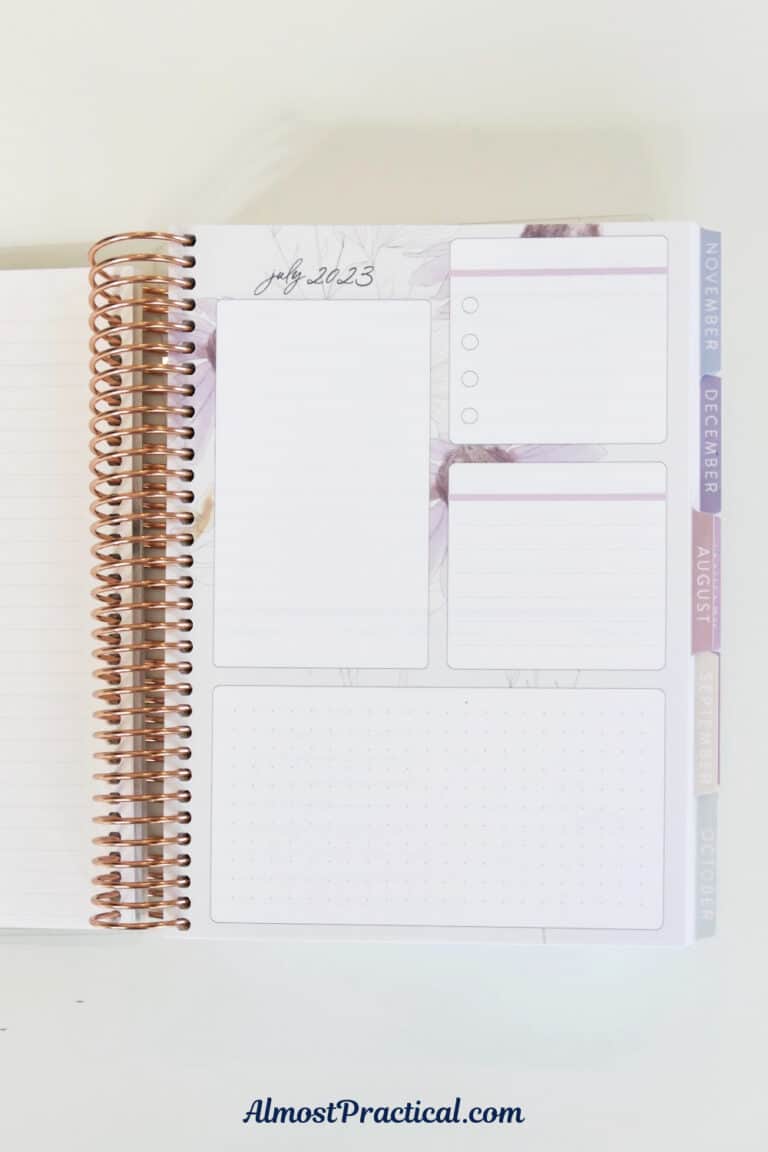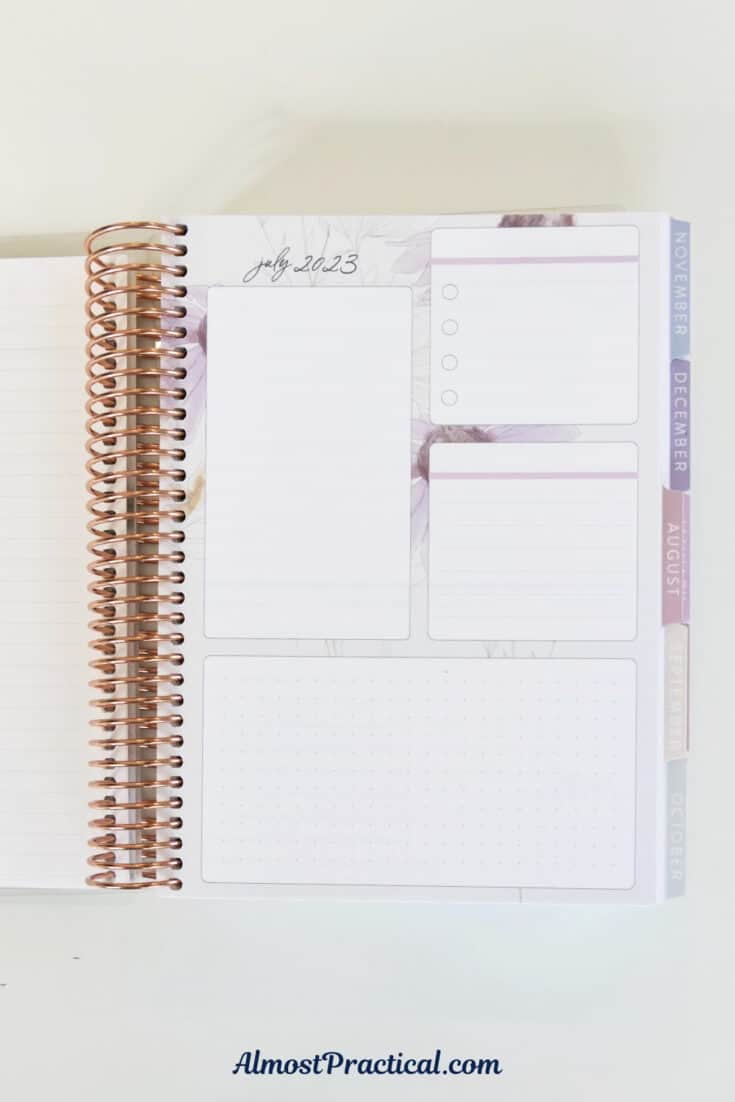 In the traditional 7×9 Life Planner size, Erin Condren offered 4 different layouts:
horizontal,
vertical,
hourly, and
daily duo
When Erin Condren subsequently began to offer an A5 size Life Planner, they could not offer all of the layouts in the smaller A5 size due to space constraints on the page.
At first they only offered horizontal and the Daily Duo.
But they recently began to offer an alternative to the vertical layout which they called the "Compact Vertical".
This is basically a two page per week layout that splits each page into four vertical quarters.
The top half of the first page features two columns for two days side by side (Monday and Tuesday).
And the bottom half of the page features two columns for the next two days side by side (Wednesday and Thursday).
The opposite page features the same layout on the top half for Friday and Saturday, while the bottom half features a column for Sunday with a neighboring blank space for notes and a mini month.
The space under each day features blank lines so it is kind of open ended. You can use this space to write notes, jot down appointments, make a to do list, or use it in any number of ways.
This compact vertical layout has become so popular that I have heard people say that they would like to see it as an option in the larger 7×9 size (although this is not currently an available choice).
The Compact Vertical A5 Planner in the Wildflowers design is so pretty.
One thing to note is the Productivity pages. These pages feature a full page design of the wildflower with the productivity boxes super imposed on top.
The overall effect is just beautiful.
You will also see the Wildflowers theme on the dividers and on top of the monthly and weekly pages.
Wildflowers Accessories
To go along with the planner design, Erin Condren is introducing a line of Wildflowers accessories.
Pens, pens, and More Pens!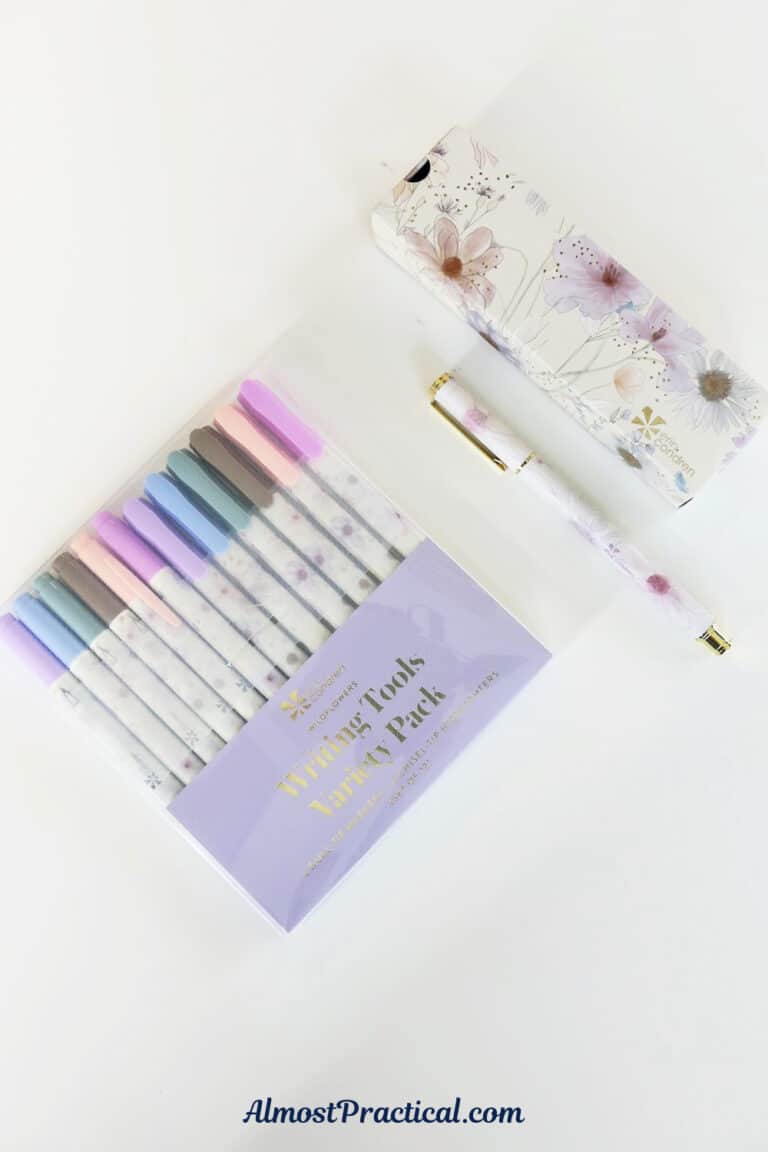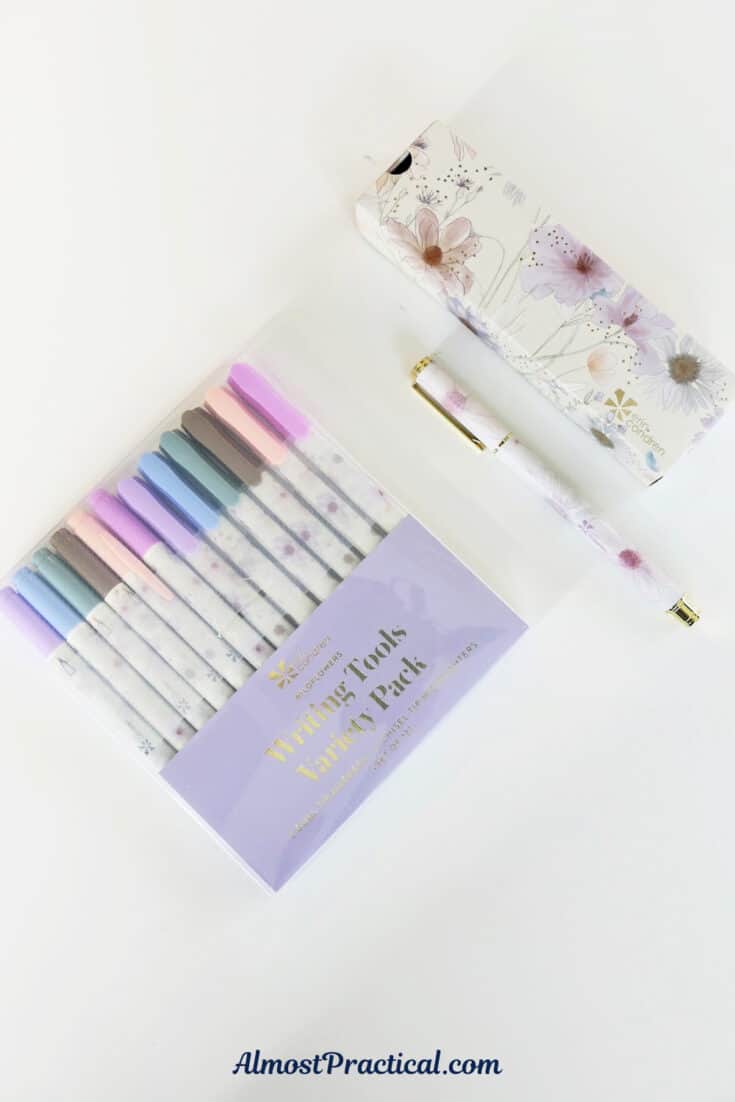 With every design release in the past, Erin Condren has offered a gorgeous, coordinating, collector's style, ball point pen.
This year the pen has been upgraded to a gel pen and instead being a twist to open form, it now is a pen with a cap.
The barrel has a nice heft to it, making it a joy to write with. And the Wildflowers design is so pretty.
This pen is desk candy at it's finest. It will dress up your desk and you will be excited to use it to do all your writing – from journaling to bills.
There is also a similar offering in the Inspire design – and I may just have to pick this one up on launch!
In addition to the gel pen, Erin Condren also put together a Variety Writing Tools Pack in both the Wildflowers and Inspire designs.
This is a collection of 12 pens that are made up of 6 dual tipped markers and 6 coordinating highlighters.
I have the Wildflowers pack – so each pen sports the Wildflowers design on the barrel.
Personally, I found the colors to be very muted and perfect for highlighting or adding accents to your planners. However, none of the colors in Wildflowers pack were super bold, so they may be a little light for everyday planning.
Planner Stickers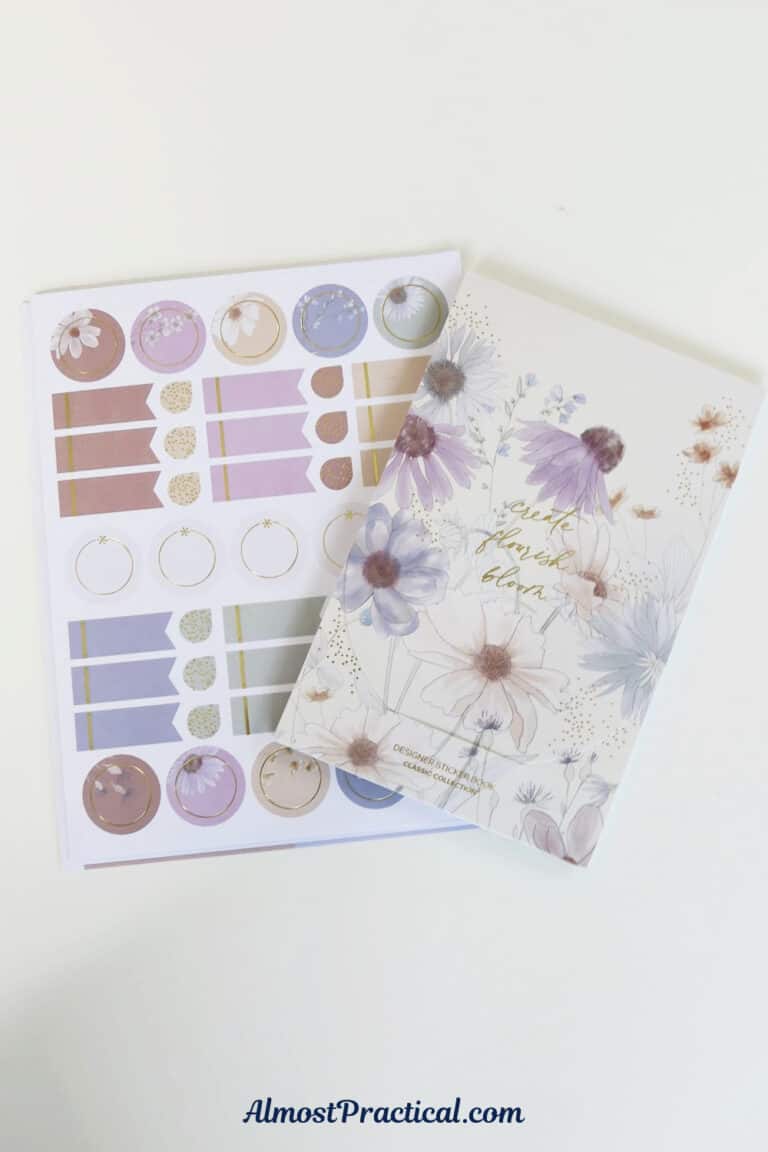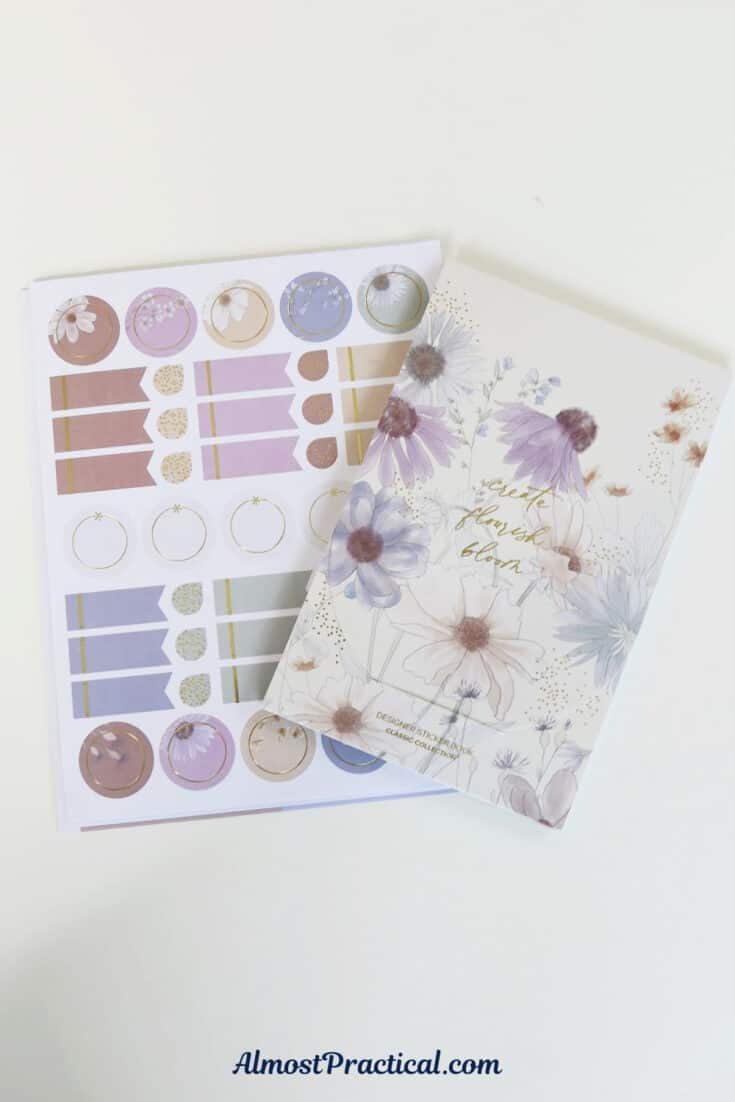 No Erin Condren collection is complete without a set of coordinating planner stickers.
The Wildflowers Sticker Book contains pages and pages of pastel stickers with metallic accents all featuring the Wildflowers design.
These stickers are printed on a paper-y type sticker paper – so they are super easy to write on without worrying about your pen smudging.
And if you love the sticker sheets that are bound into the spiral bound planners – you can buy extra sets separately as well.
Planny Packs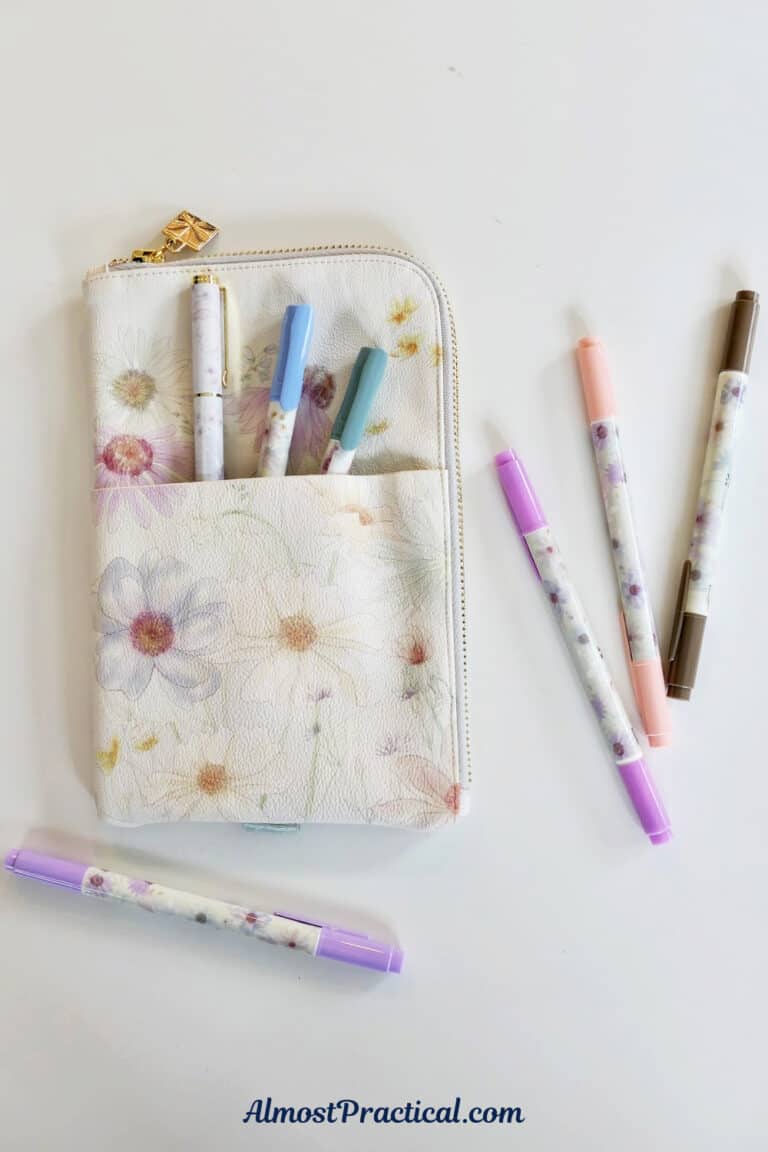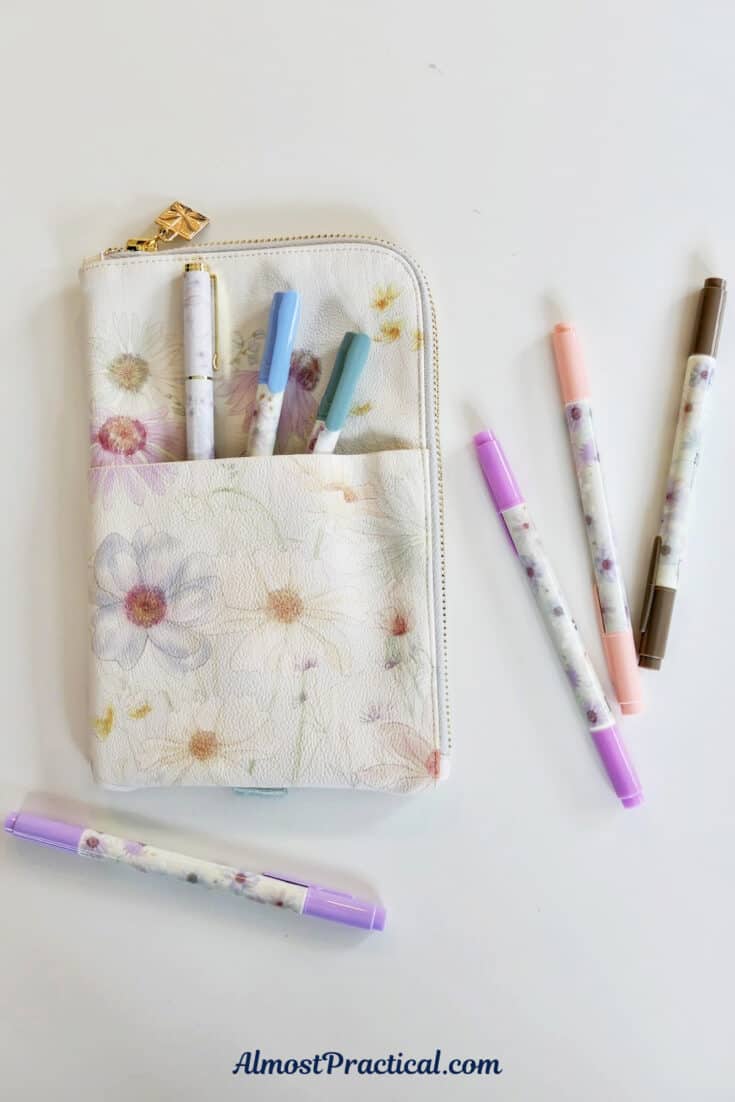 Who doesn't love a Planny Pack?
Obviously, they are great for toting your planner accessories – but these pouches are also great to use as purse organizers.
You can never have too many!
And I am so happy to be able to add the one in the Wildflowers design to my collection.
The elastic band on this one is a sage-y color and the design itself features the pastel, water color style wildflowers.
Snap In Planner Accessories and Washi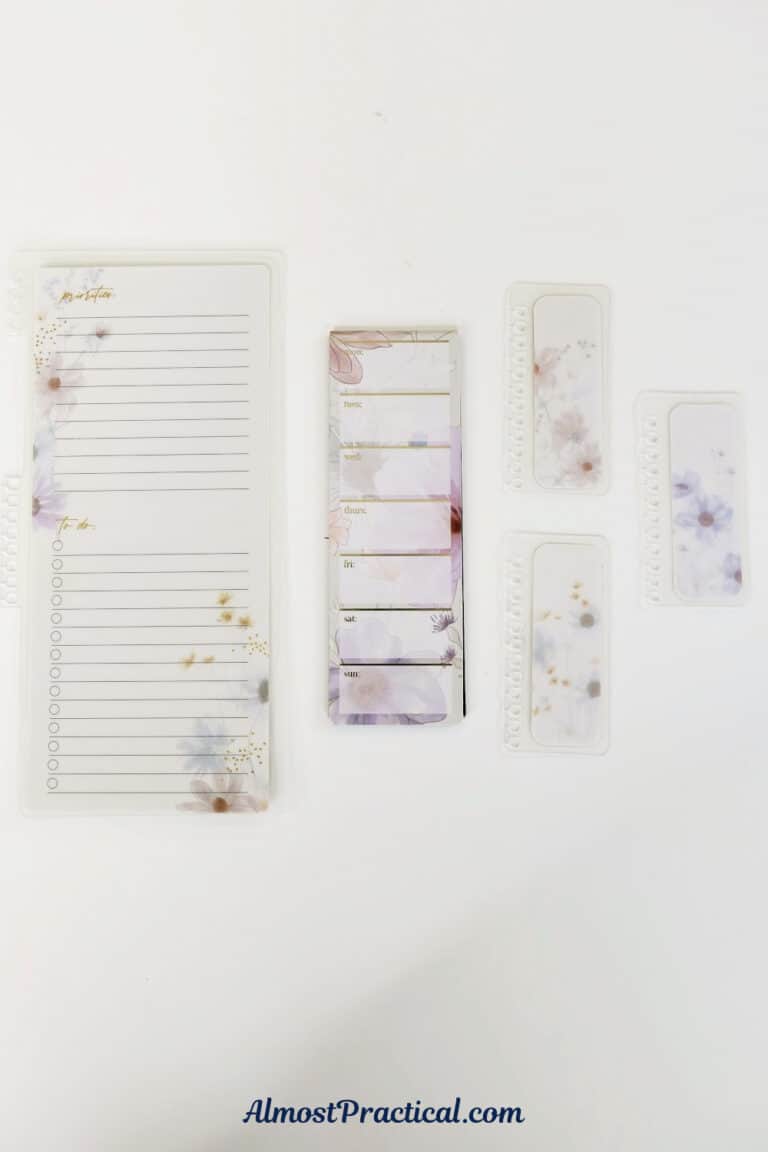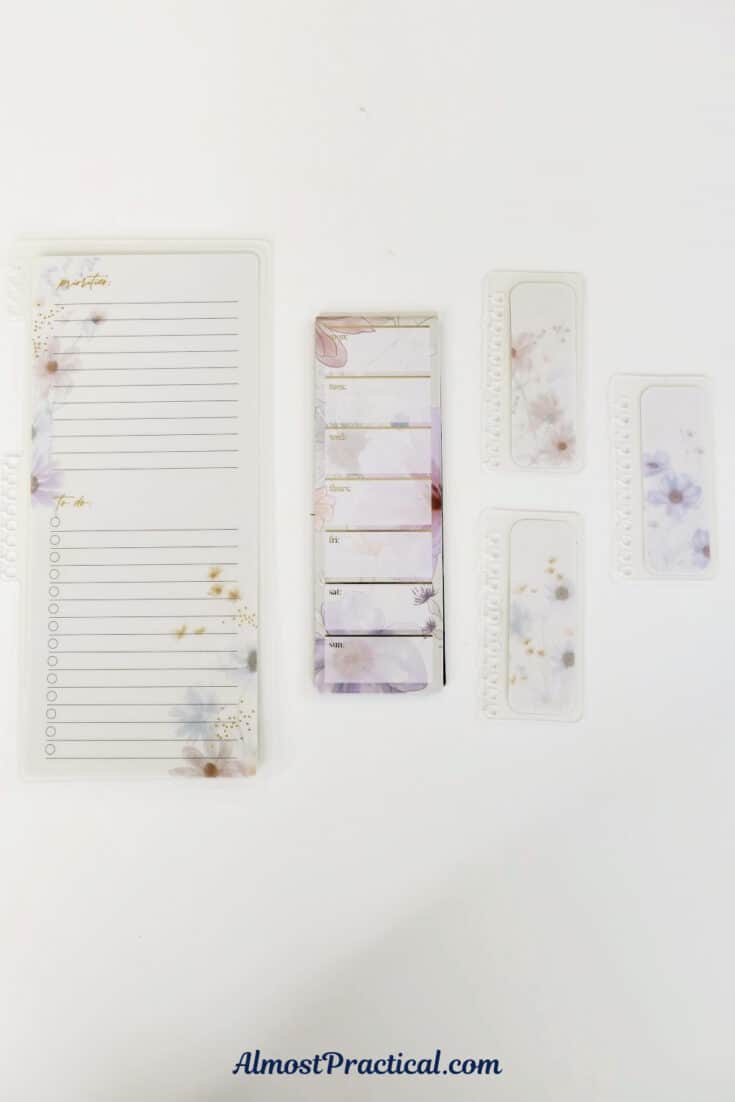 Finally, both the Inspire and the Wildflowers collections include a variety of snap in planner accessories – from bookmarks to dashboards to help you with your productivity.
This year, Erin Condren sent me something new as well.
These are snap in pocket dividers for the 7×9 planners. These dividers feature tabs across the top and a clear pocket on the front of each one.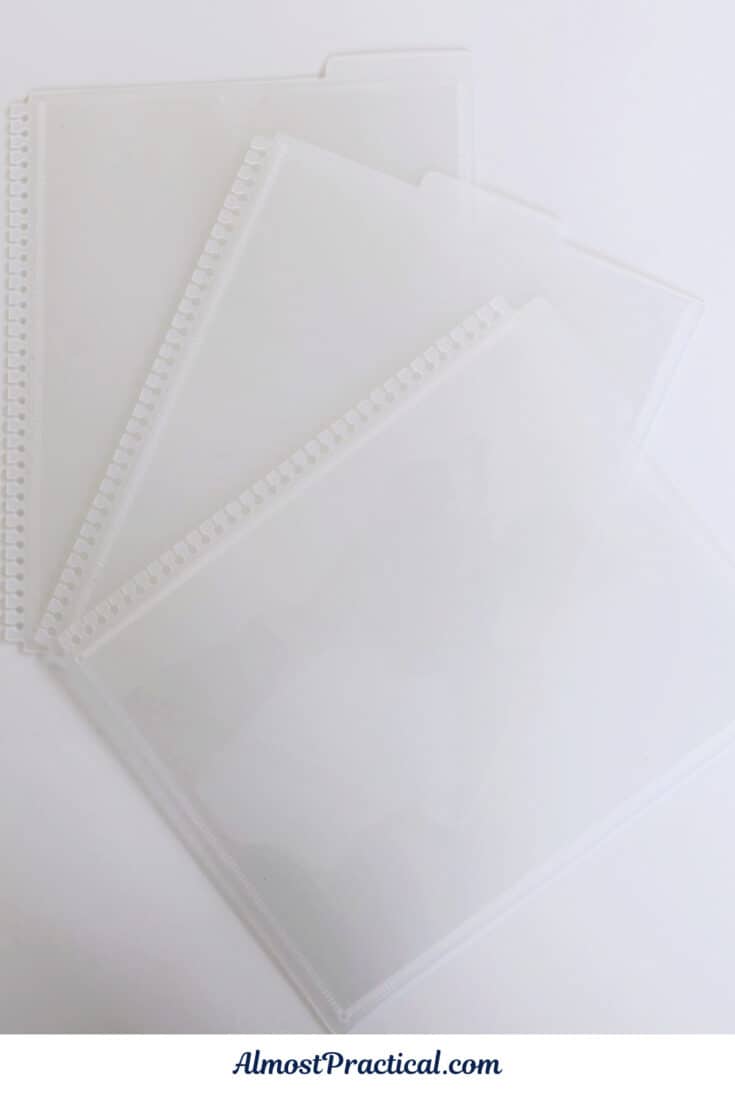 You can slide loose papers, receipts, or even photographs into these pockets to customize your planners and mark your spot.
The Wildflowers and Inspire collection also have a set of coordinating Washi tape. Each set includes four rolls of washi tape that you can use to dress up your matching Life Planner.
Washi tape is great for adding accents to your planning or blocking out days and weeks in your monthly layouts.
Canvas and Focused Collections
Now I am sure you are a bit curious about the two collections that I don't have available to show you.
The Canvas Collection
The Canvas Collection is new to Erin Condren and is a completely neutral design but has a little more flair and fancy than the Focused Collection.
Canvas is for people that like to embellish their planners without interference from built in colors and designs.
The monthly tabs for Canvas are gray and inside the pages are minimalist but the font is still fun and italicized.
Canvas covers and accessories sport a playful smattering of the Erin Condren asterisks.
You can combine stickers from either the Inspire Collection or the Wildflowers Collection with Canvas – and the designs in the stickers will really pop.
The Focused Collection
The Focused Collection has been Erin Condren staple for a few years now and it really appeals to planner types that want something professional and understatedly elegant.
There are a few new covers and accessories in the 2023/2024 collection.
So Many More Planner Accessories
Included above are just the planner accessories that Erin Condren sent to me.
On launch day, you will find so many more items featuring all of the different designs.
These include stylized sticky notes, interchangeable straps for your planner bags and totes, pencil cases, tote bags, stationery, and more.
Your largest selection will be in Inspire and Wildflowers, but there are some in the Canvas Collection and Focused Collection as well.
When is the Launch?
After seeing a preview of some of these luscious designs – the next question is obviously "When are the Erin Condren Life Planners for 2023/2024 launching?"
The good news is that you don't have to wait much longer!
The new product lines will be available for purchase to Erin Condren Insiders beginning on April 24, 2023.
If you are not an Erin Condren Insider yet – you can sign up here for free!
Which Life Planner Design Is The One For You?
I am having a hard time choosing between Inspire and Wildflowers. I love them both.
Which one will you choose?
Let me know in the comments below.