Erin Condren Accordion Zipper Pouch Review
This post may contain affiliate links which means I make a commission if you shop through my links.
 Disclosure Policy
If you are a planner fanatic like me, you will enjoy this Erin Condren Accordion Zipper Pouch review.
When I first saw this planner pouch on the Erin Condren website I was more than a little curious.
The bright colors and the golden zippers were really appealing.
But I was afraid that perhaps the pouch itself would be a little too "juvenile" for me.
After all, I am not a student and my own children are teens and young adults.
But you are never too old to be young at heart – so on Black Friday I decided to add this to my cart as part of my Erin Condren Black Friday haul.
I am so glad that I did!
This review of the Erin Condren Accordion Pouch is for you – so you can see it up close and personal and decide if it is right for you.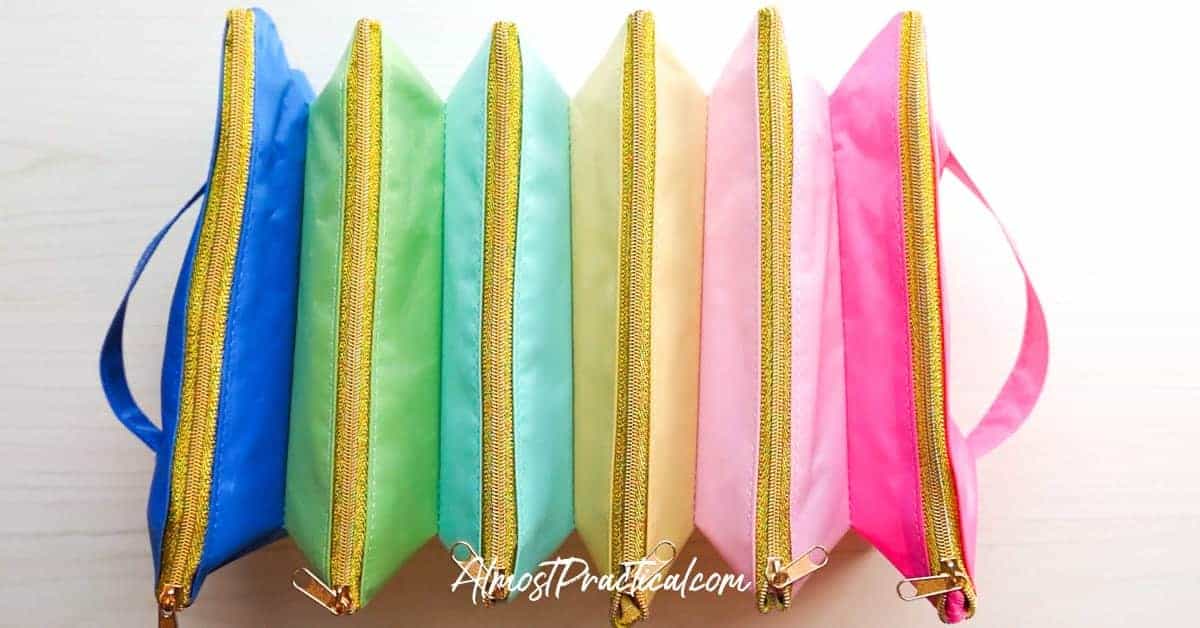 Watch My Review
If you'd like to see the accordion pouch in action – visit my review on YouTube here.
The Best Features of This Unique Planner Pouch
This unique planner pouch is not just one pouch but rather SIX separate zippered compartments rolled into one.
The Material
The pouches themselves are made of a sturdy nylon material that have a bit of shine to them.
I would say the material is similar to some duffle bags or a rain jacket.
There are grab handles on the two outside pouches that you can use to pull and expand the Erin Condren Accordion Zipper Pouch stack or push and close the stack.
The action of doing this is similar to how you would play an accordion.
Oh Those Gorgeous Gold Zippers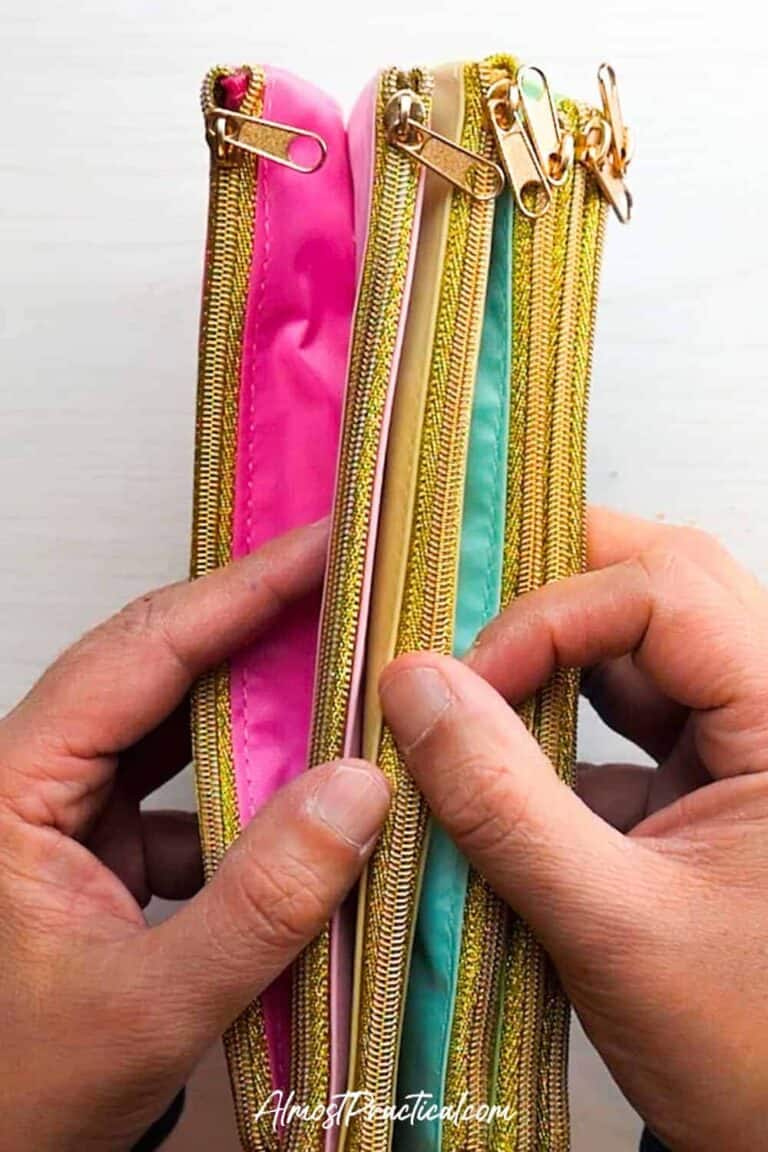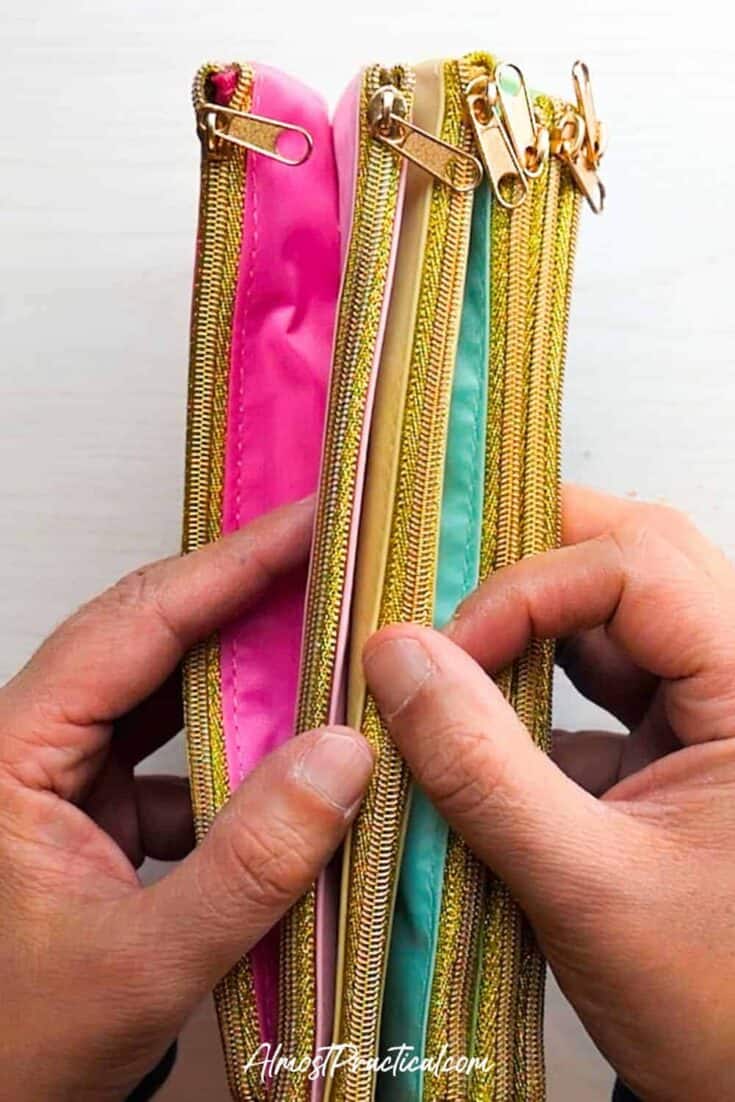 The zipper closures are one of the best features of the Erin Condren Accordion Pouch.
These golden zippers are on a glittery gold fabric backing that add a little sparkle and elevate the product to something more elegant and grown up feeling.
As I mentioned before, I was afraid that this might seem a little childish for me to use – but the zippers make all the difference!
I don't think the video or photos do it justice.
In real life the sparkle is so eye catching.
Planner Pouch Dimensions
The Erin Condren Accordion Pouch is much roomier than I thought it would be.
Fully expanded the stack of pouches is about 12 inches.
Each individual pouch measures about 2 inches deep at the widest point – and they are about 8 inches in length and about 5 inches high.
How to Use Your Erin Condren Accordion Zipper Pouch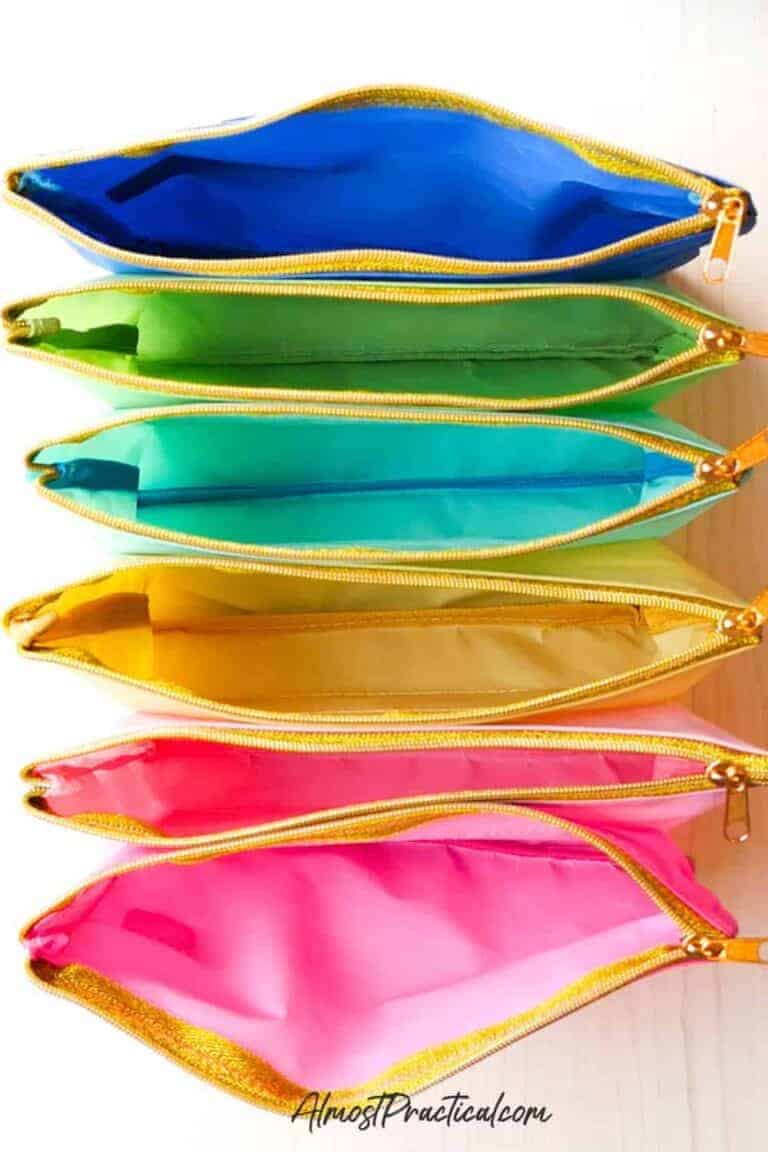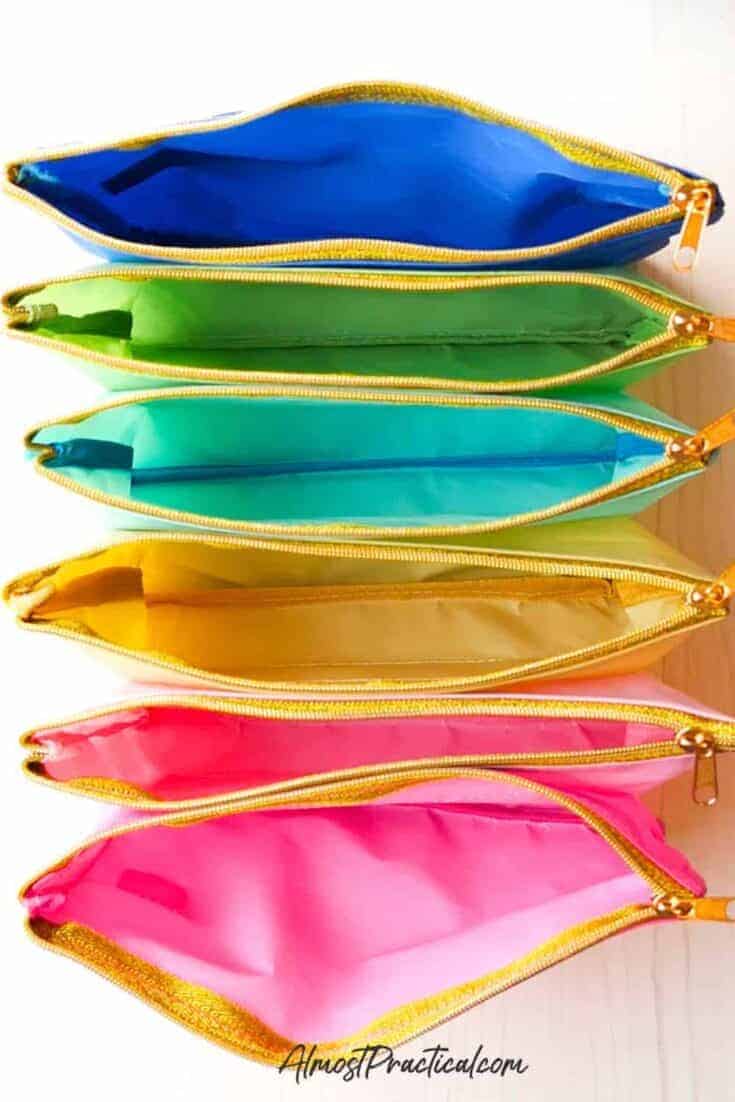 Obviously, you can use the Accordion Pouch to store your planner supplies and accessories.
You can categorize the contents of each pouch by type of planner accessories – here is an example:
markers
pens
sticky notes
clips
stickers
scissors and glue sticks
Or you could categorized each pouch by project.
Let's say you are working on several different spreads – you could fill each pouch with materials in the color theme and topic of what you are working on.
However, you don't have to limit yourself to using the Erin Condren Accordion Pouch for planner supplies only.
This product would be great to use for travel – use it to carry your make up and other toiletries.
You could also use to organize your hobbies – it would be great for storing sewing supplies or different embellishments that you might use.
Another idea is to use this as a portable home office.
If your workspace is your kitchen table or dining room – then fill this Accordion Pouch with the office supplies you use the most.
You will have everything you need with you when you need it and you will be able to put everything away quickly and easily.
There are truly so many possibilities!
In Summary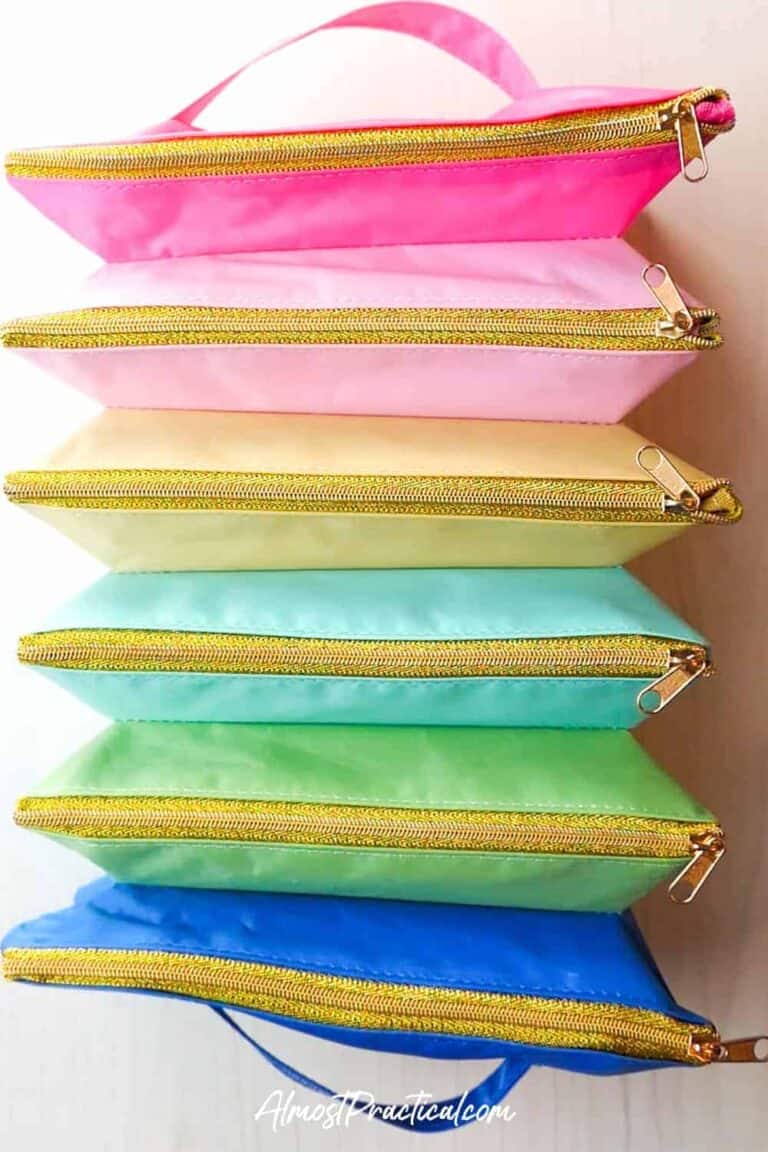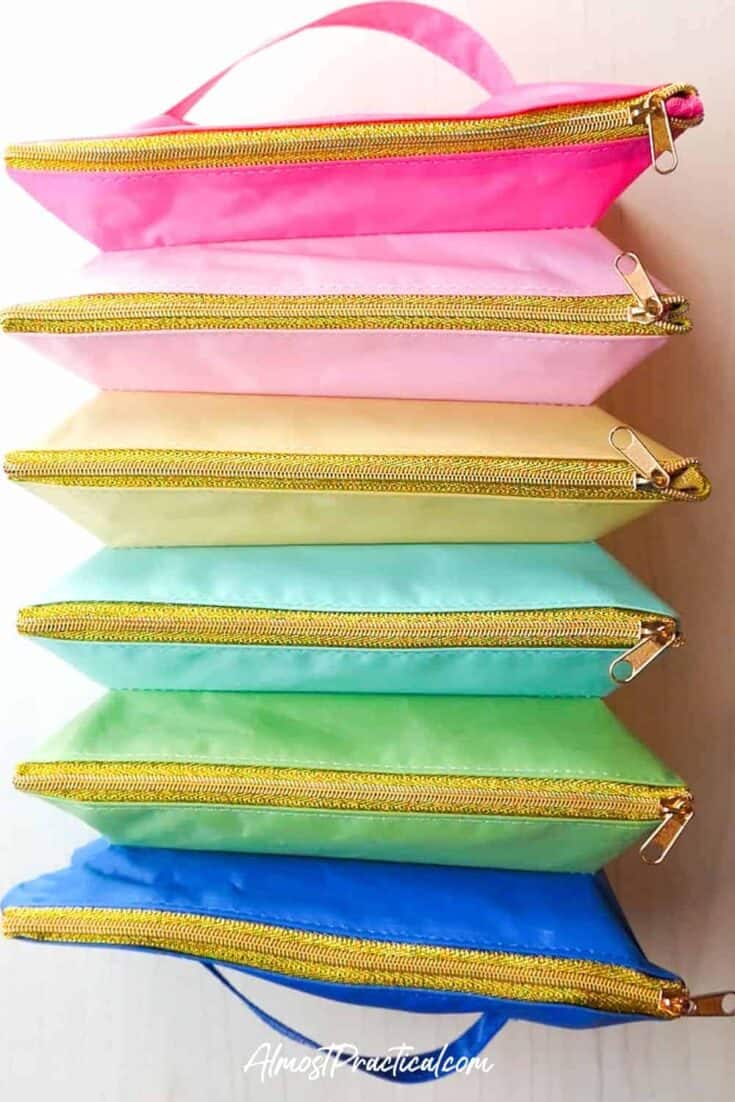 To sum it all up – the Erin Condren Accordion Zipper Pouch is a useful, roomy, versatile, and visually pleasing set of connected pouches that you can use to keep your planner accessories (and lots of other stuff) organized.
Enjoy!
Just an FYI – I did purchase this product with my own funds.