How to Plan a Visit to Lake Placid NY in the Early Winter
This post may contain affiliate links which means I make a commission if you shop through my links.
 Disclosure Policy
Traveling to Lake Placid NY in the winter? Here are 10 things to do and see while you are there.
We just got back from a Thanksgiving road trip to Lake Placid New York.
Despite living close enough to drive there – I had never been.
So, when a relative suggested that we go for Thanksgiving, I was both skeptical and interested at the same time.
You see, I am not much of a cold weather person – so going up close to the Canadian border anytime past August … well – let's leave it at that.
But this time I agreed and got started on my planning.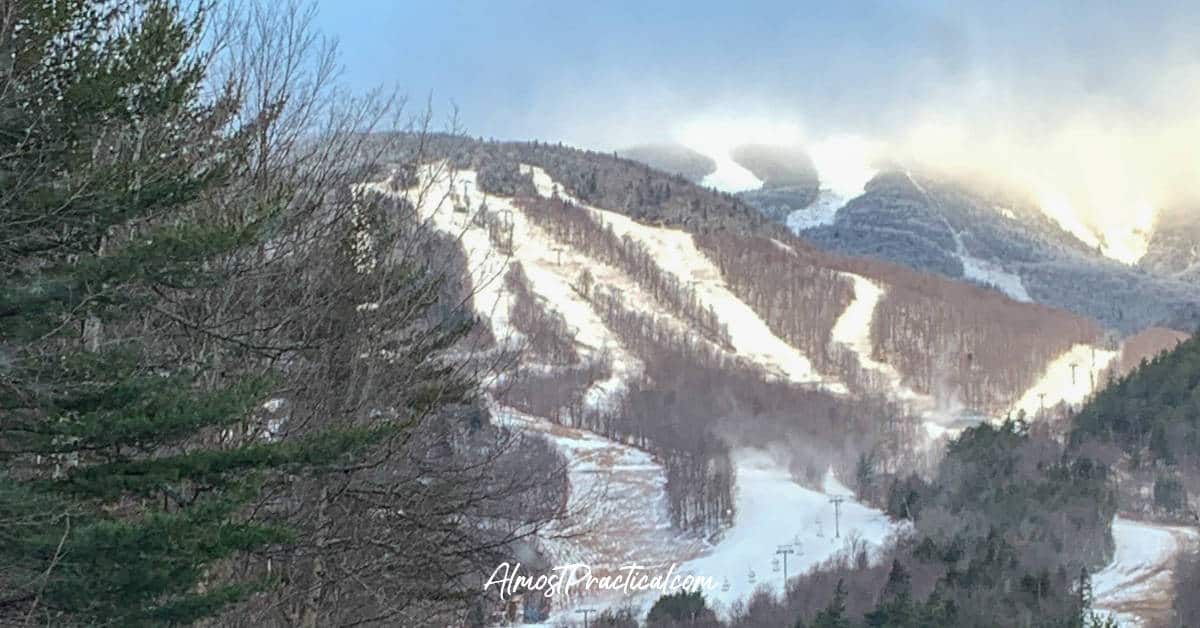 Planning Your Trip to Lake Placid in the Winter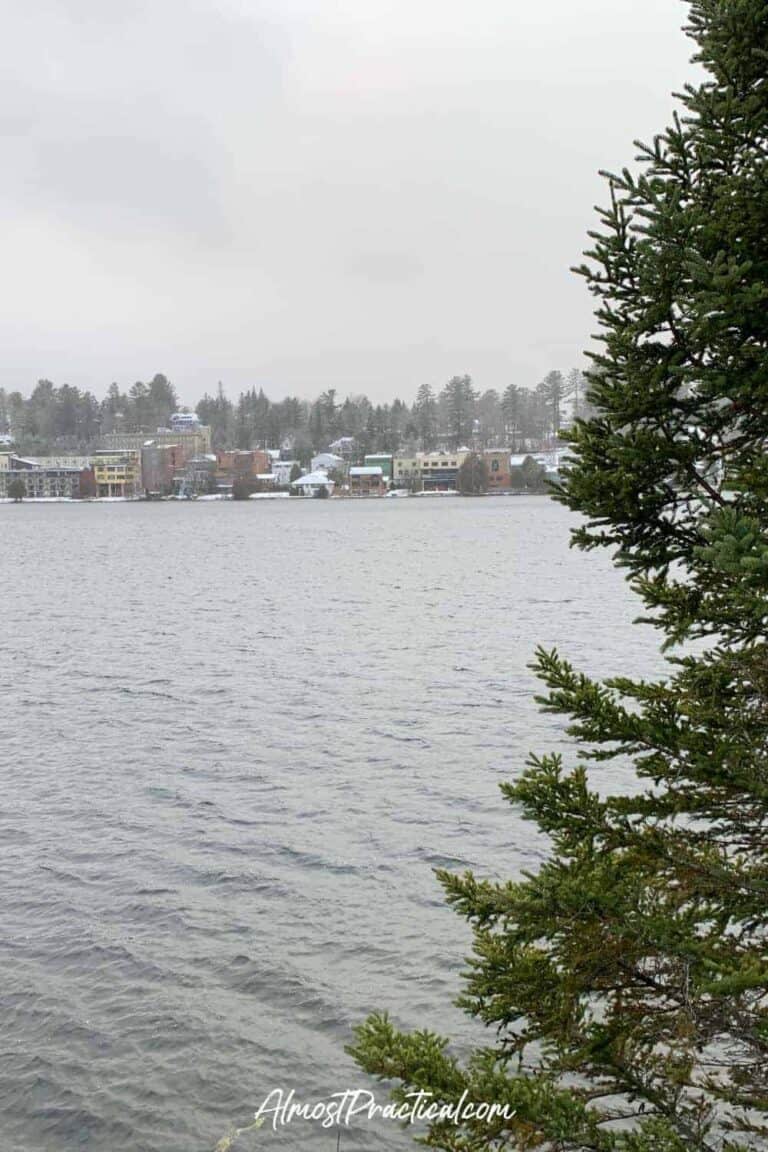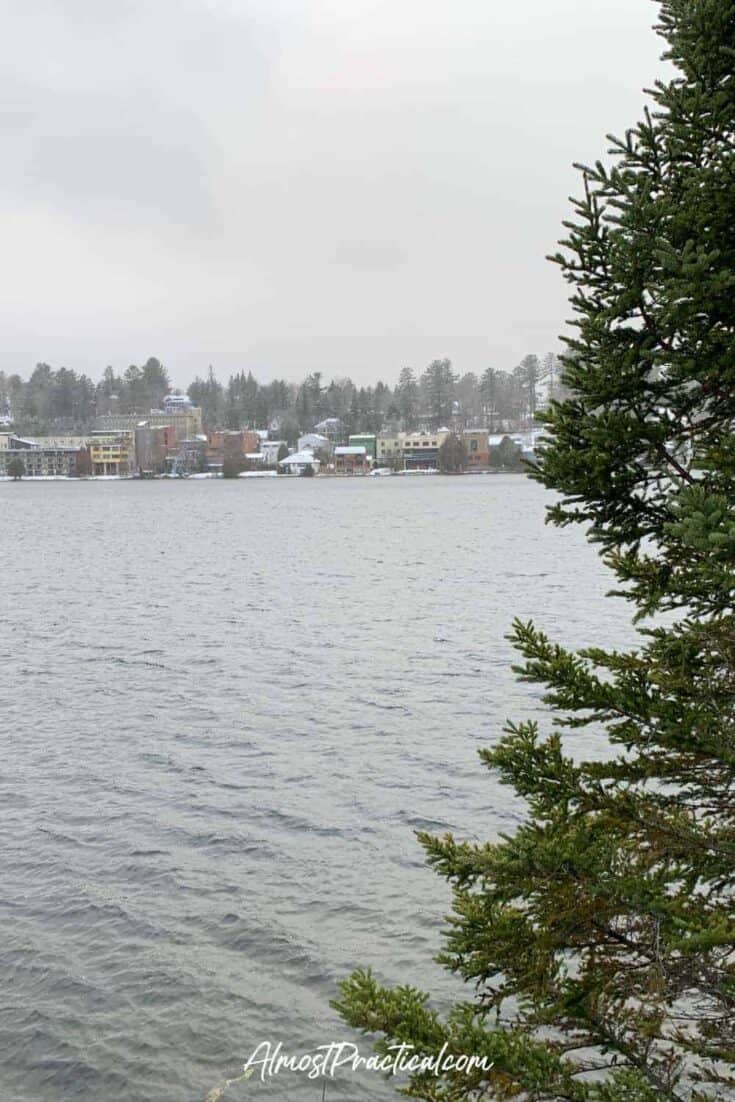 I am huge on planning and I knew this trip would require some careful consideration.
First – it would definitely be cold, so I wanted to plan for the elements.
If we were freezing, then we would be tempted to stay inside and not do and see everything that Lake Placid has to offer.
Second, as this was our first visit, I wanted to stay someplace close to where there were things to do.
Third, there were 5 people in my immediate family – myself, my husband, and our teen and young adult children – so I wanted to make sure that everyone would enjoy the all the activities that I planned.
So, I decided to start a notebook to keep track of my research on things to do in Lake Placid and also for ideas, notes, and packing lists.
I actually found that my Erin Condren Travel Journal Petite Planner was perfect for this.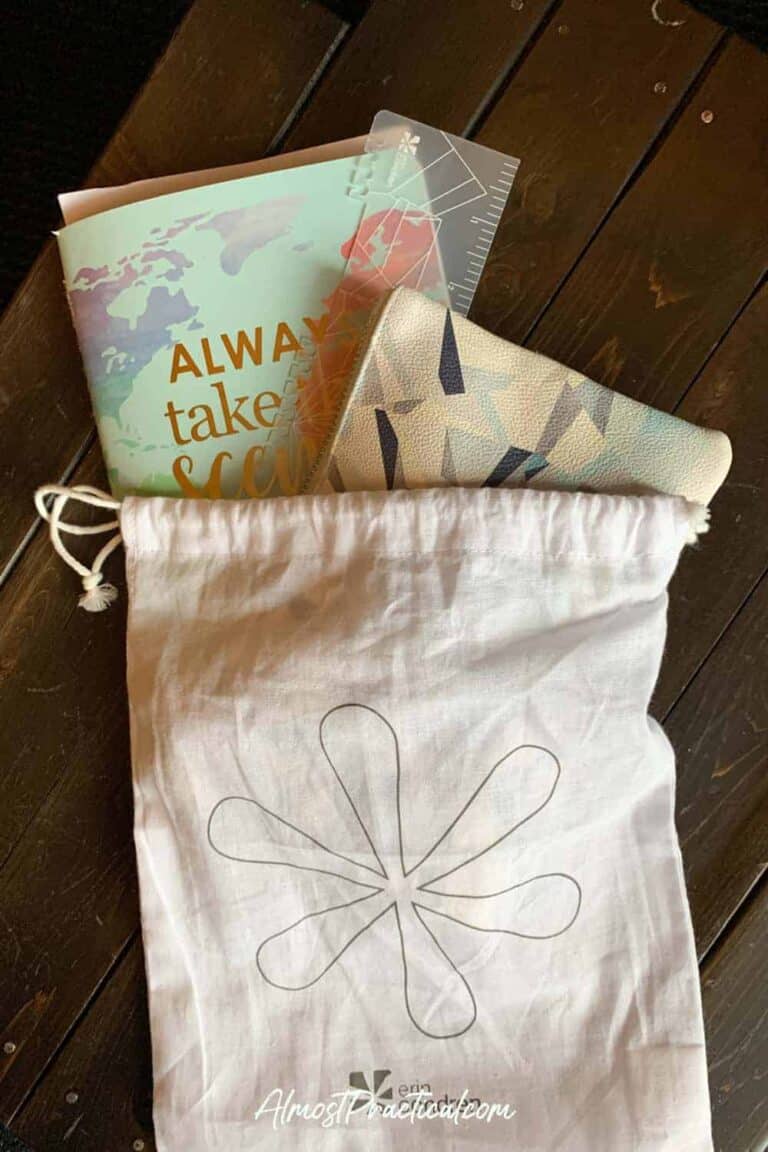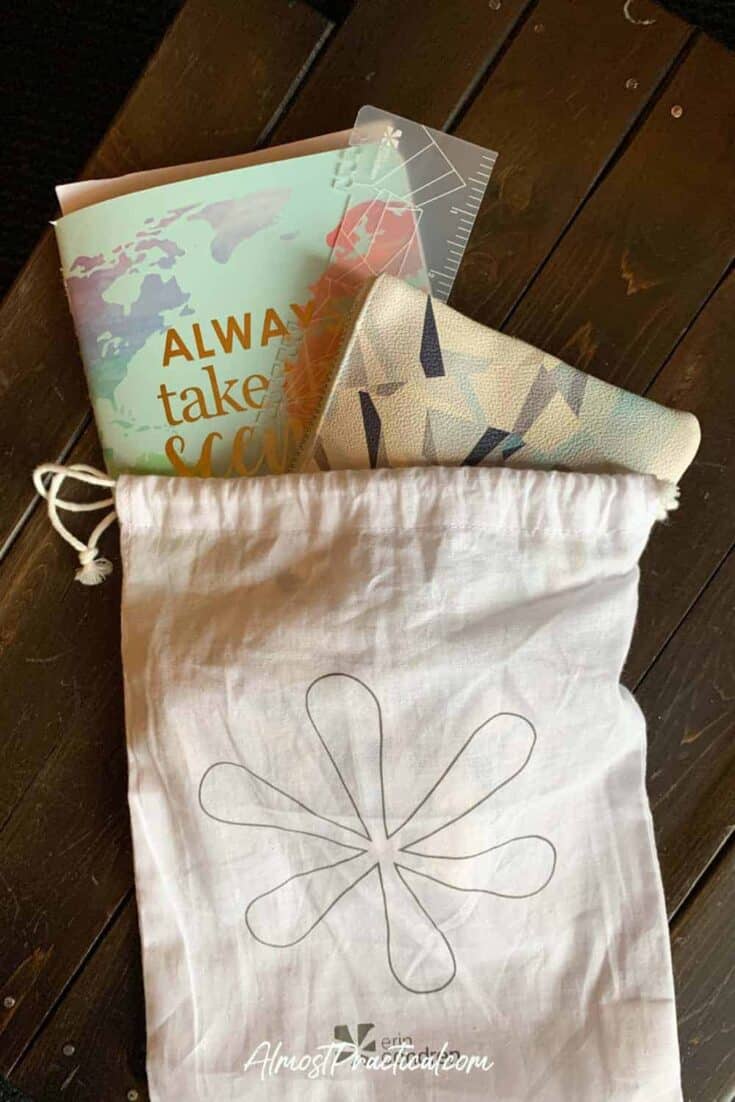 Planning for the Elements
It gets cold really early in the season in Lake Placid.
If you are a winter sports person or you live in upper northern part of the world, you are probably used to it – but I'm not.
Honestly, I don't think I would be able to handle the temperatures in the first quarter of the year – which are the "real" winter months.
But I thought late November would be doable (Thanksgiving was really late this year – November 28).
Get Your Winter Gear In Order
To plan for the weather, I knew we had to take stock of the winter clothes and outerwear that we had and fill in the blanks with things that we still needed.
Also, I don't know if you are familiar with teenagers, but mine apparently have polar bear skin – which means they never want to wear a jacket.
So, I knew they would be underprepared if I didn't get involved.
I ended up packing lots of different layers for us to wear.
Thermals, Leggings, Fleece, and Long Johns
Some things that worked really well for me and my daughter were thermal leggings and other clothes that I wear for outdoor winter exercise.
For men, mine didn't seem to mind wearing thermals like these leggings from Hot Chillys underneath their jeans.
While I did pack one sweater, I stuck more with performance fleece type layers because they were also warm but less bulky.
Warm Outerwear
Outerwear took a good amount of planning. A few of us needed new coats.
I ended up ordering this jacket for my husband and this one for my daughter and myself.
We also needed an assortment of gloves, waterproof gloves, gaiters, hats, and boots.
As far as boots go – I have to tell you – I bought the tall version of these boots last year.
They are super light weight compared to other boots I have owned and they kept my feet so warm on our Lake Placid trip.
Right now the tall isn't in stock but a similar style is available in tall here.
Winter Sports Gear
Also, if you plan to do any skiing, snowboarding, hiking, snowshoeing, etc – remember to prepare gear specific to those winter sports.
My sons went skiing and snowboarding on Whiteface Mountain and packed balaclavas and these ski goggles as well.
Get Your Vehicle Ready for Winter Weather
Getting your vehicle ready for winter weather is also VERY important when you visit Lake Placid in the colder months.
The roads are hilly, wind around mountains, and through valleys.
At night, the side roads especially, were really icy.
So, before you go, make sure your car maintenance is up to date and that your tires are in excellent shape.
Remember to toss an ice scraper or two into your trunk and a little trunk snow shovel doesn't hurt either.
Where to Stay In Lake Placid
You need to familiarize yourself with the geography of Lake Placid before you go.
There are actually two lakes (probably many more – but two main lakes for newbie tourists like me):
Mirror Lake, and
Lake Placid.
There is also Whiteface Mountain where the famous ski area is.
What I also learned is that there are 46 peaks around the area – and many people visit to hike these peaks.
Contrary to what may seem logical – Mirror Lake is actually where all the shops and restaurants are located. There is also a paved path all around Mirror Lake (about 2 miles) that makes for a nice walk.
Lake Placid on the other hand, is more residential and a little harder to access – especially in the winter.
So, for our first visit, I wanted to stay in close walking distance to Mirror Lake especially since it was winter.
We decided to stay at the Lake House Resort which is part of the High Peaks Resort properties.
It turned out that the Lake House Resort was a great location, right on the edge of the shopping strip and we really enjoyed our stay there.
The rooms were spacious, we had a balcony in our room overlooking Mirror Lake, it is pet friendly, and it had a very casual atmosphere.
The Lake House Resort has it's own pool and hot tub – neither of which were very busy during our stay.
The downsides were that the rooms were a little dark, the bathrooms are small, and if you want a cup of coffee in the morning you have to head across the street to High Peaks Resort, use the in room single serve coffee maker, or go downtown.
There are also several other hotels in this area to choose from:
You can also find lots of lodging through Airbnb and other rental companies.
Much of the Mirror Lake area beyond the shopping strip is residential, and many of those units are rentals for part of the year.
What To Do In Lake Placid in the Winter
Our trip to Lake Placid happened at a bit of a weird time.
Summer and fall were over, but the winter season was not yet in full swing.
So there were only a limited number of attractions and activities that were open.
Given that we only had about one day to really do the tourist things (on Thanksgiving Day much of the town was closed, although there was a Turkey Trot race in the morning and the Thanksgiving buffet at the High Peaks Resort was delicious) – the amount of activities that were open fit our available time just perfectly.
Hike Around Mirror Lake
There is a paved pathway or sidewalk that goes completely around Mirror Lake.
I believe that it is about 2 miles in total.
It's a really pretty walk.
Part of it goes through downtown Lake Placid where all the shops and restaurants are located – and then it winds past residential areas and lake houses.
After our heavy Thanksgiving meal (which we ate around lunch time) – we bundled up and worked off some of that pie.
Skiing and Snowboarding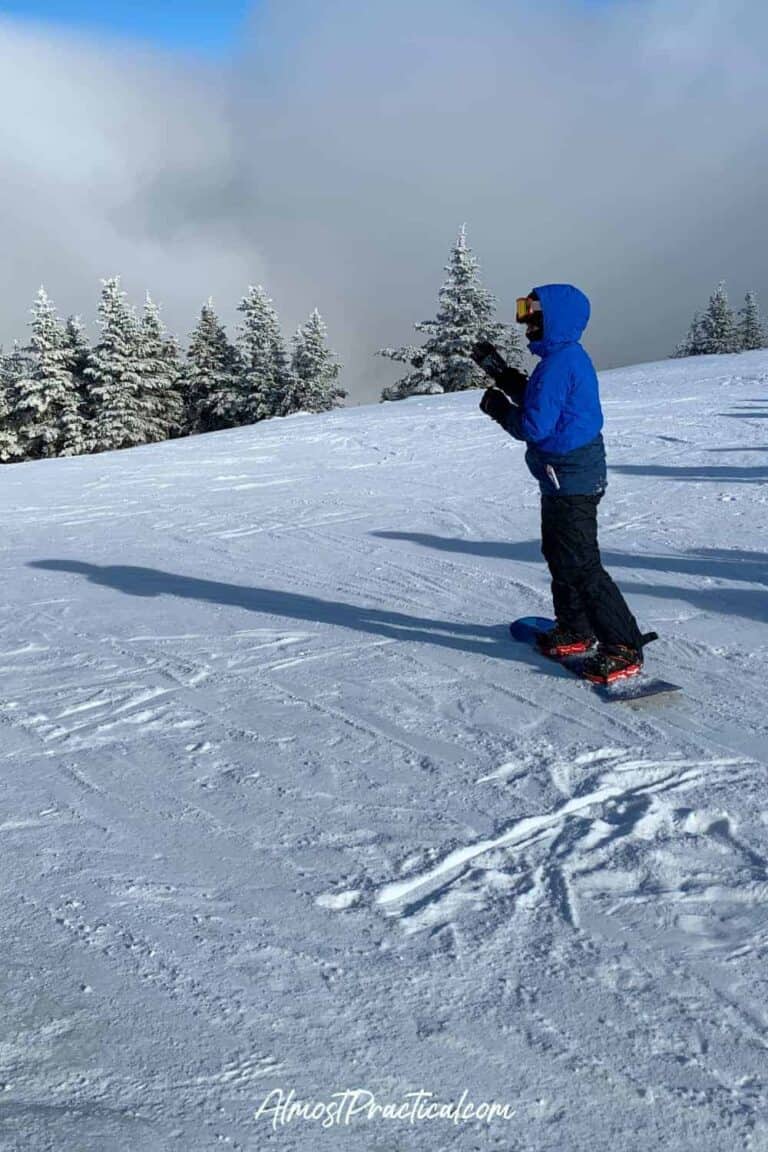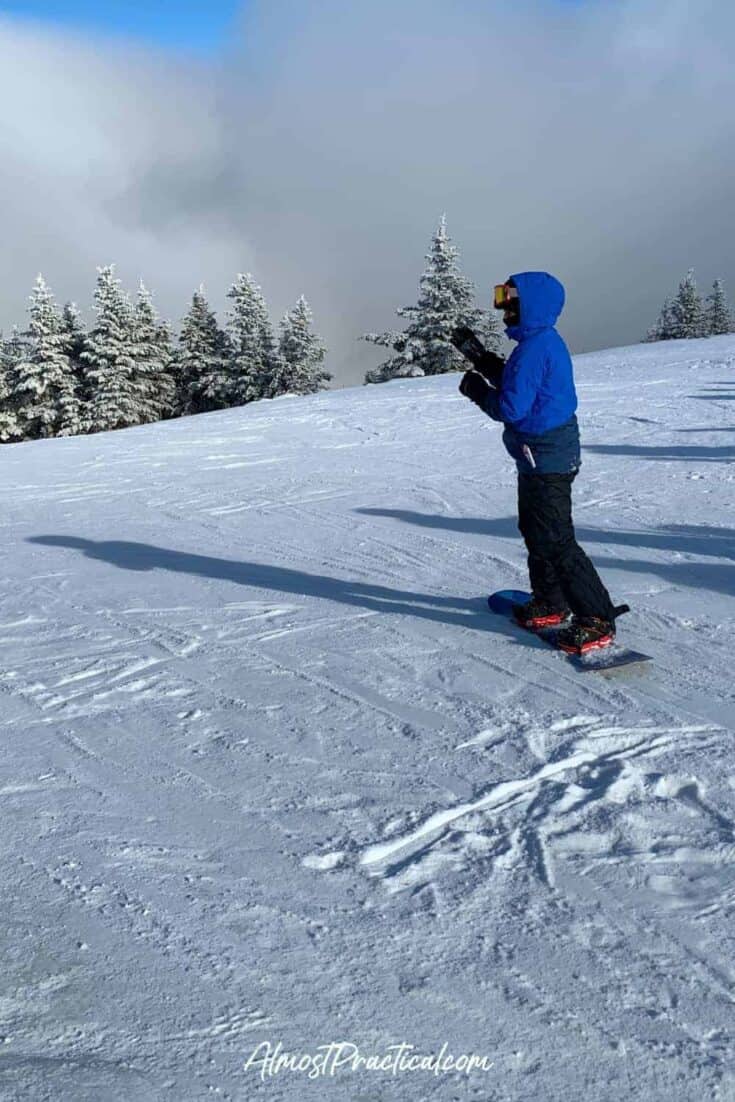 The first official day of the season at Whiteface Mountain was the day after Thanksgiving.
Two of my sons wanted to ski and snowboard so I took advantage of online discounts and purchased their lift tickets in advance. I suggest you do this too if you know when you plan to hit the slopes – because you do save a good amount of money.
My boys enjoyed the day on the mountain but keep in mind that only a few trails were open so early in the season.
Cloudsplitter Gondola Ride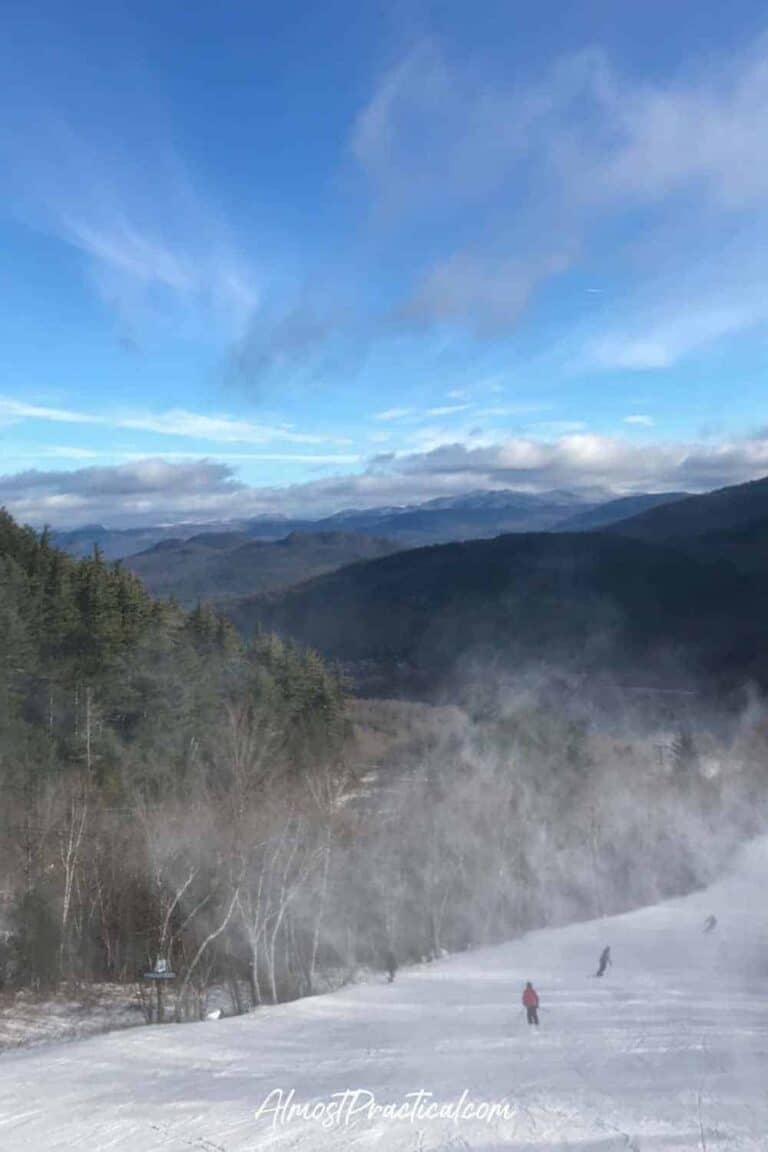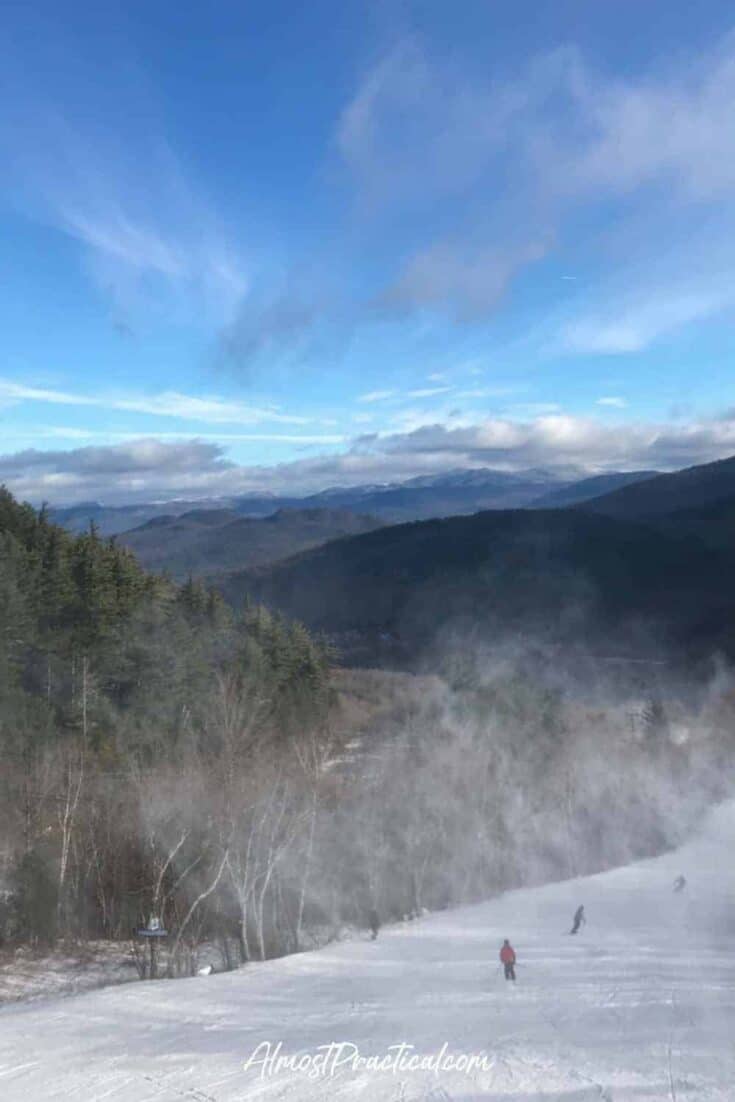 Thankfully the Cloudsplitter Gondola Ride also opened on that day – so those of us who weren't skiing were able to take a ride up to the top of the mountain to take in the sights.
Here is a word of advice – if you take the Gondola ride in Lake Placid in the winter – even if you are NOT skiing – bundle up!
We put on our snow pants, heavy winter gloves, hats, coats, scarves, and boots just to ride the Gondola – and we were quite comfortable.
It is snowy and windy at the top of the peak, so if you want to enjoy your time up there, dress warmly. And, practically speaking – if you are going to be out in the cold weather you should be prepared for any delays that might keep you outside longer than expected.
Olympic Center Tour
While the boys were still on the slopes, the rest of us headed back into Lake Placid to tour the Olympic Center.
As this was our first visit, we decided to take a guided tour – which I am so glad that we did.
Our tour guide was actually on the committee that orchestrated bringing the Olympics to Lake Placid in 1980.
He was so knowledgable and brought history to life with his first hand stories of what went on behind the scenes.
Olympic Museum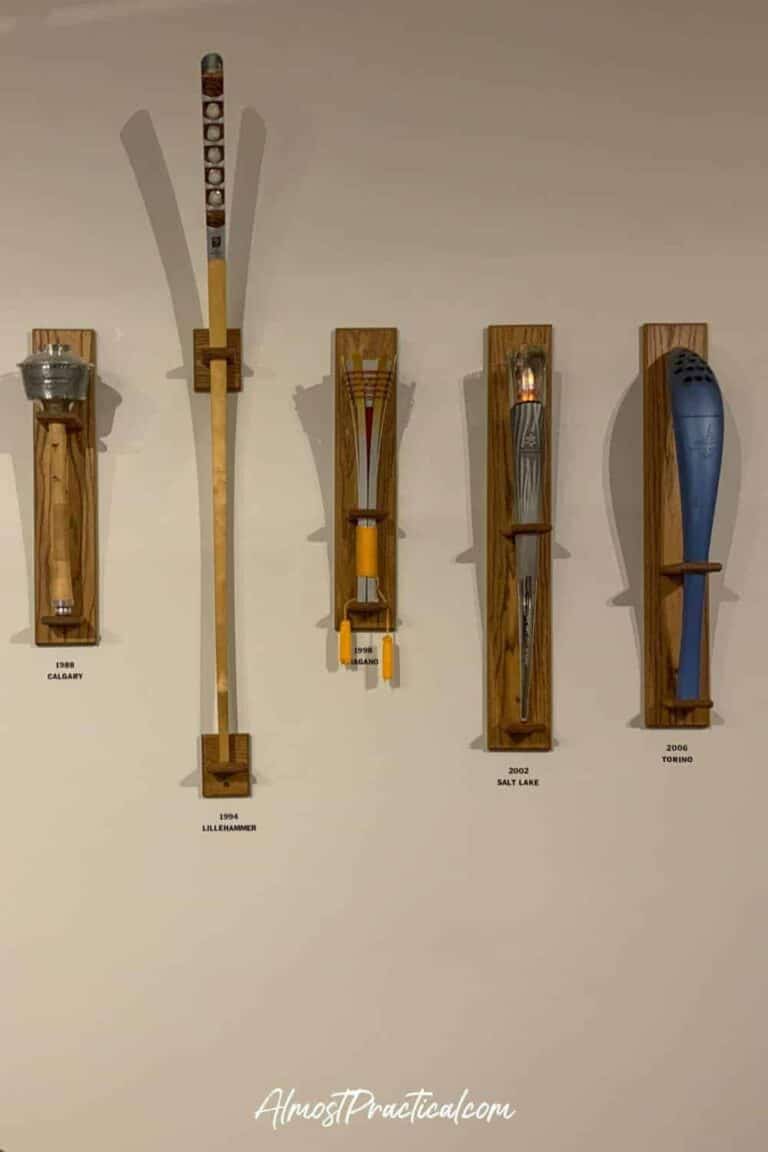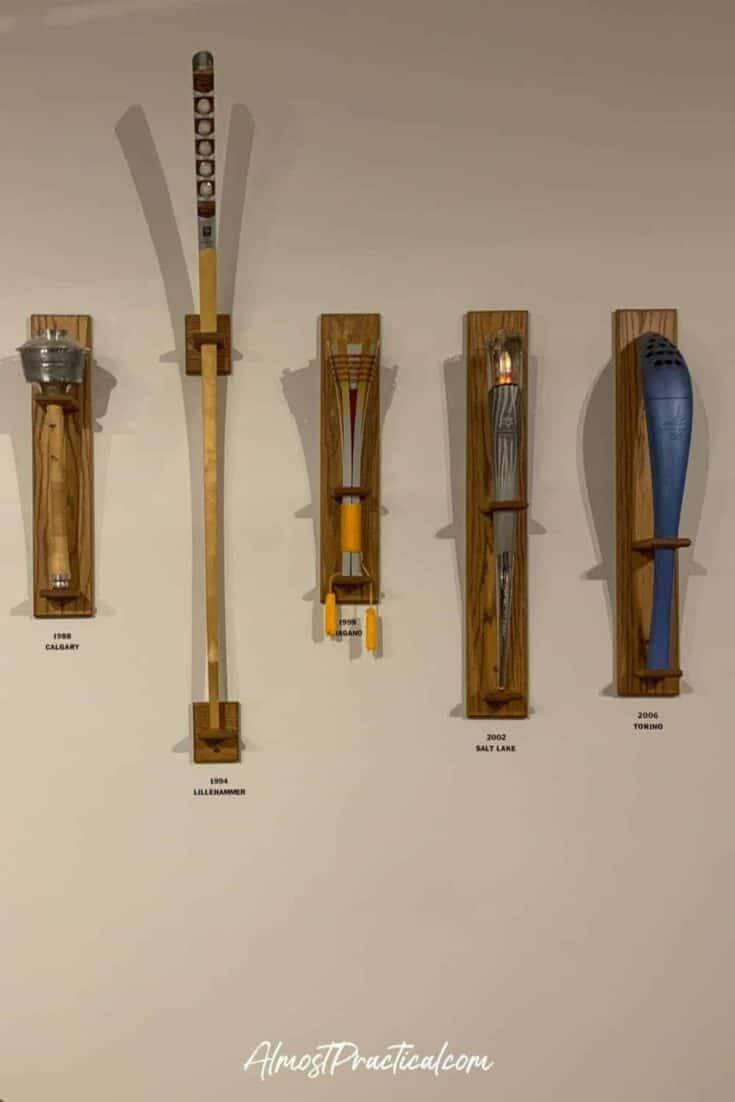 The Olympic Museum is on the bottom floor of the Olympic Center and houses a lot of memorabilia from many of the Games – including the Olympic torches.
This was really neat to see and definitely worth a visit.
Here Are a Few of the Activities That We Missed
There is a ton to do in Lake Placid New York all year round. So, I definitely am only listing a small fraction of what is available.
We are not much of a winter sports family so I am not very knowledgeable on winter hiking, snowshoeing, and cross country skiing type activities.
But some of the things that I had on my list but did not visit were:
Is the Olympic Sites Passport Worth It?
One of the things that you can buy when you visit Lake Placid is something called an Olympic Sites Passport.
This "passport" includes admission to a selection of the available activities in and around town. Click here to see a list of what it includes.
The key to deciding to deciding whether the Olympic Sites Passport is worth it is to figure out what activities are open when you plan to visit.
Typically, it's a pretty good value.
The Cloudsplitter Gondola ride by itself is over $20. If you plan to visit the Olympic Museum and maybe do some ice skating – you pretty much break even.
So, anything else you do that is included or discounted will put you ahead of the game.
For us, it did not make a lot of sense since so many things were not yet open for the season.
Also note that the cost of the Olympic Center Tour, which is totally worth it in my opinion, is not included in the Passport.
Where to Eat in Lake Placid
There is no shortage of great places to eat in Lake Placid.
During our stay we only scraped the surface of all the choices that were available.
On the day we arrived we hit the Lake Placid Pub & Brewery. It's quite famous and very popular – and my kids really liked it. But I am more a fine wine and dine kind of person 😉 so the pub scene is just not my favorite thing.
If you happen to visit Lake Placid on a holiday like we did many restaurants might be closed but you still have options.
Many of the hotels have their own restaurants that are typically open year round.
The Dancing Bears Restaurant which is part of the High Peaks Resort was open on Thanksgiving Day, so we were able to have a light evening meal there.
On our second day – we found a great crêpe place right downtown called Big Mountain Deli. They have both sweet and savory crêpes so it made for a satisfying lunch.
The kids also made it over to Emma's Lake Placid Creamery which they enjoyed very much.
Finally, right before we left – we grabbed breakfast to go at the Bluesberry Bakery. The cheese danish was fantastic. However, the website is no longer live – so I am not sure if the bakery is still there.
In Summary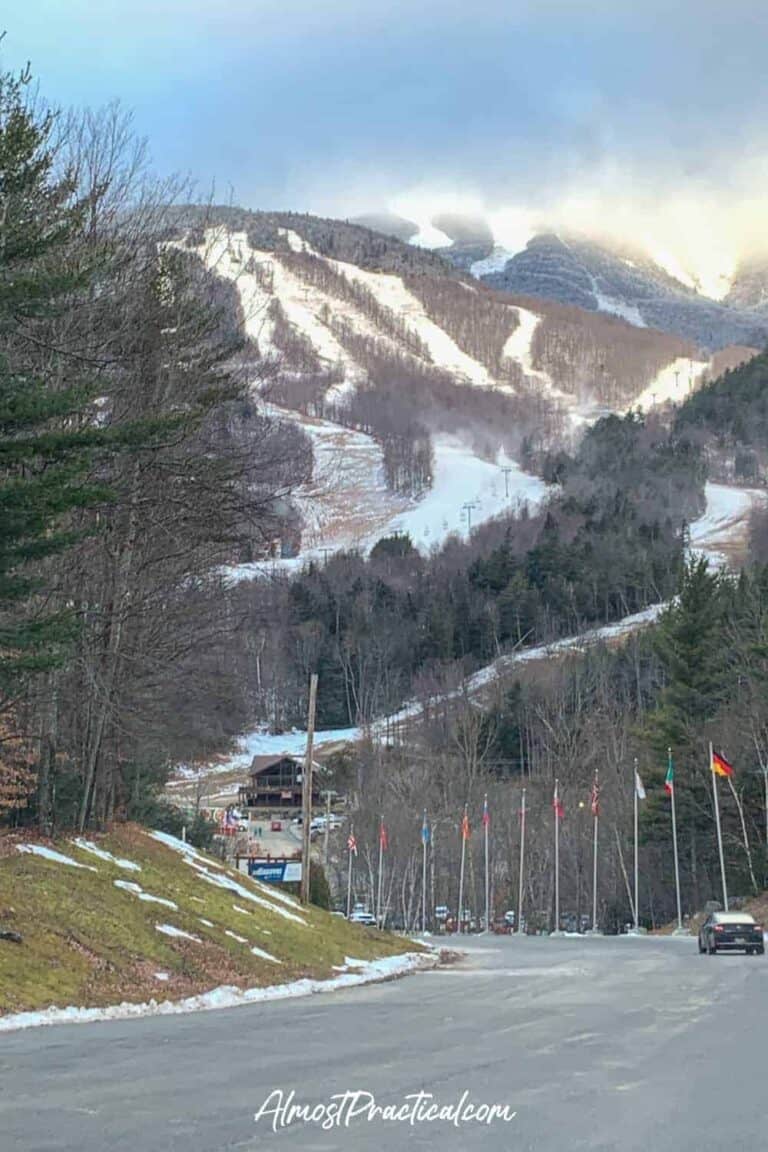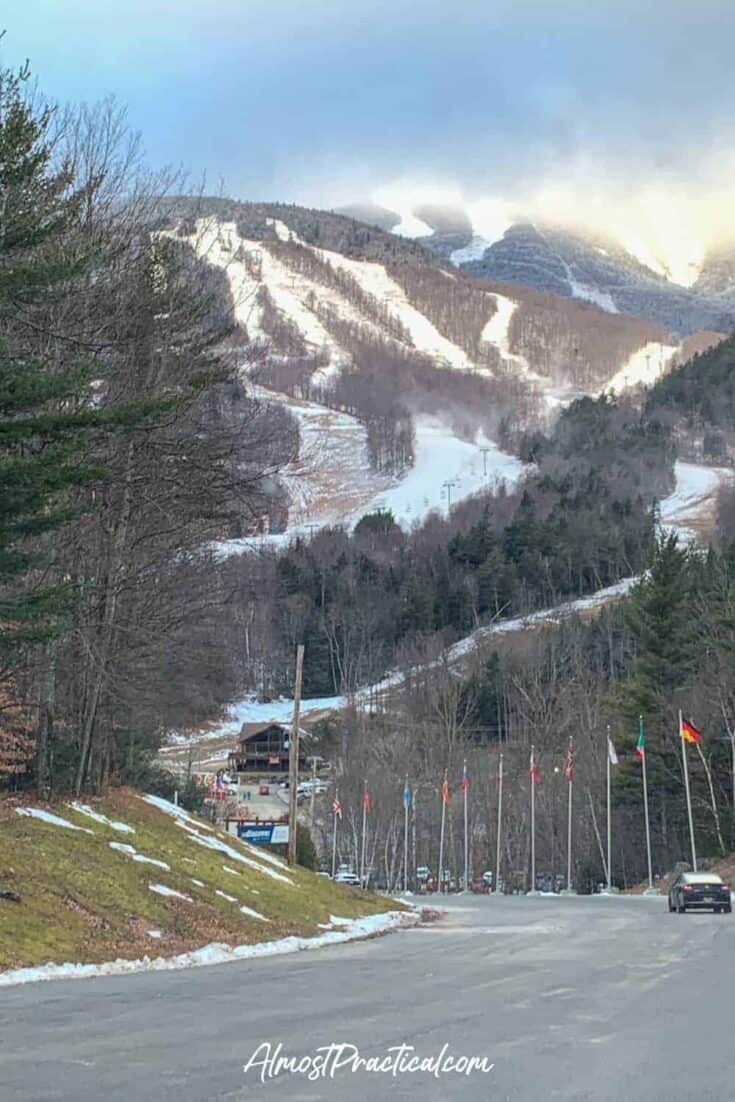 We thoroughly enjoyed our winter visit to Lake Placid New York – and honestly would love to go back again in the winter if we can coordinate with Mother Nature and find a weekend when the weather is not too cold for us thin skinned creatures.
The scenery is beautiful and there are a lot of things to do outdoors and places to eat and shop.
That being said, I would also love to visit Lake Placid in the summer, too.
I will be sure to update you when I do.
Happy travels!
More Travel Planning Articles You Might Enjoy