Erin Condren Star Wars Collection – take a peek!
This post may contain affiliate links which means I make a commission if you shop through my links.
 Disclosure Policy
Disclosure: Product for this post was provided by Erin Condren. All opinions are my own.
Exciting News! The new Erin Condren Star Wars Collection is AVAILABLE NOW – and I have a few items to share with you.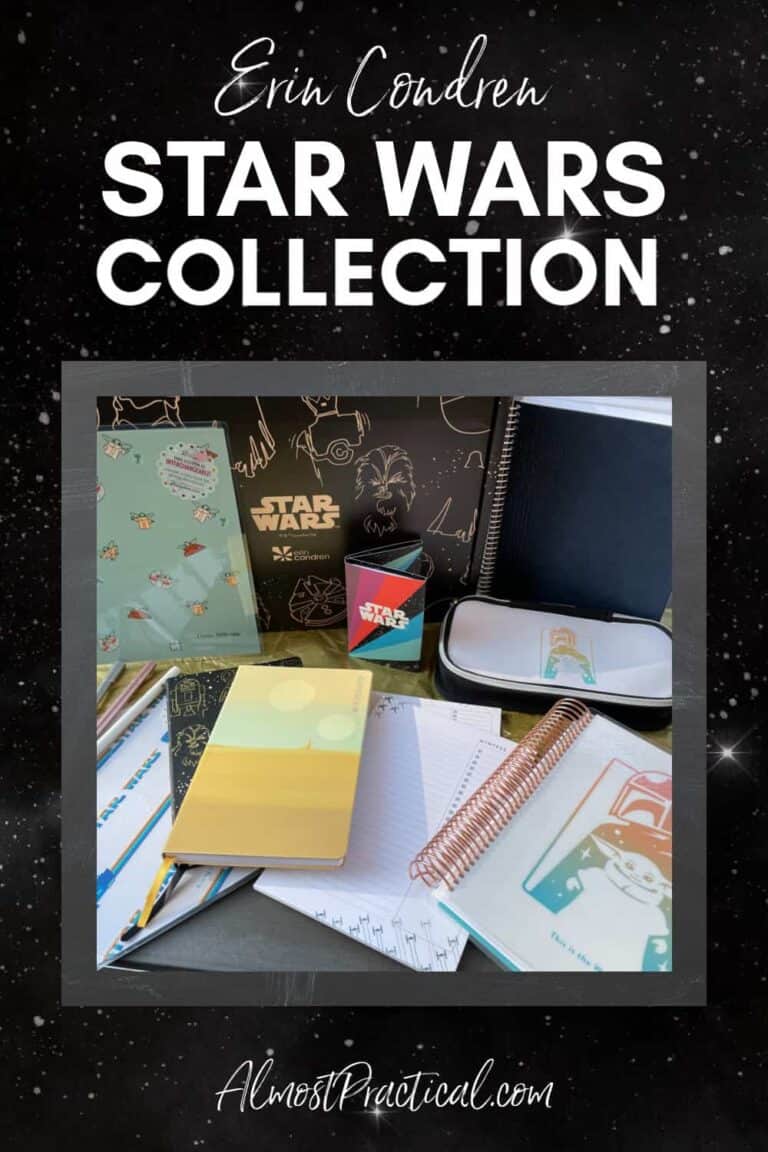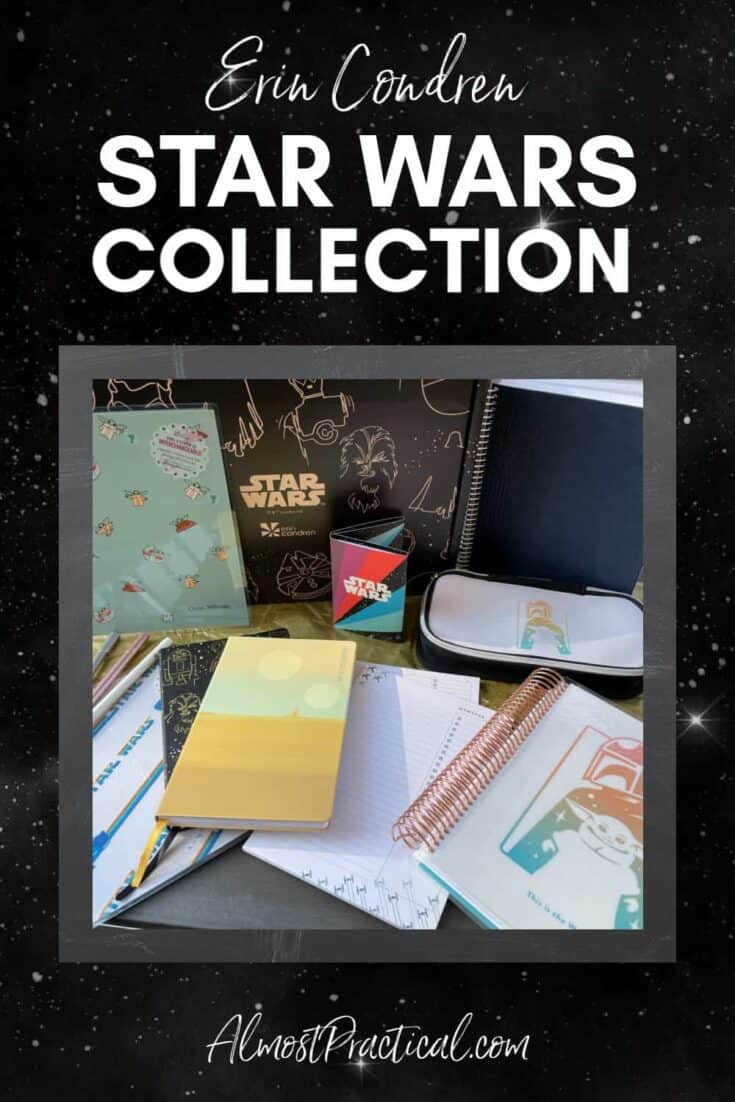 You all know that I am a huge Erin Condren fan.
I have been totally enamored by the new LifePlanners for 2021 in the Flora design – I can't get enough of that pattern.
But just when I thought I was all set – along comes Star Wars.
We are a Star Wars family. I remember watching the very first movie in the theaters with my dad ( yes, I am dating myself).
Years later – it turns out that my husband and kids can quote their favorite scenes. A rainy day is a perfect time for a Star Wars marathon.
So, when my favorite planner company – Erin Condren – paired up with Star Wars – well, that is a match that I can't resist.
So – let's take a closer look – shall we?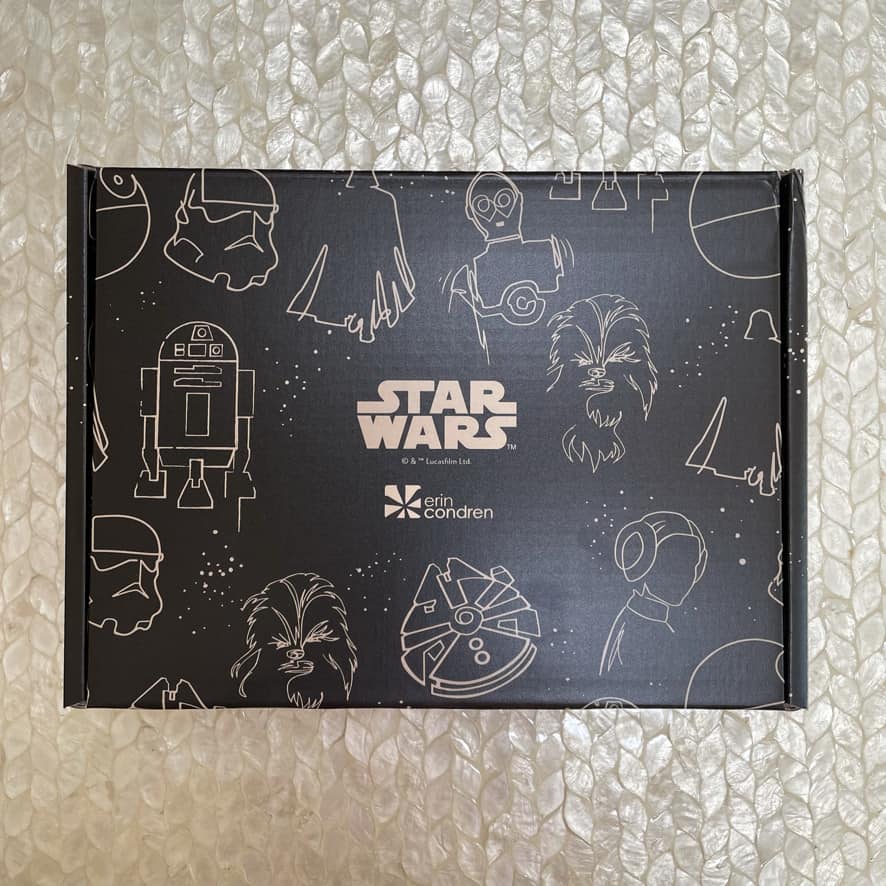 First, I just have to show you the box – I believe that this was just for the media samples that bloggers and affiliates received – but isn't it cute?
Erin Condren Star Wars LifePlanners
For me, the highlight of the Erin Condren Star Wars Collection is the navy blue vegan leather LifePlanner that is embossed ever so subtly with the Millenium Falcon.
It is gorgeous!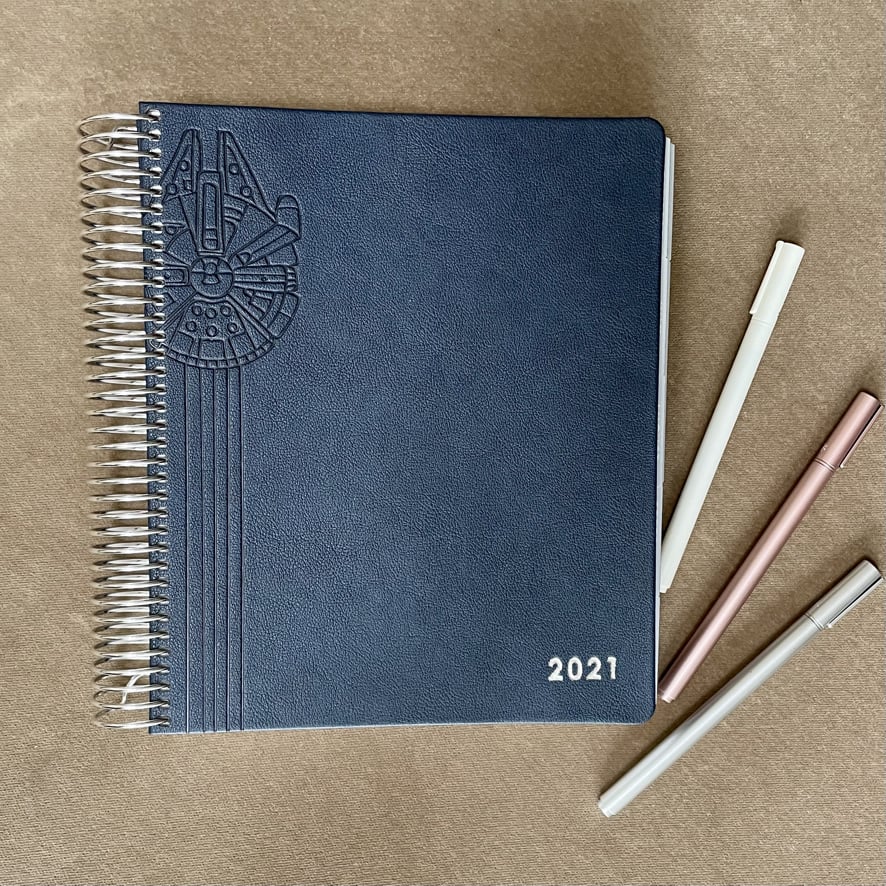 This planner is professional enough for the boardroom but still let's your inner child out to play.
The vegan leather cover is NOT interchangeable – so if you haven't ordered your LifePlanner yet for the remainder of 2021 and for 2022 – then this would be a great option for you.
And just look at the inside of the cover – this one has a detailed sketch of the Millenium Falcon: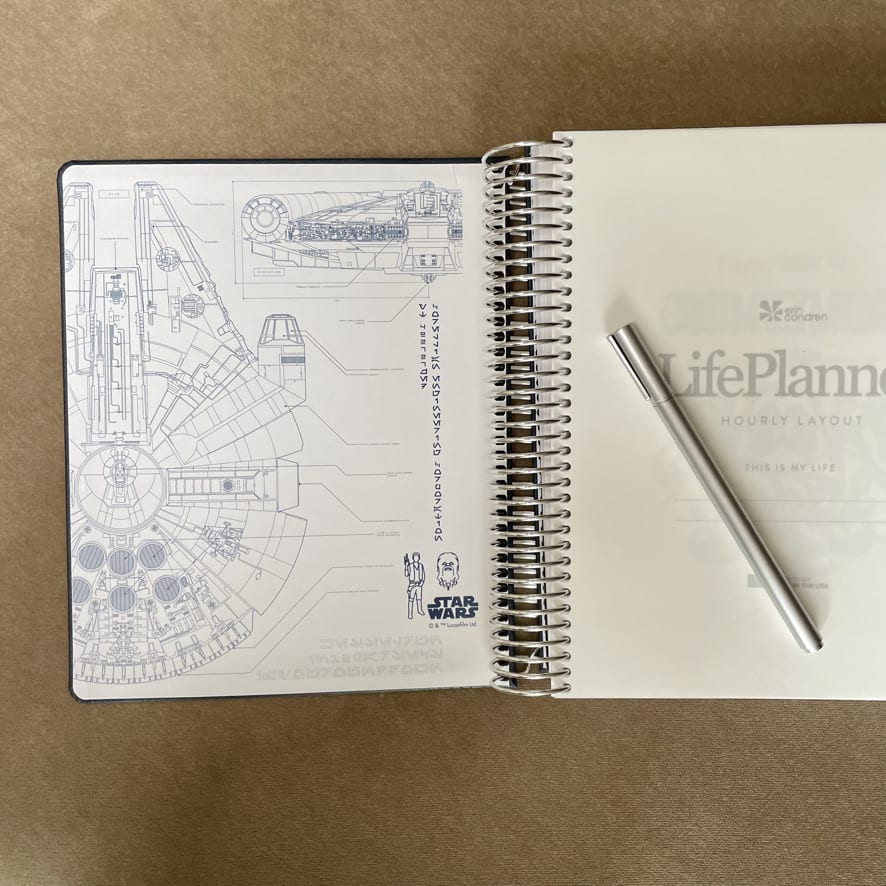 If navy blue isn't your thing – the vegan leather comes in a few different options:
blush with Princess Leia embossed on the front,
gray with a quote from Yoda embossed on the front, and
black with Darth Vader embossed on the front.
Interchangeable Star Wars Covers
If you are already all set with a coiled LifePlanner that has interchangeable covers then you can still sport some Star Wars.
There are many new Star Wars cover designs to choose from – here are just a few: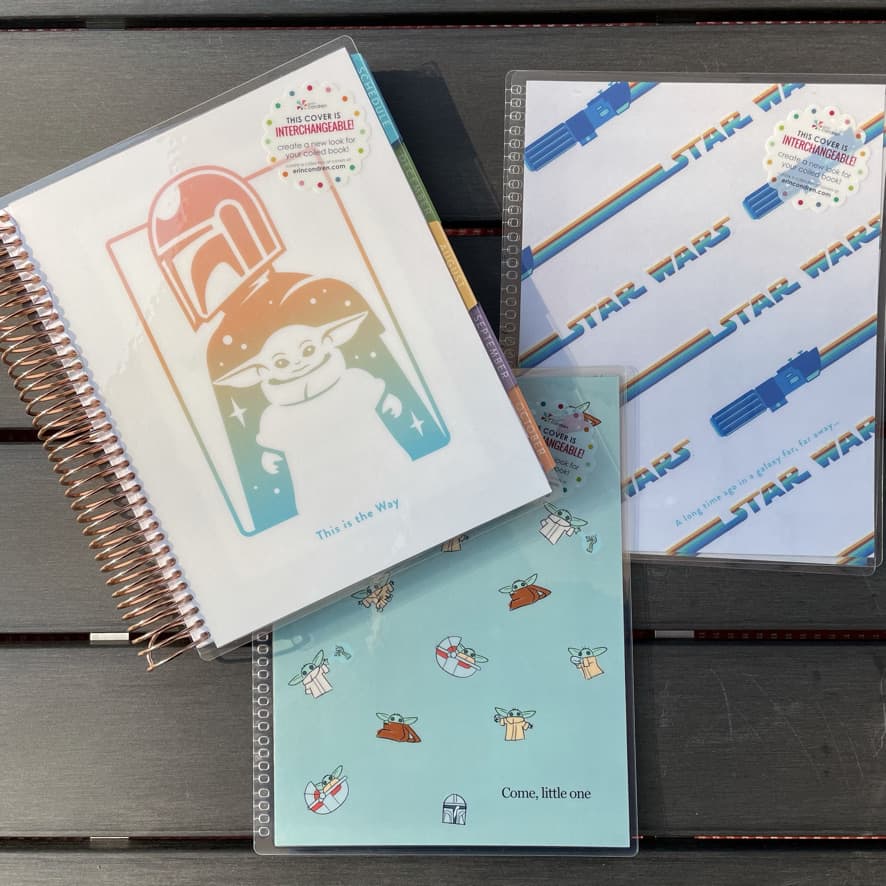 These are 7×9 inches in size and will work on the coiled LifePlanners (but NOT the ones with the fixed vegan leather covers) and the coiled notebooks from Erin Condren.
Note that the covers are NOT available right now in the A5 size – but hopefully at some point in the future.
Also – the ones shown here are just a small selection of the designs that are available.
There are SO MANY interchangeable covers to choose from!
You can pick from:
the metallic outlines shown on the softbound notebook below,
"May the Force Be With You",
droids,
stormtroopers,
grogu,
the Floral Alliance,
Princess Leia,
Mandalorian,
and the Space Battle.
Softbound Notebooks and Planner Note Pads
Another way to incorporate some Star Wars into your planning is with these cute Softbound Notebooks and planner notepads.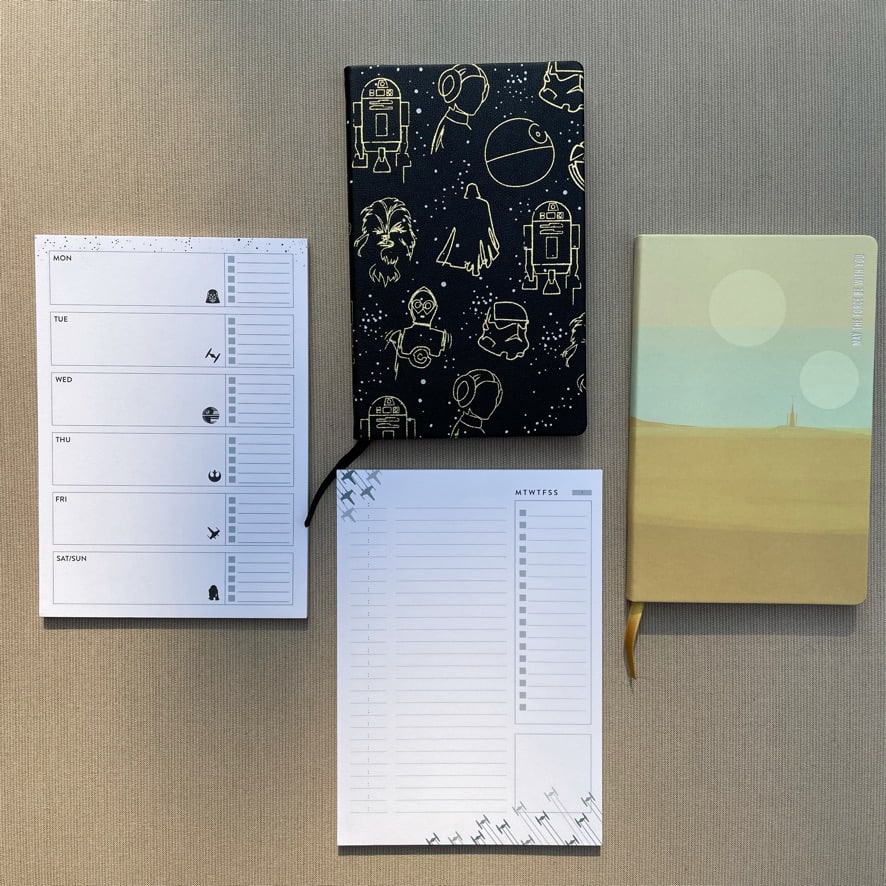 My favorite is the black one with gold accents – but the Tatooine is nice too.
Both softbound notebooks options are lined inside in the neutral focused style.
Star Wars Planner Accessories
No planner is complete without some coordinating accessories.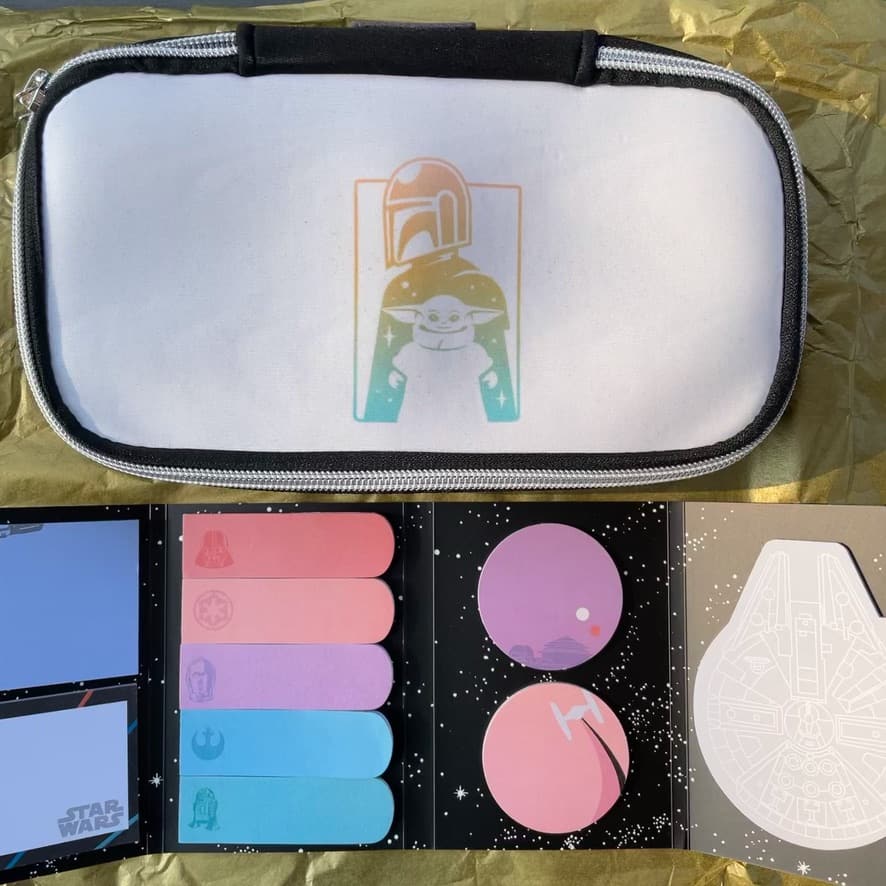 The Erin Condren Star Wars Collection has many to choose from.
Pencil Cases
I love the Erin Condren neoprene pencil cases – they are so roomy and functional.
Mine has the Mandalorian design on it in the Star Wars outlines (black with white designs) or with Grogu (aka Baby Yoda).
Star Wars Sticky Notes
Another favorite of mine is the Millenium Falcon sticky notepad.
It is part of a little booklet of Star Wars themed sticky notes that you can slip into your bag or pencil pouch for planning on the go.
Additionally, you will find Star Wars themed planner sticker sets, notecards, notepads, and list pads.
I think the Star Wars Outlines list pads would make great stocking stuffers for my family this year. (It's never to early to start tackling that Holiday gift list!)
Which Erin Condren Star Wars Items are your favorites?
With so many LifePlanners, interchangeable covers, note pads, notebooks, and planner accessories to choose from – which ones are your favorites.
Let me know in the comments below.
May the force be with you …..