8 Lessons in Military Leadership for Entrepreneurs
This post may contain affiliate links which means I make a commission if you shop through my links.
 Disclosure Policy
Disclosure: This book review of the 8 Lessons in Military Leadership for Entrepreneurs book by Robert Kiyosaki was sponsored by Linqia.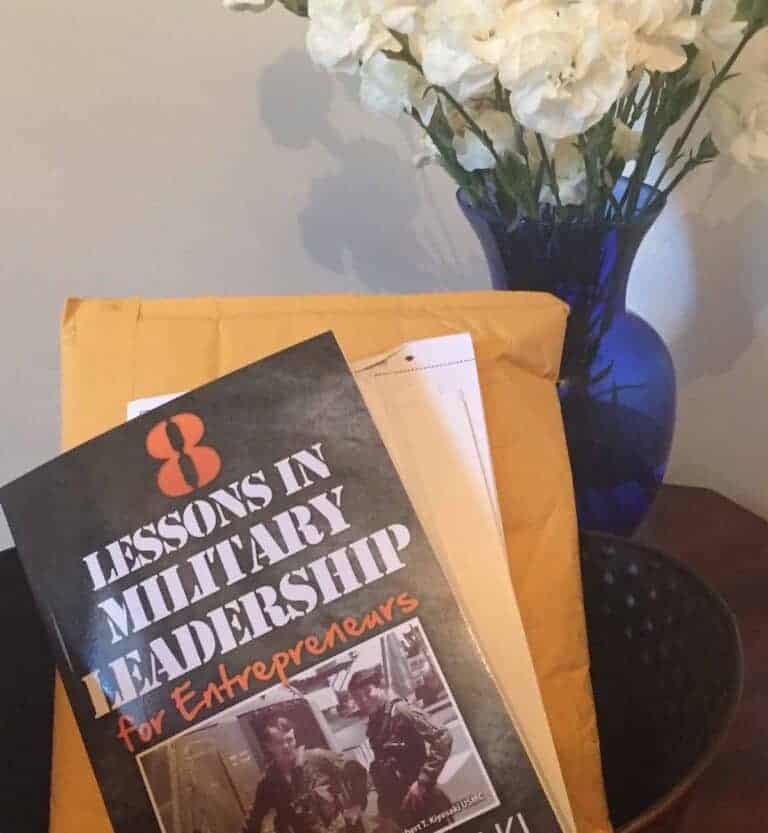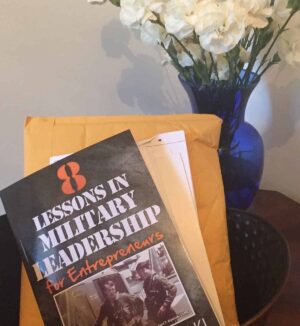 Those who know me know that I was not in the military.
But the admiration and appreciation that I have for our soldiers runs deep.
As a civilian and a professional organizer I am in awe of the discipline and the meticulous attention to detail that is necessary to keep the armed services running like the well oiled machine that it is.
So, when Linqia approached me to review the latest book by Robert Kiyosaki (of Rich Dad Poor Dad fame) entitled 8 Lessons in Military Leadership for Entrepreneurs – I jumped at the chance.
I already wanted to know the secrets behind military efficiency.
But honing in on skills to help entrepreneurs – even better. And of course the gravy is that the book was written by Robert Kiyosaki – who combines his own military experience with his career as an incredibly successful entrepreneur.
Why Entrepreneurs Fail
The book begins by telling us why most of us fail.
And it's not because we are idiots but rather because we don't have the perseverance necessary to keep going and get the job done.
What does this this have to do with the military?
Well, those in the armed forces have been trained to
do the impossible
not just get a job.
It makes sense. Entrepreneurs have to persevere – they have hang onto their dreams and believe in the possibilities.
But dreams are not enough. If you think it, it will happen – hmm, that is a different book.
What It Takes
To be successful as an entrepreneur you need to think differently from everything you learned in school.
Book smarts is good – but it is not enough.
You need to learn by doing. Learn from your mistakes. And keep learning – constantly.
There are four types of intelligence that every entrepreneur needs:
Spiritual Intelligence
Emotional Intelligence
Physical Intelligence and
Mental Intelligence
And you guessed it – mental intelligence is the least important.
Nothing Beats Experience
You can be the smartest person in the world but without experience you won't be able to figure out what works and what doesn't.
One of my favorite quotes in the book is
It's not what you know that makes you rich, but what you don't know that makes you poor. Experience is priceless.
On To the Lessons
I will not list all 8 lessons here – because you really need to read the book to understand the full impact of what these lessons can affect your success as an entrepreneur. But I will dig into a few of my favorites.
Lesson #1: Leaders are Role Models
In business today – most companies should be taking the first lesson from 8 Lessons in Military Leadership for Entrepreneurs to heart.
Leaders are role models.
Robert provides some excellent real life examples on how people became recognized as leaders in the military. They did not lead by telling – they led by doing and by becoming living examples of what they taught.
The most important point was that just because a person is in a leadership position it doesn't mean that they are a leader.
A true leader earns that title by his or her example.
And that is the kind of leader that I strive to be, because the true reward comes from helping others be the best they can be.
Lesson #3: Discipline Delivers a Higher Quality of Life
As with the four intelligences above – discipline also involves the same four cornerstones – spiritual, emotional, physical, and mental.
Entrepreneurs need to have discipline in all four of those areas because they will be under much pressure.
There are days when I am so tired – and I think "why am I doing this?"
Emotionally I am spent and at times I feel beaten down.
On those days – I plow through as best as I can – often relying on my own discipline and routine to see me through.
When I get a chance – I regroup, shake it off, and jump back in.
Those that have served in the Armed Forces are far ahead of the rest of us when it comes to discipline.
They have already been trained in this area and it is a huge asset in business.
Lesson #4: The Power of Respect
I love this one.
If only everyone in business practiced respect – the world would be a much better place.
Everyone and everything deserves respect.
I've always taught my kids to not only respect people but also objects and process.
For example, a flame has a lot of power. Treated with respect, it can warm you in a fireplace. It can prepare your food on a stove. It can light the way via a candle. But if you disrespect that power and become careless – that same flame can burn you and destroy everything that you worked so hard to gain.
This actually was one of the more surprising lessons in 8 Lessons in Military Leadership for Entrepreneurs.
I always thought of the military as strict disciplinarians and somewhat punitive. But what I learned through this book is that they too, teach respect and discipline to the troops for the same reason that I teach my children about the flame – because we care.
Lesson #8: Leadership is a Sales Job
Back in lesson #1 we learned that leaders are role models.
But you can't be a role model if no one follows you.
To get those people to follow you, you need to be able to sell yourself.
For entrepreneurs – you might be selling a service or a product – but you are selling.
No matter what you do in life you are selling to other people.
Even when you negotiate with your spouse on what movie to watch on a Friday night – you are selling.
Robert's insights in lesson number 8 apply to everyone.
Where to Get The Book
I am so glad that I read the 8 Lessons in Military Leadership for Entrepreneurs by Robert Kiyosaki.
There are so many principles that I need to apply to improve my own business. It is a great reference and a tool that will help me achieve my goals.
If you would like to read this book, you can find it on Amazon.com here.
And if you have already read it – please let us know your thoughts by leaving a comment below.