How One Company Got Customer Service Right When They Sent Me This
This post may contain affiliate links which means I make a commission if you shop through my links.
 Disclosure Policy
Anker is a company that makes tech accessories. And they also have great customer service. (Spoiler Alert: You might think that this article is about a charging cable, but it's not – I'm full of surprises – keep reading until the end.)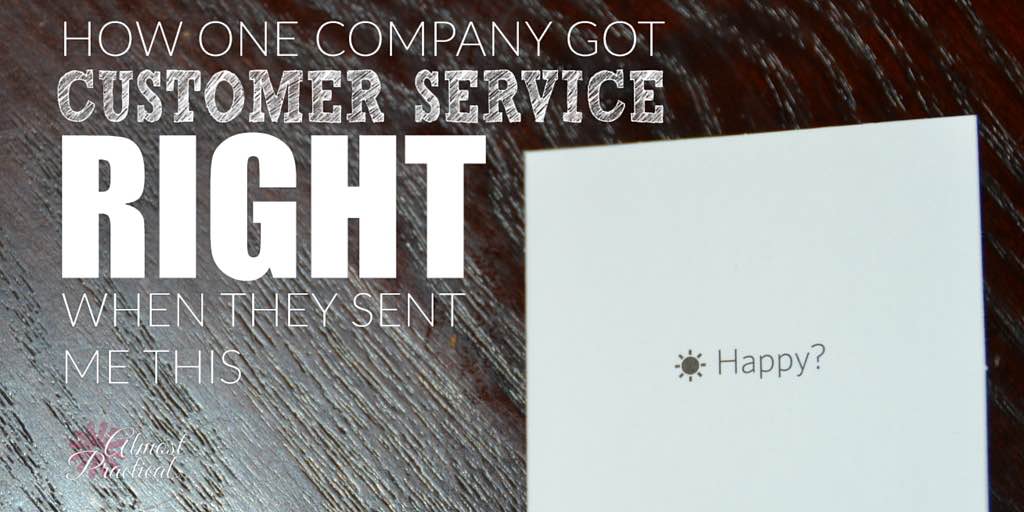 Around the holidays, I had ordered a few lightning charging cables (to charge iPhones) of this brand from Amazon for the kids.
So, when I saw this red 6 foot cable on the Deal of the Day last week for under $14, I snapped it up.
But when I received the cable there was something in the box that told me that this company was really getting customer service right.
Wait until you see what it was.
Why I Needed a Lightning Cable
Let me start at the beginning.
You see, I think there might be a ghost in our house that steals lightning cables.
Literally, they just disappear.
Of course, it is possible that the dog is the culprit but …
So, the logical solution was to order a new cable for me.
I thought it would be a good idea to get a colored lightning cable that I would recognize on site.
Why I Chose an Anker Lightning Cable
In all honesty, I didn't think much about the brand.
The lightning cable was an Amazon Deal of the Day after all.
I had ordered this brand before for the kids. They didn't complain so I figured it was as good a choice as any.
And an iPhone charging cable is just a cable, after all, right?
What Came in The Mail
When I received my lightning cable in the mail today, I was surprised – to say the least.
The cable came packaged in a nice box which seemed pretty fancy for a lightning cable.
Upon opening the box, there was a vellum paper embossed with the Anker logo as you see above.
Honestly, I was a little confused – did they send me the right thing?
Inside the vellum was a soft case with a magnetic closure.
And inside that case was my iPhone charging cable held by a velcro closure.
The cable itself was made of double braided nylon over kevlar with reinforced stress points. (Click here to see the exact one that I bought on Amazon)
All I could think of was – Wow.
The packaging was unusual enough for me to tell the story 3 separate times to 3 different members of my family.
Why Was I So Impressed?
So, you're thinking that the fancy packaging won me over, like a box of gourmet chocolates.
Ok. No – it wasn't that.
The packaging certainly is nice. It is unusual. The cable looks like it is excellent quality.
But here's the thing – I haven't even used the cable yet.
I haven't plugged it in because I wanted to take pictures for you first.
My assumption is that it will work just fine. (I will update this post if, for some reason, it doesn't.)
However, I am not at all worried about that.
This is why…
The One Thing That Knocked My Socks Off
There was one more thing inside that box that made me feel like a valued customer.
It made me feel confident in my purchase.
And it dispelled any worries that I might have had about the quality of the lightning cable.
Spill The Beans, Already!
That one thing was a small, little card.
A simple little square of cardstock.
On the front – it asks the question "Happy?"
When you open the card, Anker gives you some excellent suggestions on what to do if you are happy with the product:
share your satisfaction with your social media friends,
write a review on Amazon
basically, tell everyone you know (and even people that you don't know) about this wonderful product that you just bought.
However, the question that Anker asks on the back of the card carries far more weight.
That question is: "Not Happy?"
Genius!
Seriously, this simple, little question creates awesome customer service.
Anker recognizes that.
Not Everyone Will Love You …
… but they will remember how you handle a situation.
Think about it – not everyone is going to love your product or service.
You can't please them all, as the saying goes.
So, instead of brushing that fact under the rug – why not address it up front?
Bring it out in the open.
Not Happy? – call us at this number, email us at this address, visit this page on our website.
Bottom line – get in touch with us and give us a chance to do right by you.
We want you to be happy and we're going to make it really easy for you to let us know what we can do. Yes! That is good customer service.
Yes!
That is good customer service.
What This Means For Your Business
As a business owner, wouldn't you prefer that your customers come to you with any issues before hitting social media?
We all make mistakes, it is how you handle them that matters.
It might be a good idea to take Anker's lead and spell it out for your clients and customers.
Sometimes, people feel like they are being taken advantage of, or that a company is being unresponsive.
Usually out of frustration, they turn to social media first.
Or they call their mother-in-law. 😉
Whatever the case, more communication is better.
As a business owner, you can't fix a problem if you don't know that it exists.
So, give your customers permission and an avenue that they can use to let you know if they are unhappy.
It's a win-win situation all around.
Kudos to Anker
I hope that I never have to contact Anker customer service about my lightning cable.
But if I do, I hope that they are as responsive as that little card leads me to believe they will be.
What Are You Doing to Ensure a Positive Customer Service in Your Business?
Tell us about what works for you in the comments below.
Pin It