This recipe for homemade strawberry yogurt popsicles is so easy to make. Your family will love this healthy and refreshing summer treat – and you will be happy knowing that it is on the healthier side of things.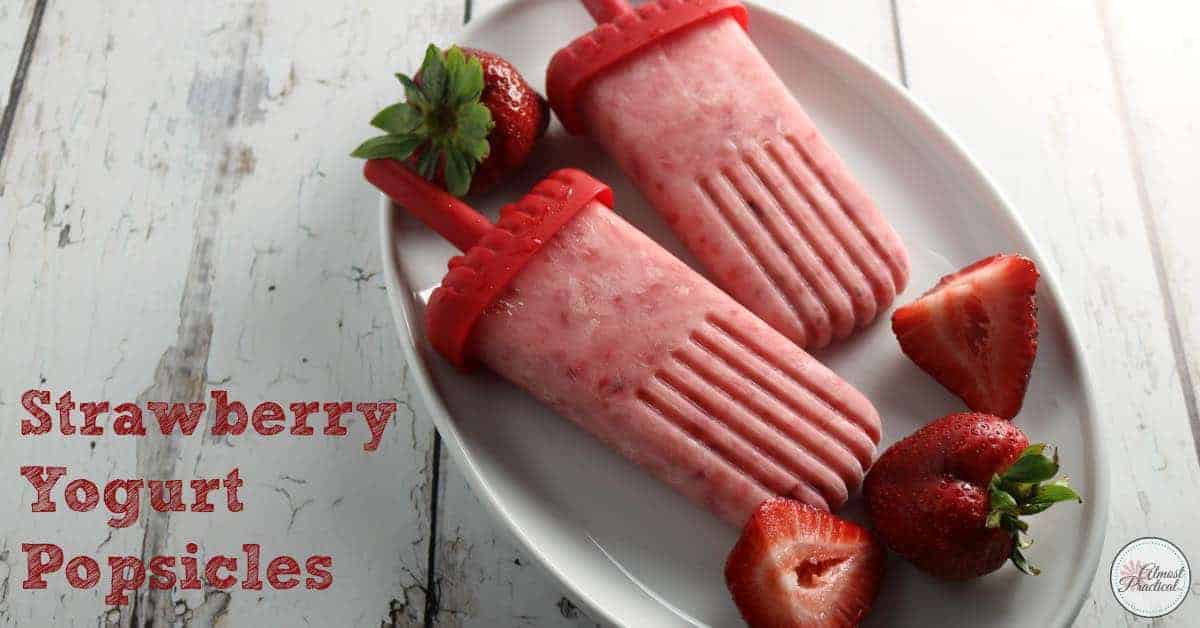 In our house, when summertime rolls around (actually any time of year) my family loves anything frozen, except for maybe vegetables. 😉
Every parent knows that buying fruit juice popsicles or fruit and yogurt popsicles can get pretty expensive. Not to mention that they taste like they have tons of sugar in them.
So, I decided it was time to try and make my own.
Honestly, I don't know why I didn't make these sooner. I guess I thought that making healthy, great tasting popsicles would be hard to do.
Not so!
[convertkit]
4 Simple Ingredients
These strawberry yogurt popsicles have 4 simple ingredients:
Strawberries
Plain yogurt
Honey
Pure vanilla extract
A Note About the Yogurt
When it comes to yogurt – you might be asking – nonfat, greek, whole milk, what kind of yogurt exactly?
Seriously, I don't think it really matters.
I use homemade yogurt which I make in the Instant Pot for which I use 2% milk (which is now called reduced fat milk). You can find my Instant Pot yogurt recipe here.
But you don't have to make your own yogurt for this strawberry yogurt popsicle recipe. I would say that either Dannon® or store brand lowfat plain yogurt would work just as well.


Making the Popsicles
Using a food processor, finely chop the strawberries into small pieces. You want there to be enough texture to be able to get a nice bite of strawberry.
But if your family likes a smoother texture, you could puree the strawberries instead.
Dump the chopped strawberries into a medium mixing bowl.
Add the yogurt, honey, and vanilla.
Stir it all up with your favorite big ol' spoon – I like using a silicone spoon-ula similar to this set, so I can hug the sides of the mixing bowl and scrape down all the strawberry yogurt goodness.
Freeze the Popsicles
Now pour the yogurt mixture into your favorite popsicle molds.
I purchased mine at Crate & Barrel a few years ago – but you can get a similar set like this one from Amazon.
Just pop the filled popsicle molds into your freezer for about 3 hours and voilà – the pops are ready.
Seriously, it couldn't be any easier!
Print This Recipe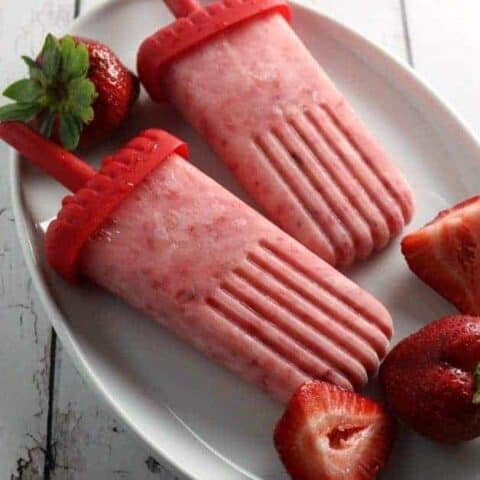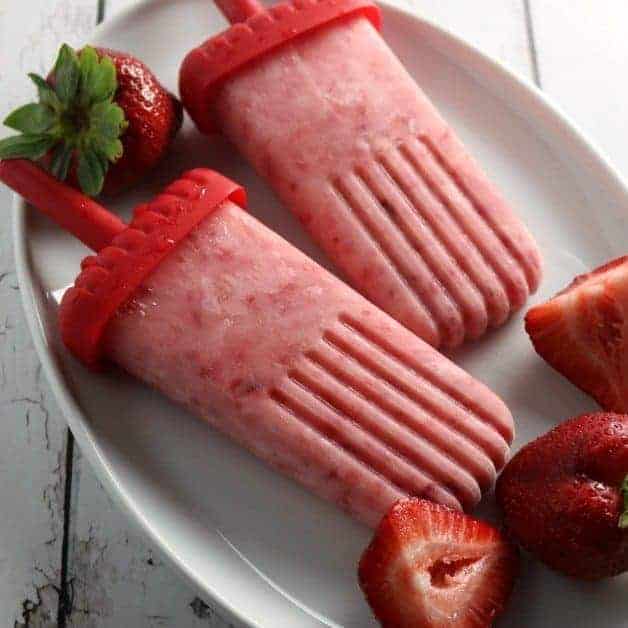 Homemade Strawberry Yogurt Popsicles - A Healthy, Refreshing Summer Treat
Ingredients
1 1/4 cup fresh strawberries, finely chopped (about 10 whole strawberries)
1  1/2 cup plain yogurt
1/4 cup honey
1 teaspoon pure vanilla extract
Instructions
Finely chop the strawberries using a food processor or by hand
In a medium mixing bowl, combine the chopped strawberries, yogurt, honey, and vanilla.
Pour the yogurt/strawberry mixture into popsicle molds.
Freeze for at least 3 hours or until completely frozen.
Enjoy!
Have You Tried These Strawberry Yogurt Popsicles?
What did you think? Did you modify the recipe to suit your tastes? Share your thoughts in the comments below.
A Word on Food Blogging
If you enjoy making new recipes, photography, and making a little money on the side – you may want to think about starting a food blog.
This is What You Need To Get Started
A Blog that Runs on the self hosted WordPress platform
There are a lot of choices in blogging out there but for food blogs, self hosted WordPress is key. This is because you will need a recipe plugin, like Tasty Recipes to showcase your recipes to your readers and to the search engines.
You can get reasonably priced hosting with great customer service at SiteGround.
A WordPress Theme that is Search Engine Optimized
Personally, I will only use a child theme that runs on the Genesis framework. For this blog I use the Refined Theme by Restored316, which I love love love.
But some other good theme options for food blogs are:
A Food Blogging Course
Even though I am an "experienced" blogger, when I started adding recipes to my site, I knew that I need more specific guidance.
I
t just so happened that the doors for the Food Blogger Pro course were open and I signed right up. I can't tell you how helpful that course has been for me.
If food blogging is your thing – take a look at Food Blogger Pro – and get on the waiting list if the course is closed.
The course is run by Lindsay and Bjork Ostrom who have created the famous Pinch of Yum food blog – so they really know what they are doing.
Learn About Food Photography
If you are not ready to take the leap into a full blown food blogging course, it is important to learn about food photography.
My photos on my early recipes are self admittedly awful ;-). I am in the process of updating them as my skills get slightly better.
Lindsay Ostrom also offers an e-book called Tasty Food Photography which is a great way to nail down the basics.
Food Blogging Equipment
What I have learned is that there are a few things that you kinda, sorta, need in order to make your food photography look good.
To create the photos for these strawberry yogurt popsicles I used a few tricks that I had up my sleeve.
Food Photography Backgrounds
So, I am sure you have seen so many amazing shots of food on rustic looking picnic tables.
Unless every single food blogger lives in the country, they probably are using some kind of background on which to stage their plates.
For the photo of my strawberry yogurt popsicles, I used this vinyl background that I found on Etsy. Very ninja!
Camera and Lighting
I take my food photos using my Canon T6i which is an entry level DSLR camera. I am still learning about the settings but the food blogging course has helped me a lot.
For the lighting, I used a Lowel EGO Digital Imaging Light that sits right on the table top.
Props for Food Photography
Now that I have started posting recipes more seriously, I am always on the lookout for interesting pots, pans, plates, dishes – you name it.
I have found that as tempting as it is to find colorful dinnerware – plain white just photographs better. This is because it does not throw a colored reflection across the food.
My favorite place to find plates? The clearance rack – just about anywhere. But discount stores like Marshall's® usually have a few buried treasures.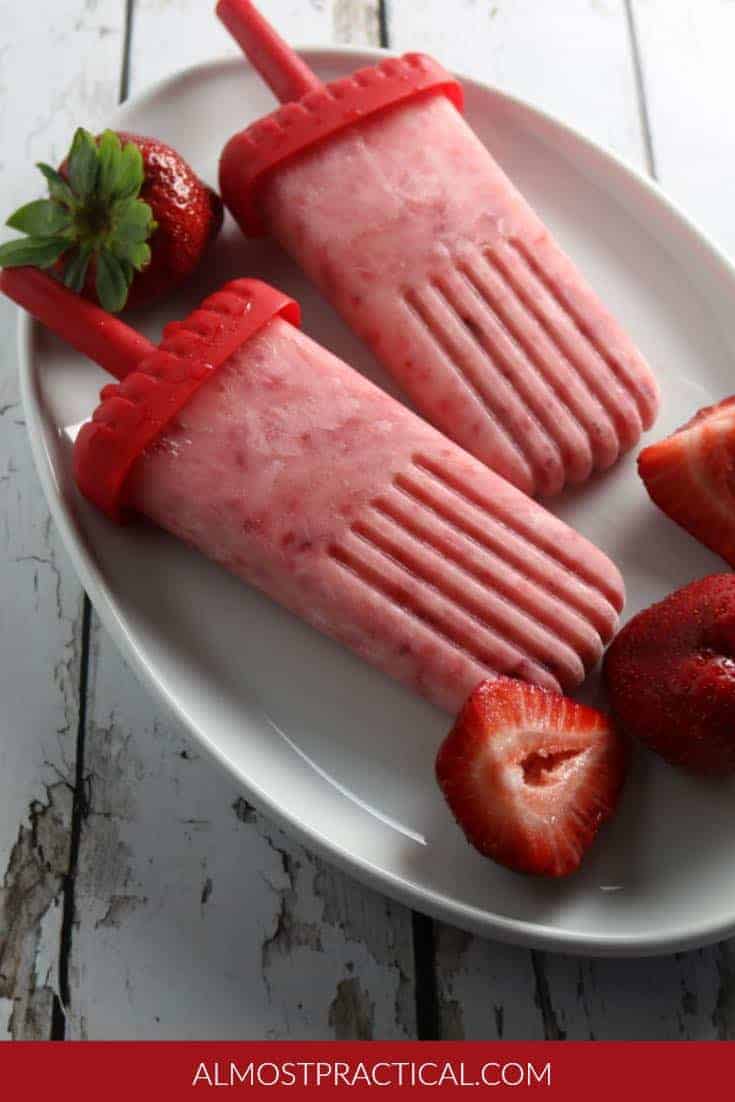 More Dessert Recipes You Might Enjoy