Spinach and Chickpeas – Indian Style
This post may contain affiliate links which means I make a commission if you shop through my links.
 Disclosure Policy
Make this homemade Indian food side dish of spinach and chickpeas anytime.
It is quick, easy, and pairs perfectly with dal, rice, and naan bread.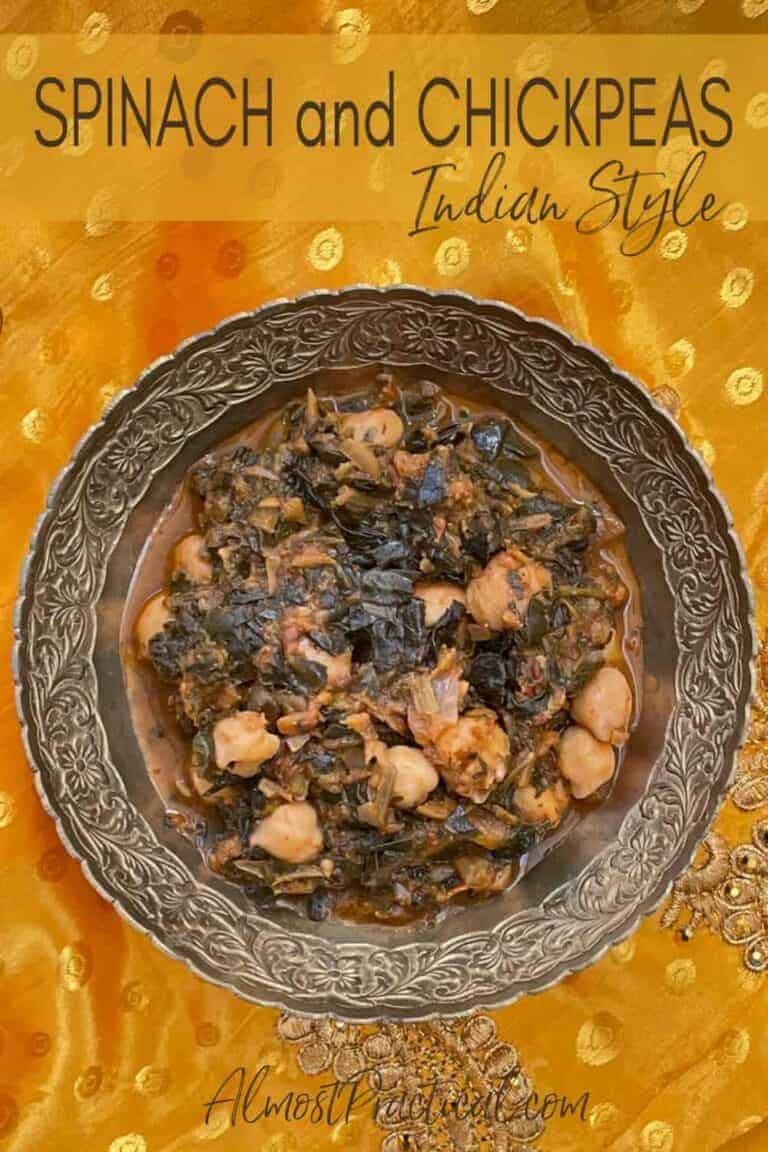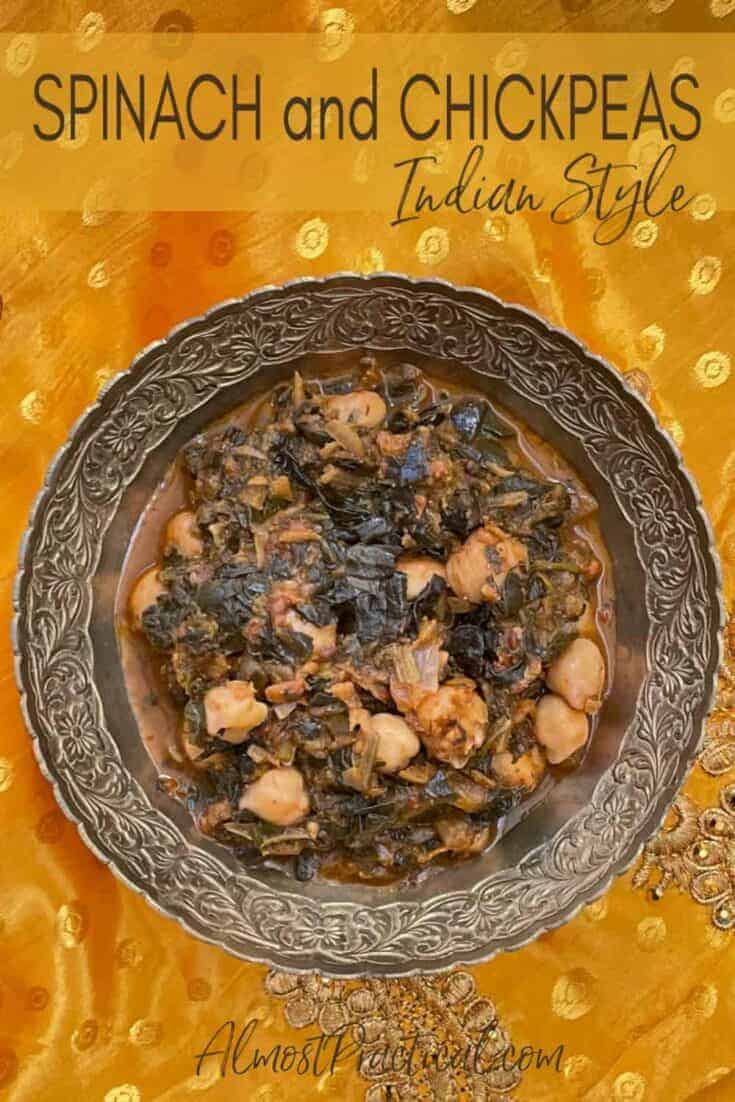 Our family generally eats this with another Indian dish called pongal.
If you are looking for a wholesome, healthy side that is chock full of leafy greens and other yummy vegetables – then give this a whirl.
What You Will Need to Make This Spinach and Chickpeas Side Dish
This recipe calls for:
onions
tomatoes
frozen spinach
a variety of Indian style spices and
tamarind
But don't fret – if you don't have tamarind concentrate on hand.
If you've ever tried tamarind – you know it's pretty sour.
So, it's purpose is to add some tartness to the recipe.
With this spinach and chickpeas recipe – you can easily substitute one tablespoon of lemon juice in place of the tamarind.
How to Make This Recipe
I won't go into too much detail here – because all the info is in the recipe below.
Basically, you heat the oil in a large saucepan. I use the 3 quart sauté pan from this Oxo set when I make this dish.
Then you sauté the onions.
And then – you dump in the remaining ingredients and simmer until done.
How easy is that?
You use the frozen spinach straight from the bag – no thawing necessary!
I love the ease of this recipe because I can make it first, and let it stew while I cook the rest of the meal.
The serving suggestions are endless.
Since this recipe has both vegetables and protein (from the chickpeas) you can serve it as a main dish with a side of rice or bread.
Or, serve in a more traditional manner as a side to a bigger meal of dal, rice, bread, and maybe even another vegetable side dish.
If you are looking for an Indian style chickpea recipe without spinach – you might want to try this Chole recipe here.
Print This Recipe
Spinach and Chickpeas - Indian Style
This flavorful spinach dish goes well with rice, dal, and naan bread.
Ingredients
2 tablespoons canola oil
1/4 teaspoon asafetida (hing)
1 teaspoon cumin seeds
1 medium onion, chopped
2 large tomatoes, pureed
1 16 ounce bag frozen chopped spinach
1 15 ounce can chickpeas, drained and rinsed
3/4 cup water
1 teaspoon salt
2 teaspoons chili powder (American style)
2 teaspoons cumin powder
2 teaspoons coriander powder
1/4 teaspoon cayenne pepper (optional)
1 tablespoon tamarind paste
Instructions
Heat the oil over medium high heat in a large saucepan.
Add the asafetida and cumin seeds and let sizzle for a few seconds.
Add the chopped onion and sauté until translucent.
Add the remaining ingredients (cayenne pepper is optional if you want it spicy).
When mixture starts to bubble, reduce heat to medium and simmer until the mixture thickens (add more water if necessary to keep food from sticking to pan) - about 15 minutes.
Serve hot.

Notes
The tamarind paste adds a bit of tartness to this recipe. If you don't have tamarind, you can substitute one tablespoon of lemon juice instead.
Recommended Products
As an Amazon Associate and member of other affiliate programs, I earn from qualifying purchases.
Nutrition Information:
Yield:

4
Serving Size:

1
Amount Per Serving:
Calories:

304
Total Fat:

11g
Saturated Fat:

1g
Trans Fat:

0g
Unsaturated Fat:

9g
Cholesterol:

0mg
Sodium:

1104mg
Carbohydrates:

42g
Fiber:

13g
Sugar:

10g
Protein:

14g
Occasionally, you will find nutrition information provided with recipes on AlmostPractical.com - this information is created from online calculators and is an ESTIMATE only. I am not a nutritionist or registered dietician. Nutritional information can vary depending on the brands and the actual ingredients that you use. By using this site and it's contents, you agree to hold harmless AlmostPractical.com and its owners for any loss or damage you incur that results from your use of the nutritional information provided by this site.
More Side Dish Recipes You Might Enjoy