The MEGA List of 100 Dorm Room Essentials Every Student Needs
This post may contain affiliate links which means I make a commission if you shop through my links. Disclosure Policy
Don't forget these dorm room essentials when you take your student to college this fall.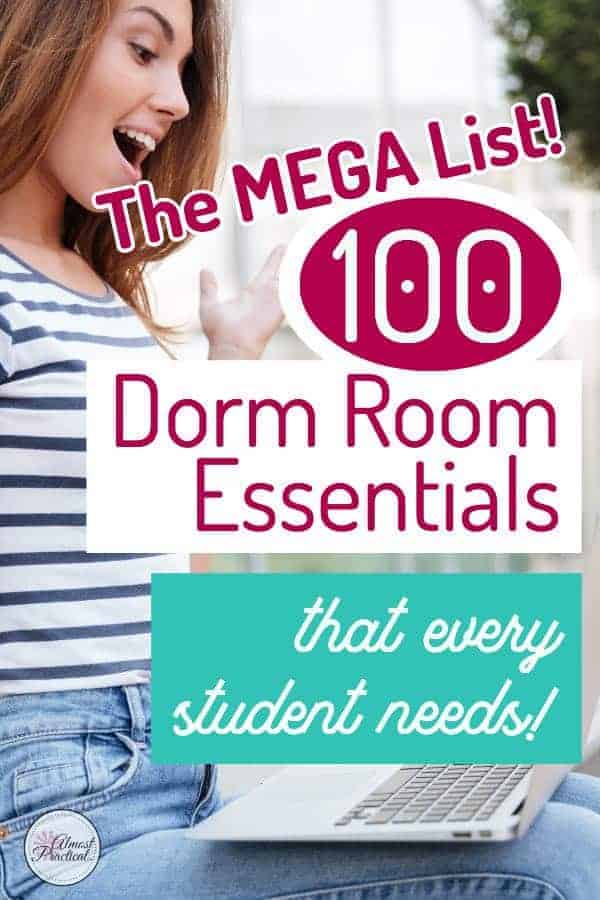 This summer has flown by and I can't believe that in a few short weeks I will be taking my third child to college for the first time.
As I was putting together my mom list of things he will need (I can't help myself) – I thought I would share it here to help you, too.
So, in no particular order – here goes.
You can also find everything here on my Amazon page as well.
I'll start with this – get your kid a membership for Amazon Prime Student. They offer a generous 6 month free trial that you can't beat.
If they forget any of their dorm room essentials at home, they can just order what they need for themselves.
You can see the full list of benefits of Amazon Prime for college students here.
Dorm Room Supplies
And now onto the dorm room supplies – because we always seem to forget some of the most basic things.
Kids are consumers – in a big way. They need trash bags. Enough said.
If you don't want to fund lots of Starbucks, buy a stack of disposable hot beverage to-go cups with lids and a single serve Keurig machine.

You always need paper towels.
With my older son I tried sending in a few melamine dishes. I think he used them a little. But paper was the preferred choice.
Along the same lines as paper plates. The dining halls will be happy.
Odor defense is a good thing. A very good thing.
Ziploc gallon size storage bags are not just for food. They can be used to store school supplies or any collections of small items.
They just plain come in handy – and you always need them when you don't have them.
College kids are always eating on the go.
Sandwich bags are great when you want to toss a little cereal or some pretzels in your backpack to eat between classes.
Don't forget the tissues. This is another one of those must have items.
Even if you don't have a kitchen, Scotch Brite sponges should be on your list of dorm room essentials.
You will still have to clean your dishes, utensils, water bottles, mugs, etc.
Don't forget the dishwashing liquid either!
Dorm Room Appliances
You have to be careful in this category and make sure that the appliances that you buy are safe for dorm room.
Each college has different rules on what is and what is not allowed.
Make sure you read the fine print in your dorm contract and buy accordingly.
Also, some colleges provide microwaves and refrigerators in the dorms. Others have a rental option.
14. Dorm Room Microwave
I love this Nostalgia Retro Series microwave oven:
Or this Deawoo Retro microwave:
Who said dorm microwaves had to be boring?
This RCA fridge comes in many color options like orange, blue, green, and even purple – so you can make it fun too.
I am still trying to wrap my head around the concept of a portable washing machine. But if you have the space to store it, it might make a nice addition to your dorm room.
Some dorm rooms do NOT allow irons – FYI.
If irons are a no-no, maybe a portable clothes steamer might be an option.
Your dorm room essentials should include a good desk lamp. I really like this one from TaoTronics (I bought 2 for 2 of my kids).
The LED lamp allows for different temperatures of light and it has a charging port as well. It also has a slim profile which is good when you are tight for space.
Late night studying requires fresh, hot, popcorn.
Back when I was in college, my hot pot was my go to dorm room appliance. We made lots of "gourmet" boxed mac and cheese and of course, Ramen noodles.
Now I think that many dorms do not allow hot pots. If you've checked and yours does, then this one by dash could be a good option:
This is one thing that no one thinks about. But unless you want your dorm microwave to get all grody like then a cover is the thing you need.
I love my Hydro Flask because it keeps cold drinks really cold and hot beverages really hot.
The wide mouth is nice because it is much easier to clean than one with a narrow opening.
This little vacuum is perfect for keeping a small dorm room clean.
I like that it is corded because I think it would be hard to find space and open outlets to recharge a cordless vacuum in a dorm.
You can tuck this one away in a closet or under your bed and plug it in when you need it.
Many dorm rooms are not air conditioned. And let's face it – those last few weeks in August and early September can get unbearably hot.
You need a fan. I like window fans because they pull the hot air out and circulate cool air. They also sit on right on your window sill so they don't take up valuable floor or desk space.
If green smoothies are part of your routine then this is a nice blender for a dorm room.

Dorm Room Storage & Practical Essentials
Your college student is probably moving from their own room to a shared situation with one or more roommates.
Space will be tight,
Useful dorm room storage is a must (and if it does double duty, that is even better!)
Foldable fabric storage bins can be used when needed and easily tucked away when not.
This versatile modular wire cube organizer can be used as a bookshelf, as clothing/sweater storage shelves, or as a place to to keep your fabric storage bins (just make sure to measure to confirm that your bins will fit).
Bed risers are a great space saver and are on most lists of dorm room essentials.
But don't settle for plain ones. Get a set of bed risers with power outlets and USB charging ports built in.
College kids often study while sitting in bed.
Crawling underneath to find an outlet is inconvenient (and a little scary – think dust bunnies Monty Python style.)
Putting the power in the bed riser is genius.
Just make sure you put the one with the outlets on the outside near the head of your bed when you set them up!
You can find lots of these on Amazon but one of my favorites is the new lap desk from Erin Condren – which has storage space and also a computer riser built right in.
A simple over the door full length mirror like this one is what you need.
Somehow, many dorms don't have one built in.
These dorm room storage ottomans add storage space and extra seating.
If you have valuable electronics or documents – you many consider a dorm room safe.
A steamer trunk can do triple duty in a college dorm room. Use it for storage, as a table, or lock it up to keep things safe.
Whether you are locking up your trunk or your locker at the gym – a combination lock is a good thing to have around.
Save space with a hanging jewelry organizer.
An air mattress comes in handy when friends come to visit.
Dorm Room Essentials for the Bath
Dorm room essentials for the bath will vary depending on the style of bathroom your student has. Some bathrooms are shared by the whole floor, others are shared by the suite, and a lucky few get their very own.
I know that the dorms usually supply students with toilet paper, but it's always good to have a few extra rolls just in case.
When my daughter went to camp at a college campus, I threw a bath mat into her luggage. For some reason she decided she would not need this but I snuck it in anyway. She was so happy that I did because she had a private bathroom shared with just one roommate and this beat stepping out of the shower onto a slippery tile floor.
Not every college student will need one of these – but if you have a semi private bathroom it sure beats waiting for the maintenance guy.
Likewise for the toilet brush. No yuckies in the bathroom.
Another option is the Clorox ToiletWand Disposable Toilet Cleaning System.
Even if you don't use a bathrobe at home, it should be on your list of dorm room essentials.
When you use a shower in a shared bathroom you will need something to coverup with that will absorb water quickly.
Dorm Room Bedding
I like this Amazon Basics 5 piece bed in a bag set because it includes only the dorm room essentials – comforter, sheets, and sham. There is no need for a bed skirt in a dorm but many sets include one. This one does not. It also comes in a variety of colors and patterns.
I like to encase that questionable dorm mattress in a zippered cover. It protects the mattress from you and also protects you from the mattress. 🙂
I am a proud MyPillow owner and what I like most about it (besides the comfort) is that it is fully machine washable.
Dorm Room Decor
Why not add a little fun to your dorm room with strings of fairy lights?

Sometimes the one supplied by the college just isn't enough.
Electronics and School Supplies
Alexa can make for a helpful and knowledgable roommate.
RELATED POST: What Amazon Echo Dot Can Do
RELATED POST: The Best Graduation Gift Idea for a High School Grad
You will need super long lightning cables for when you are working in your dorm room far away from an outlet. And the short ones are handy when you are out and using your portable battery charger. If you don't have an iPhone get the appropriate cables for your device.
Even if you have a laptop you may want to consider an iPad as well.
When used with the Apple Pencil the iPad becomes a great notetaking device and it is much easier to tote around than a big stack of paper notebooks.
Great for when you are working in the library or study lounge.
Or you could opt for a standard Amazon Echo instead, which has better speakers than the Echo Dot.
RELATED POST: The Ultimate Amazon Echo Buying Guide
Save a little desk space with this USB charging station.
RELATED POSTS:
Express your creativity and feelings in words.
RELATED POST: Crayola Take Note Erasable Highlighters Review
The verdict is out as to whether you need a printer in your dorm room. But if you print a lot of stuff, it could be a good idea.
Healthy Dorm Room Snacks
89. Lots of Water Bottles
96. Single Serve Yogurts
Not exactly a snack, but important nonetheless.
College just isn't college without Ramen.

What Did I Forget?
And that my friends is my mega list of 100 dorm room essentials that every college student needs.
What can you add? Leave a comment below.
You may also want to use this Dorm Checklist in Evernote to help you get organized for back to school.