How to Make Homemade Iced Tea
This post may contain affiliate links which means I make a commission if you shop through my links. Disclosure Policy
It is so easy to make homemade iced tea – I can't believe that I don't do it more often.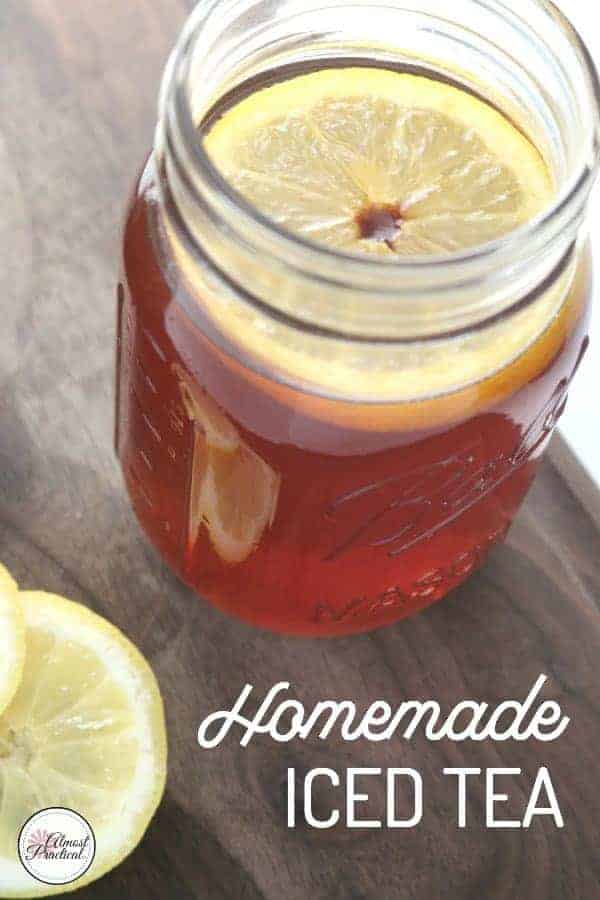 Now that summer is here, a refreshing glass of iced tea really hits the spot. But buying ready made iced tea to drink at home can get expensive. And why use more disposable bottles and containers than you need to?
A box of your favorite tea bags is very economical, and with a little planning you can always have freshly brewed iced tea on hand for your family.
Here's a little hint – you can certainly serve your homemade iced tea in your favorite pitcher, but I like to pour and store single servings into mason jars.
I just fill them three quarters of the way up (leaving room for ice), add a slice of lemon, close them with a lid, and put them in the fridge.
When someone is thirsty, they open the jar, add some ice and they are good to go.
What You Need To Make Homemade Iced Tea
I'll call this version of my homemade iced tea recipe – the make ahead method.
Use this recipe to make a big batch of iced tea the day before you need it.
Start with teabags that make a good, bold tea. I like these British Blend teabags for their robust flavor.
If you like sweet tea, make sure you have your preferred sweetener on hand. I use regular granulated sugar, nothing fancy. But you can use honey, Splenda, Agave – whatever you like.
To infuse a little flavor into your homemade iced tea – be sure to slice up some fresh fruit as well.
Traditionally, iced tea tastes great with some fresh lemon slices. But you can add peach, lime, mango – whatever you like.
Oh yes – and if you are wondering about that gorgeous walnut cutting board in the background – it's this one from Virginia Boys Kitchens.
How to Make Iced Tea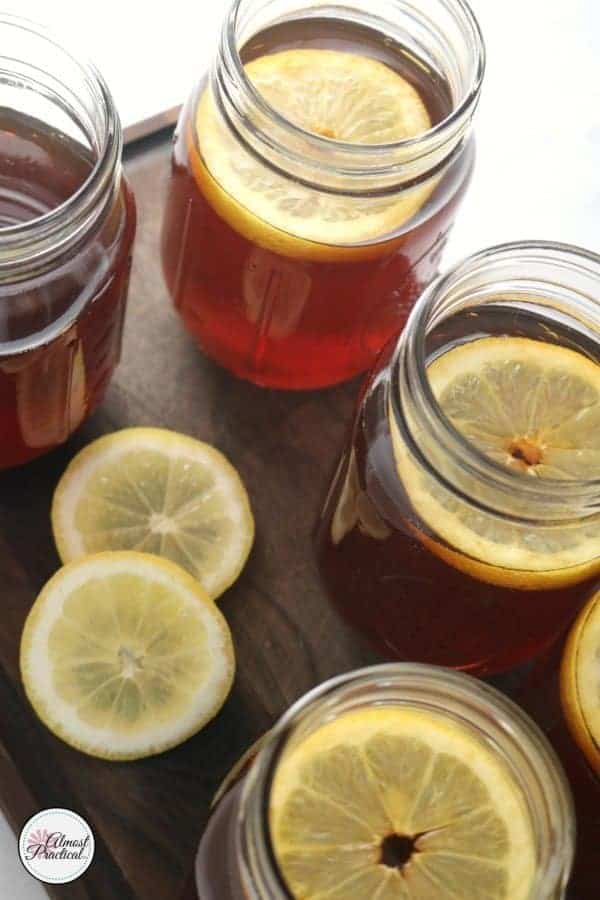 Now that you have your ingredients – the process is very simple.
In a large pot (I used this OXO Tri-Ply Stainless Steel Pro pot to make mine) bring 10 cups of water to a rolling boil.
Turn off the heat and toss in 10 teabags.
Basically, use one teabag per cup of water. So, you can adjust your quantity to make however much iced tea that you want.
Let the teabags steep in the hot water for about 15 minutes.
While the water is still hot, stir in your sweetener. The hot water will help it to dissolve quickly.
I add in the sugar while the teabags are still steeping.
Meanwhile, add a slice or two of fruit to 6 16-oz mason jars. (Alternatively you can add 5 to 10 slices of fruit to a large pitcher.)
After 15 minutes of steeping (you can steep the homemade iced tea longer if you like it stronger), squeeze out the teabags and throw them away.
Pour the warm tea equally over the fruit in the mason jars. Each jar should be about three-quarters full, so you have room to add ice when you serve.
Close each jar with the lid or cover your pitcher and place them in the refrigerator for several hours or overnight to cool down.
Drink and enjoy!
Is Your Homemade Iced Tea Cloudy?
Not to worry.
The first time that I made this homemade iced tea recipe, I was surprised to find that the tea had become cloudy by the next morning.
I read on CooksIllustrated.com that this is the cause:
Cloudiness in tea is caused by caffeine and tannins bonding with each other when tea is refrigerated or iced.
Apparently, the cloudiness is tied to the temperature at which you brew the tea.
The hotter the brewing temperature, the cloudier the tea.
So, if you steep your tea in room temperature water for several hours, it will stay clear but will likely be weaker in taste.
In this recipe we bring the water to a rolling boil – so it gets pretty hot.
This means the homemade iced tea will become cloudy when you refrigerate it.
The good new is that it is normal and it doesn't affect the taste.
Short On Time?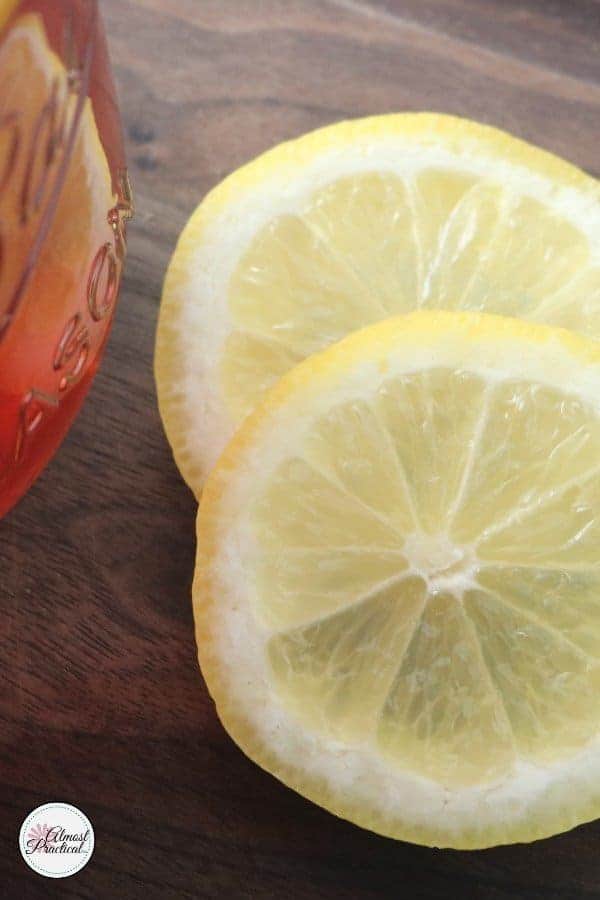 So, I told you that the above recipe was the make ahead method.
What if you are out of time but you really, really want a refreshing glass of homemade iced tea – like right now?
Well, you can use the quick method – instead.
I prefer to use this method for a single serving as opposed to a big batch.
Bring a 1 cup of water to a boil.
Add 2 teabags and your sweetener.
Let steep for at least 5 minutes.
This will make a very strong and concentrated tea.
Remove the teabags and let the tea cool down a bit.
Add 1 cup of ice and your fruit to the warm tea in the pot or in a ceramic mug.
Because the tea is warm it will melt the ice and dilute the tea to be a more palatable strength.
Be careful of the pot or container that you use with this method – glass will crack with extreme temperature changes, like when you add ice to a hot beverage.
And that's it!
Sit back, relax, and enjoy your homemade iced tea.
Yield: 6 16-oz servings
Homemade Iced Tea Recipe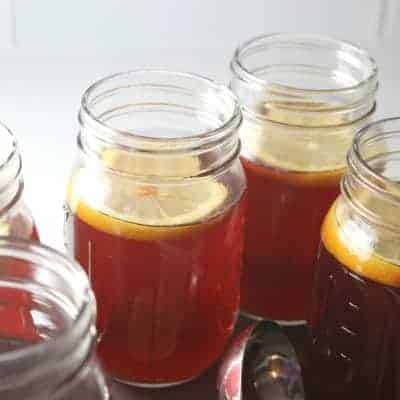 A refreshing iced tea that is infused with your favorite fruit.
Ingredients
10 cup water
10 teabags (black tea works best in this recipe)
10 teaspoons sugar
6 slices of fresh lemon or your favorite fruit
Instructions
In a large pot bring the water to a rolling boil.
Turn off the heat and toss in your teabags and the sugar.
Stir to dissolve the sugar and help the tea steep.
Steep the sweetened tea for 15 minutes.
Remove the tea bags and let the tea cool down a bit.
Place one slice of fruit in each of 6 16-oz mason jars. (Or place all the fruit in a large pitcher.)
Pour the tea equally into each jar - filling each one about three quarters full.
Cover the jars with lids and refrigerate for several hours or overnight.
When ready to serve, remove the lids and fill the remaining space in the jar with ice.