How to Host a Pasta Dinner for a Crowd
This post may contain affiliate links which means I make a commission if you shop through my links.
 Disclosure Policy
Last week, for the first time ever, I hosted a pasta dinner for my teenaged son's sports team.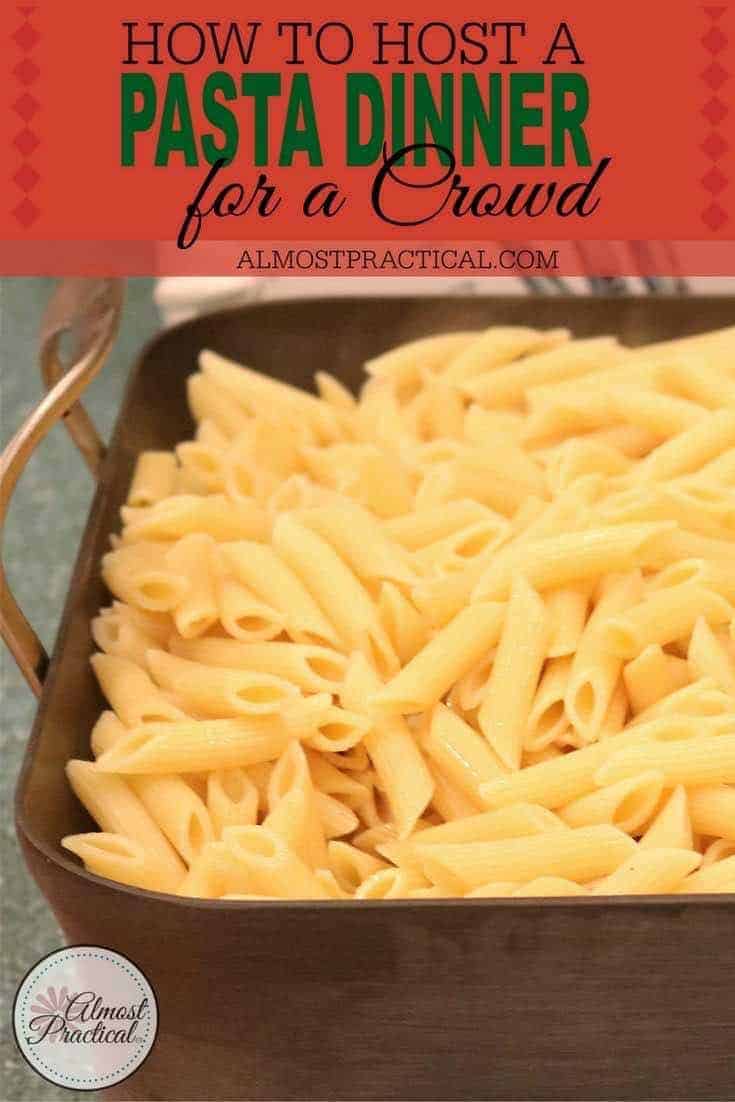 I was hesitant to do it. My house is small and the responsibility seemed big.
Twenty five-ish very hungry teens arriving on your doorstep after practice. Yikes!
So, like any good mom (pat, pat) I went for it.
The tricky part was really getting the quantities right and getting the timing right.
Explore These Articles Too:
Too little food could lead to a minor revolt, and too much is wasteful. (Too much dessert is even worse – because we all know who is going to eat those leftovers.)
Timing was important too – getting everything ready on time, at the same time, in my small kitchen was a challenge.
In true blogging fashion, I decided to take some pictures to document the process for future pasta dinner moms.
To state the obvious – we did serve pasta. But there were a few more things besides plain noodles on our buffet. This is what I served:
Plain ziti noodles
Cheese tortellini
Pot of sauce
Chicken Parmesan
Crock Pot Meatballs
Mac and cheese
Garlic Bread
Salad
Bowl of clementines
Gatorade
Chocolate milk
Coffee cake
Brownies
Cookies
The Pasta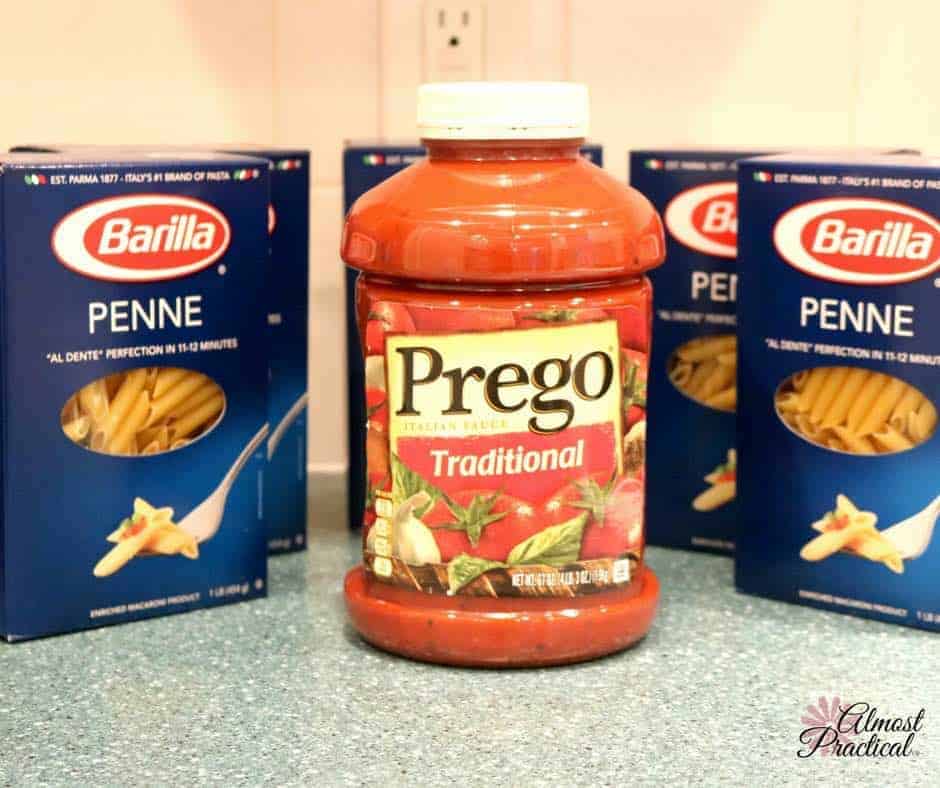 I started my pasta dinner shopping at Costco where I picked up a big box (8 boxes inside) of Barilla Ziti noodles.
I ended up making six of the boxes, which was more than enough for our crowd. I ended up with some leftovers, so 5 boxes may have been enough.
The team was due to arrive at about 7:45 so I started making the pasta at 6:30.
I had 3 pots of water going on my stove.
Two of the pots were big enough to make two boxes of pasta at once, and I made 1 box of pasta at a time in the third pot.
To serve this large amount of pasta, I dug out my Calphalon turkey roasting pan that I use about once a year at Thanksgiving.
It was the perfect size and I was glad that I did not have to buy one of those large disposable aluminum trays.
(To save yourself a trip to the store – you can get whatever supplies you need shipped to your door in two days with Amazon Prime. They offer a 30 day free trial, too. So there's nothing to lose.)
The Cheese Tortellini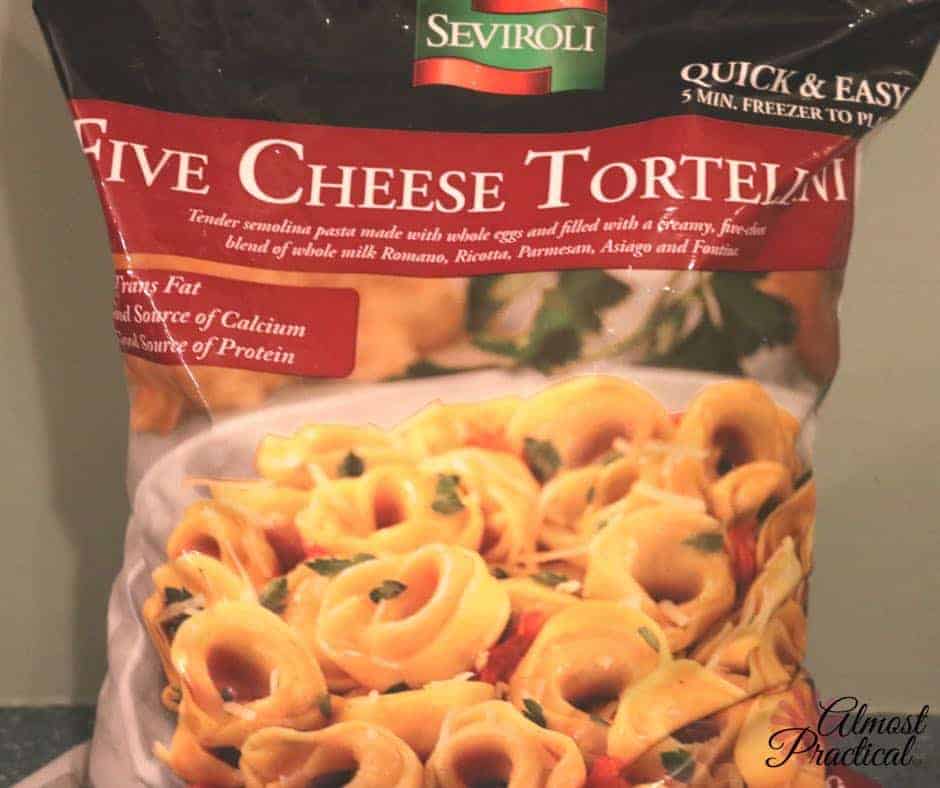 I also picked up a bag of frozen cheese Tortellini at Costco – and made about half of the bag for the pasta dinner.
Once the pasta was done cooking, I used one of the larger pots to cook up one batch of tortellini.
By the end of the night, most of it was gone, but there was about 1 to two servings leftover, so I feel that I got the quantity right.
The Meatballs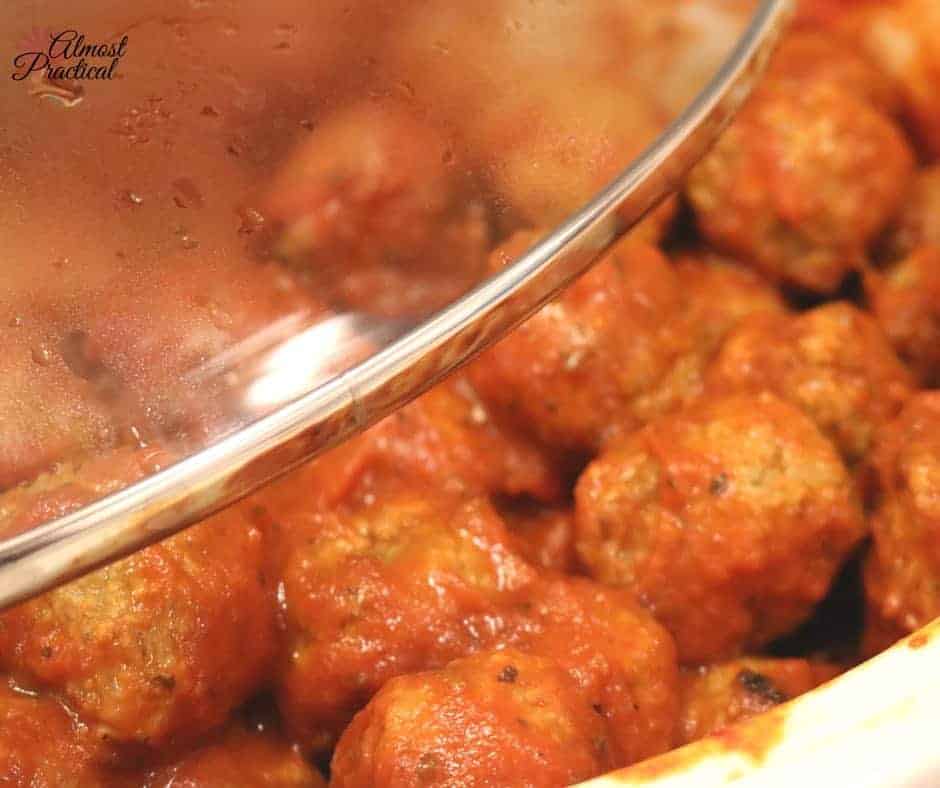 The first thing that I started was the Crock Pot Meatballs. I bought all of two complicated ingredients for these at Costco as well.
All you need is one big jar of Prego and one bag of frozen meatballs (Costco size).
So easy – and everyone loved them. I got lots of compliments.
I threw these in the slow cooker (I have a 6 quart oval slow cooker although you can probably throw them in a 6 quart Instant Pot on the slow cook setting as well) at about 3:00pm on the high setting. They were perfect by 7:45pm.
Serving was easy too – I let the kids scoop them directly out of the Crock Pot.
The Sauce
The sauce for the pasta dinner was also very easy – I just picked up some ready made Prego at Costco – they sold 2 oversize jars for $6.99 which was pretty good.
I ended buying way too much, though.
For some reason, I could not wrap my head around the right quantity. I bought 6 jars, only used 3, and based on the amount of leftovers, probably really only needed 2.
I used one full jar in the meatballs which was just right, and warmed up two additional jars to pour on top of the plain pasta and the tortellini.
What I didn't consider was that both the meatballs and the chicken parmesan were pretty saucy in their own right, and so the kids really didn't need that much plain sauce in addition.
The Chicken Parm
I cheated on this one and ordered a ready made tray from a local deli (thank you Fortuna's!)
The tray supposedly served 10-12 people but I had a feeling that one tray would be plenty because there was so much other food. The deli offered to cut the pieces in half which worked out perfectly.
I picked up the tray cold earlier in the day and kept it in the fridge until about 6:30 when I put it in the oven alongside the mac and cheese.
In the end, we had two (half) pieces of chicken parm leftover.
The Salad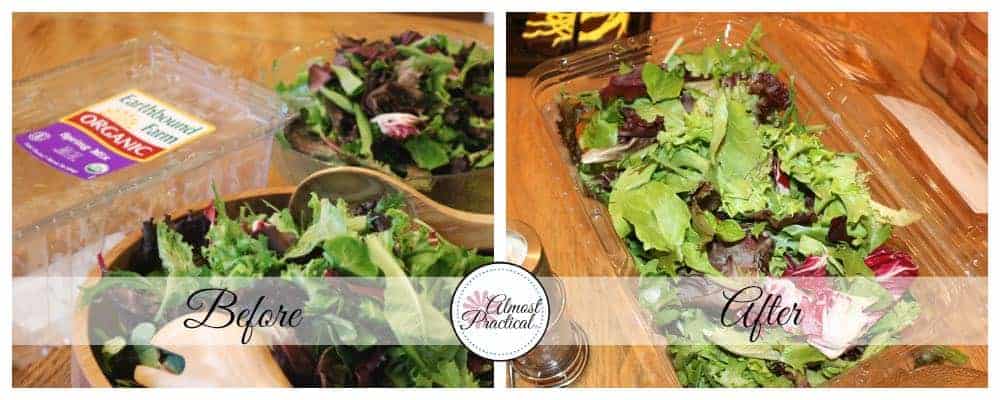 Can I just say that there is plenty left for me?
I bought one of the big plastic tubs of mixed greens from Costco.
To serve, I just dumped the tub into 2 salad bowls and put a few bowls of croutons and parmesan cheese out as well.
In all honesty, I think one kid took some salad.
At the end of the night, I pretty much had a full plastic tub of salad leftover.
The Mac and Cheese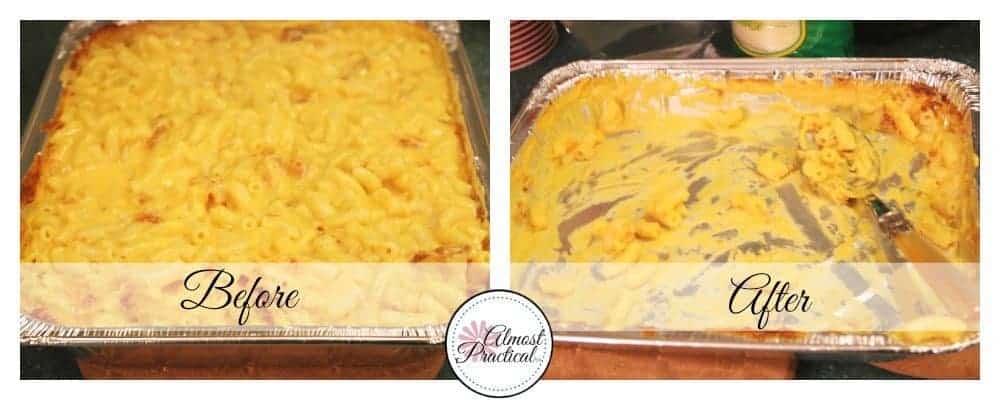 This was an easy one too – and such a crowd pleaser.
Basically, I bought a Party Size Stouffer's Macaroni and Cheese from the freezer section of our Stop & Shop.
For some reason our Costco did not carry this – so I had no choice but to head over to the grocery store as well.
I took this out of the freezer to thaw a little at about 4:30pm and stuck it in the oven at 6pm.
There were no mac and cheese leftovers at all and I recall hearing a little skirmish over the last few spoonfuls.
The Garlic Bread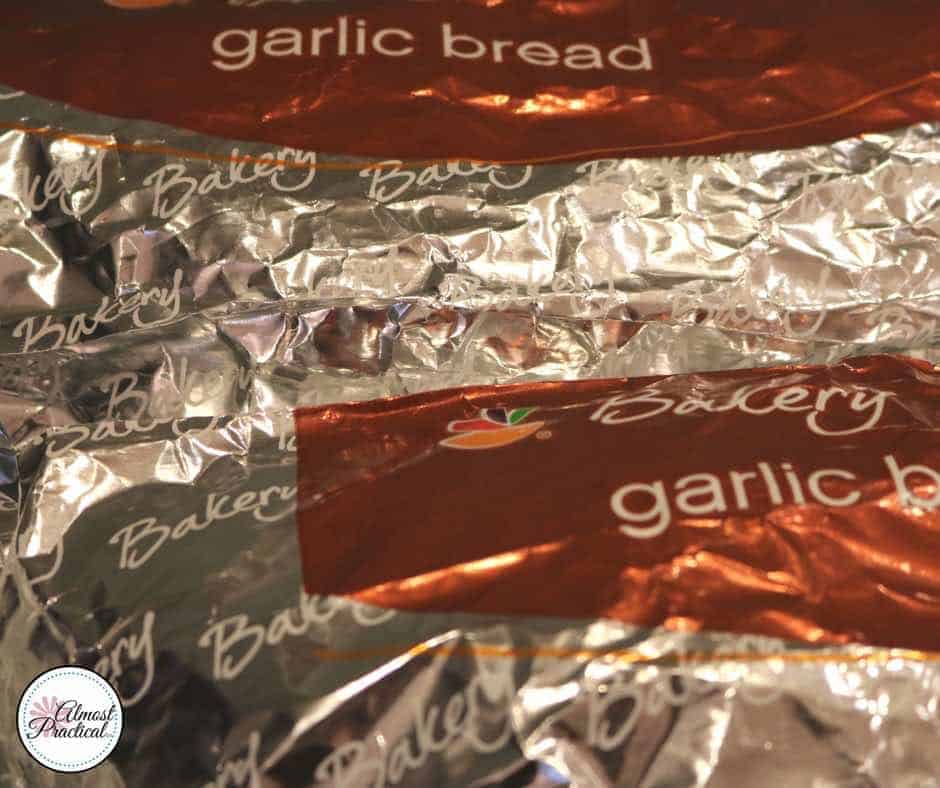 To make things easy, I used ready made garlic bread from Stop & Shop. A team mate provided 2 loaves and I bought one.
It turns out that 3 loaves were just the right amount.
About 7:30 I popped all three loaves into the oven that was already hot from the mac and cheese and the chicken parm.
You can heat the garlic bread right in the foil bag that it comes in which made it easy.
Fruit
Fruit seemed like a nice touch so to keep it simple I put out a bowl of clementines.
At the end of the night, I found a few peels around, but the majority of the bowl was still there, uneaten.
The Drinks
On the menu for this pasta dinner was Gatorade, chocolate milk, and a pitcher of water.
Team members brought the Gatorade. I think we probably needed about 24 bottles give or take. The kids arrived here straight from practice and I think they were pretty thirsty.
As for the chocolate milk, we went through about one and a half gallons – so having two gallons for twenty five kids is about right.
The Desserts
Surprisingly, I don't feel like dessert is such a popular item these days.
I had a tray of 15 frosted brownies that I picked up at Stop & Shop and there were about 4 leftover. I also picked up a coffee cake at Costco and half of that was gone.
Team members brought plates of sugar cookies and chocolate chip cookies. The chocolate chip were a hit but the sugar were not so popular.
And can you believe that I forgot to take pictures of the desserts?
The Paper Goods
One of the best things that I did was buy plates similar to these oval shaped paper plates for this pasta dinner. I think these are easier to find around the holidays (especially Thanksgiving).
They were sturdy enough and spacious enough to handle piles of pasta and sauce. This was great because the kids could take all they wanted at one pass and did not have to keep coming back to reload.
The Verdict
If you find yourself hosting a pasta dinner for a high school sports team anytime in the near future keep the following in mind:
Aside from the Crock Pot Meatballs, you should start cooking and preparing about 2 hours before the team arrives
If you are serving saucy main dish items, go easy on the plain sauce
Serve macaroni and cheese, it will get eaten
Salad and fruit are not so popular so a little goes a long way
Chocolate and cake (not necessarily together) are what kids want for dessert
Consider using large oval paper plates
If people are bringing stuff, ask them to send you an email to confirm what they are bringing. This way you know what you need to buy and you don't end up with too much or too little. Also, ask them to drop off items earlier in the day so you can have everything set up when the kids arrive.
Don't hesitate to ask the kids to help you clean up before they go. I had them make sure all garbage was thrown out and I asked them to fold up the extra chairs that I put out, and move them back into the garage. This was such a big help.
Your Pasta Dinner Tips?
If you have hosted a pasta dinner for a crowd – what are some time savers and menu items that really worked well for you?
Please share in the comments below.