Roasted Pumpkin Seeds Recipe With Spices and Lemon
This post may contain affiliate links which means I make a commission if you shop through my links.
 Disclosure Policy
This roasted pumpkin seeds recipe gives new flair to a Fall favorite. Black pepper, paprika and lemon juice add a burst of flavor.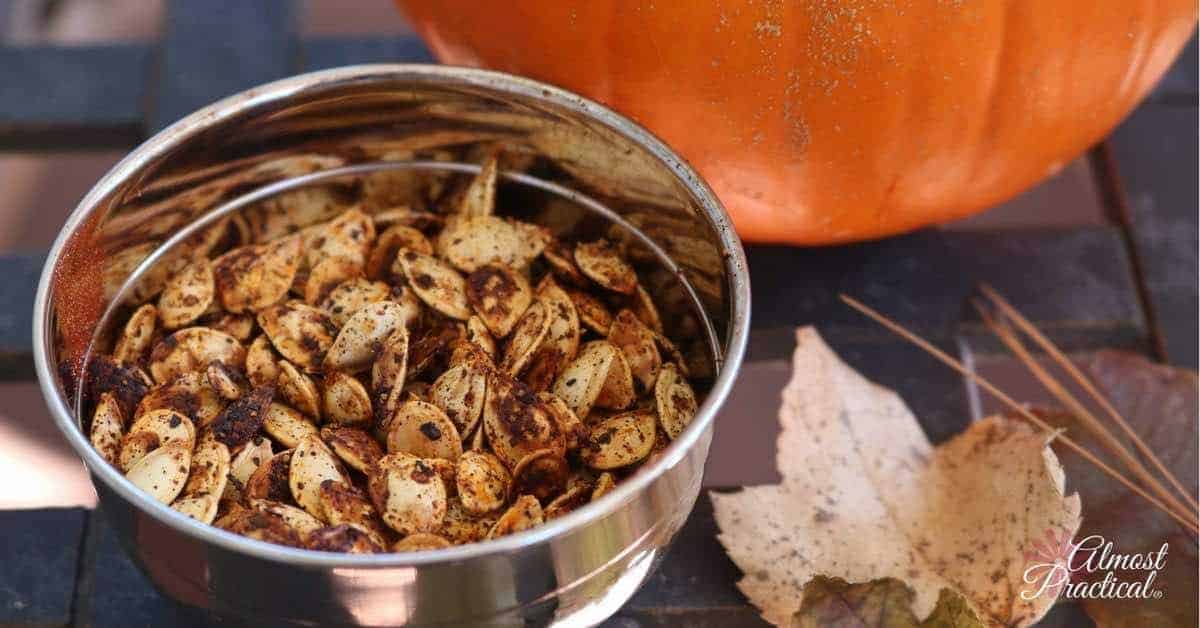 Every year we get a pumpkin or two for the kids to carve. We scoop out the seeds – and some years I roast them. But other years I toss them out.
My family was just never too excited about roasted pumpkin seeds. So why go through all of the effort?
This year, since I have been experimenting a bit with my food photography – I decided to make the pumpkin seeds but spice them up a bit.
The result was delicious.
This is what I did.
Carving the Pumpkin
This goes without saying but I will say it anyway – my daughter wanted to carve the smaller of our two pumpkins this Halloween.
The yield from this little guy was about a half cup of raw pumpkin seeds.
Soaking the Pumpkin Seeds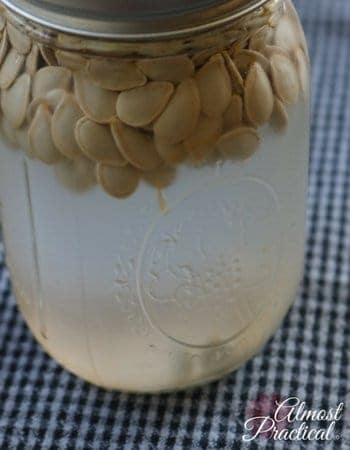 I don't know if you have ever made roasted pumpkin seeds only to find that they taste salty on the outside but not so much inside.
But I wanted to avoid that situation so I tried something new.
I soaked the raw pumpkin seeds overnight in salted water.
You see, it was already pretty late when we carved the pumpkin so I wasn't in the mood to roast them anyway.
Some recipes call for boiling the pumpkin seeds in salted water before roasting, but I did not try this.
The soaking method seemed to leave them slightly salted on the inside, maybe boiling would deliver a stronger result.
But once I added the rest of my ingredients I thought the salt was perfect.
Preparing the Pumpkin Seeds for Roasting
I poured the soaked pumpkin seeds into a colander and then towel dried them.
Next, I tossed the seeds with some olive oil and squeezed the juice of one quarter of a lemon over top.
I spread them in a single layer on a baking sheet and popped them in the toaster oven.
Roasting the Pumpkin Seeds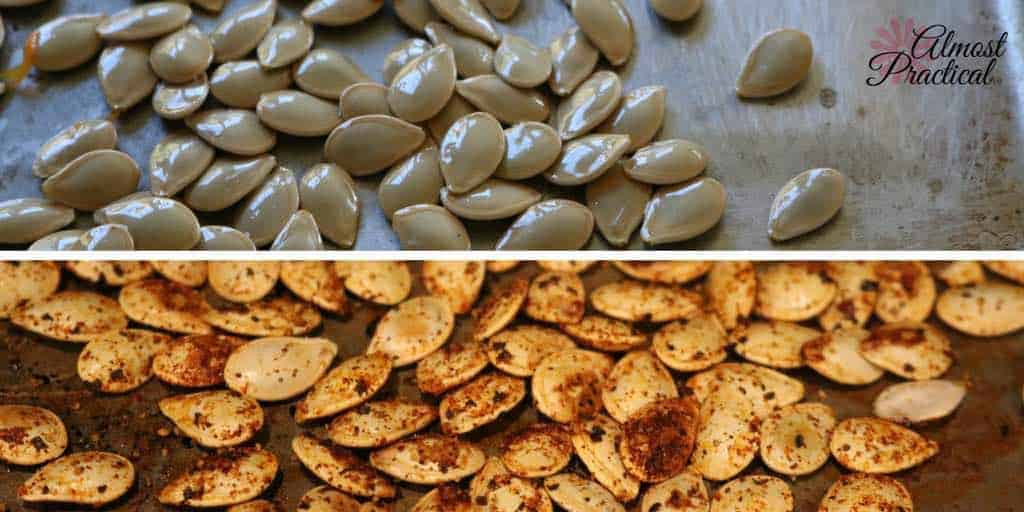 Roasting the pumpkin seeds is a little tricky. They can burn pretty quickly, so you have to really watch them – and also stir them frequently.
I preheated my toaster oven to 300ºF and put the seeds in for about 10 minutes to dry them completely and start the roasting process.
Then I took them out and tossed them with a mixture of ground black pepper, paprika, and salt.
I put them back in the oven for another 10 minutes – however, I checked and stirred them around every couple minutes.
When the pumpkin seeds started to brown, I knew they were ready.
Overall this is a very simple recipe for very tasty roasted pumpkin seeds.
Pin This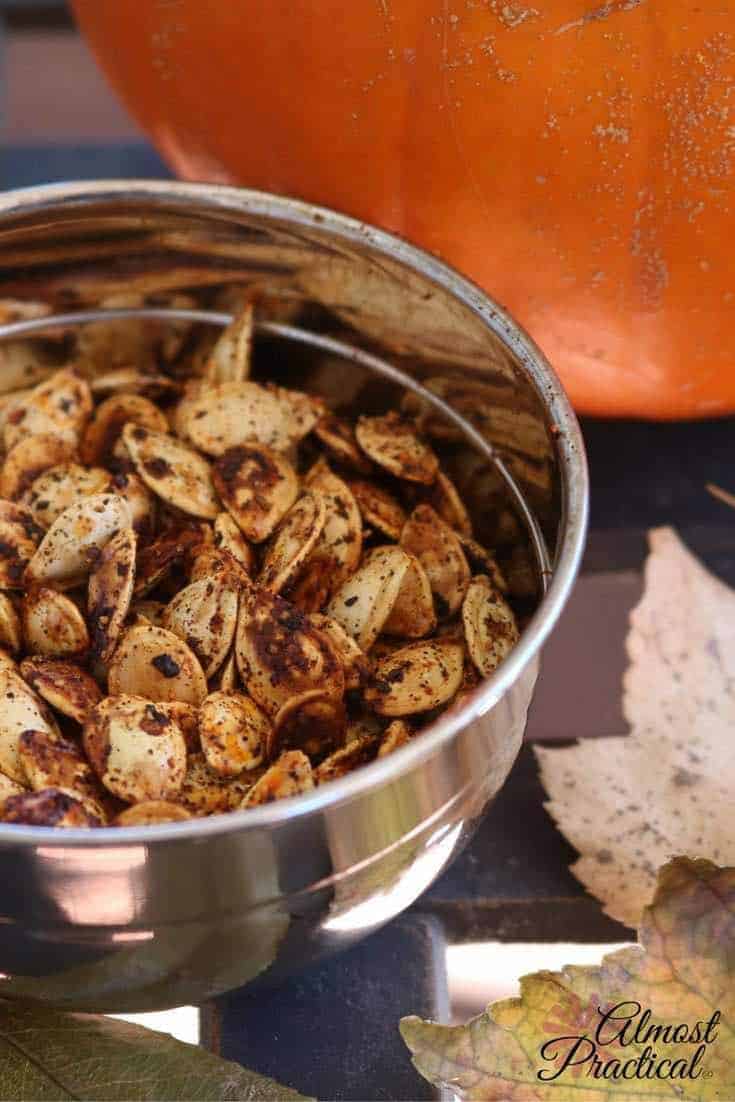 Print This Recipe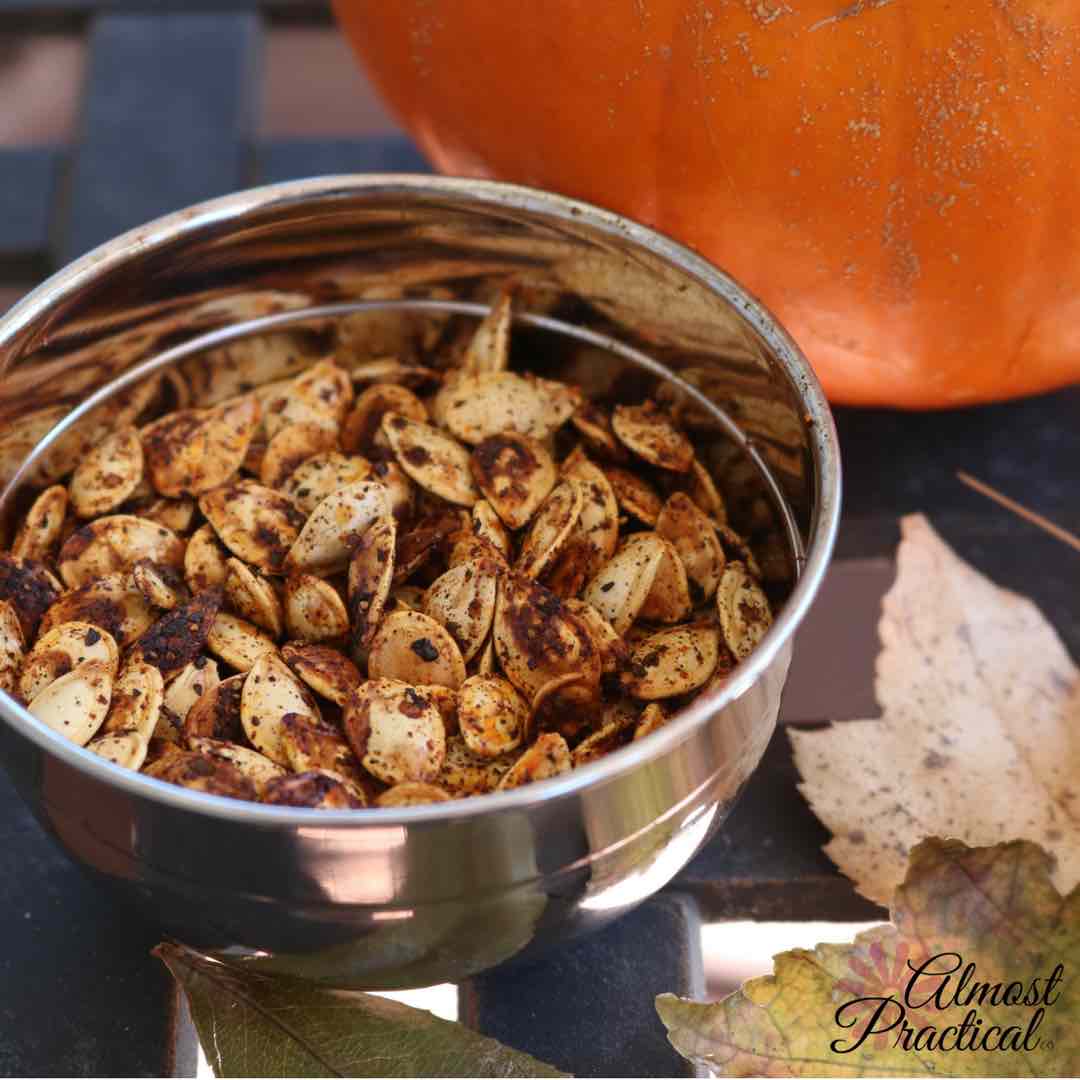 Roasted Pumpkin Seeds Recipe With Spices and Lemon
This roasted pumpkin seeds recipe adds a little air to the ordinary with spices and lemon juice.
Ingredients
1/2 cup raw pumpkin seeds
3 teaspoons salt for soaking
1 1/2 cups water for soaking
1 teaspoon olive oil
1/4 lemon, juiced
1/2 teaspoon black pepper, coarsely ground
1/2 teaspoon paprika
1/4 teaspoon salt
Instructions
Dissolve 3 teaspoons of salt in 1 1/2 cup water. Add raw pumpkin seeds and soak overnight in refrigerator.
The following day, drain the pumpkin seeds in a colander and pat dry with towels.
Place the raw pumpkin seeds in a small mixing bowl and toss with 1 teaspoon olive oil and the juice of 1/4 of a lemon.
Preheat the oven or toaster oven to 300oF.
Spread the pumpkin seeds in a single layer on a flat baking pan or jelly roll pan.
Roast the pumpkin seeds in the oven for about 10 minutes, watching them closely and stirring when needed.
Mix the black pepper, paprika, and 1/4 teaspoon of salt in a small bowl and set aside.
Remove pumpkin seeds from oven and toss with spice mixture. (You can just pour this all over the top of the seeds and stir while still on baking sheet.)
Return pumpkin seeds to oven and continue to roast for another 10 minutes, stirring oven. Make sure to watch them or they will burn.
When seeds begin to brown remove them from oven.
Transfer roasted pumpkin seeds to a small serving bowl and serve while still warm. Save leftovers in an airtight container after the seeds have cooled completely.
Do You Make Roasted Pumpkin Seeds?
Share your ideas in the comments below.