Put an End to Screen Flickering in Chrome on a MacBook Pro
This post may contain affiliate links which means I make a commission if you shop through my links.
 Disclosure Policy
So, I just wanted to pop in today with a quick technology tip about how I fixed my screen flickering in Chrome on a MacBook Pro.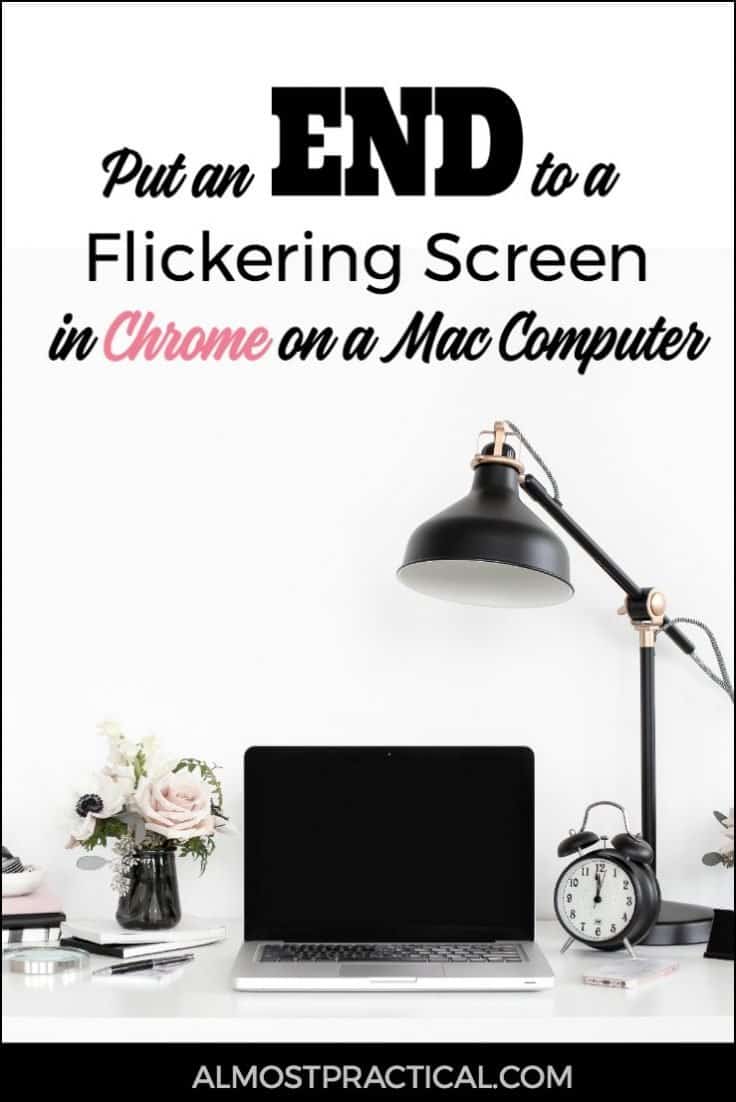 I don't know when I first noticed it – but today it was worse than any other.
It caught my attention when I was reading PDF's online in the Chrome browser.
You know, when you click on a PDF in your Google Drive, for example. It opens in a new tab and you can either read it right there or download it to your computer.
Well, I started reading in my browser – and as I scrolled, my the screen on my MacBook Pro would flicker with a black bar graph kind of thing.
It got so annoying that I downloaded the PDF to read in Preview.
And then I restarted my browser, of course.
But the flicker persisted.
So, I restarted my computer, of course.
And still, the flicker persisted.
Then I noticed that the screen on the MacBook Pro was actually flickering white when I scrolled web pages.
And Facebook? Oh my.
If I opened a video in that Facebook pop up type window.
Flicker-city.
How to Solve the Mystery of the Flickering Screen in Chrome on a MacBook Pro
I finally managed to eliminate the flicker – at least for now.
I went into my Chrome settings.
You can find this by clicking the three vertical dots a the far right edge of top input bar in Chrome (right after all of the icons for your Chrome extensions).
"Settings" is the second option from the bottom in the drop down window that opens.
Once the Settings window opens, scroll to the bottom and click on "Show Advanced Settings".
In the Advanced Settings window scroll down.
Near the bottom under the "System" headline – there is a checkbox next to "Use hardware acceleration when available."
Check this box and then restart Chrome.
This made the flicker go away for me.
However …
It May Not Work For You
This thread in the Google Forums says to do just the OPPOSITE and disable hardware acceleration.
Hah!
I suppose if your screen is flickering in Chrome on your Macbook Pro, you can either check or uncheck the option depending on what you already have set up.
According to the site FixMyNix.com
Hardware acceleration in a web browser means using the graphics card to render the content, it significantly reduces the CPU workload while displaying graphics intensive content like HTML5 canvas.
So, it would make sense that enabling the option would help.
But who knows?
I'm just glad that I don't have to spend the weekend at the Genius Bar.
Did This Fix Work for You?
Tell us how you fixed your flickering screen in Chrome on your Mac computer in the comments below.