Magic Bullet Review
This post may contain affiliate links which means I make a commission if you shop through my links.
 Disclosure Policy
Disclosure: Magic Bullet sent me a review unit of this blender for purposes of this review. All opinions are my own.
I am always looking for things that make life a little easier – especially in the kitchen. So I jumped at the chance to review the Magic Bullet – a personal sized blender that is perfect for whipping up a quick smoothie or dip.
After putting it through the paces, I can tell you that the Magic Bullet is a space saving blender that is super easy to clean, and does a nice job on making recipes with a high liquid content – like smoothies and dips.
When it comes to items that you want to chop – like nuts, onions, or salsas – the Magic Bullet makes more inconsistent sized chunks.
Overall, I love having a small blender at the ready on my kitchen counter – I can make healthy drinks in a pinch and blend small quantities of ingredients for some of my dinner recipes.
You can read my full review below.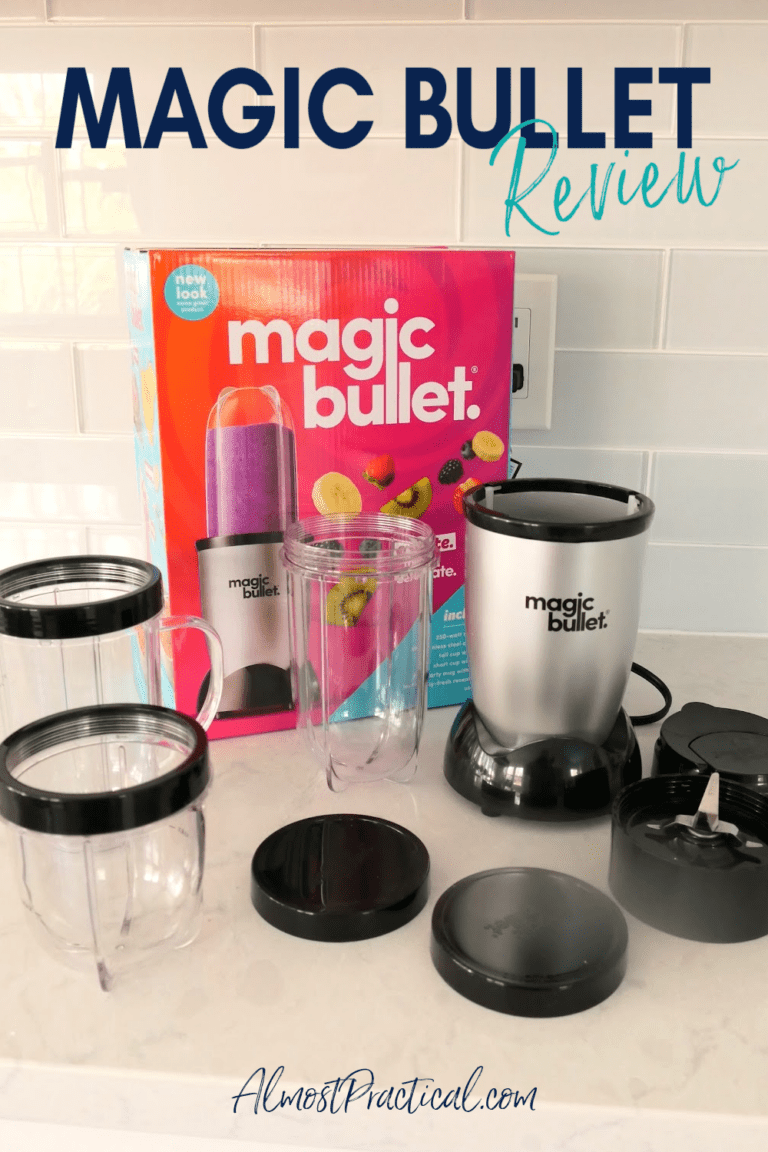 What is a Magic Bullet?
A Magic Bullet is a small, personal sized, counter top blender.
It has a narrow, bullet shaped profile and is ideal for making single servings of smoothies and other recipes.
To operate the blender, you fill the container, attach the blade and flip the assembly upside down and onto the base.
Then you push down on the container to pulse the ingredients. Or you push down and twist the container to lock it into place for a continuous blend.
What Comes in the Box?
While I am sure that it depends on the set that you purchase – the box that I received included the following items:
250W power base
one large cup
one small cup
one party cup (about the size of the large cup but with a mug style handle)
2 lip rings
2 stay fresh covers
one to go lid
cross blade
What Can You Make In The Magic Bullet?
I find that the Magic Bullet works best when making recipes with a high liquid content – like smoothies.
The motor on the Magic Bullet is 250W – which keeps the unit lightweight and counter sized. But keep in mind that some full sized blenders have motors that clock in at 2HP – that is a huge difference!
Each style of blender has it's advantages and it's limitations.
The beauty of the Magic Bullet that it is easy to use, easy to clean, and perfect for making small quantities.
However, it will have trouble chopping harder ingredients evenly because it doesn't have the same power as a larger blender.
Making Smoothies in the Magic Bullet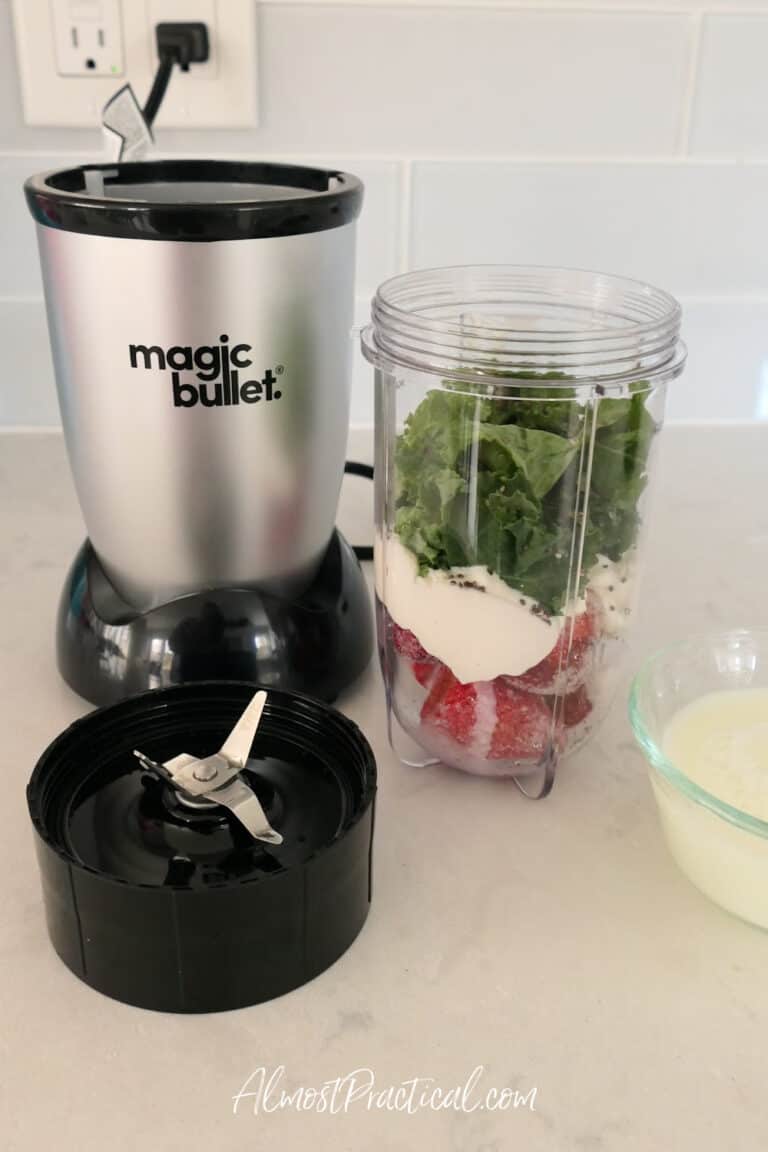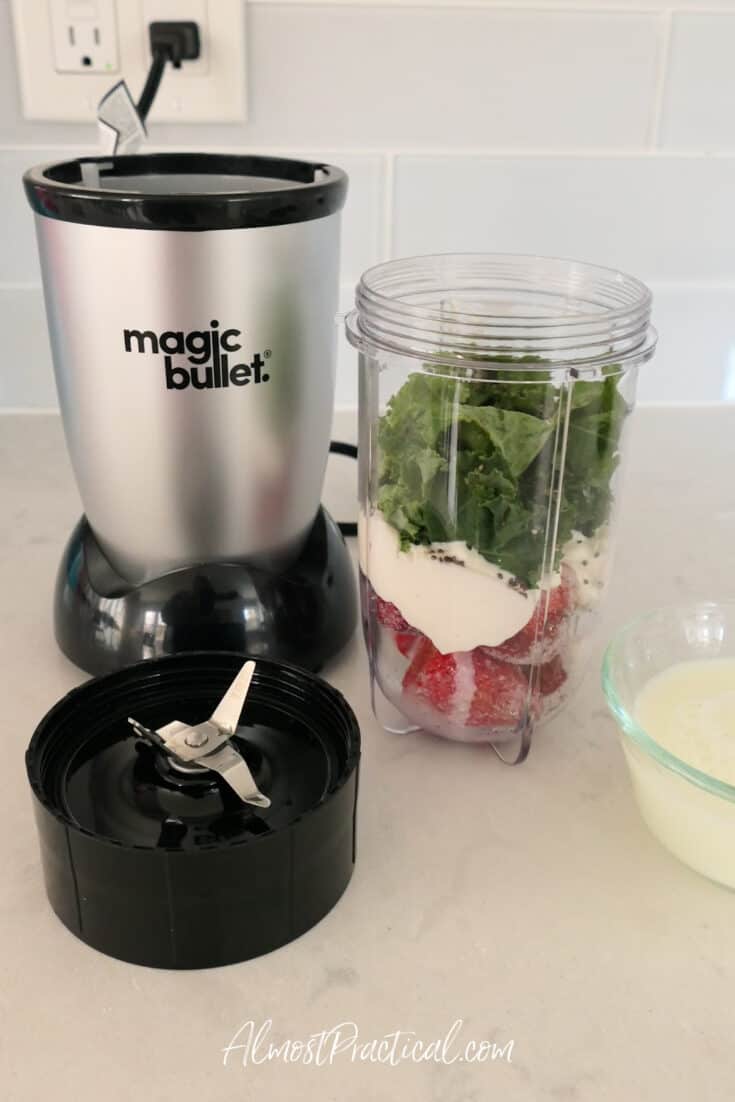 In my opinion, the number one thing to make in the Magic Bullet is smoothies.
Toss in your ingredients, blend for about 30 seconds or so, and you are done.
For this post I used some
frozen strawberries,
vanilla greek yogurt,
kale,
chia, and
milk.
The best part is that you don't really need exact measurements. Use what you have on hand and have some fun with the quantities.
You may end up creating the next greatest flavor sensation!
It is important to pay attention to not go above the "max" fill line on the cups but the combination of ingredients is up to you.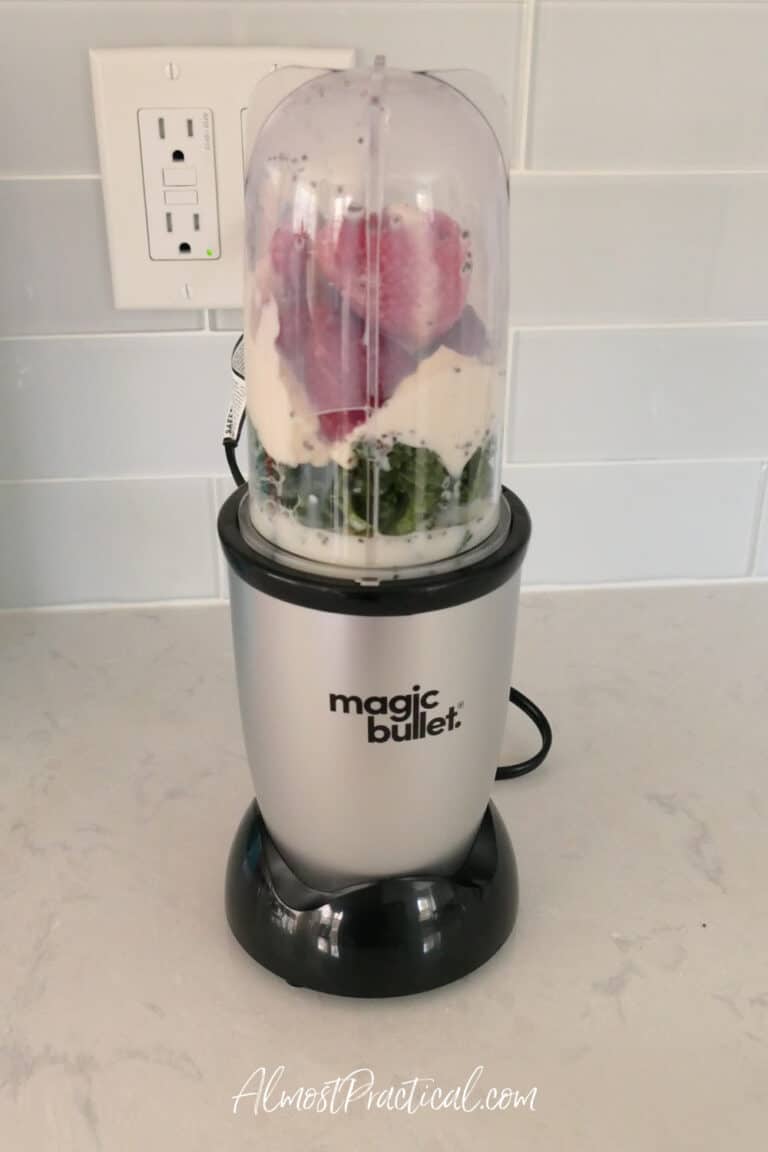 To make my smoothie, I started by placing all my ingredients in the large cup.
I then blended everything continuously for 30 seconds by locking the cup into place on the base.
After 30 seconds, most of the ingredients were fully blended. However, there were a few whole strawberries that were still in the mixture.
I had to remove the cup from the base, shake it up and blend again a few more times.
In the end, my smoothie was fully blended except for one last strawberry that I found as I finished drinking my concoction.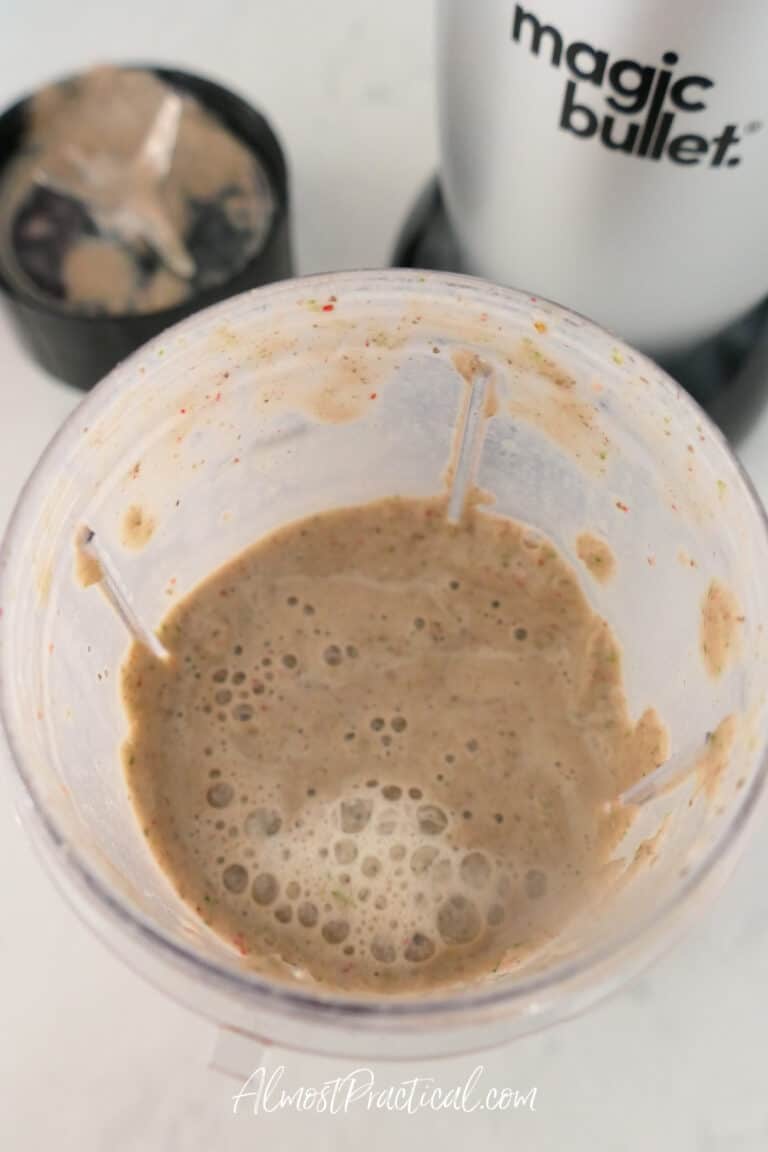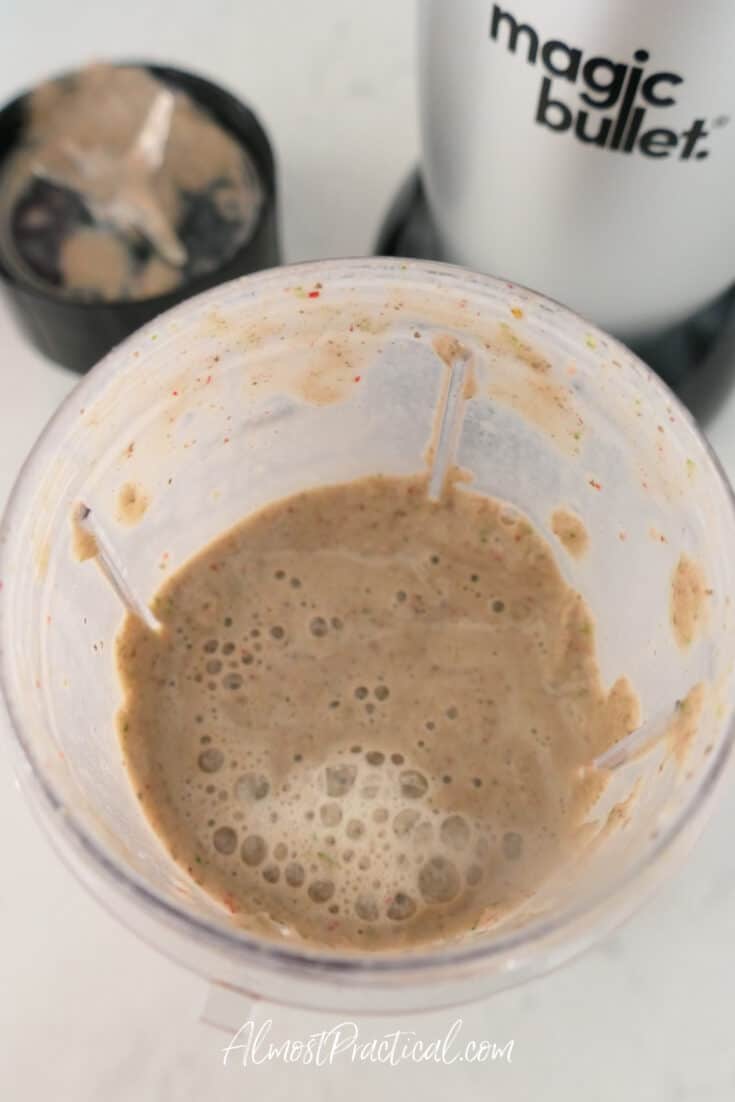 Despite the color (kale makes things look a bit brown when blended) my smoothie was DELICIOUS!
Chopping Nuts in The Magic Bullet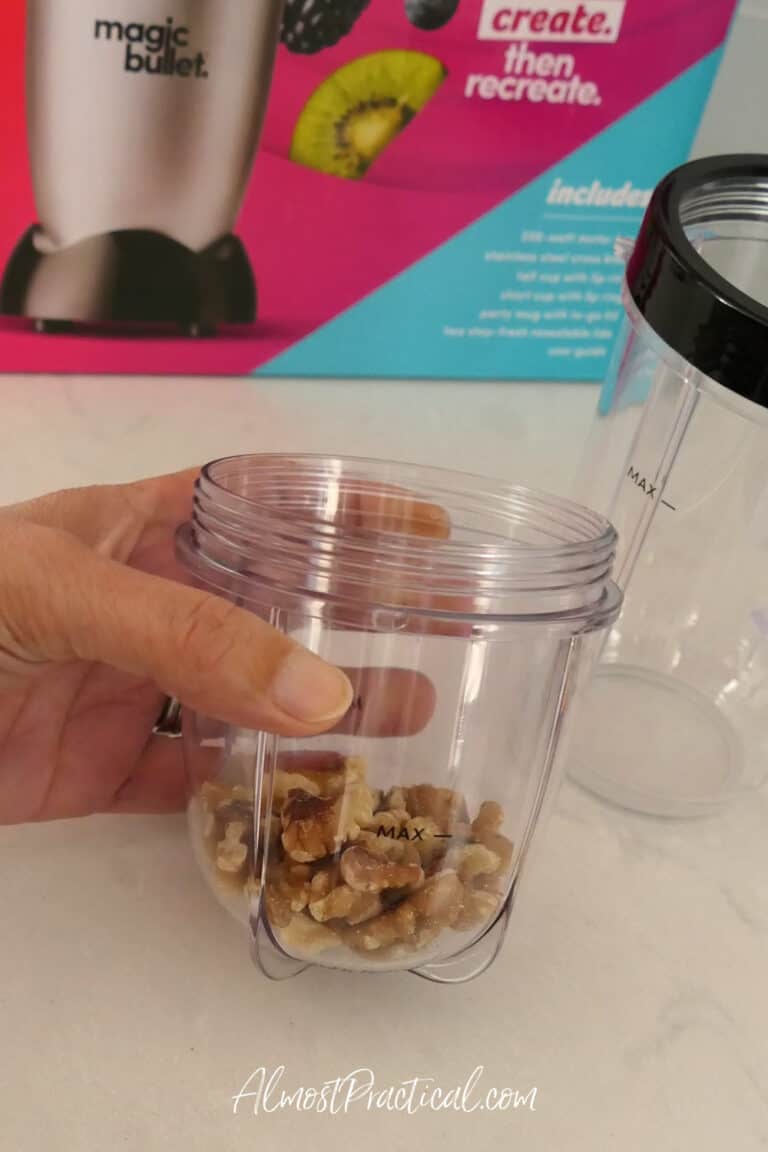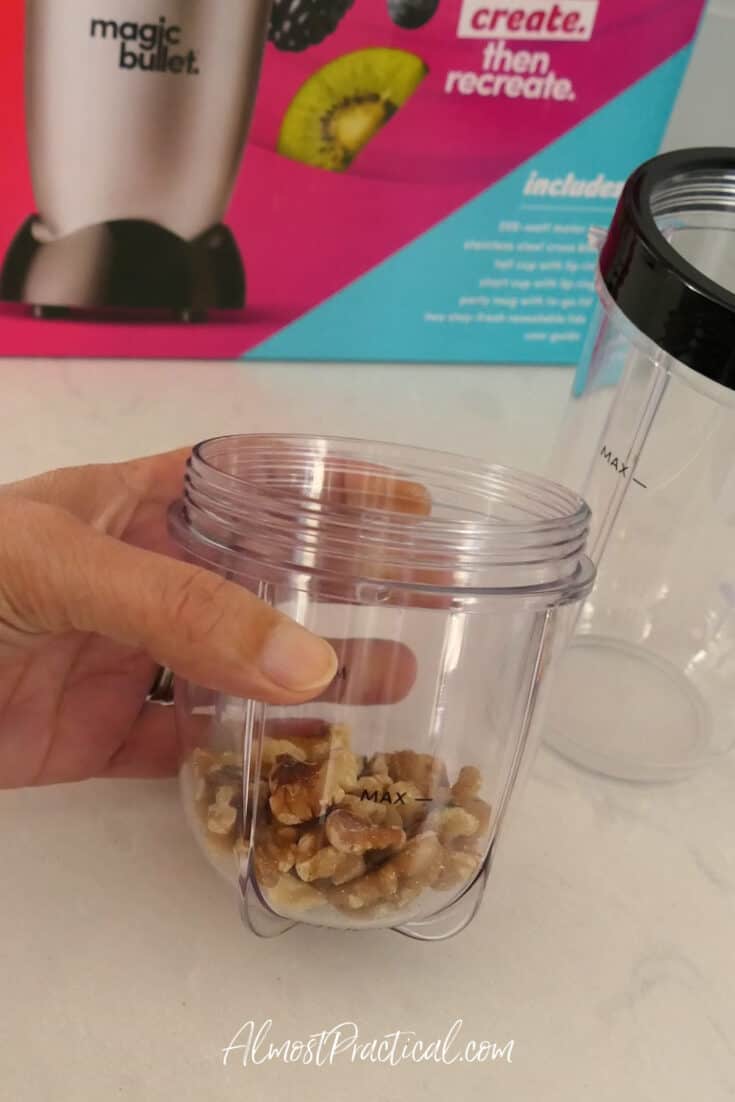 The next thing I tried was chopping walnuts in the Magic Bullet.
I filled the small cup to the "max" fill line.
Then I pulsed the walnuts about 14 times for a few seconds each.
Overall, I think it worked well – but I ended up with a very fine chop.
If I had stopped pulsing the contents earlier, some of the pieces would have been too big.
And you can see that I still ended up with a few big chunks.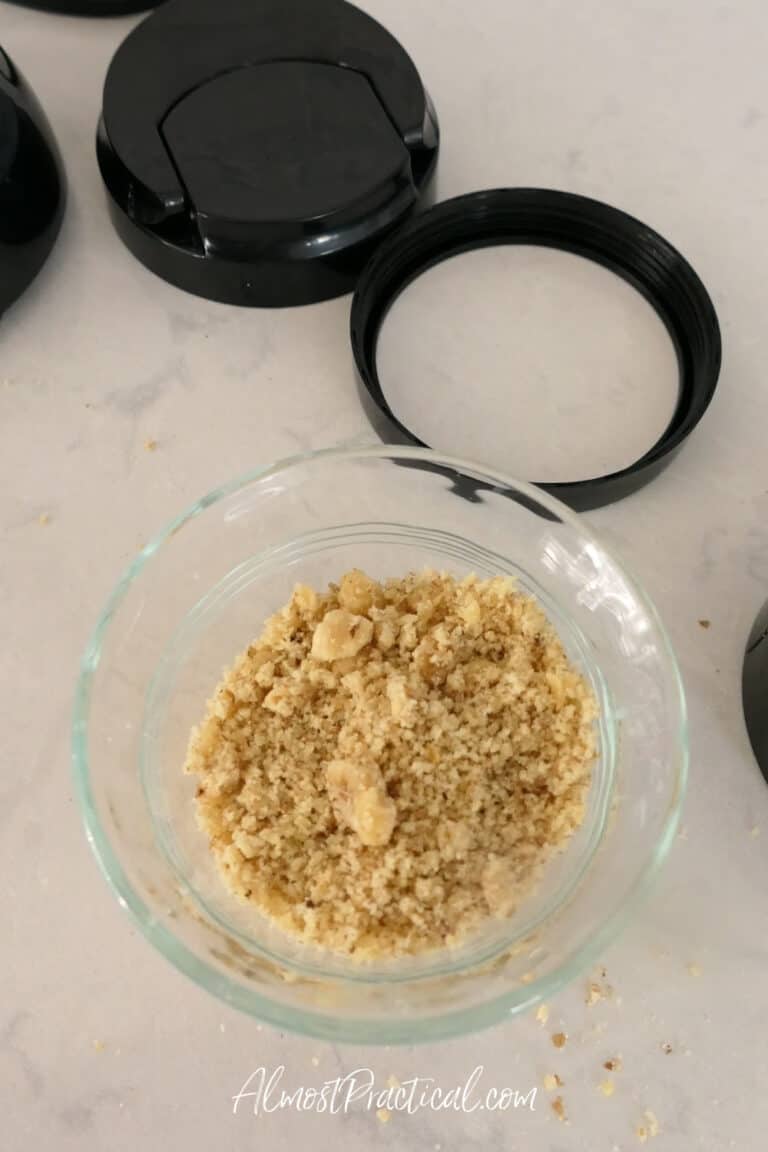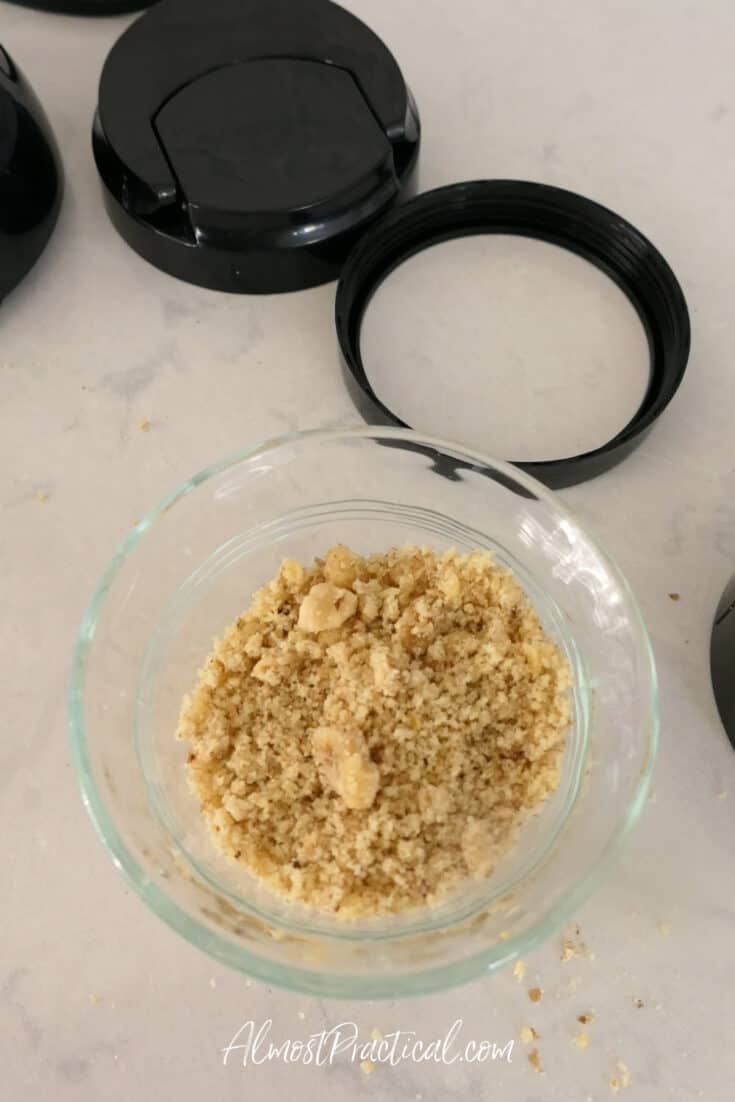 So, I think that the chop would be too fine – they are more along the lines of ground walnuts – to use on say a salad, or in my apple cinnamon oatmeal recipe. But if you were making jam thumbprint cookies – this would work well.
Chopping Onions in the Magic Bullet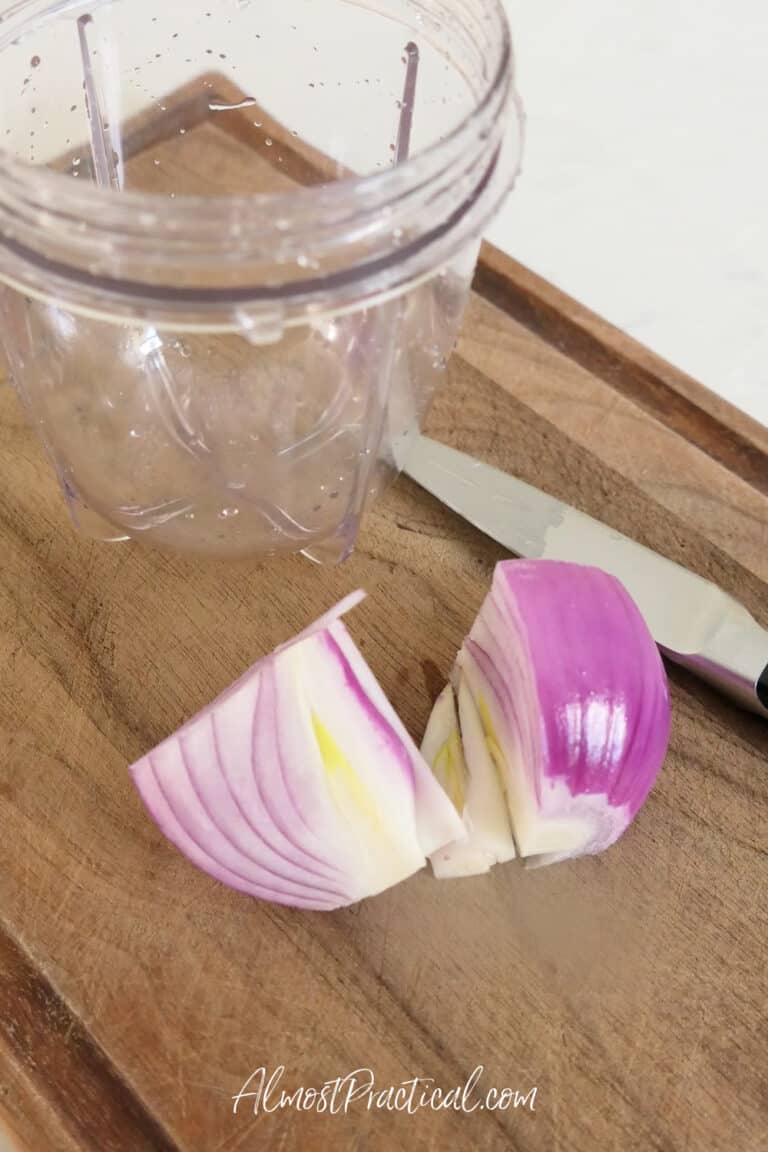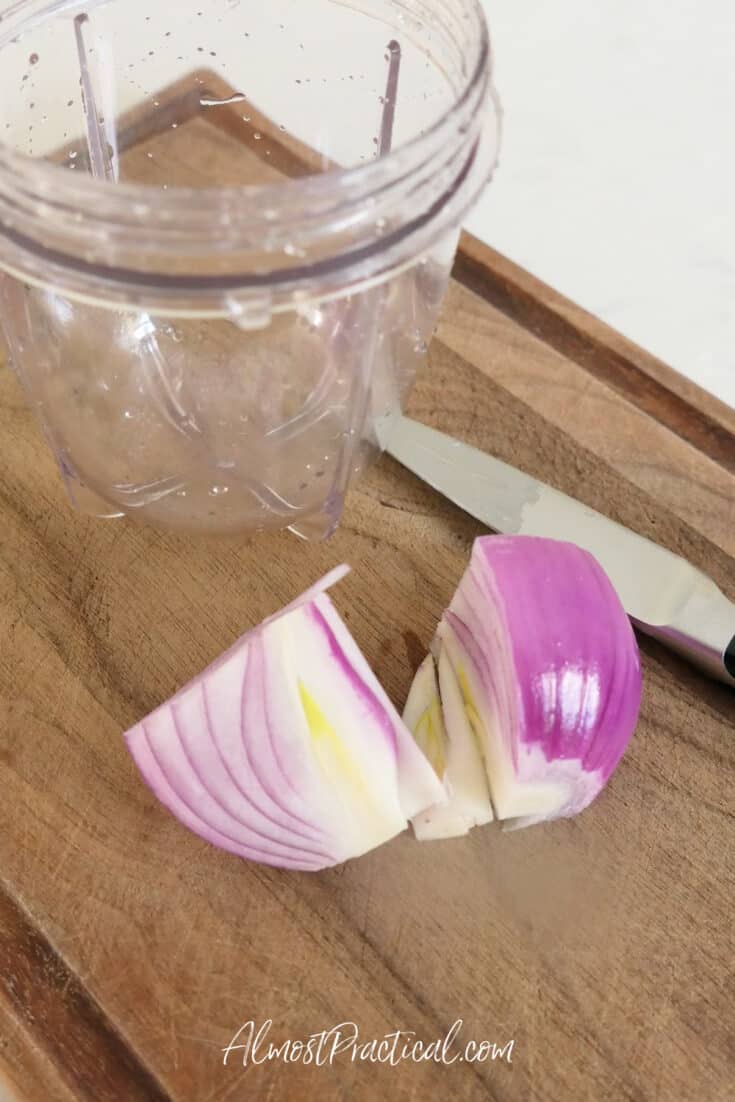 I also tried chopping onions in the Magic Bullet.
The results were perfect to use in a soup, on a sandwich or wrap, or in a recipe.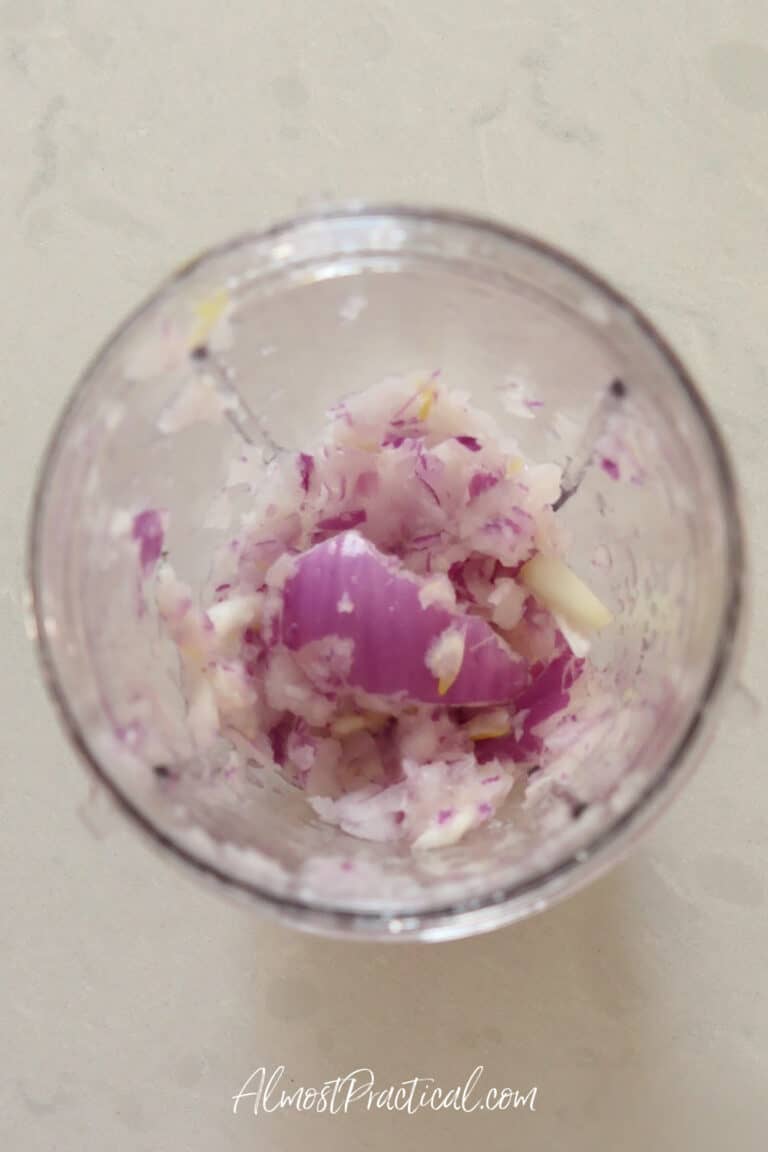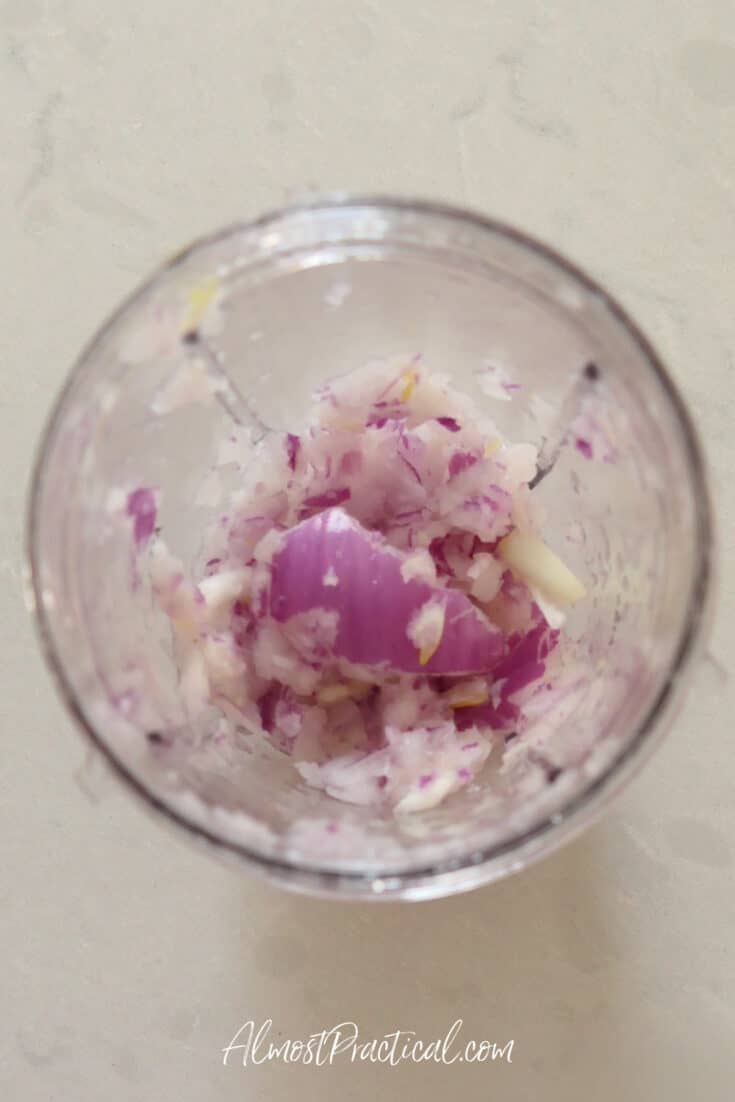 There were a few larger pieces left, but most of the onion was diced very fine.
What CAN'T You Put In the Magic Bullet Blender?
The list of ingredients that you can put in the Magic Bullet is pretty long and includes fruits, vegetables, nuts, yogurt, juice, etc.
But there is a list of what you should NOT use the Magic Bullet for – and this is important. You want to ensure the safe operation of your unit.
According to the package directions, you should NOT use the Magic Bullet for the following:
Do not use the Magic Bullet as an ice crusher.
Do not blend hot ingredients.
Do not blend carbonated ingredients or effervescing ingredients.
Don't let blended ingredients sit in sealed cup for long periods of time.
Who is the Magic Bullet For?
Personally, I feel that the Magic Bullet is a great addition to my own kitchen.
It is small enough to store on the countertop and keeping it in sight makes me use it more often.
According to the Harvard School of Public Health – eating more fruits and vegetables is beneficial in so many ways:
A diet rich in vegetables and fruits can lower blood pressure, reduce the risk of heart disease and stroke, prevent some types of cancer, lower risk of eye and digestive problems, and have a positive effect upon blood sugar, which can help keep appetite in check.
Since getting the Magic Bullet, I have made healthy fruit and vegetable smoothies on the daily.
Prior to having the Magic Bullet, I found it to be a chore to drag out my full sized blender so basically, I was too lazy to whip one up.
The Magic Bullet is also a nice size blender for college students.
I know my daughter is always on the go and loves to make a smoothie before she heads out to class.
She doesn't need (or have space for) a full sized blender – so the Magic Bullet is a perfect solution.
It also makes a great gift!
Will You Be Getting the Magic Bullet?
If you are looking for a small, countertop blender that you can use to make smoothies, dips, and sauces then be sure to check out the Magic Bullet.