Use a Notebook to Manage Your DIY Projects
This post may contain affiliate links which means I make a commission if you shop through my links.
 Disclosure Policy
When it comes to DIY my eyes are bigger than my stomach. I want to make ALL THE THINGS.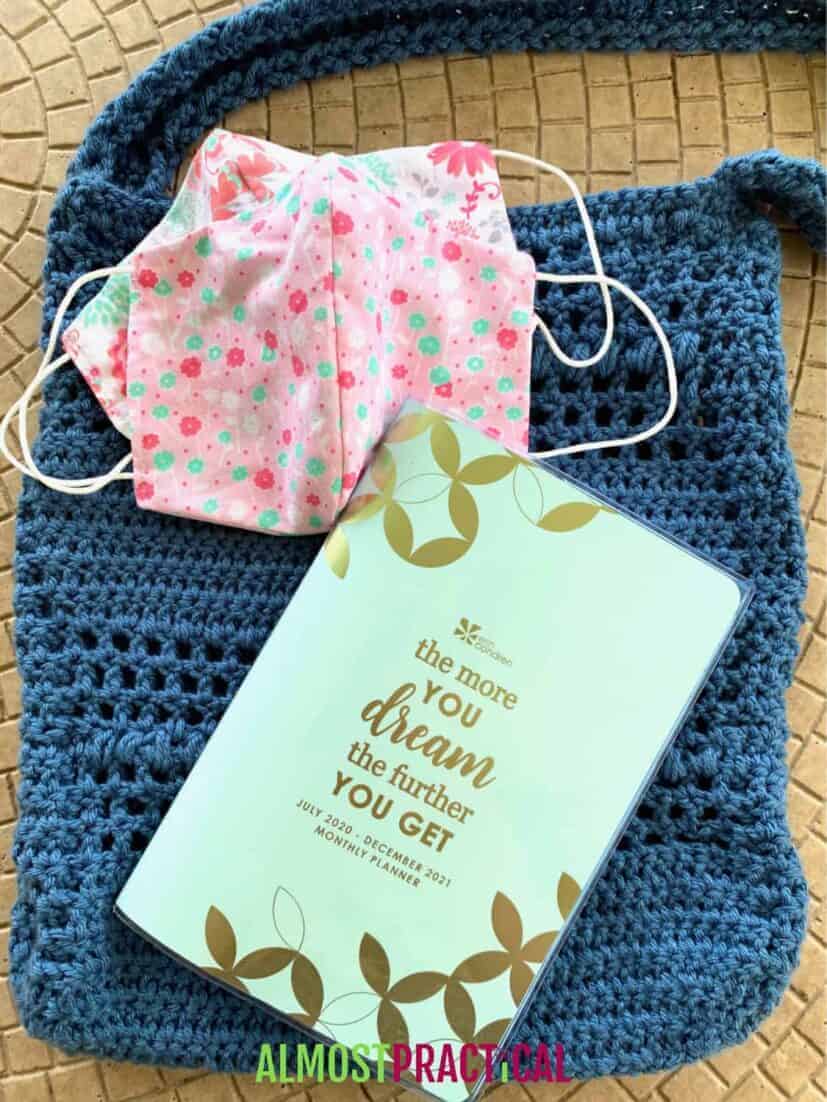 Often I will come across an idea and forget all about it – until I hit the store.
And then, inspiration will set in and I will buy what I think I need – which of course is never exactly what the project called for.
So, it gets pushed to the back burner again and I never actually make anything.
Now that I got my Bernina 475, I can't afford to be so lackadaisical in my approach.
If this sounds familiar to you – then maybe you need a notebook for your DIY projects too.
Picking the Right Notebook
Obviously any old notebook will get the job done – but there are a few things that can make it work a whole lot better.
I chose the Erin Condren Monthly Planner Petite Planner to use as my Project Notebook, and I think it will be a pretty good option with a few exceptions.
18 Month Calendar
The Erin Condren Monthly Planner Petite Planner sports 18 months of a 2 page monthly layout for each month (July 2020 to December 2021) followed by a section of dot grid note pages.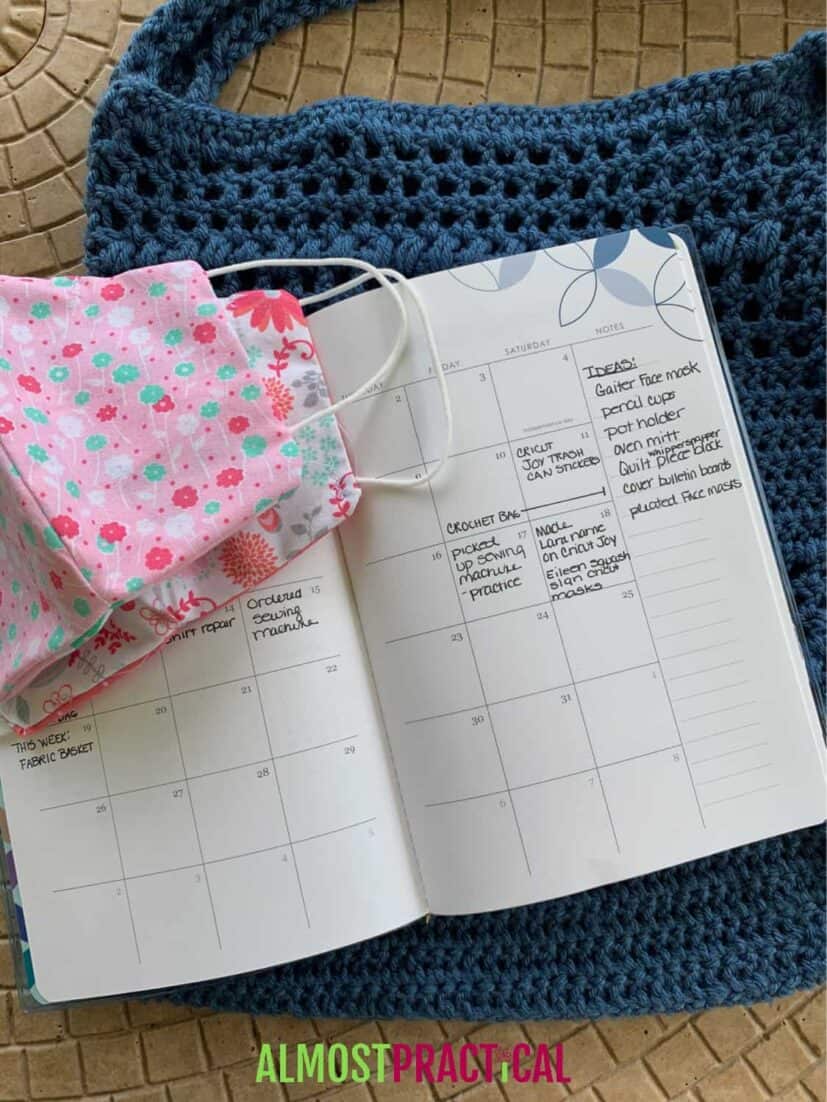 I use the monthly pages to map out the projects that I want to work on each week.
This is a huge difference from a blank notebook!
Seeing the dates and mapping out my projects gives me a lot of accountability.
Just by looking at the calendar I know what I need to work on and what I need to shop for.
Dot Grid Pages
I use the dot grid section in this Petite Planner to
make high level notes,
create shopping lists,
and maintain supply lists.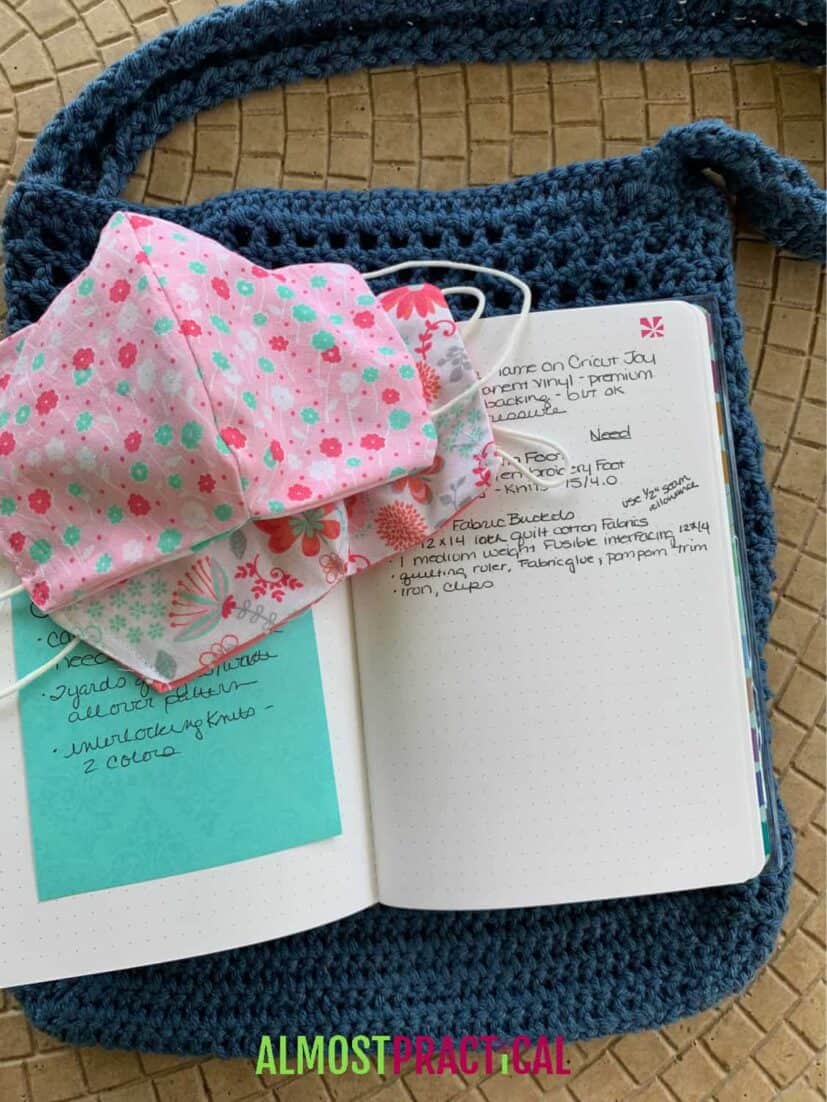 For example, my sewing machine came with a small assortment of presser feet.
I keep a list of these in this Project Notebook on one of the dot grid pages.
Whenever I evaluate a new project, I can refer to my presser foot list to see if I have the equipment I need.
You can keep a list of things like knitting needles, crochet hooks, thread colors, etc.
Petite Planner Size
Because this project notebook is a Petite Planner (very similar in size to an A5 planner), it is easy to carry with you as you head to the store to shop.
It will slip into your handbag quite easily.
Since I have my supplies lists in this notebook, I know exactly what to buy.
And, if something is on sale that catches my eye, I can check my inventory lists to see if I really need the size or color that is available.
I do use a Petite Planner cover to protect the cover of the notebook.
Keep It High Level
This project notebook is useful as a high level planning tool.
I plan to use a separate coiled notebook as a project journal where I write in detailed notes about the creation and assembly.
This is also where I will paste in photos (using my Canon Ivy printer) of the completed projects and scraps and other things to help me remember how the project turned out.
The Erin Condren Monthly Planner Petite Planner does not have enough pages to keep track of 18 months worth of detailed project notes.
A Project Notebook Can Keep Your DIY Efforts on Track
A portable Project Notebook can help you to:
plan your DIY project calendar,
keep track of the supplies that you already own, and
create shopping lists of the supplies that you still need.
You can use any small notebook for this, but I find that the Erin Condren Monthly Planner Petite Planner is a good option.
Happy crafting!
More Sewing Tips You Might Like