Bernina 475 QE – What's In The Box?
This post may contain affiliate links which means I make a commission if you shop through my links.
 Disclosure Policy
If you are in the market for an upscale sewing machine, then a Bernina 475 QE might be on your radar.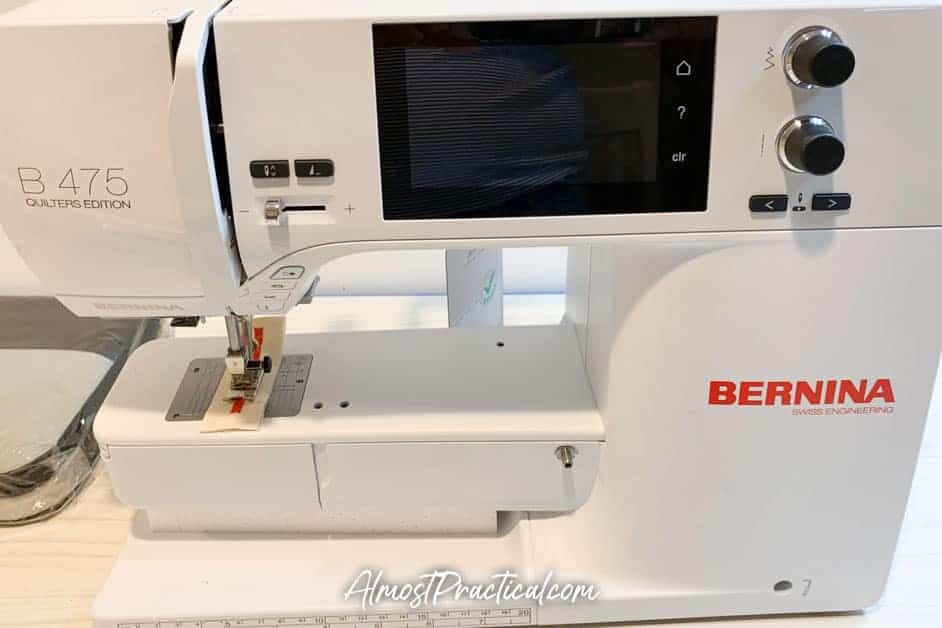 This beauty may only be in the 400 series of the Bernina models in terms of price but it is still jam packed with features.
One thing that always helps me to make a buying decision is knowing what comes in the box.
So, I will show you what came in the one that I opened.
Watch the Unboxing
The Sewing Machine Itself
I know this is obvious, but it has to be mentioned.
You get a beautiful Bernina machine with white face plate – which will look beautiful in any modern craft room.
An Extension Table
The 475 QE comes with a clear, slide in/snap on extension table to give you more work surface.
It seems to be quite sturdy and it doesn't have any "legs" to get in the way of your sewing.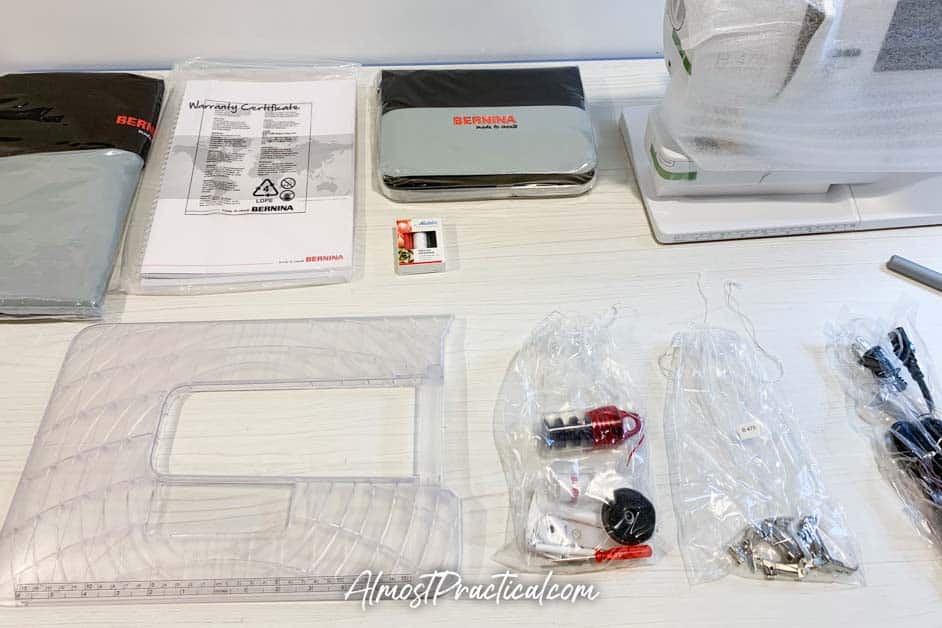 Soft Cover With Pocket
To keep your brand new machine free of dust, Bernina has included a soft cover with a pocket along the back and one side.
The top of the cover opens so you can easily grasp the handle of the sewing machine.
Presser Feet
As your sewing becomes more advanced, you will find the need to use a variety of different presser feet.
There are a few included in the box with the Bernina 475 QE. This is what you get:
#1 Reverse Pattern Foot (this is actually on the machine in the box)
#2 Overlock Foot
#3A Automatic Buttonhole Foot with Slide
#4 Zipper Foot
#5 Blind Stitch Foot
Also, I think this varies depending on country of delivery. I am in the US so my box has the standard presser feet, but other countries might just get a variety of soles.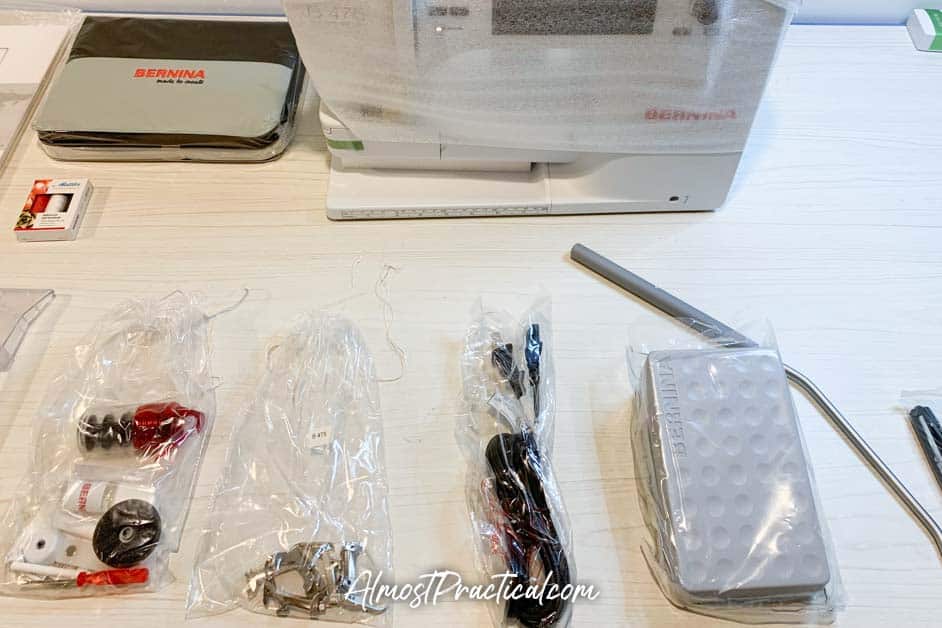 An Accessory Bag
This handy little case zips shut and has interior compartments for your presser feet and other sewing accessories.
Knee Lifter
A knee lifter is a game changer.
You insert this curved, rod like mechanism into the front of the sewing machine.
Then as you sew, you can nudge it with your knee to lift and lower the presser foot – hands free.
So convenient!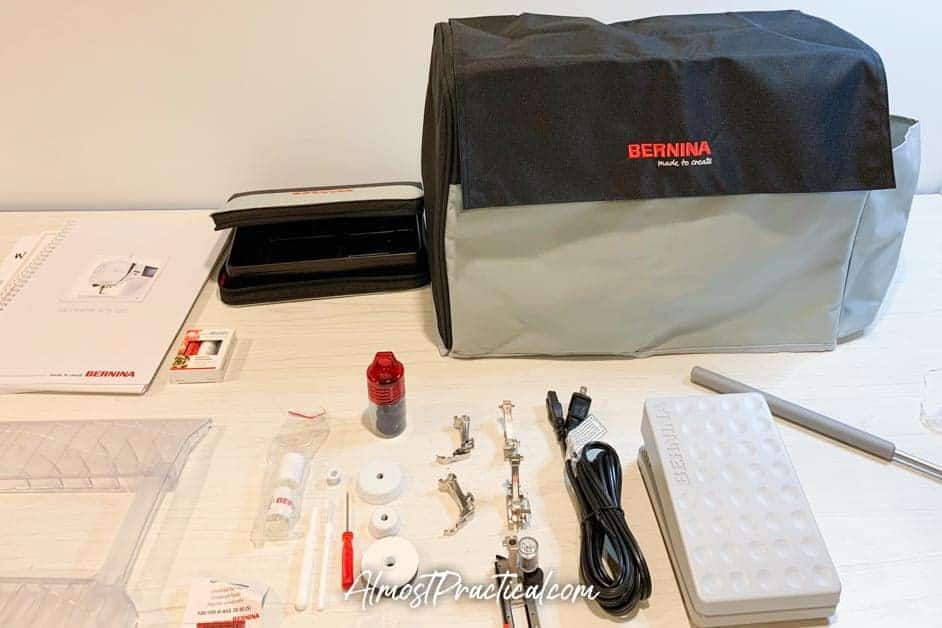 3 Spool Discs and 1 Foam Pad
Spool discs are what you use to hold your thread in place on the spool pin.
You use the foam disc at the bottom of the spool to keep the thread from tangling up.
Seam Ripper
This is a pretty standard sewing tool.
You use it to rip hems and stitches, work with buttonholes, etc.
Of course, this one sports the Bernina logo.
Height Compensation Tool
Honestly, I have never seen this before.
The Height Compensation Tool is three plastic rectangles attached at one end that you can fan out.
The manual says that you can use this to "level the presser foot sole when sliding over thick seams".
Maybe I will learn how to use this one day.
Universal Needles
There is a pack of Universal needles in the box.
Screwdriver, Brush, and Sewing Machine Oil
These tools are included to help you maintain your sewing machine.
Foot Control and Power Cord
And lastly, there is your foot pedal and the cord to power your machine.
You DON'T Get a BSR (Bernina Stitch Regulator)
One thing that I want to point out is this.
Although the Bernina 475 QE is capable of using a BSR – Bernina Stitch Regulator – you need to purchase the BSR separately.
It is NOT included inside the box with the machine.
The BSR accessory can run you close to a thousand dollars. However, you might be able to find a gently used BSR on Amazon for much less.
Bernina 475 QE or 570 QE
So, here's the rub. Should you get a Bernina 475 QE or a 570 QE?
At first you might think that these two machines are at completely separate price points. After all the 570 QE is about twice the cost of the 475 QE.
BUT, if you plan to get the BSR with the 475 QE – then that extra thousand dollars puts you halfway closer to the price of the 570 QE (which includes a BSR).
The 570 QU also has a Dual Feed and is a 9mm stitch max – which all is kind of nice to have.
It's a lot to consider.
More Accessories for Your Bernina that You Might Like
This Bobbin Case fits the Bernina Jumbo Bobbins. – You want something that will protect the silver on the bobbins because if that wears off, the bobbin stops working.
Happy Sewing!
Sewing Projects Made on My Bernina