Choosing the right WordPress hosting account is critical to the success of a self-hosted WordPress blog.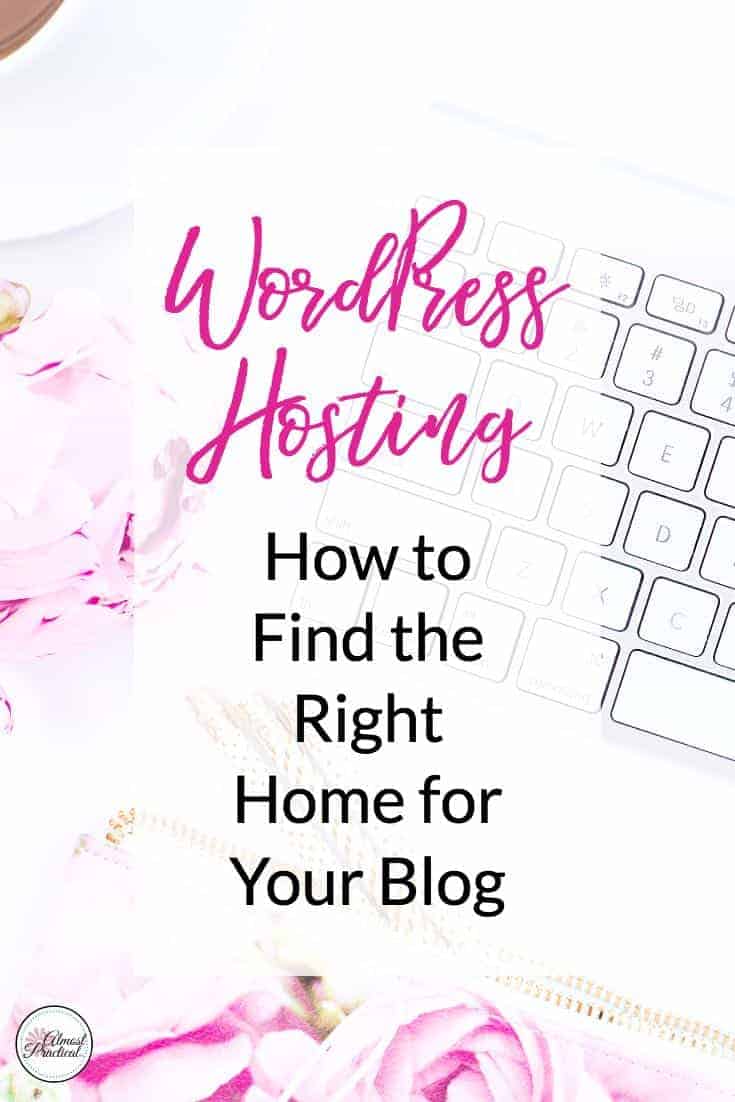 Trust me.
If you find a WordPress host that you can grow with, it will save you time and reduce your stress levels in the long run.
So, try to be a little forward thinking if you are just starting out.
If you have been blogging for awhile and are thinking of moving to new WordPress hosting – the same rule applies. Find a WordPress host that will serve you well in the long run. (You can learn from my own experience of migrating a WordPress site. argh!)
Before you dive in and pick the cheapest option you need to understand
what WordPress hosting is,
what it involves,
and how much YOU want to be involved.
Let's dig in.
What is WordPress Hosting?
It seems as if almost everyone has heard of WordPress.
People know that it is a great platform for blogging. So, when it is time for them to start a blog, of course they just want to jump on board.
If you are leaning towards using self-hosted WordPress for your blog, you will need something called WordPress hosting.
This article explains web hosting in detail but I will give you the short version here.
Every website or blog needs a place to "live" online.
Basically this place is a computer server that is on 24/7. This way people can visit your website any time of the day or night.
This computer – or WordPress hosting account – needs to be pretty powerful.
It will hold your whole website, including all the images and data.
Not only that, whenever people visit your website, they use something called bandwidth. The more traffic you have, the more bandwidth you need.
So, typically the pricing for WordPress hosting plans is based on the type of server you decide to use and the amount of web traffic that you have.
Don't Confuse Self-Hosted WordPress with WordPress.com
A friend of mine once hired someone to build her self-hosted WordPress website – and when it was time for her to login to her new site – she went straight to WordPress.com. Yikes!
Clearly there is a disconnect between what people expect self-hosted WordPress to be and what it really is.
Don't be embarrassed if this is you, because it is a very common misconception.
This article spells out the differences between self-hosted WordPress and WordPress.com in a way that is easy to understand.
For people that want to make money from blogging, self-hosted WordPress tends to be the better choice of blogging platform.
WordPress Hosting is NOT Set It and Forget It
Blogging on self-hosted WordPress involves more than just writing blog posts.
You need to update your WordPress themes and plugins, ensure your site is being backed up, and do some technical troubleshooting every now and then.
If you don't keep up with it, weird things can happen. Your theme can "break" and go down or your site can get hacked. Find out if self-hosted WordPress is right for you in this article.
How Much Do You Want to Be Involved?
Lots of bloggers hire a good tech support person to maintain their sites, so that they can focus on blogging.
But underneath it all, you still want good WordPress hosting to stop issues from ever arising in the first place.
Think Twice About Shared WordPress Hosting
Most new bloggers will start their blogs on shared hosting plans. There is usually an enticing offer on WordPress hosting for your first year – often you just can't beat the deal.
If you choose to go this route, my choice in shared WordPress hosting is SiteGround. (remember that all shared hosting is not created equal)
They have reliable hosting packages with super excellent customer support.
WordPress hosting packages start at $3.95 per month, paid annually, for the first year.
I personally hosted this website on SiteGround for a year, and was very happy there.
Because I like it so much, I even wrote this SiteGround hosting review and this SiteGround tutorial.
But, in the end, I decided that
Managed WordPress Hosting Can Save You Time
Even though SiteGround is amazing – I still found that I was spending more time than I wanted to on the technical aspects of my blog.
I had to buy a WordPress plugin for back ups and it didn't really work well (meaning lots of time trying to figure it out), I moved my site to SSL, I stressed about getting protection against DDoS attacks and more.
As I was facing year 2 pricing on my WordPress hosting plan and also considering a move to a larger plan, I decided that managed WordPress hosting would be the way to go.
And I moved my site (hopefully for the last time) to StudioPress Sites.
They manage a lot of the back end stuff, so I can focus on writing. This is perfect for me.
You can read my StudioPress Sites review here – but I can tell you that I have spent much less time this past year on techy things and that has made me a very happy blogger.
As far as pricing goes, StudioPress Sites is quite comparable to what I would be paying at SiteGround for year 2 (although I can only host one site per StudioPress Sites account).
How To Start Blogging
Whatever you do, don't let WordPress hosting scare you away from starting a blog – it really is pretty easy to get up and running.
You just have to be willing to learn as you go.
Also, don't use social media as a substitution for a blog. Facebook, LinkedIn, or Twitter may seem like an simpler way to get your message out there. But in the end you don't own the content that you put on there – they do.
If you need help choosing a name for your blog or deciding on a blog niche or topic, these respective articles contain some good info.
Happy blogging!