Can Deer Resistant Plants Promise a Lush Summer Garden?
This post may contain affiliate links which means I make a commission if you shop through my links. Disclosure Policy
I spent the better part of Memorial Day weekend picking out deer resistant plants.
My very overgrown and weed ridden gardens needed some TLC because the deer have been hungry.
Very hungry.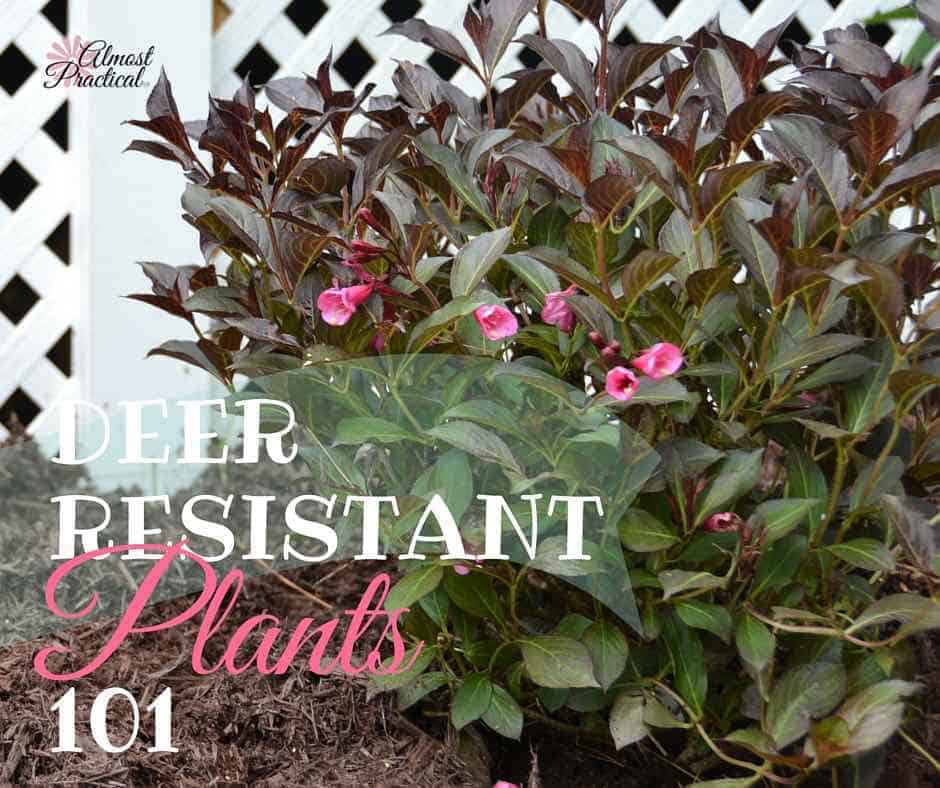 When I say gardens I mean flowers, bushes, trees – that type of thing. Fruits and vegetables are out of my league – primarily because the deer eat everything that I plant.
And I do mean EVERYTHING.
This year I was determined that things would go down differently. My yard was not going to be their salad bar!
There are so many gorgeous plants that I would love to have in my yard – but I restricted myself (like everything else – almost) to deer resistant plants this year.
What I Came Home With
If only I had done more research before I went shopping.
Like most people – go ahead, admit it – I went to the local garden center and said "Please show me something that the deer don't like, that grows in full sun, and is really low maintenance."
I was sure the very patient lady that worked there was going to refer me to the artificial tree department – but lucky for me, she was really helpful and pointed me to a few of these plants.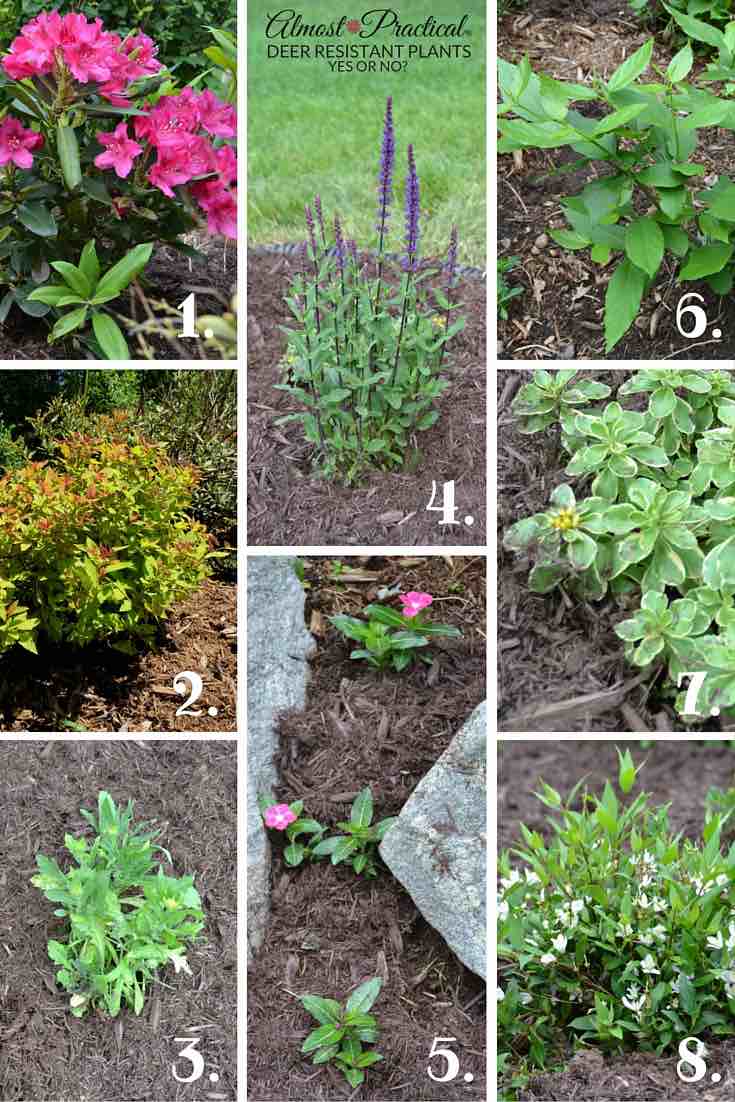 Deer Resistant Plants – Yes or No?
Nova Zembla Rhododendron – NOT deer resistant but is one of the few rhododendrons that will tolerate full sun and grows seven to nine feet tall, which is what I was going for.
Magic Carpet Spirea – deer resistant according to the card. I have several spirea throughout the yard and so far the deer haven't touched them – so I figured this one was a good bet
Gaillardia, "Arizona Red" Blanket Flower – the card does not say deer resistant, but research on the internet indicates that it probably is. I chose this because it likes full sun and flowers from June to August.
Salvia Nemorosa Caradonna – again, the card does not say deer resistant, but I have planted these before with good luck. The deer have nibbled the new growth when it first starts to bloom, but then generally ignore it the rest of the summer.
Vinca – no claims of deer resistance on this annual flower, but other accounts on the internet suggest that the deer might not like this one – and it likes full sun.
Calycanthus "Aphrodite" Sweetshrub – deer resistant and likes sun or part shade. Grows tall with beautiful magnolia like flowers throughout summer. I hope the deer stay away, so excited about this one.
Sedum Kamtshaticum Variegatum – possibly deer resistant. I only found one site that stated the deer did not like. This is a ground cover that blooms in late summer, likes sun, and is quite dense (hopefully dense enough to choke out crabgrass and other weeds).
Nikko Deutzia – deer resistant according to the card. This is a low growing shrub, that likes sun and has little white flowers in the spring.
Pictured in the main image above for this post (with no number) is Wine & Roses Weigela which supposedly has a medium level of deer resistance according to the card.
Not pictured are some marigolds (planted in the sun) and impatiens (planted in the shade) that I scattered throughout. Marigolds are supposedly deer resistant while impatiens are not.
I did my shopping locally, but Wayside Gardens offers many of these varieties via mail order.
Please note that I am in no way shape or form an expert on deer resistant gardening. All statements here are based on my personal experience and opinion. Please do NOT rely on this as fact and do your own research for your area and climate before making any purchase decisions.
Plants Deer Don't Like
Deer will eat just about anything if they are hungry enough and if it is not poisonous.
But as a general rule – deer don't like strong smelling plants (like marigolds and strong herbs), textured or prickly leaves, or plants that give off a sticky sap.
However, I have found that deer do like new growth and young plants, no matter what type of plant it is.
Some Perennials Deer Don't Like
Holly
Forsythia
Japanese Maple
Lilac
Spirea
Ferns
Boxwood
Wisteria
Rosemary
Butterfly bush
In the past, in my yard, the deer generally left the spirea, ferns, butterfly bush,and rosemary alone.
In researching this article (after I planted my gardens – aargh!) I found this great list on the Rutgers website that rank deer resistant plants based on their level of effectiveness.
Interestingly, I have seen some lists that say that deer don't like azalea and rhododendron – but I can vouch that my deer eat those plants like candy.
Annuals Deer Don't Like
I had a hard time finding a reliable list of annuals that deer won't eat.
Here are a few that I came across:
I have had good luck with marigolds and snapdragons in the past. This year, I added vinca to the mix.
Nursing Some Ailing Rhododendrons
I also moved a few sad looking rhododendrons that were victims of deer and too much sun combined.
They are now in a shady location and after only 2 days look a lot happier.
There are actually 4 twiggy bushes in this area – if they all make it, I will probably have to replant some.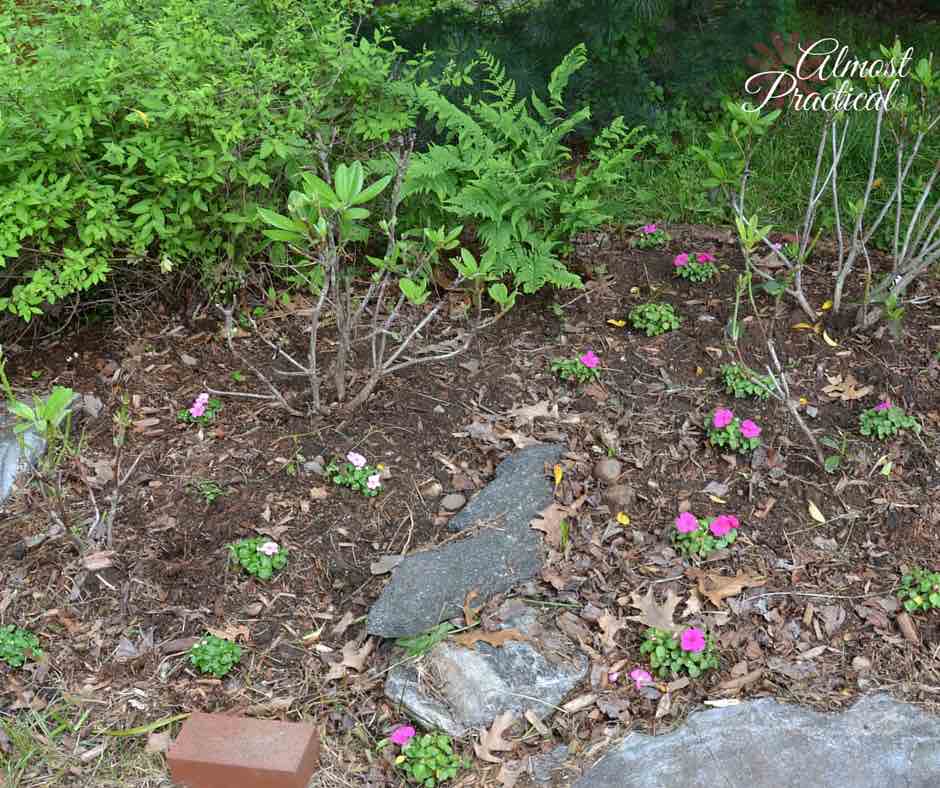 Using Deer Repellant
One of the things that I try to do is to spray a deer repellant on the plants – especially during the spring when there is vigorous new growth.
I have used Bobbex® and it works well – when I use it.
There are a few issues (that are all mine), though:
you have to spray the plants regularly – that is a big one
in spring when there is lots of new growth, you need to spray even more often
when it rains, you need to spray more often
the stuff doesn't smell good (that is the point after all) – but if you catch yourself downwind from the spray bottle – then you need a shower.
Overall, a deer repellant is a necessary option and works well if used as directed. And it is more economical if you buy the pump first but then buy the concentrated refill and add your own water.
Caught In the Act
A few months ago I was able to snap a fuzzy photo of the culprits in action. There were seven in all.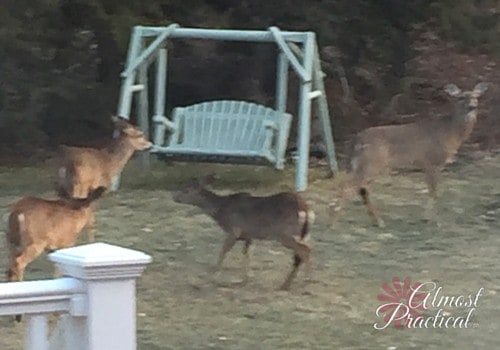 But, it looks like I might have something (or someone) else to worry about too. Who do you think lives here?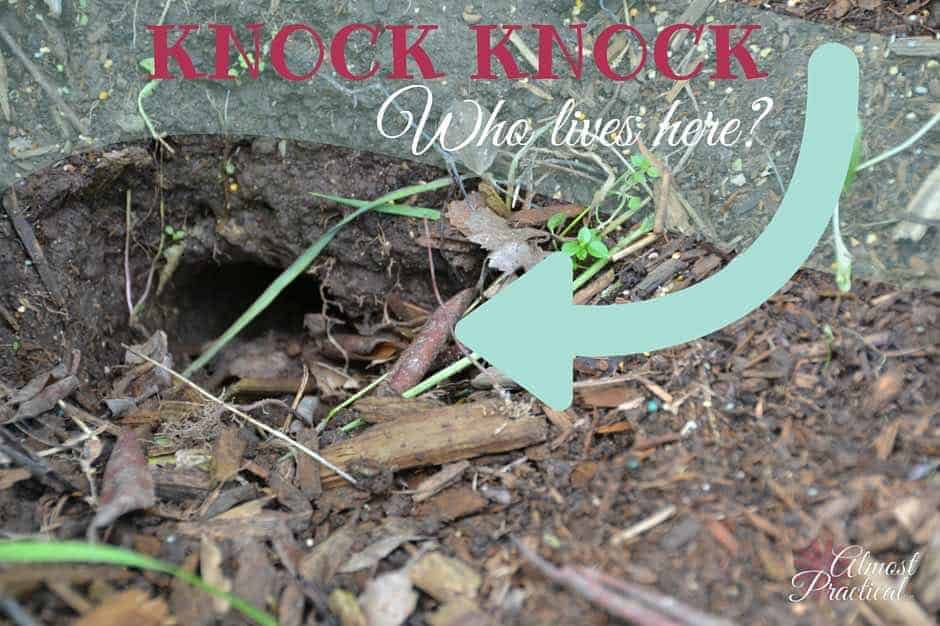 What Works in Your Yard?
Plants are an investment of sorts, not only do you pay for them with money but you put in a lot of sweat equity as you do your gardening.
So choosing deer resistant plants makes economic sense.
If you have deer in your area – what plants have you found to be resistant? I would love to try some of your suggestions. Please leave a comment below and let me know.
Pin It