Why You Need a Magnifying Craft Light and a Winner
This post may contain affiliate links which means I make a commission if you shop through my links. Disclosure Policy
I am pleased to announce the winner of the Magnifying Craft Light giveaway that I ran in conjunction with the Brightech lamp company last month – congratulations to Christina D.!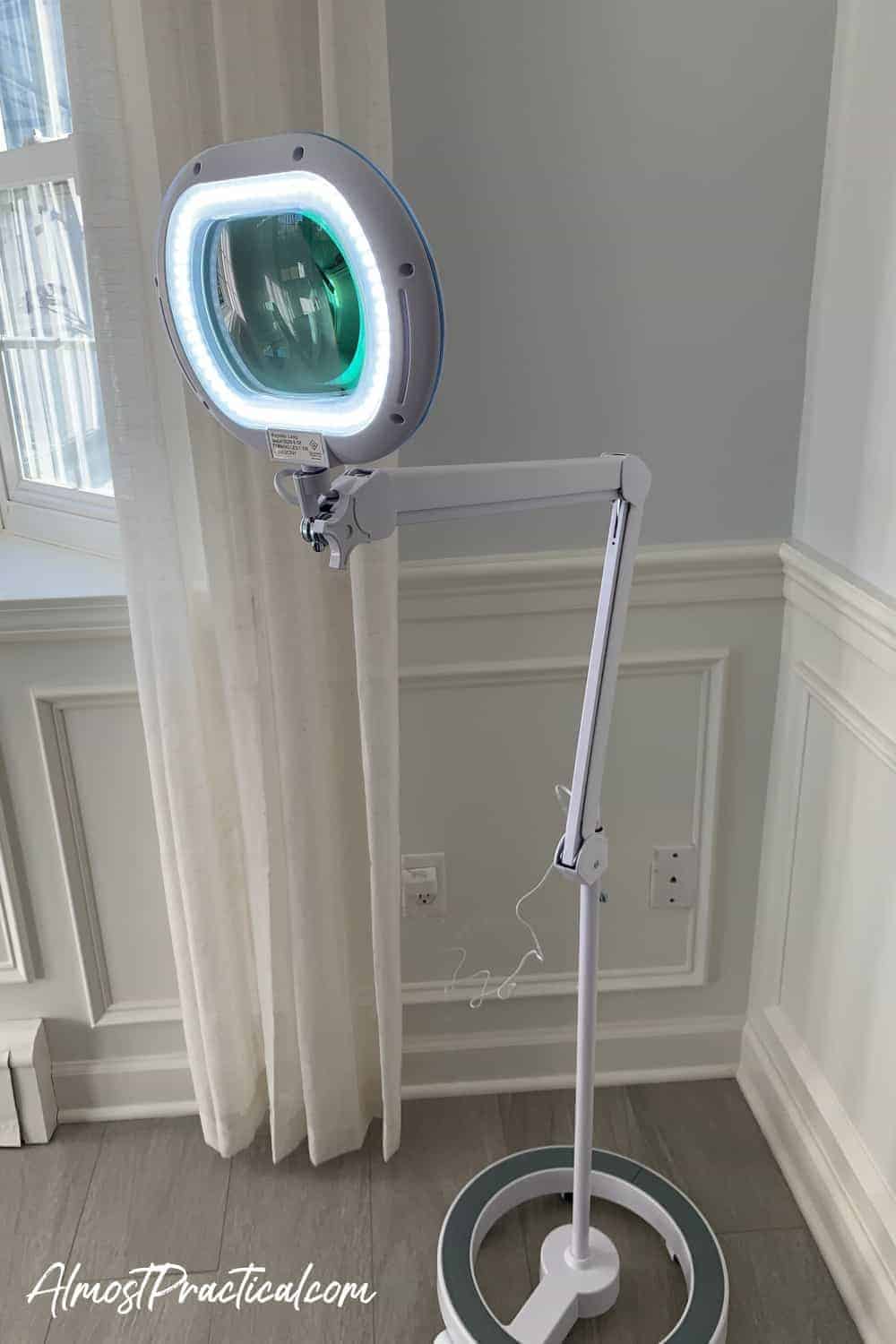 In case you missed it, we gave away this incredibly useful lamp to one of my awesome readers:
I know it looks incredibly futuristic or possibly like something you might see in the dentist's office – but in actuality it is an LED craft room lamp on a rolling base with a magnifier built in.
If you do any type of DIY that involves small details – think:
jewelry making,
needlepoint,
sewing,
painting,
reading,
and even tech and electronic circuit work.
this lamp makes crafting so much easier.
The funny thing is that you don't really know what you are missing until you try it.
When I was attaching the binding to my St. Patrick's Day table runner, it didn't go quite right and I had to pull the whole thing out and start over.
Typically, I would just use a seam ripper under normal lighting conditions to do this tedious task.
Well, this time I did the job under the magnifier in my Brightech Lightview XL Magnifying Glass Lamp – and oh my! – it was so much easier to see the detail and the small stitches. I was able to do the job faster and more neatly, without snagging the fabric here and there.
This lamp is definitely a game changer.
Where to Get a Magnifying Craft Light
Even though the giveaway is over, you can still purchase this magnifying craft light for your craft room on the Brightech website here.
Floor, Table/Desk, and Clamp Styles
I have had some people mention to me that they thought the lamp was really cool but a little big for their space.
And there is good news if this is your situation, too.
Brightech offers quite a wide selection of magnifier lamps.
They have magnifying glass lights that will clamp to the edge of a surface – so it won't take up any valuable desk or table space. You can see the selection here.
But my favorites are their convertible lamps.
The LightView XL Magnifying Glass Light: 2in1 Floor Standing to Table Lamp – does just that – it converts from a table lamp to a floor lamp and vice versa, so you can use it both ways!
And, the LightView Flex LED Magnifier Lamp – Light: Clamp Or Base for Desk converts from a desk lamp to a clamp style, if you prefer those two options.
Choices, choices!
The Bottom Line
The bottom line is that a magnifying craft light makes DIY, crafting, reading, and detail work a lot easier and Brightech offers a wide variety of options to fit your space.