What Is Evernote?
This post may contain affiliate links which means I make a commission if you shop through my links.
 Disclosure Policy
Evernote is a powerful note taking app that will help you with your digital organization. It also happens to be one of my favorites! You can use it across a variety of platforms to organize all types of information.
You can use Evernote in so many different ways – here are some examples:
organize your small business
manage your finances
capture important emails
clip web pages and articles
scan documents to
brain dump for your ideas
save recipes
take meeting notes
and so much more.
I have been using Evernote since 2008 – and while I have tried several alternatives, I keep coming back to Evernote because I love it that much.
There are so many powerful features that just work with the way that I think.
These include:
a robust search feature that searches inside PDF's and images as well
organization features like notebooks and notebook stacks
a plethora of ways to capture notes into the app
the brand new Evernote Home screen or dashboard
integrations with Google Calendar and Google Drive.
If you don't use Evernote, this is you why you should give it a try.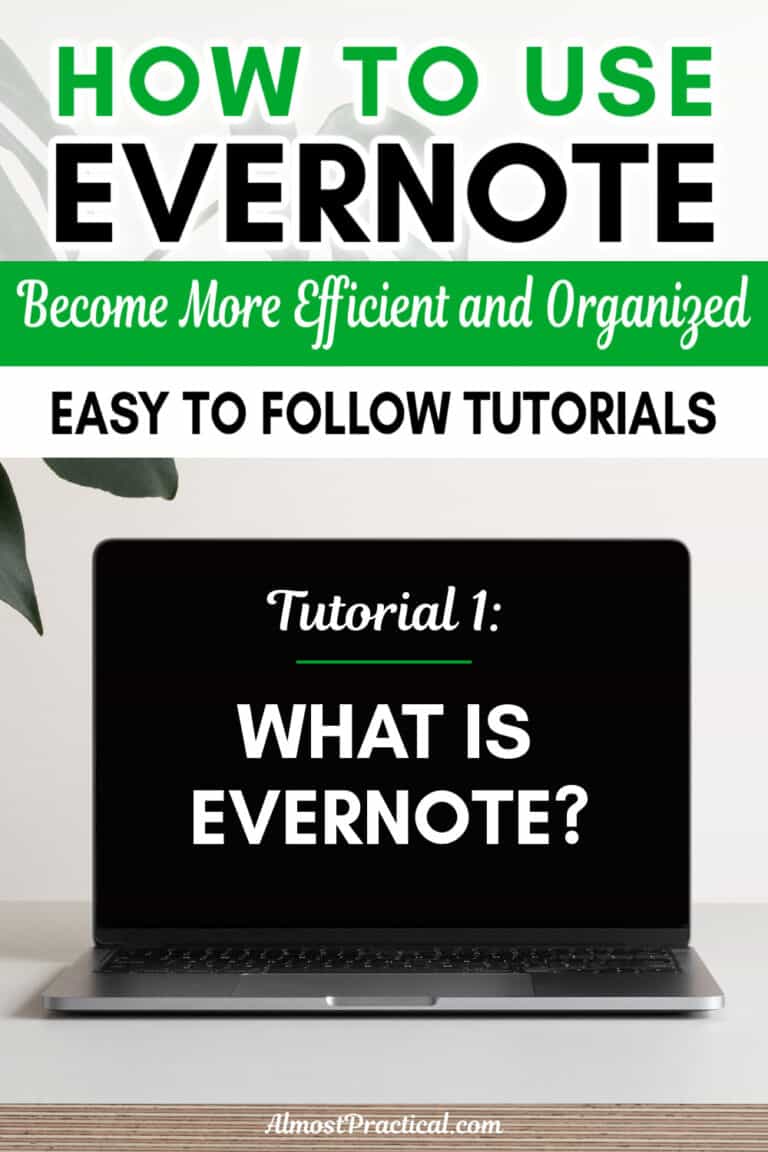 What Sets Evernote Apart? Search.
First and foremost, Evernote is a powerful note taking app.
You can create notes that capture and organize all kinds of information.
What sets Evernote apart is how efficient it is at helping you find the information you are looking for.
There are all kinds of ways to search Evernote – as you can see here – but the one key feature is that Evernote will also search inside your images and pdf attachments! Yes – it can actually read the text in the image.
With such a powerful search feature, you should be able to find the notes you need even if your personal digital filing system is not great within the app.
Stay Organized With Notes, Notebooks, and Notebook Stacks
The Evernote App uses a familiar system of notes, notebooks, and notebook stacks to help you stay organized.
This remind me of when I was back in school and used a separate spiral bound notebook to hold all of my notes for each class. Sometimes, if we covered different topics in a singular class, I would use a 5 subject notebook to separate each section.
Evernote works very much the same way.
You create a note for every unique piece of information that you want to save.
Then, you group similar notes in a Notebook.
And you can even take it one step further and group similar Notebooks in a Notebook Stack.
Evernote Makes It Easy to Take Notes
Getting information into Evernote is really easy.
There are so many ways to do it! These are some of the ways to do it:
type a note
scan a note using a scanner or your phone
record an audio note
drag a file into Evernote on your computer
send info to Evernote on your smartphone
forward an email to Evernote
ask Siri to save a note
use the Evernote Web Clipper to capture a web page
take a photo
and I am sure there are more!
Two of my most used methods of saving notes are the Web Clipper and forwarding emails into the App.
There are many times that I come across an article online that I want to bookmark or clip a passage from – and the Evernote Web Clipper makes it super easy to do.
And the same goes for important emails. I can forward relevant emails straight into a project notebook that I set up – so I have all the correspondence for that project in one place.
The Evernote Dashboard
Recently, Evernote introduced a Home Screen – which is basically a dashboard that you can customize with widgets.
This is so useful at keeping you organized.
You can pin important notes here and see your recent notes and notebooks. There is a sticky note widget to capture miscellaneous information that you can then convert into a note, if you like.
Because I use a paid plan in Evernote, I can integrate my account with my Google Calendar and with Google Drive.
So, I pin my Google Calendar and also a note that bookmarks files in Google Drive that I use every day – so I never have to go digging around looking for these spreadsheets.
Evernote Web Clipper
Another very powerful feature in Evernote (and the one that I can't do without) is the Evernote Web Clipper.
With this tool you can bookmark a web page, clip whole web pages, or just add a selection from a website to your notes.
Whenever you are researching anything – from an important work project to a new restaurant for dinner – you can save whatever you find directly into Everote!
There is no more reinventing the wheel. Research it once, save your findings, and access what you found from inside your notebooks.
The Web Clipper works across many browsers and operating systems including Chrome, Safari, Internet Explorer and Firefox.
Create Notes From Email
This note taking app has another feature that I have come to rely on – saving important emails in Evernote.
It is so simple to forward an email to your Evernote account that you will have no excuse to lose another important email again.
You can even send the email directly to the appropriate notebook! How cool is that?
Integrations with Google Calendar and Google Drive
If you use Google Calendar and Google Drive – you can integrate them with your Evernote account (on a paid plan).
Google Calendar Integration
Right from your dashboard, you can create a note that is attached to an event on your calendar. This note lives in your Evernote notebooks so you can search, edit, and annotate with all the tools that Evernote offers.
Google Drive Integration
If you store documents in Google Drive or create them using Google Docs or Sheets then this integration will be super useful.
Even though I try to keep my Drive organized, it is easier for me to find and access my Drive files when they are connected to a relevant note in Evernote.
It is sort of like a map to my important files.
It's My Brain – Online
If someone were to ask me – What is Evernote? – my answer is that is my brain online.
Everything that I need to know is inside my Evernote account and all I need to do is a simple search to find it.
Having a central location to collect anything important in my life increased my digital organization and helped my to simplify all the papers and nuggets of information that I collect on a daily basis.
While the free plan is great, I feel that the upgrade to Evernote Personal or Professional is so worth it for the additional features.
Happy organizing!