Easy Egg Salad Recipe
This post may contain affiliate links which means I make a commission if you shop through my links.
 Disclosure Policy
This easy egg salad recipe is the one that I always fall back on when I am in a pinch for lunch.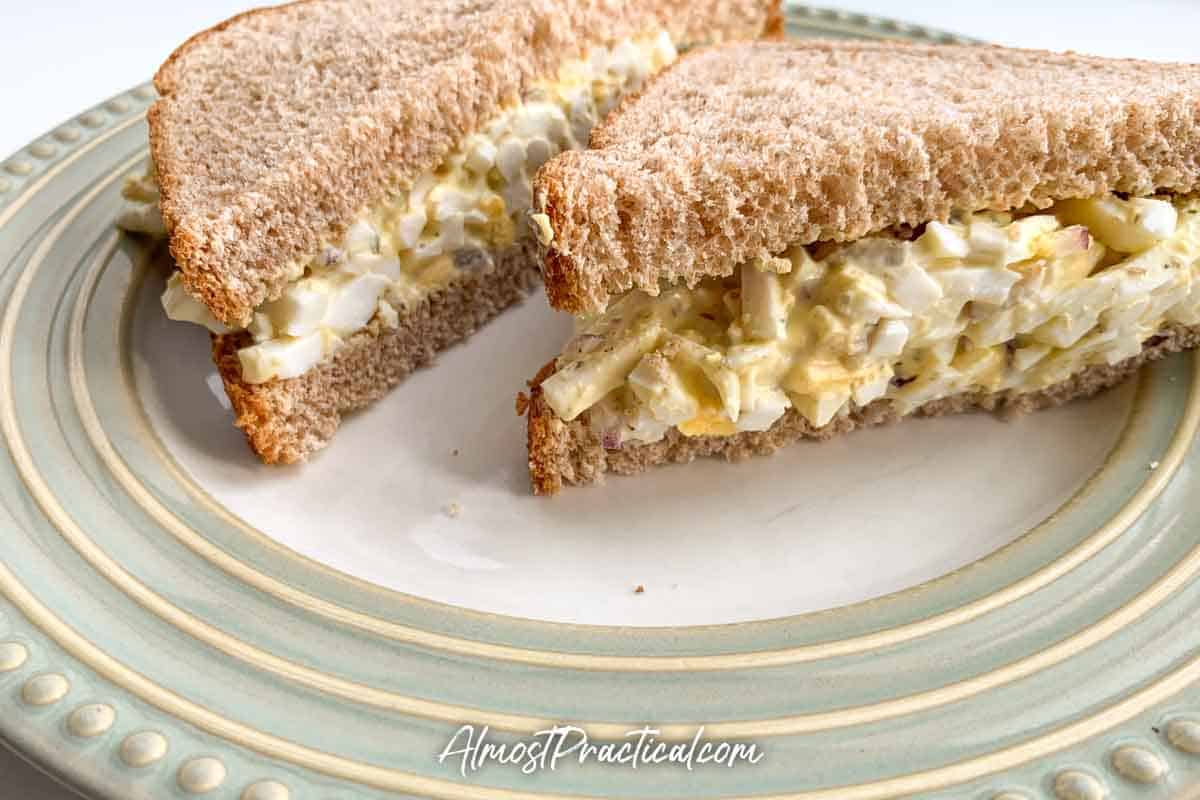 I try to always have a few hard boiled eggs at the ready in the fridge just in case someone gets hungry. 😉
This recipe makes one sandwich but you can double or triple it up very easily.
What You Will Need to Make this Recipe
You don't need any special kitchen utensils to make this up but I do recommend using an egg slicer to dice the eggs because it is a lot easier than a knife.
Ingredients for This Easy Egg Salad Recipe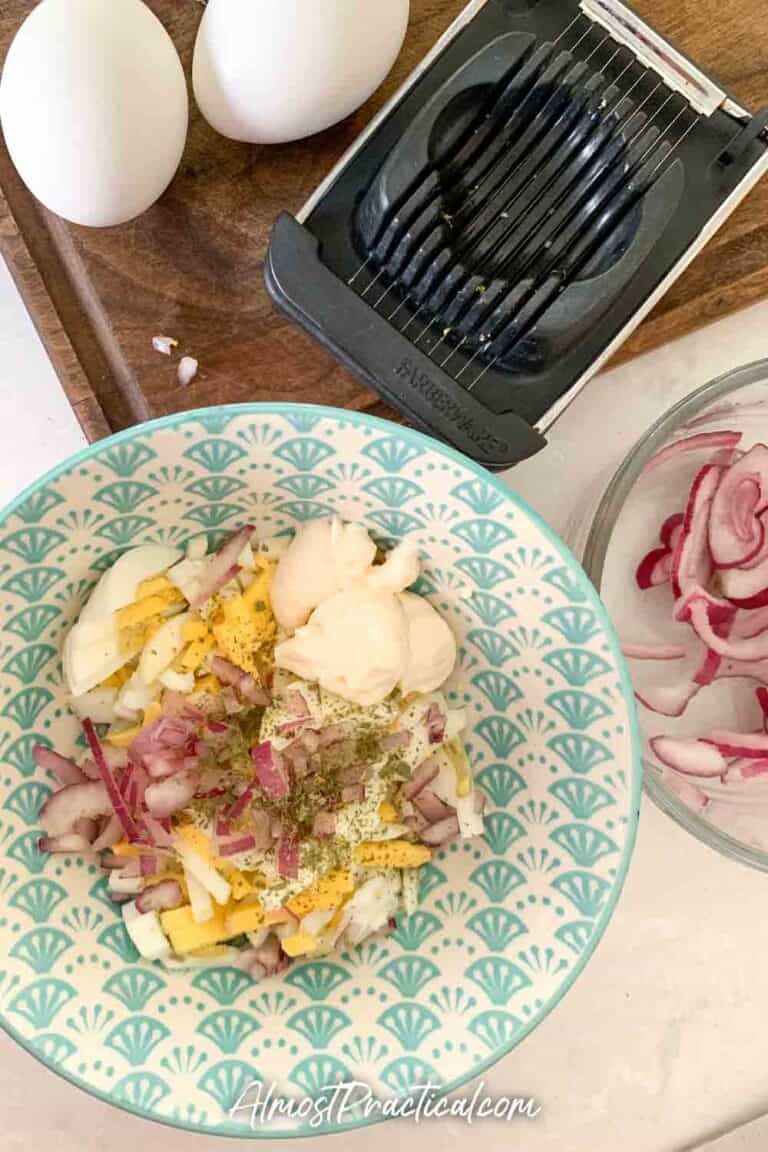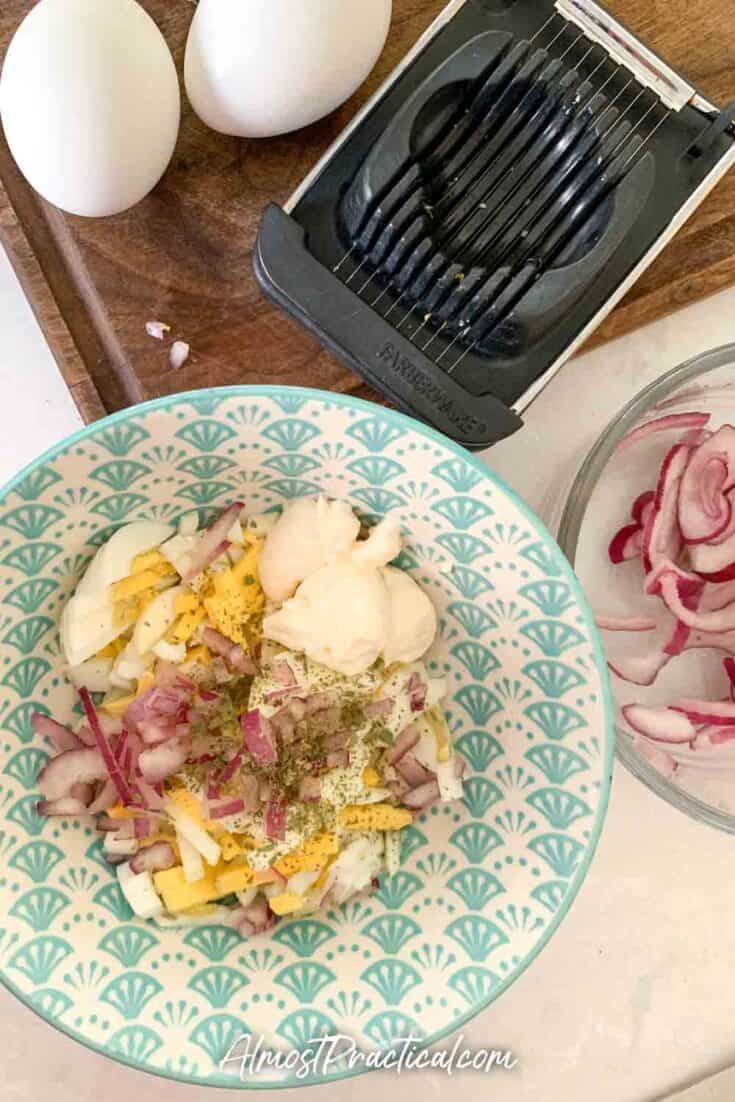 For one sandwich you will need:
2 large hard boiled eggs that are cooled, peeled, and diced
2 tablespoons of chopped red onion
1/4 teaspoon of dried tarragon
1 tablespoon of mayonnaise
salt and pepper to taste
Instructions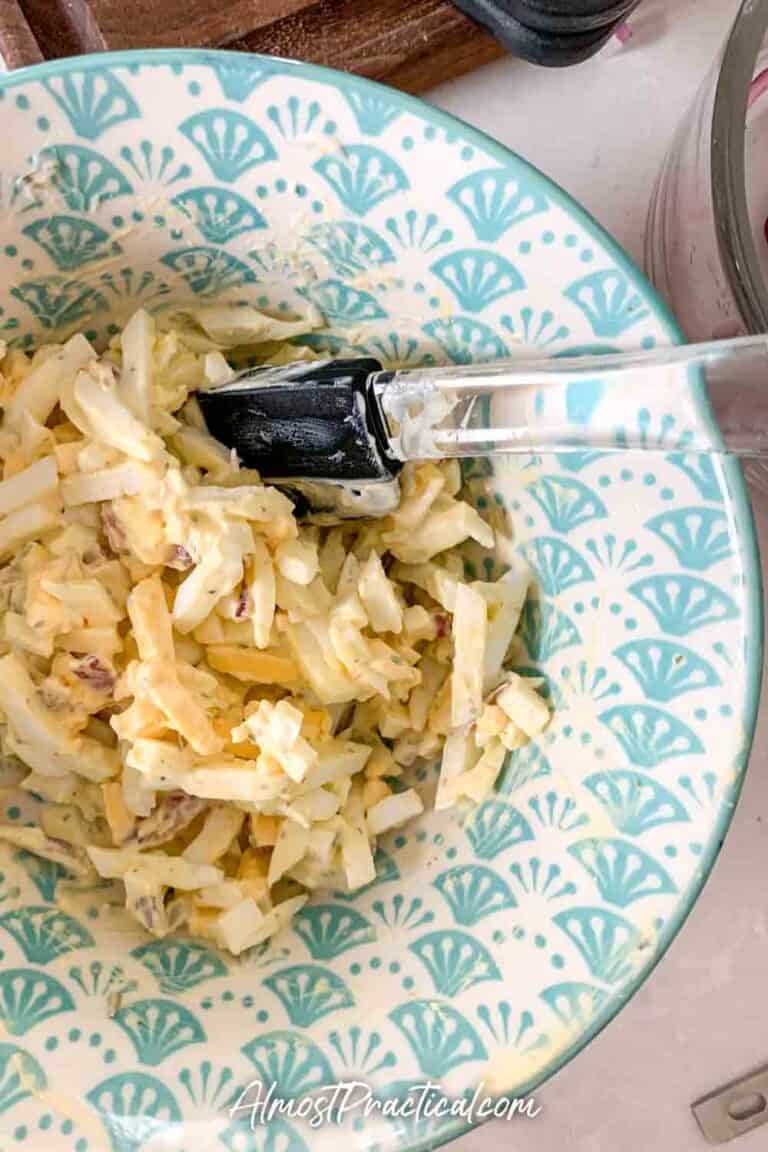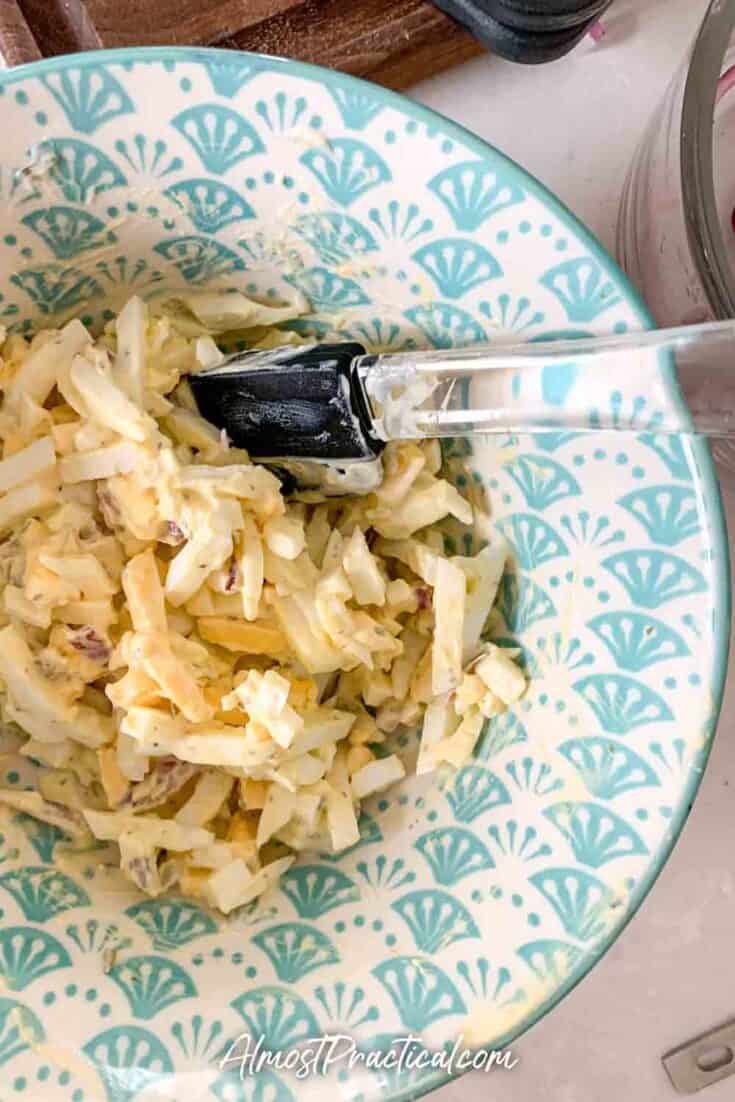 Simply toss all of the ingredients into a bowl.
Mix well.
Serve between slices of your favorite bread.
How easy is that?
Why This Is a Favorite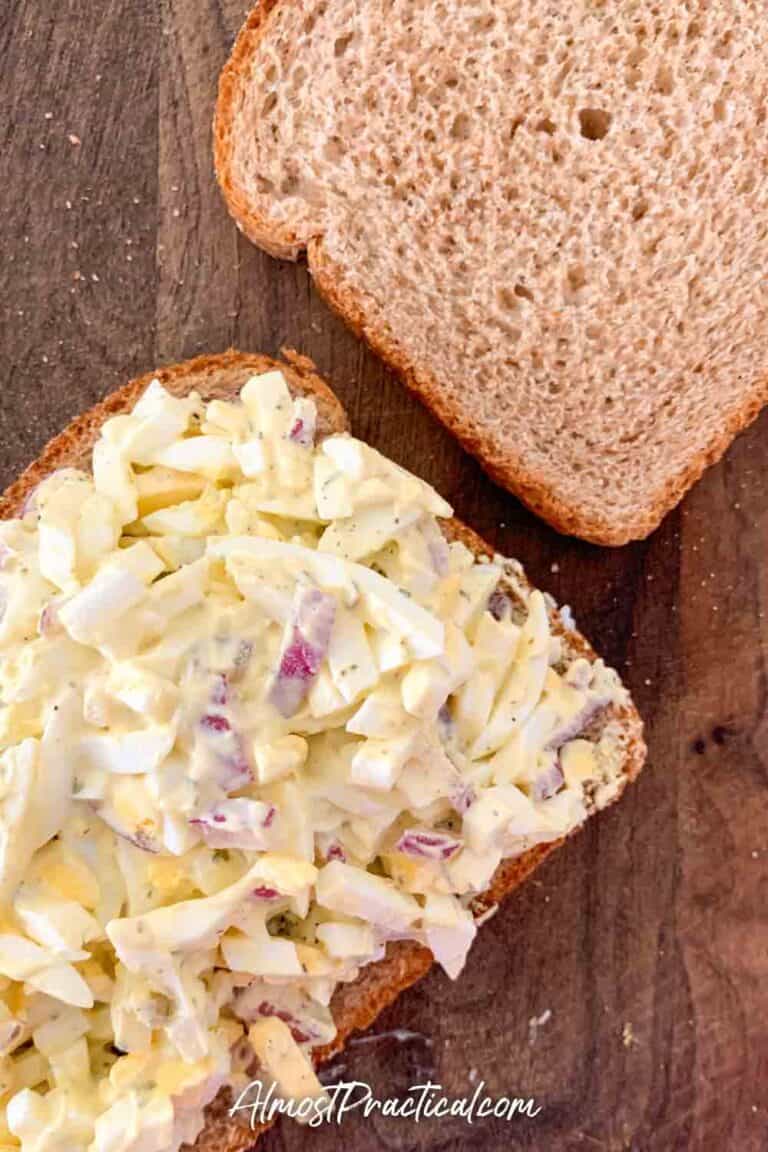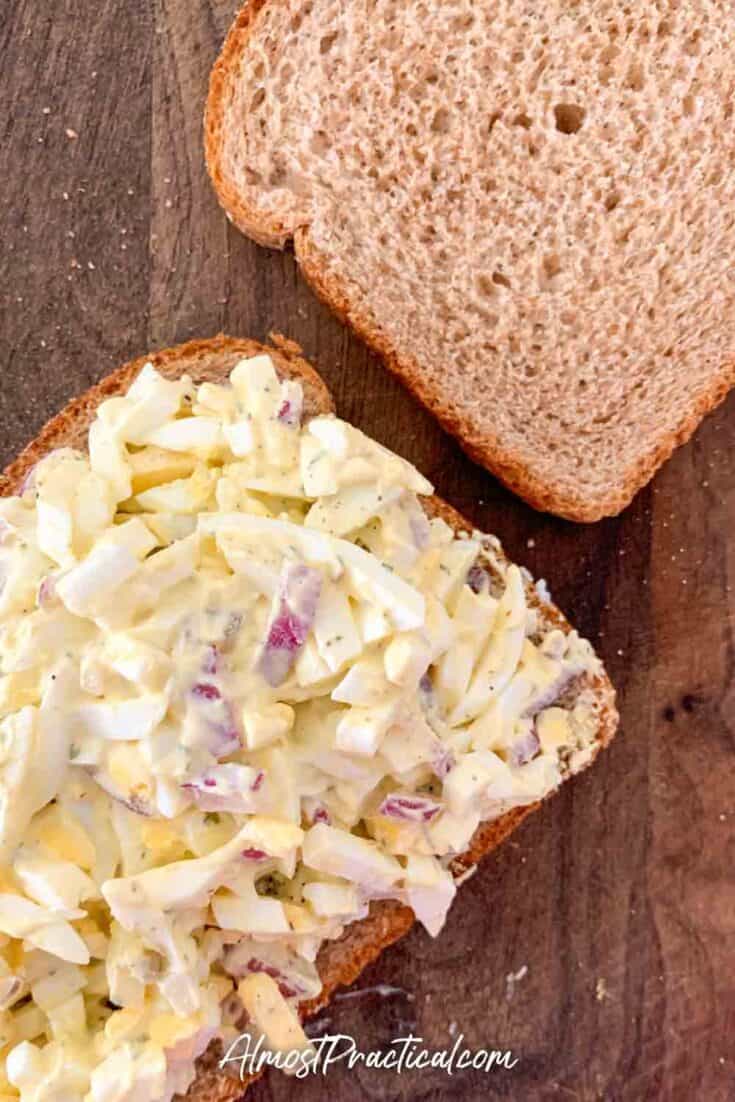 Years ago when my son, who is now grown, was in fourth grade – I got pulled in at the last minute to chaperone a class field trip.
Someone must have backed out, and I just happened to be around.
Since I wasn't planning on going, I hadn't packed a lunch.
Of course, by noon I was starving! (I'm not even sure if I had breakfast that day… )
I think my sons teacher took pity on me and offered me half of her egg salad sandwich for lunch.
Nothing ever tasted so good!
That was the day that egg salad found a permanent spot on my list of go to lunch recipes.
My own recipe adds a touch of tarragon and onion for added flavor.
Print This Recipe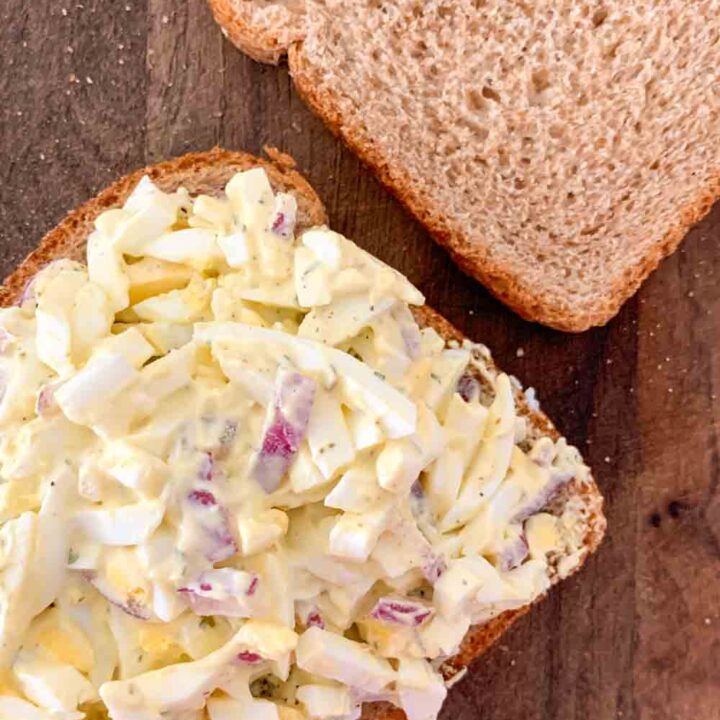 Easy Egg Salad Recipe
Yield:
filling for 1 sandwich
Ingredients
2 large eggs, hard boiled, cooled, peeled, and diced
2 tablespoons red onion, chopped
1/4 teaspoon dried tarragon
1 tablespoon mayonnaise
salt and pepper to taste
Instructions
Toss all ingredients into a bowl.
Mix well.
Serve on your favorite bread.
Recommended Products
As an Amazon Associate and member of other affiliate programs, I earn from qualifying purchases.
Nutrition Information:
Yield:

1
Serving Size:

1
Amount Per Serving:
Calories:

263
Total Fat:

21g
Saturated Fat:

5g
Trans Fat:

0g
Unsaturated Fat:

14g
Cholesterol:

379mg
Sodium:

508mg
Carbohydrates:

4g
Fiber:

0g
Sugar:

3g
Protein:

13g
Occasionally, you will find nutrition information provided with recipes on AlmostPractical.com - this information is created from online calculators and is an ESTIMATE only. I am not a nutritionist or registered dietician. Nutritional information can vary depending on the brands and the actual ingredients that you use. By using this site and it's contents, you agree to hold harmless AlmostPractical.com and its owners for any loss or damage you incur that results from your use of the nutritional information provided by this site.
And there you have it – an easy egg salad recipe that takes just minutes to make (assuming that you already have hard boiled eggs on hand).
Enjoy your lunch!
More Egg Recipes
Pin This to Your Favorite Recipes Board on Pinterest