Get Organized Month – Decluttering Tips and Organizing Ideas
This post may contain affiliate links which means I make a commission if you shop through my links. Disclosure Policy
Bet you didn't know that January is Get Organized Month (GO month for short)? But it does make sense.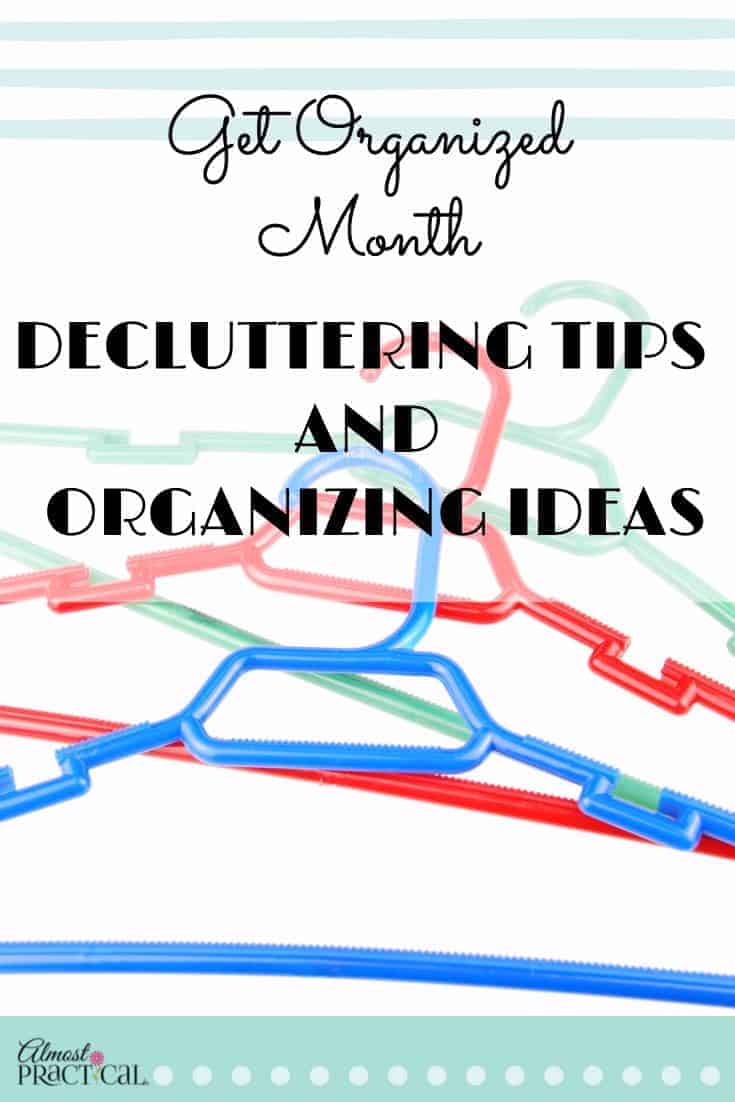 Get Organized Month is the best time to set achievable goals and start the year off right.
The National Association of Professional Organizers (NAPO) uses Get Organized Month to empower businesses and busy people to take control of their chaos so you can:
… save time, save money, and reduce stress.
Sounds good to me!
Where Do You Start?
Before you dive in and start decluttering, you should create an organizing plan.
Take a good look at your surroundings and your daily routine (your process)?
What is working, and what isn't? Develop an organizing mindset so you can come up with some reasonable, yet impactful goals.
What can you do right now during Get Organized Month to set yourself up for success this year?
Use These Tips to Get Organized:
For Business
On a daily basis identify your 3 most important tasks, and make sure you do them before everything else.
Tame your email inbox. Create a system for getting to inbox zero and staying there. Here are some suggestions for cleaning up your Gmail:
Clean off your desk. File things that you are not actively working on. We waste so much time daily looking for things instead of doing.
Clean off your computer desktop. A ton of icons and a busy background will distract you from finding what you need. This article will help you clean it up in a matter of minutes.
For Home
Conquer your snail mail. Create a designated spot for all mail. Set time aside twice a week to process.
Make donating easy. Keep a box or bag in the basement or garage where you can put unwanted but usable items. As soon as you decide that you don't want something, place it in the donation bag.
Break out the labeler. Label storage boxes, shelves, drawers etc. Even if you think you know where something belongs – a label makes it "idiot proof". (Don't have a labeler? This one by Brother will do the job – or use Post-It's instead.)
Work With A Professional Organizer
If your clutter is overwhelming and you don't know where to start your organizing process, no worries. The solution is simple – work with a professional organizer.
When you work with a NAPO member, you are working with a skilled and qualified organizer that specializes in improving productivity.
It's not just about closets either. Many professional organizers work to organize both homes and businesses.
Personally, I help companies with employee time management, workflow, digital organizing, blogging, managing social media and branding, going paperless and much more.
Sometimes it's hard to go it alone.
Start your organizing process during Get Organized Month but remember that decluttering takes time and consistent effort. So, use January to set your foundation and continue the work throughout the entire year.
What are Your Plans for Get Organized Month?
Tell us how you plan to use the month of January to organize your home, business, blog, and any other areas in your life that need a little attention.
Books to Help You Get Organized
If you need some creative ideas for organizing, check out the reading list below. These books helped me many times and I refer to them often.
Images for this post from GraphicStock.